May 2009
A Map to Many Treasures
Northern Argentina
Way back in southern Peru last October, sitting in the Quinta LaLa campground in Cuzco and gathering around with überlanders from many countries, they all marked our map of northern Argentina with places they had enjoyed and thought we also might find delightful. Rather than squeeze these places in when we first came south from Peru, we chose to come back to northern Argentina now, after leaving Chile.  The suggestions marked for us in Cuzco have become our treasure map of many exciting and beautiful destinations.
* * * * * * * * * * * * * * * *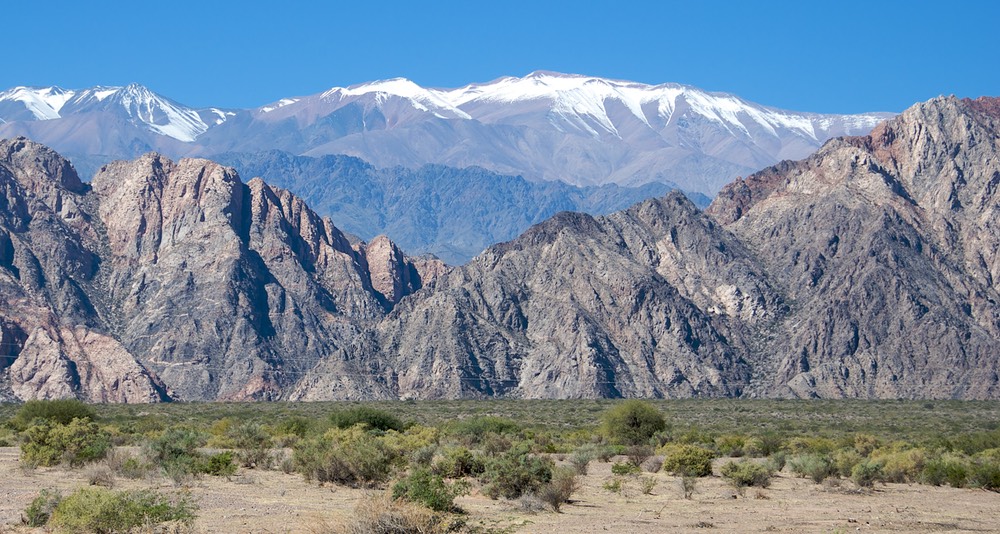 And so… we're back in Argentina again, as of April 16 (and yes, our taxes were done), having once again crossed the Andes by way of the pass to the east of Santiago, Chile.  Although this crossing was familiar, we knew we would soon be on new ground.  All of our earlier adventures in Argentina had been along the edges of the country.  Even when, in upper Patagonia, we crossed from the west to east sides of the country, we were far south and had picked a good, quick way across, with little regard to terrain or touristing opportunities.  Now we were starting to move around in the broad center of the country; we were curious as to what kind of experiences we would have.
 Dropping down from the pass, we drove first to Uspallata, the pretty little town where I'd enjoyed roast kid on our first visit.  This time I simply was content to get the laundry done.  We spent a quiet night in this pleasant spot, and then the next day turned north on Rt. 412, along the east side of the Andes.  The poplar trees are beautiful here, all of them turning bright yellows; in the distance they looked like so many tiny yellow popsicle sticks.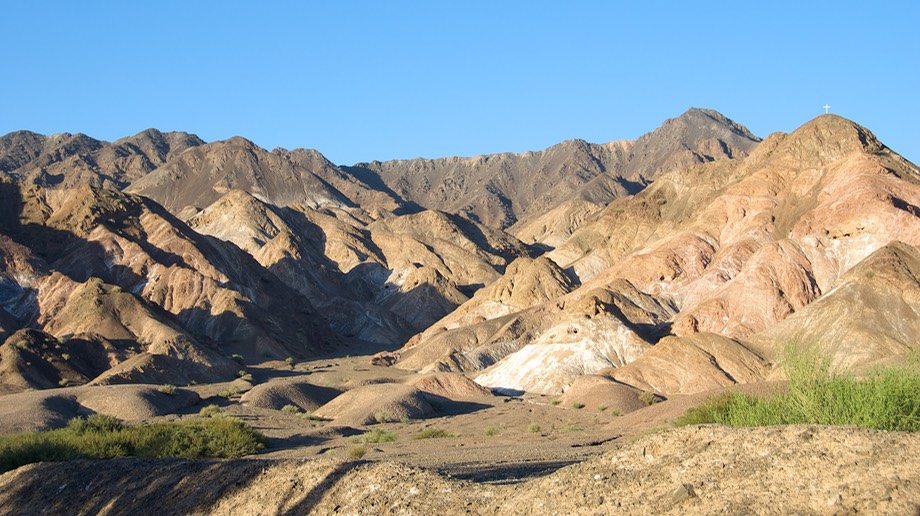 As the map warned, our pavement soon turned to gravel, but it was a good road and we enjoyed the scenery.  We passed through several small towns with little going on; this is cowboy country (the town of Rodeo lay up ahead, although we wouldn't get quite that far north on this road).  We spent the night parked beside the church in the village of Barreal.  There were lots of horses being ridden through the streets, which everywhere were shaded by huge trees whose leaves were turning.  This is pretty farmland, with the Andes close at hand to the west; we saw lots of weekend homes alongside very rustic, basic houses.  Lots of people were walking and biking around during the warm evening, along with kids on horseback.  We figure this is a getaway spot for Mendoza and San Juan, which are at much lower altitude.  
We stayed on Rt. 412 for another couple of days, enjoying the quiet and warmth, then turned east and down to San Juan, the provincial capital and a happening place during the cool hours.  As with most of Argentina, in these areas of great warmth the towns are deserted mid-day, and then come to life again about 5-6 pm.  We made a new friend, Manuel, when he agreed to have us spend the night ensconced in his parking lot in the center of the city (secure and really very quiet); he gave us baseball caps with the police department logo (he has the franchise to make them), and lots of bread and goodies his wife had baked (a peach küchen that was incredible); we decided he was pleased to have us gracing his establishment.  A delightful fellow.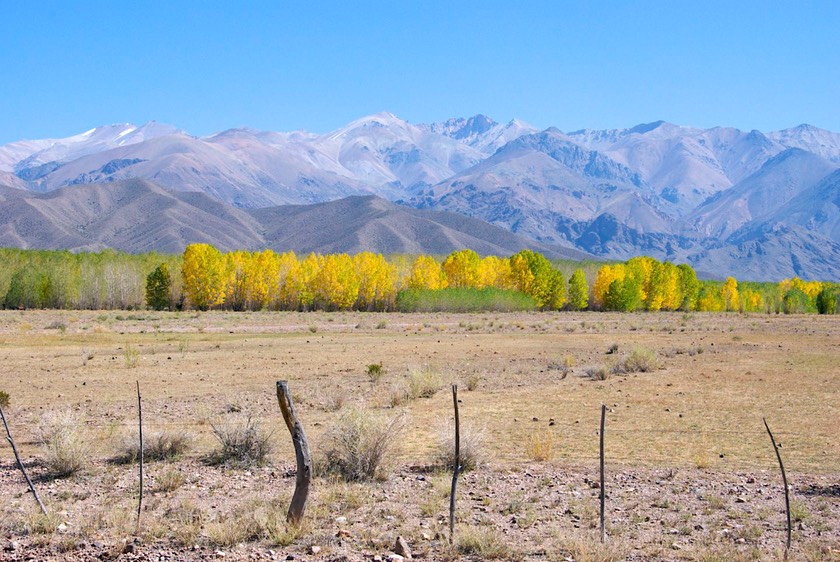 The province of San Juan is a tremendous growing area, and an enjoyable drive through.  Along with Mendoza province, there is great care taken that contaminated fruits and vegetables don't enter the areas.  There are stops along the road where they are very interested in where you've been and what you're bringing in.  They didn't get too exorcised over us, however, and took nothing.  It was odd, as other travelers had warned us about specific patrol locations.  It was late in the season, however, and maybe the specific items that worried them had all been harvested; we never found out.  At one point the outside of the rig was sprayed; that's all.  Unfortunately, however, we passed lots of lovely fruit stands without stopping because we were concerned about the stops we knew were ahead.  Ah, well.
North of the city of San Juan we were back in scrubby desert; it seemed to us that so much of Argentina's fertile growing areas have been carved out of very dry countryside, with water added.  We drove through San Augustin de Fertil Valle, which tells it all, then up into drier desert.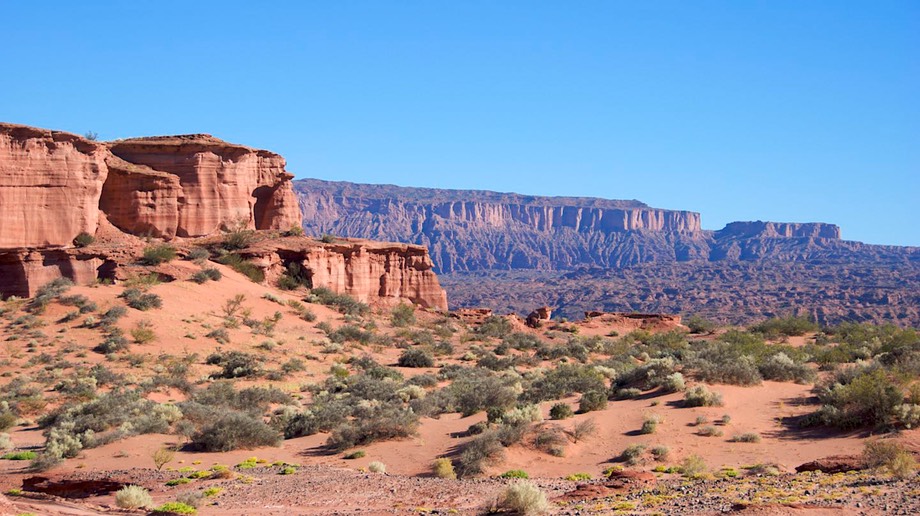 Our first big destination was Talampaya NP; this is one of two major areas in Argentina, in desert country, where you can see petroglyphs and dinosaurs and tremendous rock formations.  (The other is Ischigualasto RN - you can tell we're back in Andean country.)  We chose Talampaya, and enjoyed the experience.  The red desert rock was reminiscent of Arches NP in Utah; the formations were cool; the petroglyphs outstanding.  We would have preferred to enjoy it on our own, but the only way to see the area was by park tour bus, so we endured that (it wasn't so bad).  We some good pictures, in any case.
Then we marched back up a gravel road into a mountainous canyon that led toward Laguna Brava (a lake) and a back road crossing into Chile.  We weren't interested in getting as far as the border crossing, but had been told the lake was swell.  Well, we changed our minds on this side trip pretty quickly.  The road was all torn up, which was okay, but the canyon was dull and boring and grey – Rick commented that he thought he was inside a mud dauber's nest (is that how you spell that?).  So we turned around and headed back down the mountain, back through Vichiña (the longest town in the world – about 5 miles worth of it along one central street that straddles the highway) and Villa Castelli and Villa Unión, and due north again.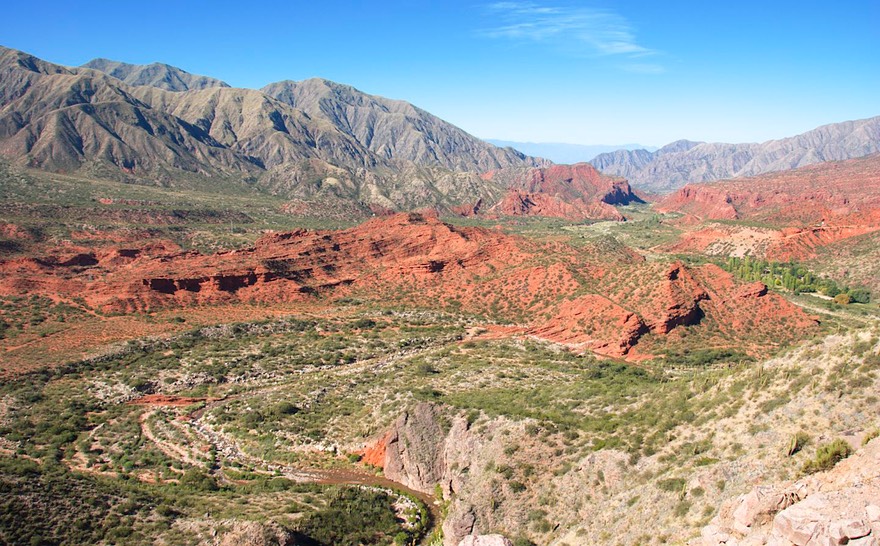 We trucked up Rt. 40 (yes, La Cuarenta, but behaving much more sedately in this neck of the woods), through gorgeous red sandstone and over narrow passes; lovely countryside.  We spent a night in Chilicito, enjoying a delightful encounter with a fellow named Pablo.  We had stopped here because it is a walnut growing area, and we wanted to buy a supply.  Driving around town, looking for a place to make a purchase, suddenly we heard this voice:  "Are you really from South Dakota?"  Pablo was sitting beside us on his motorscooter.  It seems that in the early 1990's he had been an exchange student in Winger, SD; he was quite astounded to see our license plates and had followed us through traffic until he could pull along side at a signal.  We talked for awhile, and asked about a place to buy walnuts.  He said, "I've got some for you," and took us home with him for a cup of tea and a chat; and when we left gave us an enormous bag of shelled walnuts!  It was great fun, and we'd made another new friend.  Chilicito, by the way, is a very nice farming community, with the usual enormous old trees providing shade, and an active nightlife.  We would happily visit again, given the opportunity.
We spent the night under the watchful eye of the local gendarmes, then moved on the next morning.  At Londres, a grape-growing area, we turned east on gravel Rt. 46, at 3650 feet high, a scrubby desert road between two mountain ranges; we were reminded of the Texas hill country.  This road had been marked for us as a great one and we were enthusiastically looking forward to it.  As the day dwindled, we took shelter for the night in a dry wash off the road, which we shared with one cow and (for the early part of the evening) a carful of melodic troubadors ; by 9:00 they'd all gone and we had a very quiet night.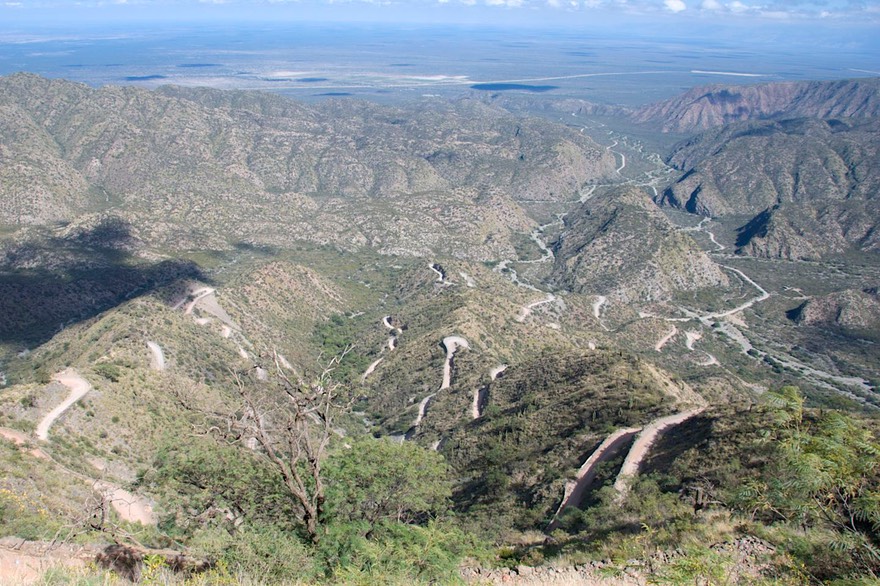 The next day proved more difficult.  Continuing east on Rt. 46, shortly we saw very large mountains ahead.  Then we started climbing, up this tiny road; we consoled ourselves with the knowledge that the road was too small for trucks and buses – then this humungous bus came around the corner in right front of us -- so much for comfort zones!  It was a cool road, but hard.  We finally arrived in Andalgalá.  Our route kept us going further east, and the map promised better road, so we trucked on.  Not better, of course, just occasionally roughly paved.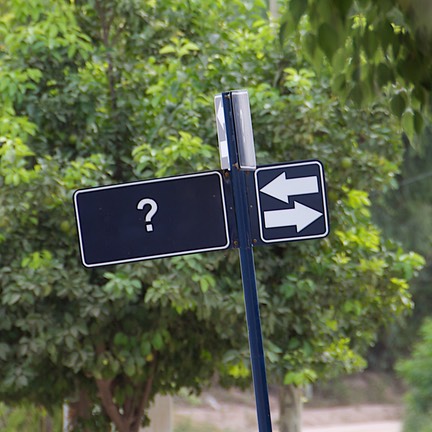 We crossed a wide mesa with lots of farming underway: corn, potatoes, cattle; several small villages.  Then… up over another mountain pass, the Cuesta del Clavillo on Rt. 365.  Sunlight became rain and clouds and fog; we topped out at 6250 feet in the middle of a rain forest:  moss, waterfalls and ferns and buttercups and orchids.  It was gorgeous, if hair-raising.  I gave the warning "truck", Rick said "f**k", we squeezed to the side, and all was well again.  We reached the top and emerged into sunlight as we dropped down the other side, down to 2500 feet and sugar cane.  Amazing.  Ultimately, we had 100 miles of really awful road and then good pavement.  A long day.  We finally reached our destination, Concepción, and Rick collapsed.  This was big sugar cane country, not our favorite.  No matter what country we are in, this kind of an area has many poor people in substandard housing, the air is smoky, and the dogs are mangy.  An oversimplification, but true.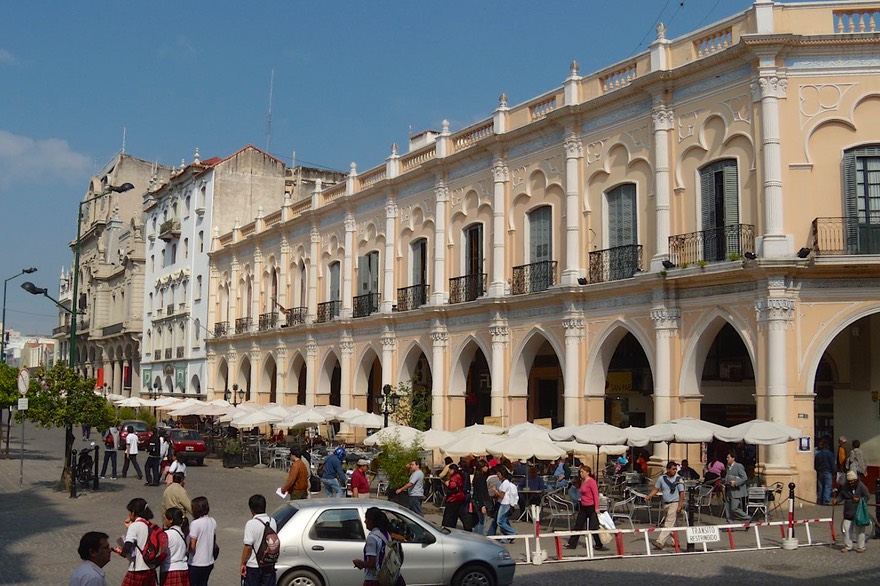 After a good night's sleep, we headed north on Rt. 38 through Tucumán.  We felt like we were in Hawaii, on Kauai, between being surrounded by cane and seeing the green forested mountains to the west of us; we were at 1200 feet.  The cane was young, about half up, and a lovely bright shade of green; there were wispy clouds over the mountains.  I closed my eyes and started humming "Bali Hai."  North of Tucumán, we were into rolling hills and green valleys.  We climbed slowly, following the Río Salí into Salta Province.  
The city of Salta is the center of many of the marked areas on our treasure map, and we knew there were interesting things to be enjoyed.  We found the campground "everybody" stays at, and many of them were there.  We met folks from France and Germany and Austria and Switzerland; quite an international group.  Salta is big enough to have repair shops of all sorts and you can find things you've been looking for forever.  We were able to get our inverter fixed that had failed in December; what a pleasure!  Over the period of the next 3 weeks we were in and out of the city several times.  We'd stay during the week, and then take off over the weekend: this is the municipal campground, and it's a zoo from Thursday afternoon to Sunday night.  We figured it was a good way to see the surrounding area and then come back for a few days' quiet.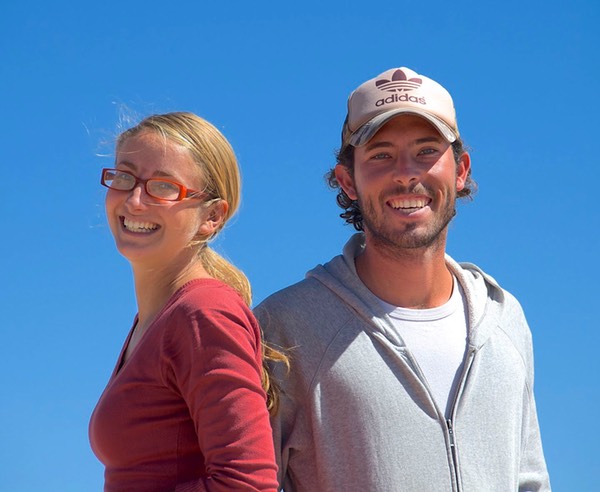 We took a great trip up Rt. 51, a good dirt road; our destination was San Antonio de los Cobres, up in the altiplano; the pass was at 13,400 feet.  The road follows the route taken by the famous Tren a las Nubes (train to the clouds); the train turns around at San Antonio, at the Viaducto Polvorilla which is close to town.  We spent the night at the viaduct, getting a chance to appreciate how really high up it is; both above us and at high altitude:  we both suffered from the elevation, and poor Rick was dealing with a cold anyway; he was pretty miserable.  The cold, down to 31 degrees (minus 1 Celsius) didn't help.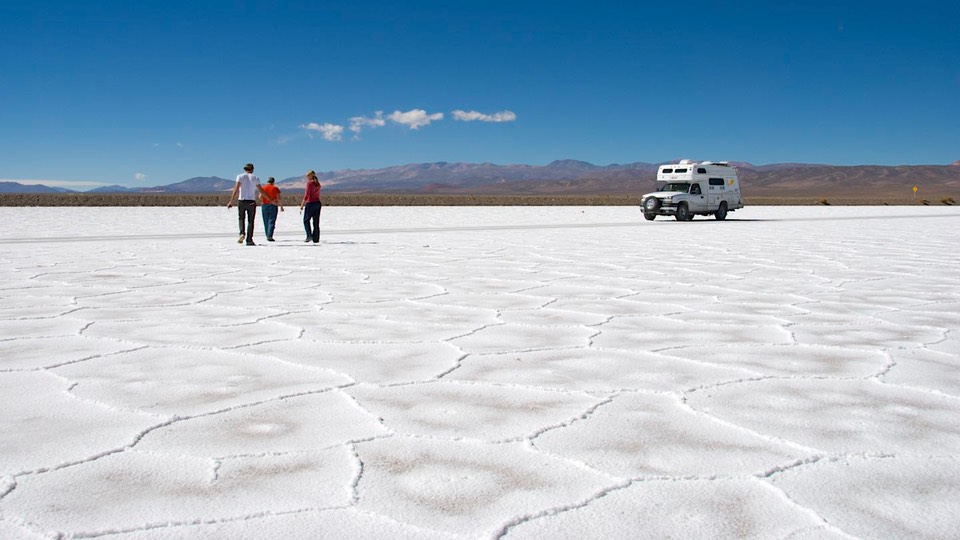 The next morning we had trouble getting moving, but sunshine was all around and that helped.  We took a dirt road northeast, preparing to pick up a highway that led to Purmamarca, the next spot on our map.  Before we even left San Antonio, we spotted a young couple from Australia that we had chatted with the previous afternoon.  They are backpacking their way around South America.  We had enjoyed meeting them, and had promised that if they were still on the side of the road when we got ourselves in gear this morning, we'd take them to Purmamarca with us.  
So we spent the day together.  It was delightful fun, kind of like taking the kids to Disneyland.  We'd seen similar country before, but it was all very new to them, and we had a really good time.  The canyons are lovely here, full of all the gorgeous colors of the rainbow; the altiplano is dramatic; and we saw llamas and donkeys galore.  We all took tons of pictures.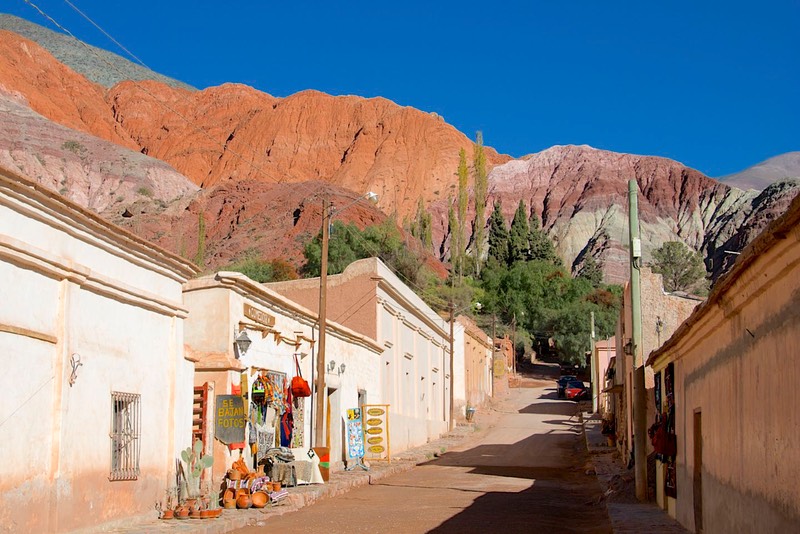 Then we reached an area of salt flats.  Now this was new to all of us.  You can drive out onto them, and it's like totally cool.  We all went bananas; well, three of us did, Rick tends to remain controlled and serene in such circumstances.  
Late in the afternoon we reached Purmamarca, a delightful village with an indigenous atmosphere, the first we'd seen since we left Peru.  The setting, among brightly colored rock formations, was magnificent.  We puttered around, looking at the crafts displayed around the main square, said goodbye to our new friends (with promises to meet up with them in Sydney one of these years) and settled down beside a creek for the night.  Actually, before we even finished unloading the Aussies, we met and began talking to Jürgen and Hilda, a delightful German couple traveling in a small camper.  They are ten years older than we are, look great, and continue to enjoy tremendously their life on the road.  We met up with them along the road twice more in the next few days, literally meeting while going in opposite directions down the highway; each time there was a quick stop, pull over for hugs, and catch up on where we had been and where headed.  They are an inspiration to us, as we surely hope that ten years from now we'll still be writing messages to you about our latest adventures in some corner of the world.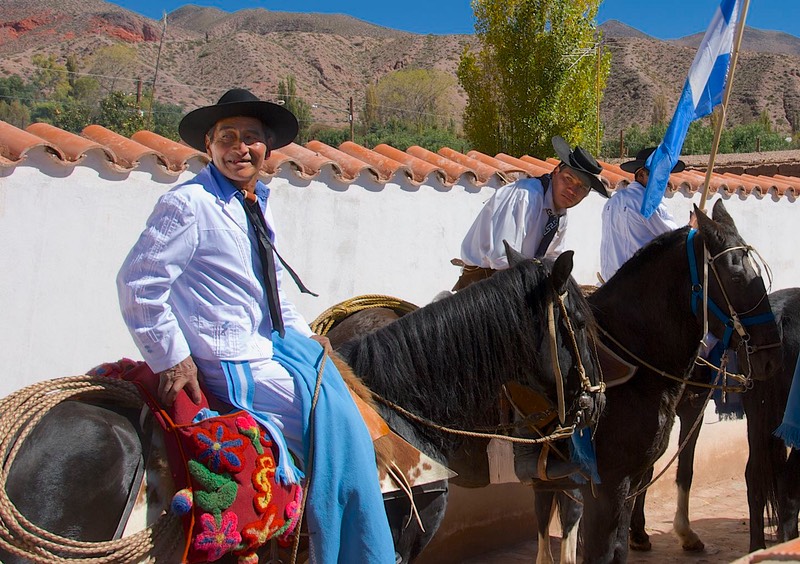 The next day we wandered further north, checking out several other interesting villages.  We were traveling through the Quebrada de Humahuaca, a very famous and beautiful gorge cut through these stunning rock formations.  This is a very fertile growing area, and the veggies were great.  It was a great day.  One small town, Uquia, was having a festiva, complete with a procession of the local groups of gauchos dressed in their typical gear.  
We finally turned south again, heading back toward Salta.  We didn't want to go that far in one day, and found a turnoff (Rt. 4) to a provincial park west of Yala, north of Jujuy (try writing that out in longhand).  We headed west up into the forested mountains – up, up, up; road turned to gravel and got steeper.  We finally reached the park, a lovely and wild place, and spent the night in a quiet spot.   Our map told us the road we were on was a loop, and that it would return to Jujuy if we kept on.  But we checked with a local in the morning; he grinned at us and shook his head; the road was cerrado (closed) just ahead of us.  So we went back down the mountain, enjoying the greenery and little waterfalls (two water crossings), then back to the main highway and down to Salta.  Between Jujuy and Salta there is a back road (Rt. 9) that we were delighted to take; it reminded us of the Blue Ridge Parkway, it was so green and quiet and windy; we toyed with the idea of camping, but were getting low on propane and thought we'd better get back to town.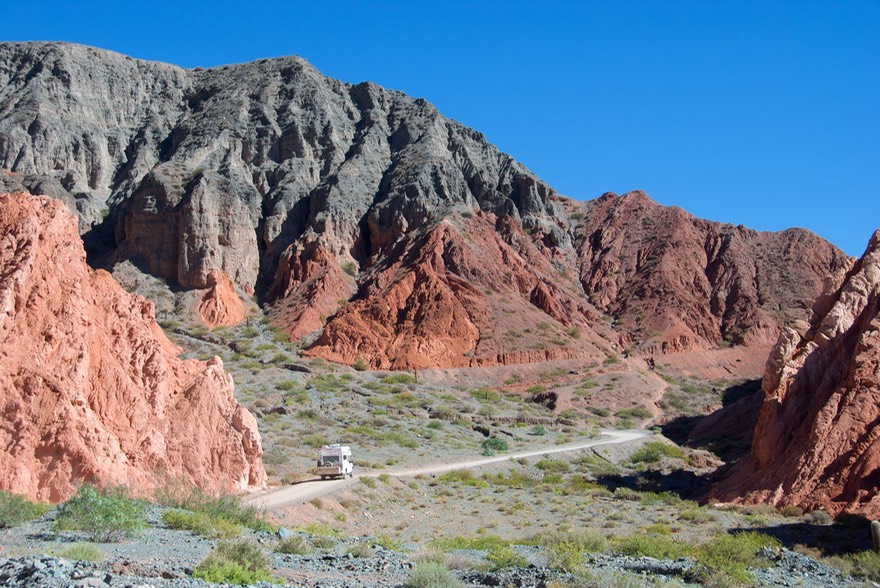 Propane turned into an issue; we spent the next several days getting some, finally going back down to Tucumán (a couple hundred miles south) to get to a plant with a truck.  That accomplished, we came north again, this time enjoying the lovely, windy (this one is famous – 1284 curves), forested road to the Tafí del Valle area and beyond.    We saw Tafí del Valle on a nice clear day; very unusual, we were told; this area is most often misty and foggy and cold, even at the best of times.  Actually, this area was a disappointment to us: dry barren hills; we weren't sure what, other than cooler temperatures, made this spot such a popular destination with folks from Tucumán.  So on we went.  
No surprise, we wound our way higher and higher; northwest Argentina is made up of valleys and passes between them; the valleys have been gorges cut by rivers through the remarkable and colorful rocks; the entire area is lovely to see, although mostly rather arid.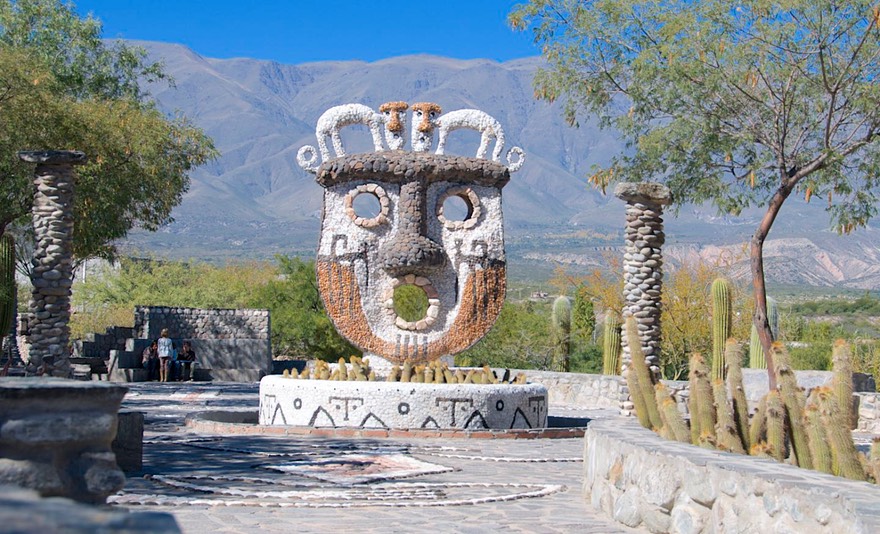 Suddenly, we came around a corner on the edge of the village of Amaicha, and viola!  There were Les Françaises – three of the families we had met at the campground outside Santiago!  They were parked in front of this fun little museum of indigenous art (Museo Pachamama).  We all trouped in, and toured together while we got caught up on the news.  Seems Gregory and Isabelle (they of the 4 children, you remember) are considering a move to Poland next year; we promised to come and visit when we got to Europe.  Good times.
Trekking onward, we continued to see huge bushes of yellow daisy-like flowers along the roadsides, and then at one point passed tobacco drying on the fence.  Tobacco!  We passed through Cafayate, another interesting town.  But they were all beginning to look alike (as were the rock formations), so we headed for the barn.  Back to Salta.   Our treasure map had been splendid, taking us to many interesting and beautiful places.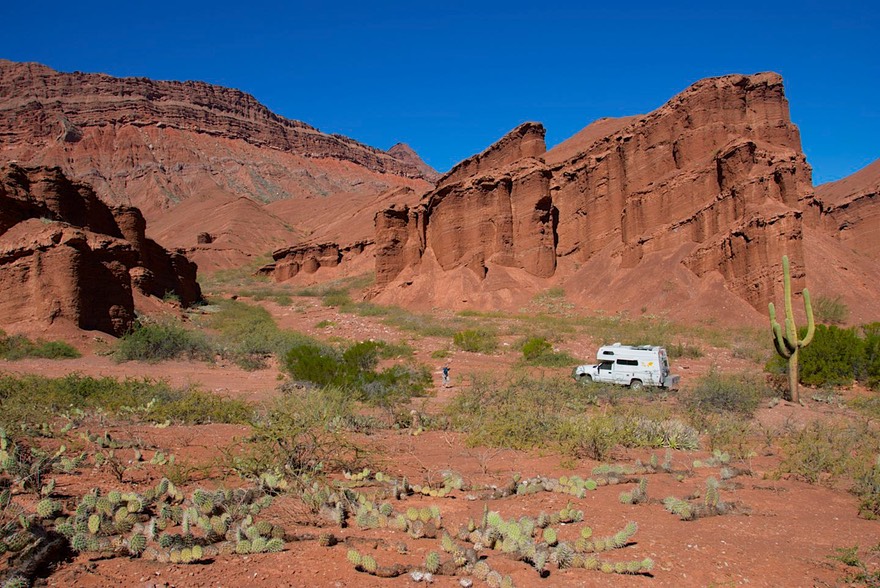 And now it was time to look at the larger picture and decide what was next.  How should we spend the rest of our time in South America?  And from where should we arrange to ship back to the United States?  We had several options – ships were available going north from Brasil, Argentina, or – even – Ecuador, Colombia, or Venezuela.  
We knew our shipping choice would be a major factor in deciding what to do in the meantime and where to go.  So we pondered.  And for awhile, even dithered; actually floundered for just a bit.  And ultimately, the dithering told us what we knew in our hearts – we were ready to go home.  Later, in talking to good Aussie friends Yasha and Jürgen, who have left South America and are now in Germany, they agreed: "When it's time, it's time."  
We would give up Brasil and Bolivia, perhaps saving them for another journey.  We would still be able to see several places in Argentina that interested us mightily, and spend some time in Uruguay, but we would begin making arrangements to ship home from Buenos Aires.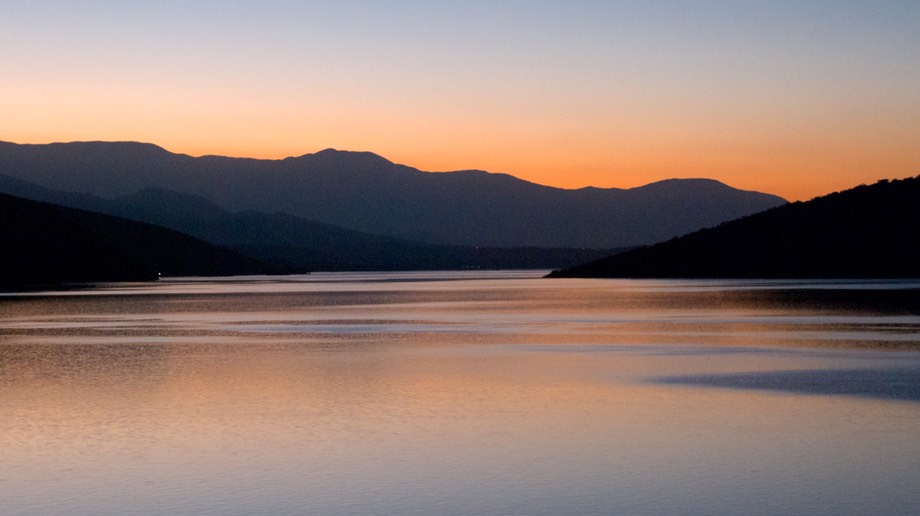 And a new factor had entered the picture; in the midst of the dithering, Kathy's back went out.  To us, this meant finding an area where we could locate a chiropractor (they practice quiropraxia down here) and settle for a bit until things got better.  This turned out to be the greater Córdoba area that we had wanted to explore anyway.  Rather than attack the great city itself looking for help, we stopped in Jesús Maria, a short way to the north, where we found help, good wifi, and a nice town.  We are exploring the countryside in short spurts between doctor visits.  
It also turns out that Argentina has a huge holiday (25 de Mayo), that coincides with the U.S.' Memorial Day weekend, and treated in a similar fashion.  Nothing happens for about a 10-day period down here.  So working on shipping is proceeding slowly.  We'll let you know how all that works out.
We are quite content.  It's been a good run here – a very good run.  And our end game is in place, however the shipping date works out.  They'll tell us when they can fit us in, and we'll occupy the time between now and then.  Pretty simple.  At least that's the plan…stay tuned!
Ta-ta for now from Rick and Her Gimpness
Click the link to see more photos from Northern Argentina.