Summer 2016
So how's that old Chevy of yours holding up?
This is Part 2 of our report on the 2016 refitting of our Provan Tiger motorhome.  If you have not already read Part 1 you should probably do so as it includes explanatory information that I won't be repeating here.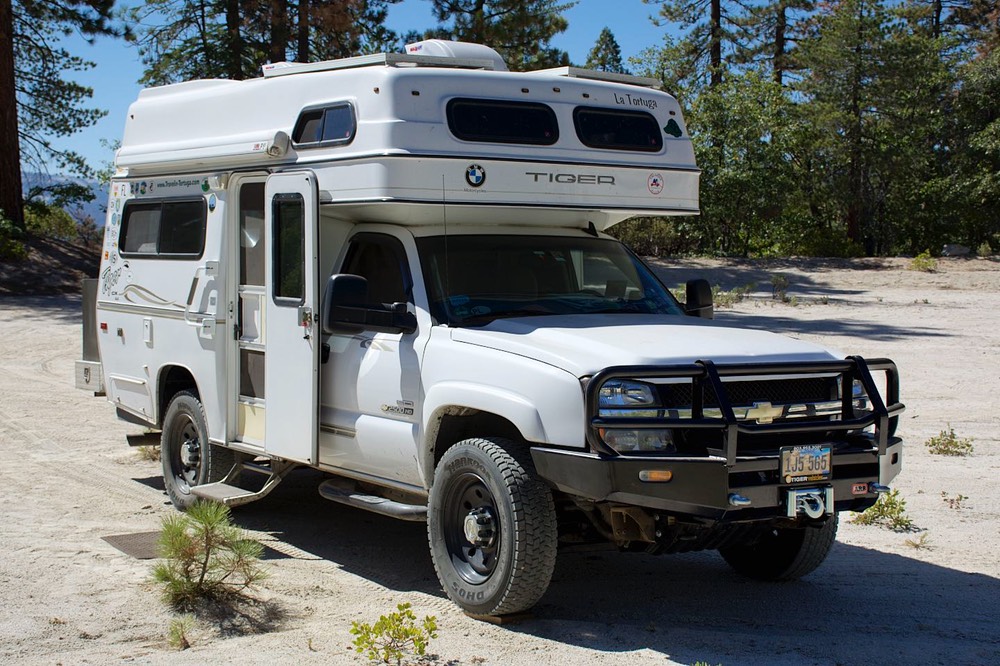 Our 2007 Classic Chevrolet Silverado has given us excellent service over the past nine and a half years.  Despite its hard working life it continues to start, run, drive, brake, handle and steer much as it did when new.  My respect for the vehicle has grown year by year and I cannot imagine being any happier with anything else.  Our decision to perform a major refurbishment rather than start over again with a new vehicle probably says as much about us as it does about the vehicle, but either way it was based on our overall satisfaction with the vehicle we have.
Among several other reasons for staying with our older diesel truck is the simple reason that we cannot take a newer diesel to any country we want to go see.  Diesel emission controls imposed in recent years pretty much limit a truck built since 2007 to travel in developed countries.  This is a complex subject and I've given only a very simple explanation.  Anyone wanting more detailed information can research online or drop me an email. 

So how does one begin preparing an older vehicle for continued overseas travel?  
When we ship our Tiger out of the country in Spring 2017, it will be ten years old and will have travelled over 180,000 miles (290,000 kilometers).  Our plans include hoped-for journeys to at least four continents and more than twenty more countries before our vehicle will again set wheels on North American soil, possibly five years and an additional 100,000 miles after departing.  So...
Where to begin?
First I'd like to extend our thanks to Gary & Monika Wescott of the Turtle Expedition.  Gary did extensive preparation work on their 2001 Ford F-550 before departing on their Silk Road Expedition in 2013.  His write-ups posted to their website not only gave me an excellent overview of how to begin, but also encouragement for the idea of taking an older American truck on a lengthy overseas adventure on challenging roads.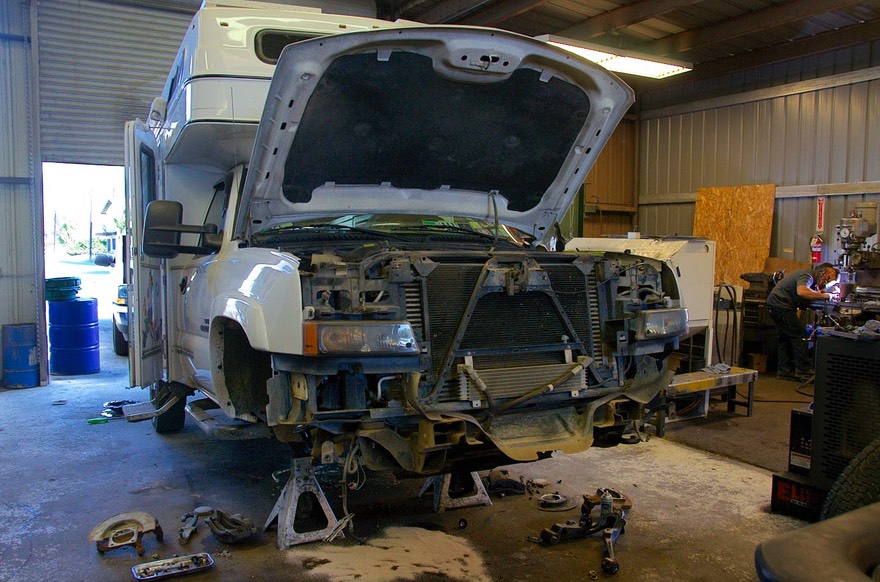 Second, I needed to find the right shop for tackling this type of work and for identifying the specific areas of our Chevy that would likely need attention.  After all, this sort of thing is different from simply doing a scheduled maintenance or a specific repair of a malfunctioning component.  This is taking a vehicle that is basically performing well at this time and asking what is likely to fail next year or the year after that.  A different proposition entirely.
I did a fair amount of research on finding a good shop, but as such things often go, it turned out that a friend of a friend knew someone who turned out to be perfect for the job.  While visiting long time friends in Grants Pass, Oregon, and discussing our plans we discovered RPM Diesel, a local shop which does a lot of fleet maintenance as well as four wheel drive and performance work.  A drive by showed the shop to be full of a variety of diesel vehicles from semi trucks to caterpillar road building machinery; including plenty of pickup trucks of all types.  So far so good in my opinion as fleet maintenance contracts require good work on high mileage vehicles to be performed in an economic fashion over extended periods.
Next step was to call and talk to the shop manager, Tree Simonson.  This went very well as not only did Tree immediately understand what I was talking about, but he proceeded to run down an extensive list of items that he felt we should be looking at - right off the top of his head.  I remember being especially impressed when his first comment was something like, "Well, at those mileages the needle bearings in the transfer case are going to need attention"; clearly not something I would have thought of myself.  It would turn out that Tree's personal vehicle is a Chevy Duramax 4x4 two years older than ours and approaching 300,000 miles.  
I had found my shop.  As the project continued, through many more conversations, emails and finally three weeks of work on our truck, I never had a moment's thought that it wasn't the right choice.  In the end, RPM would do all of the mechanical work on our Chevy aside from the reworking of the rear leaf springs, which was later done by Deaver Spring in Santa Ana, California.
What did we have done?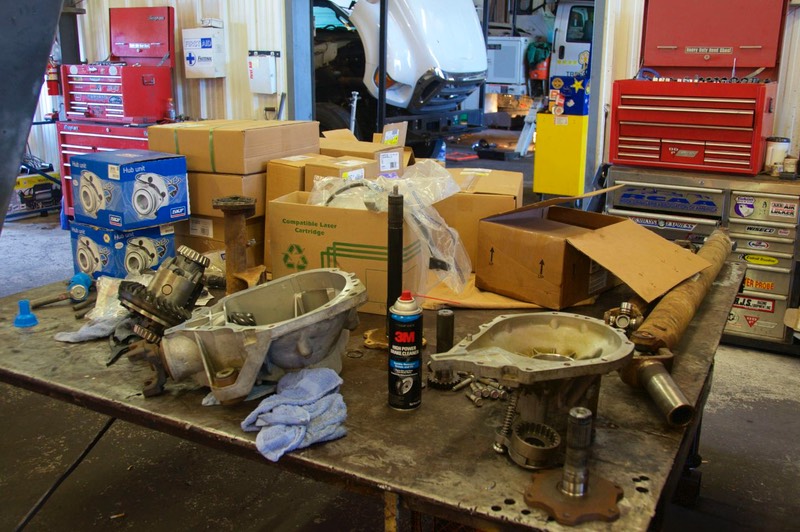 I've grouped the information below into the various systems of the vehicle and have added comments where they seem appropriate.  There is nothing exotic or surprising on the list; just basic maintenance and replacement of wearing items.  I've included items that were inspected or tested but not replaced and I'd like to stress that  few of the items that were replaced actually needed attention at this time; nearly all were simply precautions in order to avoid potential problems out on the road.
The end result of the work done is that we now have an even higher level of confidence in our truck to take us wherever we want to go and to continue performing as it always has in the past.  It's a good feeling to have.
Engine:  GM's Duramax Diesel is an excellent engine and is known to be capable of achieving very high milages without internal problems.  I never contemplated any serious engine work being needed.  Things that were checked were:
Injectors - all the injectors tested in 'like new' condition, right on spec;

Fuel injection pump - this also tested perfectly, no work needed;

Mass flow sensor, throttle position sensor, etc. all tested fine;

Check and repair oil leaks - we had some minor seepage in a couple of places, and these were tightened up; this vehicle has never leaked any fluids on the ground;

Air filter housing - this item was quite loose due to broken plastic mounting pins; RPM fashioned some new attachments to repair it;

Fuel lines and fittings were judged to be fine;

Upgrade fuel filter system? - the only change was to go to a 2 micron fuel filter, replacing the standard GM 10 micron unit.

Drive Belts - the serpentine belt was replaced, though no cracking or significant wear was noted; the belt only had about 60k miles on it as it had been replaced at 117k; we also replaced both idler pulleys and the belt tensioner;

Exhaust system - all checked out fine, no work done.
Cooling System:
Radiator - appears good, but we replaced it at my request;

Thermostats (2) - replaced;

Water Pump - replaced;

Fan Clutch - replaced;

Coolant hoses - all in good condition but two were replaced due to wear from rubbing against frame or other components.
Transmission: GM's six speed Allison 1000 transmission is also highly regarded and shows no sign of significant wear.
Drop pan to clean and inspect - replace gasket, internal filter and screen;

Flush fluids for complete fluid change

Inspect lines & Hoses - the trans cooler lines on these trucks can be a weak link but we had upgraded the lines in 2012.

Check rattle sound when downshifting to 4th under load (does not occur during manual downshift).  This sounded like a cracked heat shield or similar but no problems were found and it was judged to not be an issue.

we also re-located the transmission cooler to a higher spot as it ended up right behind the new winch assembly and suffered from the resulting blockage of the air flow.
Driveline & 4x4: This area provided the only real surprise of the project as the axle housing had to be replaced when it turned out to be sagging; details below.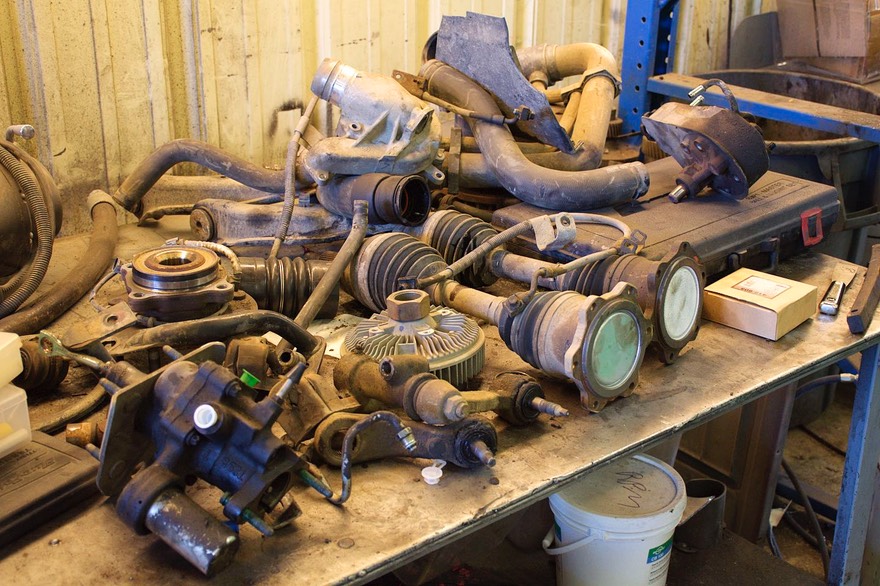 U-Joints - replaced in both front and rear driveshafts;

Front drive axles were both replaced;

Transfer case and front differential - disassembled and bearings replaced as needed;

Rear Differential serviced;

Rear axle bearings & seals renewed;

Rear axle housing - the housing was replaced by an axle assembly from an '07 2500HD from a local wrecking yard because one of the steel axle tubes had bent upward slightly.  This was most likely caused by a combination of higher than stock weight in the rear, many miles on rough roads, heavier than stock wheel/tire assemblies and also the use of 2 1/2" aluminum wheel spacers in order to move the wheels outward for a better appearance; by making the axles effectively longer they also increase leverage at the end of the axle.  The spacers were left in place as no one felt that they were a significant factor.  Update 2017: Unfortunately this was not to be a final solution. Go to The Envelope Pushes Back to see how we needed to revisit this issue while traveling in Australia.

As an extra note, all internal gears and bearings in both differentials and the transfer case looked to be in like new condition despite the high mileage.
Suspension & Steering:  Lots of parts were replaced in these areas as a precaution rather than them being actually worn out at this time.
Idler arm & Pitman arms replaced;

Idler arm & Pitman arm support kit added from Cognito Motorsports; note that this was the only aftermarket upgrade added to the truck apart from the bumper and winch mentioned below;

Front torsion bars? - all OK

Front hubs - were both replaced to be on the safe side, they had been replaced at 130k miles after one failed.

Service & inspect steering - due to our use of the truck on rough roads and our larger and heavier tires and wheels it was decided to replace the steering box and power steering pump; at this mileage, a stock truck seeing mostly highway miles would not have been likely to need either item;

Inspect all suspension bushings, ball joints, mounts, etc. - upper and lower control arm bushings and ball joints were all replaced;

Sway bars: inspect, adjust, inspect bushings, etc.  - all bushings replaced front and rear;

Repair clunk in rear sway bar area - this was caused by a loose bolt;

Rear leaf springs - with Tree's recommendation, spring work will be done by Deaver Spring in Santa Ana;

Shock absorbers - a new set of Bilstein 5100 Heavy Duty shocks will be installed at Deaver;

 (see below for details)
Brake System: I knew going in that we would basically replace the entire braking system simply due to the high mileage.  Brakes were still working fine, but we did have noticeable vibration when braking coming downhill; presumably due to warpage of the original brake rotors.
Complete overhaul of system

Brake rotors - replaced;

Brake pads - replaced with new rotors, old pads still good and saved as spares; this set of pads had been installed in 2015 and only had around 25,000 miles on them.

Brake calipers - replaced with remanufactured units

Brake power booster - replaced as it was beginning to leak;

Brake lines - replaced all rubber lines;

Complete fluid change;

Researched upgrade to later year larger GM rotors or aftermarket upgrade kit, but stayed with stock parts.
Other:
Naturally a complete servicing was done during the inspection and replacement process.  This included all new fluids and filters for all systems.

Install ARB bumper & Warn winch; remove front receiver hitch. 

Inspect frame for cracking; pay close attention to tightness of all mounting bolts, etc. - no problems found;

Inspect protective skid plates for engine, trans, etc.  Advise on other protection needed - all fine, no additional skid plates added;

Tighten and Loctite all chassis bolts wherever possible - done;

Inspect, repair, upgrade wire harness; (we have had numerous coding incidents over the years) - located and repaired several insulation damage spots caused by rodents; re-did and improved some earlier repairs;

At Tree's recommendation we installed an Edge Performance Insight digital engine monitor;

Advise on other known weaknesses or aftermarket upgrade kits, etc. - no other additions recommended.


What we should have done a long time ago:  Pickup truck rear springs are assigned an almost impossible task; provide a reasonably comfortable ride regardless of what load is carried.  Either empty or fully loaded the springs are supposed to do a good job; and they do, up to a point.  A fully loaded, full-timing Tiger motorhome with the same weight on the springs all the time is beyond that point and the springs need some help, particularly on a 3/4 ton 2500 like ours.  In all the years and miles we've driven our Tiger we had relied on the stock rear leaf springs.  Early on, when the Tiger was about six weeks old, we had added a pair of airbags to help support the load and a set of Bilstein shocks along with a rear sway bar to help control sway.  In all honesty, this combination worked pretty well, but I knew we could do better.  There were two main areas that I hoped to address; as it sat, our stock leaf springs were not strong enough to properly support the weight on the back of our Tiger (about 6,200 pounds), so we had to run high pressures in the two air bags (about 80 psi).  This resulted in a fairly bouncy and somewhat uncontrolled ride in the rear; an unfortunate combination of harshness on sharp bumps, more sway that I liked on uneven ground and a pogoing motion over dips and larger bumps.  Just as important, I knew that if one of the air bags or lines failed we would then revert to an even worse ride until repairs could be made.  Enough said.
Deaver Suspension in Santa Ana has been around for a long time - like four generations or so - and they really know what they're doing.  So off to Deaver we went in late September for some reworking of the system.  Jeff Crosby and his crew removed both leaf spring packs and added three new leaves to each side; we went from four factory leaves plus an overload to seven leaves and an overload for each side.  They also evened up the arcing of all of the leaves for a nice, even fit.  New plastic spacers between the leaves, new u-bolts, new bushings and shackles completed the entire setup.  To top it all off they installed a set of new Bilstein 5100 series heavy duty shocks.  The whole job took about four hours and we amused ourselves endlessly playing catch with Princess, the greatest yard/guard dog around; what a sweetheart she turned out to be. 
Results?  You bet.  The Tiger is much more stable now, particularly when making those troublesome turns into or out of parking lots.  Before, the Tiger would react strongly to the side to side lean induced by the change in the angle of pavement; Jeff commented on how it felt when he just moved it around their lot before the work.  Afterwards, the body of the Tiger takes the manuever in stride.  Going down the highway the truck is also noticeably more stable and less affected by passing trucks.  All of this without any increase in ride harshness.  A full test on rough roads is still to come, but I'm confident performance in those conditions will be much improved as well.  Mission accomplished. 
Additions & Upgrades:  After spending most of the past six years in well developed countries in Europe, spending little time off pavement, the travel plans we are making now will involve a return to the kind of travel we enjoyed in South America; rougher roads and increased possibilities for either getting stuck somewhere ourselves or of coming across other vehicles that might need some help from us.  Basically our plans constitute a return to more challenging driving conditions.  And where do we anticipate running into such condtions?  Over the next five years we hope to visit Australia and New Zealand, then Southern Africa, and return to Europe in order to travel to Russia, Mongolia and Central Asia ('the Stans') among other things.  At that point we may be ready to return home to North America, or just possibly go back to South America.  That time is definitely too far in the future to know anything for certain.
With this in mind, and in order to improve upon our own self contained abilities should we run into problems, we decided to add a heavy duty front bumper and winch to our truck; this is the most major change we've made.  In order to accommodate the front winch, we needed to relocate our spare tire from the front of the truck to the rear; and to do this we needed to rearrange our storage boxes on the rear of the truck.  This is the second change.  We had new boxes made that would slightly increase our storage capacity, improve the water and dust sealing of our storage, and accommodate the new position of the spare tire.  All of this done with as little increase in overall length of the vehicle as possible.
We are also in the process of adding other recovery gear to the things we will be carrying.  We intend to add a pair of maxtrax sand ladders, a high-lift jack, straps for winching and towing, a pair of jerry cans for added diesel fuel, possibly a pump for fresh water and a variety of lesser items.  Where and how we will carry them all is yet to be determined, but carry them we will.  
These photos show the changes we've made so far.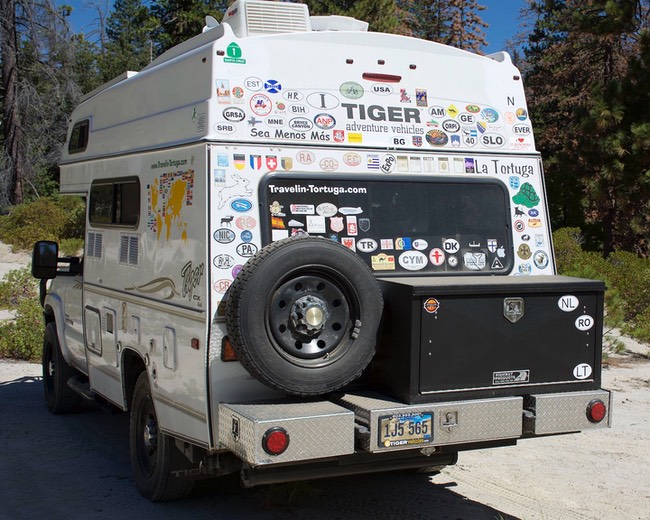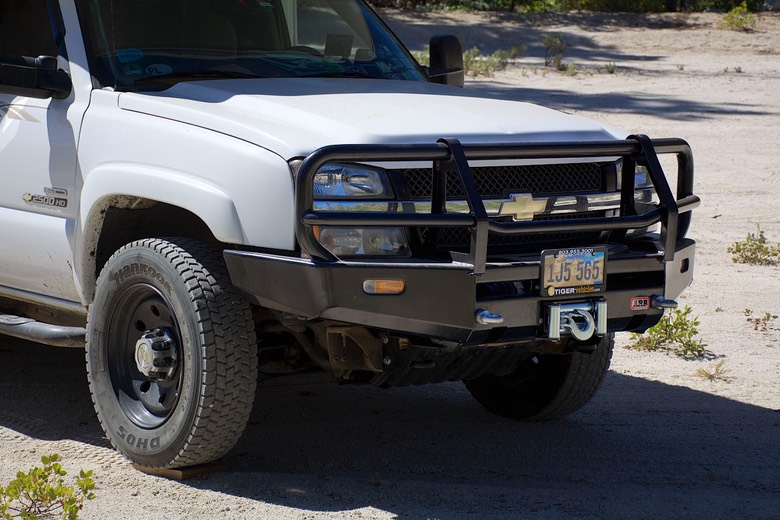 One anticipated change that in the end we decided not to make was the intended addition of a locking rear differential.  It turned out that the only available unit to fit our truck is the air operated ARB Locker.  Tree has had a lot of experience with lockers of all types and was able to convince me that while the ARB unit is good for weekend outings and competition use it was not as suitable for our intended use as other units. We will continue to rely on our factory limited-slip differential.
Go to Part One of this report to read about the refitting of our Tiger's interior and systems at the Provan factory in South Carolina.