January 2003 
Grapefruit R Us, What R U?
Florida
Extra added bonus... A Day at the Mouse House...
You cannot comprehend the size and beauty and wonderful taste of the Florida grapefruit.  All my life I wouldn't eat the stuff; too sour.  But these are sweet and yummy.  And we eat a bunch of them every day.  Stands on the side of the road with all kinds of fruit, including fresh local pineapple.  Would you believe it?  Wow!
Here we are, back in sunny Florida.  Sometimes it's warm and muggy, sometimes we are very, very cold.  But what the hell, that's life.  We're sitting around in shorts and tee shirts, Jeremy is shedding all his extra fur, the fans are out when it's humid, the heater's out at night, it's January in the land of the alligators.  It's also the land of Twinkle Andress running for State Treasurer; now could you vote for Twinkle to take care of your money?  If you're related to the folks up in Georgia who recently elected Sonny to the governor's chair, you probably would.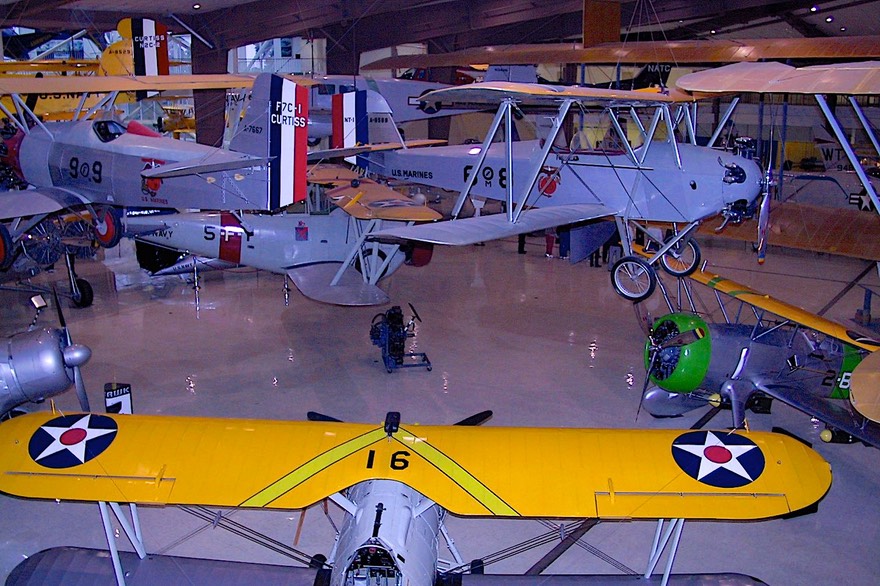 We've been in Florida since shortly after Thanksgiving, and will remain until mid-February.  And we're having a good time.  Florida, not surprisingly, is a state of contrasts.  We far prefer "old Florida" areas, which are quiet and rural, and pretty much left alone by the tourists.  But we ventured into the greater Miami area one day, and that was fun, too.  Miami's architecture is lovely, bright and clean and full of sunny colors.  Best view is from across the water, at Key Biscayne.  We wandered around with some new friends who were from the area, and they drove us along the main drag in South Miami Beach; a sight to behold!  Just like you've always seen it on television.  A place to visit, not to stay.
We came into the state from the west, from southern Alabama.  We stopped for a day in Pensacola at the Naval Aviation Museum, which is huge, very complete, and quite awesome.  This was by far the nicest, largest, and most professional of the many aviation displays we have seen thus far.  Countless restored aircraft stored in a beautiful indoor facility as well as a bus tour to view additional hangar and flight line displays.  We spent a day just seeing the planes up through WWII and left the rest for another visit.  One of the wonderful luxuries of our life now is that we don't feel the need to see everything at one time.  Knowing there's more to see just gives us something to look forward to for next year.  Traveling east along the Panhandle area, we had hoped to spend several days moving along the coastline, but the weather was crummy and we stayed up on the interstate this time.  Doing so, we missed some gorgeous beaches and wonderful old homes, but there's always next time (see above comment).  We did see some fall color, yes, even in Florida.  Some of the trees were turning….sorta.  Kind of funky color, but legit anyway.  We also saw a converted bus motorhome with the name "The Cat Dragg'd Inn" which we thought was pretty keen.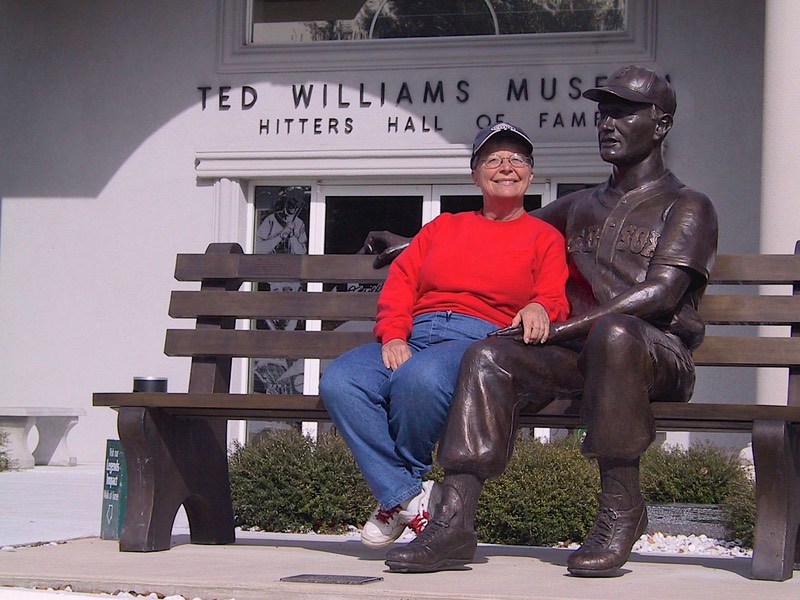 Florida was the winter home of Ted Williams, and in the small town of Hernando he created the Ted Williams Hitters Hall of Fame.  We spent an afternoon there, among more memorabilia and neat stuff (there's a difference…..) than you can imagine.  With Ted's death this last year, we suspect there will be lots of activities there in the near future.  Around the corner, by the way, was a mortuary that also advertised day care.  Just think about it…..
Christmas decorations are the same in Florida as elsewhere, except the outdoor manger scenes are likely to have palm trees arranged behind the family scene.
Oh, yeah, lots and lots of rain.  And one day, when the rain stopped, we had a visit from a very feisty crawdad; Rick advanced, he stood his ground, raising his pinchers on high, just daring us to try and take him alive.  He was about 6 inches long; I believed! And we stepped aside…
The further south you go in Florida the flatter the countryside; more agricultural, more fruit stands, more rural except along both coastlines.  Struck us as a combination of Kauai, Hawaii, and Phoenix, Arizona.  Strawberries are already in the markets, and corn, beans, celery, all local and all delicious.  In Naples we stopped at a favorite citrus stand and picked up food to take into the Everglades with us; then, when we got to our destination there was an even better stand not far from the National Park.  And they had the best key lime pie I've EVER come across.  Truly awesome.  We did ourselves proud.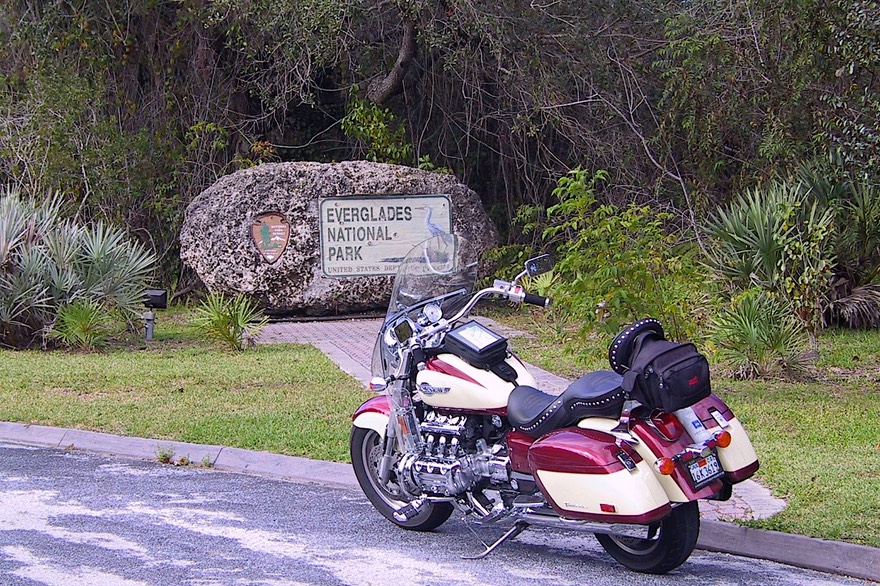 We love the Everglades; this was our second visit.  We stayed for two weeks.  It's a beautiful spot to camp in our "Room with a View."  The National Park is lovely, full of great birding and alligators and cool stuff.  Also a lot of mosquitoes.  We are covered with bites.  But it's worth it; the Everglades are like nothing else in the world.  If you have never been, go go go, now!  But don't go in the summertime!  We chatted with a couple from Miami who visit the park frequently during the year.  They said they had come over once in August and it was so hot and humid they didn't even make it through the day but left to go home.  One of the most fascinating things we saw was a bird that caught a fish far too large to be easily swallowed.  It took awhile, but he made it.  We watched him change the shape of his throat and the fish slowly disappeared.  After he got it all down, then he tried to fly away.  Boy did he have trouble getting lift-off!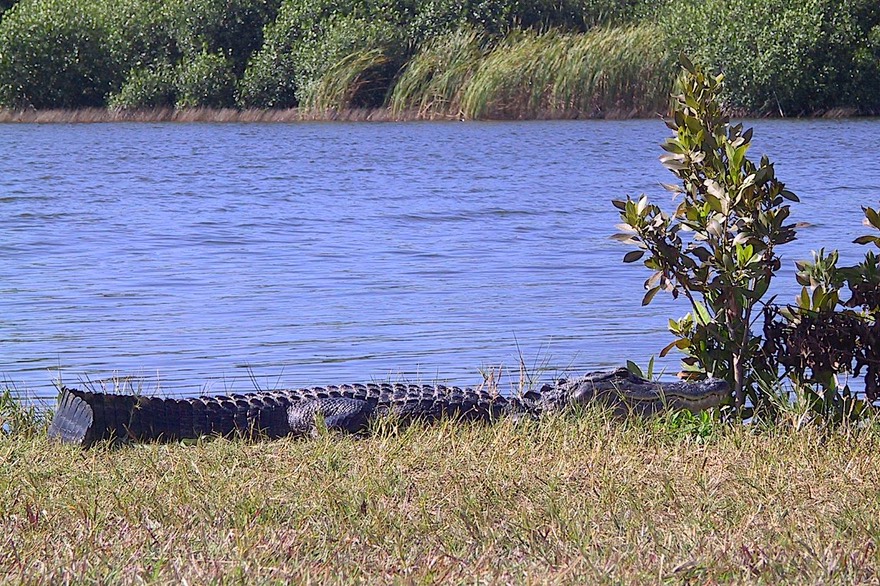 Two weeks in the Everglades was enough, and we headed back into the "civilized" world.  As you may know, that area was badly devastated by Hurricane Andrew in 1992, and the towns are only now beginning to recover.  Unfortunately, recovery seems to mean lots of chain store operations and fast food franchises; very little local flavor is left.  It's a rural, poor agricultural area anyway, with low-income housing for workers; not a lot to recommend it at this point.  We felt sad as we left the pristine natural beauty of the national park and were immediately immersed in some of the worst evidence of our modern American life.  Ah well, we're thankful the park still exists.
Leaving the area you can head north in several ways.  We chose to avoid the coastal buildup and wander inland through fields of cattle, horses, oak trees, and citrus orchards.  This is the land of Minute Maid Way, so you know who's in charge.  Heavy picking is underway in all the orchards, and there are bags of fruit for sale on every corner.  We traveled through Sebring, with a stop at the raceway; this is a nice, viable little town with a charming courthouse circle in the middle of "downtown."  Another time we will explore the area more thoroughly.  Lake Okechobee is nearby, with lots of fishing and campgrounds.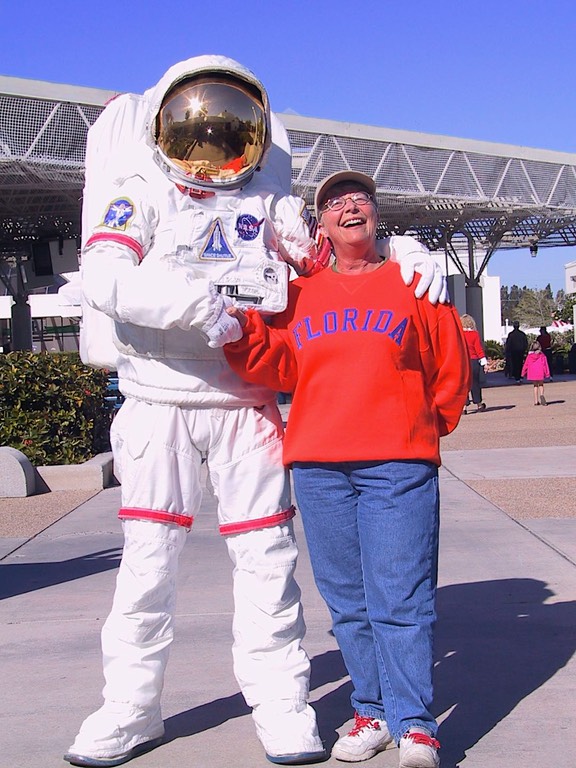 Next stop:  the Atlantic Ocean and the Kennedy Space Center.  What a trip!  We stayed in a charming campground right on the water, only a short distance from the launching area.  Unfortunately, no shuttle went up during our visit, but if it had, we would have had front row seats.  We'll remember that if our timing is better on another occasion.  We spent two days at the space center, and it was overwhelmingly cool cool cool.  Kathy had her picture taken with someone in full astronaut regalia.  We got to stand next to actual Mercury-Redstone rockets along with many others, and there were really good explanatory plaques to tell the story of each.  Kathy learned a lot.  Rick, of course, already knew it all…..  And we got to go out to where the Saturn 5 rockets were and where the Apollo launchings took place.  Standing next to a Saturn 5 rocket is a very humbling experience.  There were really keen diagrams and cutaway models so you could see how the whole thing worked.  Truly awesome!  A separate building housed the Astronauts Hall of Fame, which I really enjoyed.  It was cool to see what kinds of activities these folks took part in when young, and where they went to school, and what they're doing now, etc.  The entire space center experience was very impressive and wetted our appetites to come back to view a launch.
And then we went to the Mouse House.  That's what the locals call Disney World.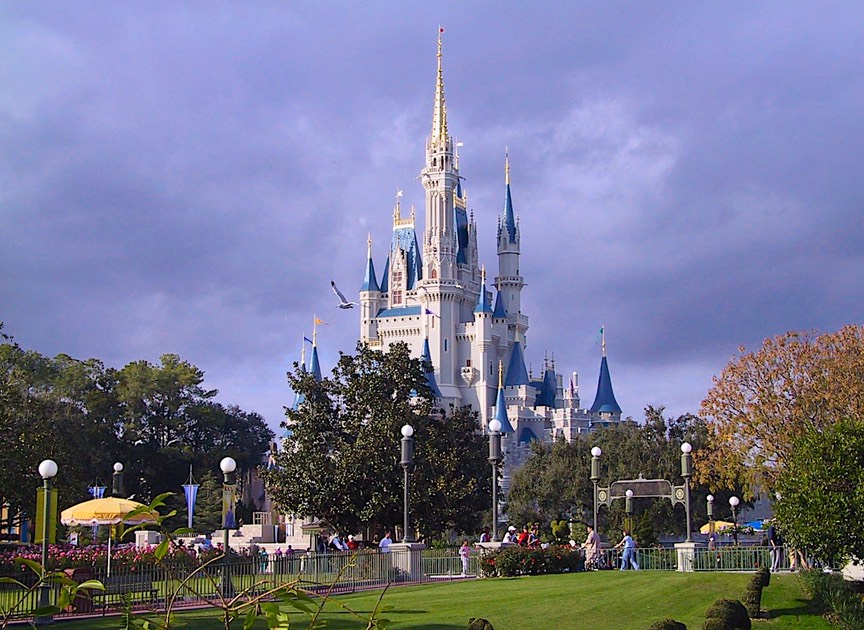 Rick, being a southern California kind of guy, couldn't do without a visit to the Magic Kingdom, so I, being a northern California kind of girl and not caring, went along.  And so now we don't have to do that again. Rick found out it's just like being in Anaheim, but no smog.  A bit bigger, but mostly the same stuff.  BUT THE COOL THING:  we picked the perfect day to be there.  It was Friday of the week the kids had just gone back to school.  The place was practically deserted.  No waiting to get on any of the rides, no crowds fighting for places to see the parade, no half-hour wait for a place to sit down for lunch.  One memorable moment: we were parked in the Happy parking area (as opposed to Sleepy, Dopey, or Grumpy, all of which we are at times), and riding the tram from the parking lot to the entrance the girl was reminding us where we were parked and kept saying "Remember you are Happy, Happy, Happy, Happy, Happy; and when you leave the tram, if you hit your head remember to lower your voice and watch your language; you are Happy, Happy, Happy, Happy, Happy."…..all in one sentence.  Rick rode on Splash Mountain; Kathy rode on the carousel.  We had fun, and despite her Northern Cal reserve, Kathy grinned a lot.
We are now sitting in one of our favorite campgrounds, in Bushnell, among a grove of oak trees, with cattle around us and quiet the rule of the day.  The sun is shining, even though the 49ers lost last Sunday (the Mooch needs to go), and we are planning a motorcycle ride into Tampa to the huge RV show that starts tomorrow.  Then we'll move up into Georgia to go to a huge motorcycle show in Atlanta (com'on, Kathy, you will too have fun…..).  We're getting excited about moving on into Texas and Mexico next month; we think that's going to be a splendid adventure.  But for now, life is swell, we're healthy, happy (happy, happy, happy) and having a great time… and hoping you are the same.
Bye for now, Rick and Kathy.
 See more photos from the US & Canada in 2001 to 2003