February/April 2016
Lo! and (also) Behold!
A time of much travail… and travel too
Suddenly we find ourselves back on the road… in La Tortuga.  Finally, after 6 months of separation, we arrived back at the factory in South Carolina and our Tiger was ready to head out on new adventures.  To borrow a phrase from French friends Daniel and Valerie after shipping their motorhome back from South America to France in order to make repairs, La Tortuga had rediscovered his youth.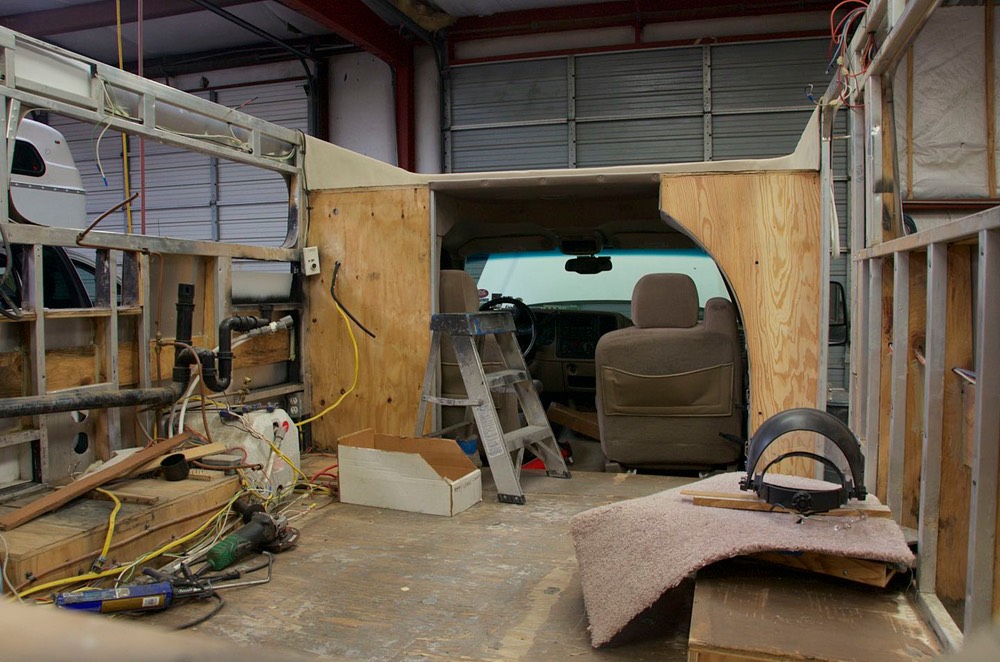 It has been a long struggle for us, this waiting to pick up our old friend.  But in the end we knew we'd done the right thing.  We'd decided the Tiger needed to come back to the States for repairs before being shipped off anywhere else.  Of course, we had no idea it would take this long, or that the repairs would be so major, or that we would end up making four trips across the United States in order to make it all happen (and yes, that's about 3,000 miles each way).
But the deed is done, Tiger has a complete new interior, new floor, new-new-new almost everything.  He looks quite the thing.  It's a pleasure to walk in, enjoy the colors of the new flooring (that stuff we put down in Bulgaria really was terribly drab you know), and to take a shower in our spiffy new bathing facilities (still the same tiny size but with new walls and fixtures — including a quite magnificent shower head — yeah, it's a guy thing).
We could bore you with chapter and verse on what all was done.  We could tell you how very well the owner of Tiger Adventure Vehicles took care of us.  We could discuss all the things that remain to be attended to before we ship La Tortuga overseas again, but we won't, at least right now.  We'll give a brief summary here and if you like you can go to 2016 Tiger Refit 1 for lots more details.  For now here are the highlights:
The first photo shows you how far the Tiger Team went in order to ensure a quality repair.  We started with a couple of fairly simple water intrusion issues, basically some warping of the floorboards and some staining of the headliner.  These no doubt could have been dealt with in a more simple manner, but in consultation with us, the crew decided to go much further than necessary for just a basic set of repairs.  In the nine years since our Tiger was built, there have been many changes made at Tiger and the quality of materials and construction has improved considerably.  In the end we all agreed to go The Full Monty, so to speak, in refurbishing La Tortuga.  And as a result we now have basically a new unit, including cabinets, interior walls, a new roof that gives us greater headroom, some new windows with improved sealing, and even new fixtures and some new appliances.  The end result is indeed beautiful and we are very pleased.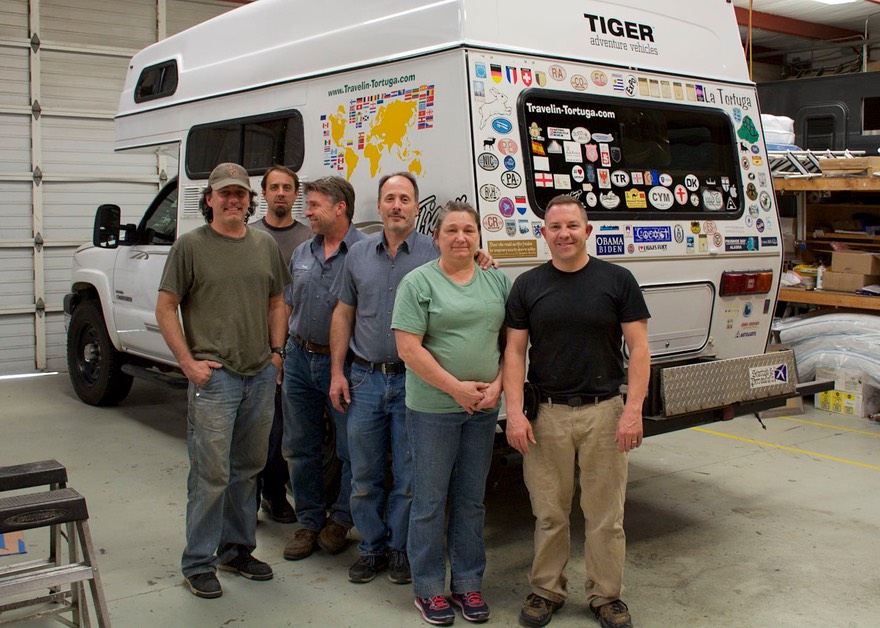 On a more technical side we have also made a number of systems changes in order to further improve our Tiger's capabilities out in the wild.  We've removed our propane generator in order to save weight and create more interior storage, and compensated for its loss by doubling both our battery capacity and our solar charging ability.  We've also further upgraded our ability to charge the batteries from the engine alternator.  To reduce our use of propane even more we've installed a diesel-fired furnace for heating the interior.
But enough of that.  We also want to tell you about what else we've been up to.  During one of those long, boring trips across the United States, along about mid-February, somewhere on I-10 crossing west Texas, we had an epiphany.  Perhaps not quite 'on the road to Damascus' level, but still pretty significant.  How about 'on the road to Marfa'?  We decided it was time to downsize, to make our lives simpler.  Could have simply said never again would we drive I-10 from California to the East Coast; but no, we decided — after long discussion — that we had too many vehicles in too many places and that it was time to cut back.  They all had to be maintained, stored when not being used, were deteriorating from not being used enough of the time, all that and more.
So.  We have sold the motorcycle, to a long-lost friend in California, who answered our ad not even knowing we were the owners.  This led to a great reunion and the BMW now is being ridden regularly by someone who is totally delighted to be its new owner.  Rick was sad to see it go; this will be the first time he's been without a bike since he was in his 20's.  
And here's the biggie; we've sold our larger American motorhome, Fred the Foretravel.  This decision was a bit of a struggle, too; we've lived in and loved the Foretravel for eleven years.  It has been the coach we've come "home" to whenever we were in the States.  But downsizing was important to us, and now was the time to sell the Foretravel. When we leave the country this next time, quite possibly we will be gone for 2-3 years; motorhomes need to be used, not put away in storage for so many months.  Luckily, friends in Colorado decided Fred was just the ticket for their future plans, and earlier this month we drove to their home, spent a few days showing them the ropes, waved good-by, and took a plane from Denver to South Carolina; back to Tiger Town.
After a couple of days wrapping things up at the Tiger factory, we hit the road at last back in the Tiger.  Once again we were crossing the country, this time further north on Interstate 40, enjoying the springtime weather, the scenery and some of those "only in America" sightings we love so much, including Toad Suck Park outside Little Rock, Arkansas, and — right over the border into Colorado — a hash store called The Marijuana Place, A Recreational Dispensary, with a sign saying "Walk-Ins Welcome."  Then it was on to our good friend and solar guy, Ron Wicklund at D&R Family RV in Phoenix, AZ for the installation of the Tiger's new solar panels and finishing work on various electrical systems. 
We'll be remaining in the US until about this time next year.  Now that the Tiger's house is all spiffy again, we plan to have the truck half fully checked over and improved before more adventure travel.  Along with this, we have plans to attend Overland Expo outside Flagstaff in May (hoping we won't get snowed on this year), and a Tiger owners' rally in the Colorado Rockies in June.  After that, we think we'll spend the rest of the summer just wandering in the rural West, parking beside mountain streams and nibbling on local grub.  We need the rest.  In the fall, Rick has scheduled rotator cuff surgery on his other shoulder, which will keep us stationary in Morro Bay, CA for a few months.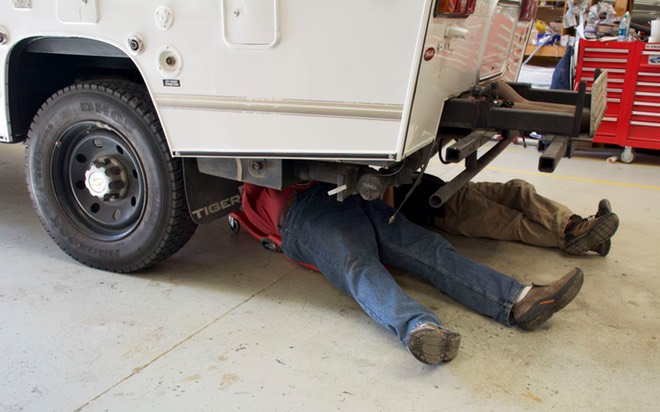 Next year?  Well, the jury is still out, but there's a good chance some exotic wildlife is in our near future.  You'll just have to wait and see… and shhh, don't tell anyone!
Rick, Kathy and La Tortuga muy guapa
PS: Oh, all that blank white space on the back of the Tiger's new roof?  Not to worry.  Replacement stickers are already on hand to begin filling the void and friends in several countries are at work on our behalf gathering more.
PPS: Not to worry; the guys were nice enough to let Rick take a look underneath, but they didn't trust him with tools.