September/October 2009
Westward Ho the Wagons
Iowa, South Dakota, Wyoming, Idaho, Washington, Oregon, Nevada, Arizona, California
Following the Setting Sun.
Having heard from multitudes of you (actually, just one person, but he really counts), saying where are we and what are we up to – it's time to be back in touch.  We left you in Wisconsin; we are now all the way across the country, in California.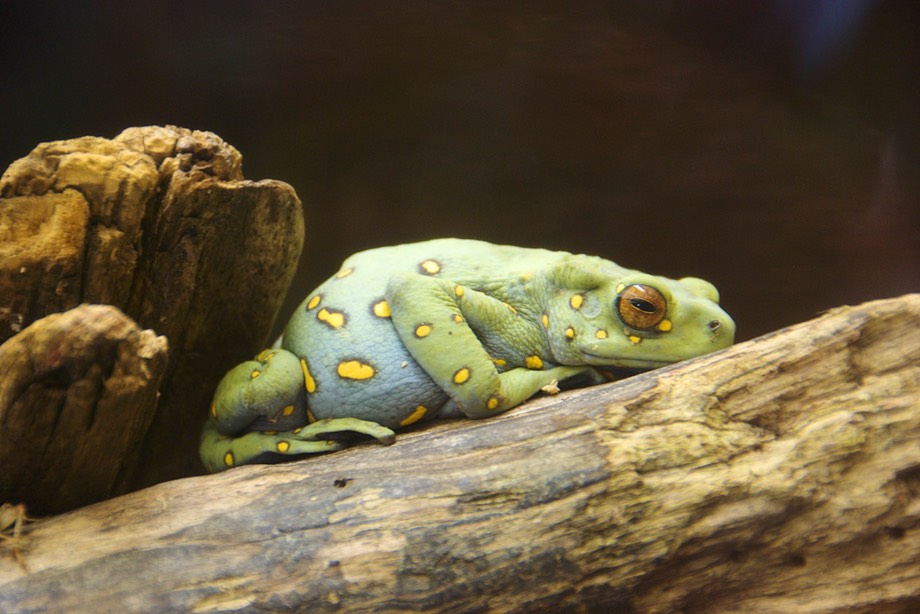 We really loved the upper Midwest.  We spent beautiful days riding the new bike around Wisconsin and Iowa.  It was surprisingly cool, unusually so for August, and we reveled in the lovely weather.  We were keeping an eye on the West Coast, and noticing how miserably hot it was, so we were in no hurry to get there.  We spent a lovely afternoon at the Ulysses S Grant home in Galena, Illinois and then made several stops in Iowa as we traveled along, particularly enjoying the Mississippi River Museum in Dubuque and the Herbert Hoover Library and Museum in West Branch.  
Learning about Hoover was especially great; he gets such a bad rap here in the U.S. that folks don't think about him much.  The library and museum were, quite naturally, focused on the good stuff – and there was a ton of it.  Hoover was a brilliant engineer (he designed and oversaw the construction of Hoover Dam, an extraordinary achievement) with some excellent ideas on improvements for the country, and had made quite a name for himself as a humanitarian before becoming president, but when the depression hit he was the wrong man in the wrong place at the wrong time.  As with Jimmy Carter, post-president he redeemed himself as a statesman, and deserves a lot of praise.  We spent hours in the museum, learning about him (and his very intelligent and forward-thinking wife), and really enjoyed the day.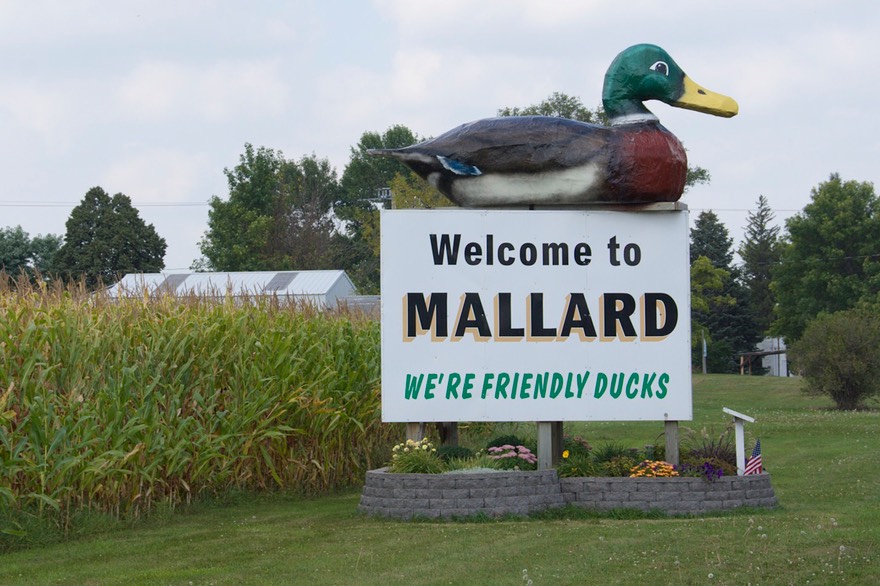 Moving west, we returned to Rapid City, SD to get some stuff done, and then on into Wyoming.  We were starting to see a little more fall color, but the weather continued to be terrific.  We camped a few days in Bighorn National Forest in northeast Wyoming; they were moving cattle down from the high country and there was a regular parade along the roadway.  We thoroughly enjoyed riding around this lovely high country before continuing on our way west.
We always enjoy Yellowstone NP and didn't want to miss that area, but spent little time because there were entirely too many folks on the roads, you cannot get off to yourself, and so many of the campgrounds were already closed that we had real trouble finding a spot for ourselves, even though we are so small.  The park is gorgeous in the fall, however, and we got our bison fix by eyeballing these wonderful beasts in their natural habitat.  Another thing we enjoyed was seeing how much regrowth there has been in the area where the huge fire took place in 1989.  Twenty years on, the scraggly little trees we've seen on previous trips are beginning to turn into forests.  
It was now mid-September and getting cool at night.  We spent a few days in the Star Valley area of SW Wyoming, south of Jackson Hole, where the aspens were at their most brilliant.  Fall is such a beautiful time!  We did some off-road trail riding on the bike and enjoyed being in the back woods.  The coyotes were yipping at night.  We wished we had our little catalytic heater that was sitting at a friend's house in California (where it had been shipped after being repaired) because it was close to freezing at night.  We finally made a panic call to them and asked that they ship it to our next destination, in nearby Idaho.  We welcomed the heater with great joy and ceremony.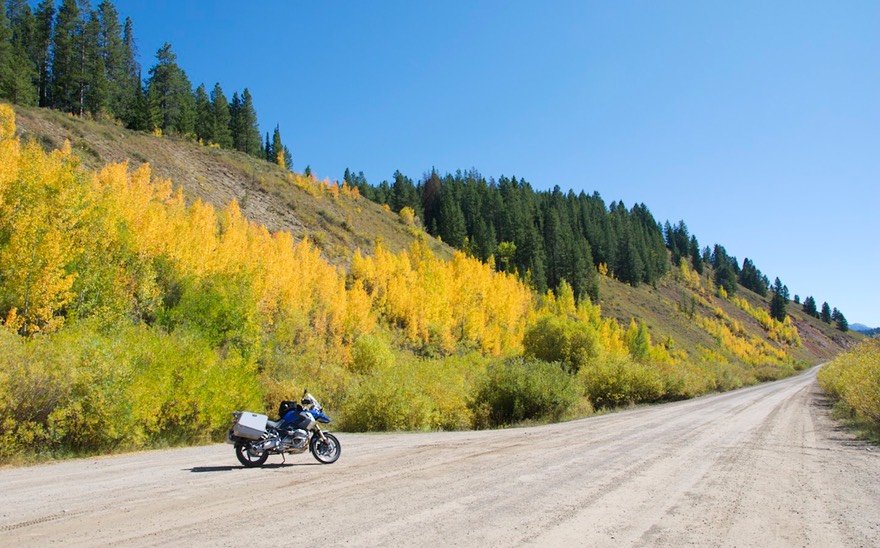 We had a terrific visit with friends in Hailey, Idaho, near Ketchum, etc.  We had first met them in Oaxaca, Mexico and then had a second encounter in Costa Rica a few months later.  Our reunion was just great.  Probably the best comment of the visit was Tod saying he drank his coffee black because "labor-intensive drinks have always annoyed me."  Tod and Lisa are very special to us, along with their two loving Chesapeake Bay retrievers.  Waving good-by, we headed up to Missoula, Montana and then over the Lolo Pass (snowing at the top) and environs, before heading down the western slope toward Lewiston, Idaho.  
It was now almost October.  We had intended to cross Oregon from east to west and begin our West Coast sojourn.  We had friends to see in Oregon and southern Washington; after that we would drop down into California.  But a nasty storm had just struck the Portland area, so we decided to meander across Washington instead, as the weather in Seattle was beautiful.
The Northwest is lovely, no two ways about it.  Eastern Washington has a special charm; it's high desert and upper prairie; the last of the wheat was being harvested, and the golden landscape stretched for hundreds of miles.  Every time I've ever been in this area it's been hotter than hell, but this time it was cool and delightful.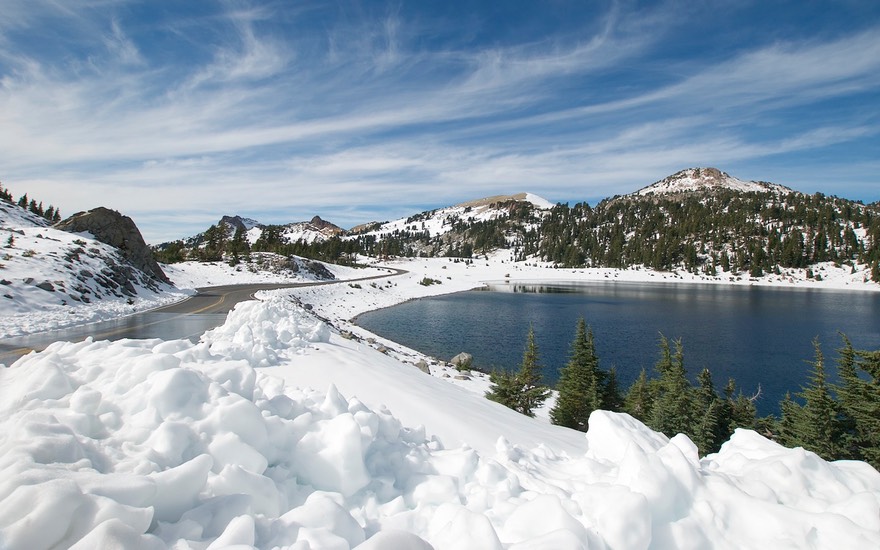 We hit Wenatchee and the apples were ripe; there were roadside stands everywhere.  You also could get zillions of kinds of jerky, from buffalo to elk to salmon.  We crossed the Cascades over Stevens Pass, which is pretty boring if you have ever traveled the Northern Cascades Highway further north; and passed a lovely couple of days around Mt Rainier.  Then we started moseying south, visiting bunches of friends along the way.  The coast was bright and sunny, and we really enjoyed renewing acquaintance with people we've met in our travels as well as old buddies from more youthful times.  Portland, Eugene, the Medford area, all passed quickly by.  We greatly enjoyed a return visit to the wonderful Columbia River Maritime Museum in Astoria, and naturally, we also gladly renewed our acquaintance with a couple of our most favorite breakfast stops in Westby, Washington, and Otis, Oregon. 
Moving further south, we really wanted to get to Phoenix to have some work done by our solar guy; most importantly, we were intent on finally getting a new inverter to replace the one that had died in Argentina 10 months earlier.  We had a window of opportunity, and Phoenix even appeared to be having reasonably cool weather.  So off we went.  We stopped in Lassen NP, in northern California (on Kathy's list of places she'd never seen) and enjoyed a visit; they had lots of snow at the higher elevations.  We really knew it was fall now!
A quick duck over into Reno, Nevada, and then a run down the Nevada side of the mountains and on into Phoenix, where we spent several days.  We got our system updated, a new inverter (yes!), new batteries and repaired a meter that had also fallen victim to La Cuarenta; all the cool stuff.  A weekend was spent chewing the fat with friends we'd met in Guatemala and who are taking a break from traveling in England.  Great folks; we hope to join them for a bit in Europe next year (maybe Morocco?).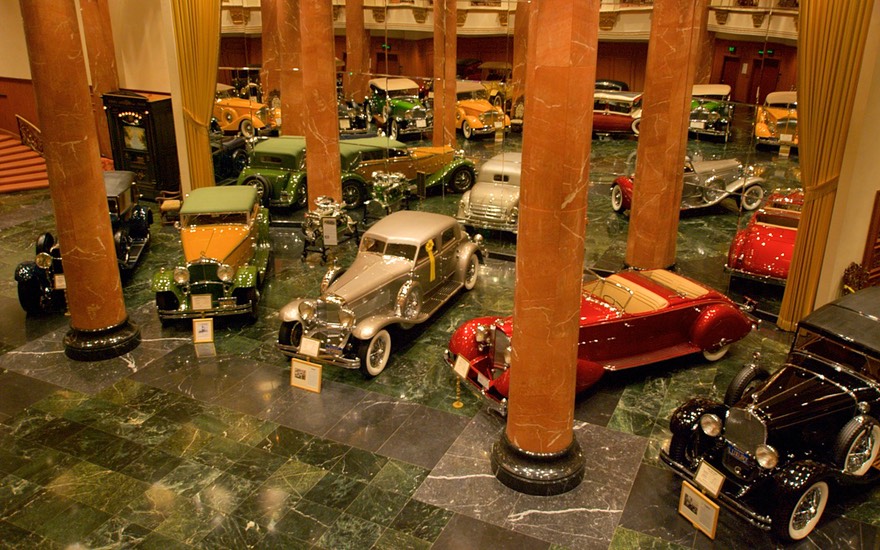 Then on to California.  We began with a second visit to the incredible Nethercutt Collection in Sylmar, home to one of the most fabulous car museums anywhere in the country as well as an amazing array of mechanical music makers and the third largest theater organ in the world - who classifies these things anyway?  
Now, we've moved on up to San Luis Obispo and are enjoying the Central Coast in the fall, where it is lovely and balmy and perfect; reminding us why we loved living here for so many years.  Touching base with friends, getting poked and prodded by various medicos, and having a ball.  We'll be in California until the end of the year, and then start moving eastward again.
By the way, on Halloween we celebrated 8 years on the road.  We thought that was pretty awesome, and hope there are many more ahead.  Europe beckons, but so do Australia, New Zealand, Africa – well, the list goes on and on.  See ya around.
Rick & Kathy, aka Team Tortuga
PS:  Oh, if you happen to be keeping score, we've somehow managed to cover 18,000 miles through twenty-nine states since the middle of June.