August 2010
In Search of the Emerald Isle
Ireland
Or….who are these people and why aren't they talking the way I expected?
We got off the ferry in Ireland and started looking for shamrocks, pots of gold, wee leprechauns and lovely lilting Irish brogues; all fixed in our minds by movies, songs and endless St. Patrick's day parades.  We quickly discovered that bits of the "olde sod" are few and far between.  For better or worse, Ireland has definitely joined the 21st century!  It took us a couple of weeks to find "our Ireland" but by the time we caught the boat for Scotland we had had some excellent adventures and met some delightful folks.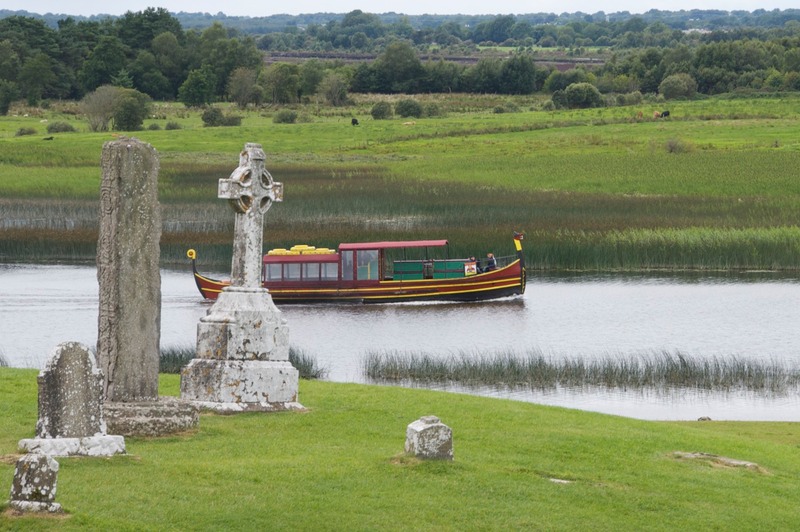 A couple of disclaimers, factors that contributed to our feelings about our visit:  we quickly caught bad colds that hung on and on; we were visiting in August and in places the island was somewhat overwhelmed by tourists; and, quite importantly, while we knew that all the reports we had from other wanderers indicated that they had toured the country by following the coastline, we of course started in the middle.  
Our ferry landed us in Dublin, in the Republic of Ireland.  Our plan was to head for Tullamore, in the middle of the country, for a wedding, and then start to explore the island.  We decided to visit Dublin later, when we left to go back to Britain.  Instead, our grand scheme was to head towards the southeast, and then work our way around in a clockwise fashion, visiting coastal and interior areas as we moved along, and ending up in Northern Ireland before returning to Dublin and our ferry back to Wales (if you caught the Wales-Scotland discrepancy, hang on).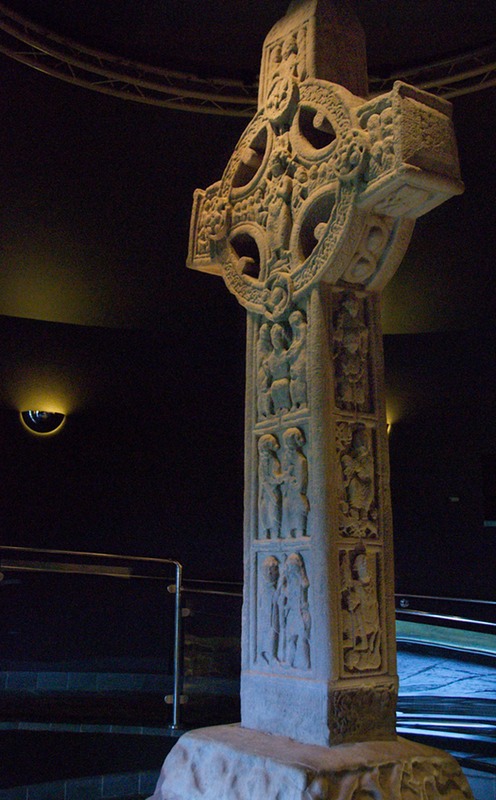 While we were in the middle of the country (the Midlands), we saw some darn cool stuff that lots of folks miss.  One was a magnificent monastery complex, Clonnacnoise, along the Shannon River, begun in the 6th century by St. Ciaràn.  It has three Celtic High Crosses, all protected in a building, with replicas on the grounds; they were terrific.  The grounds were extensive and lovely, right along the river, and there were pleasure boats making their way along.  It was here that we purchased our Heritage Card for Ireland, which provides us with entry into all sites operated by the excellent if somewhat unimaginatively named Office of Public Works.  Much like the English Heritage organization we enjoy in Britain, OPW does a very nice job managing many of Ireland's historic sites.
Much of the interior of Ireland is (or was) a bog.  We stopped at a fascinating place, the Iron Age Trackway near Corlea; this is a must visit place when you come.  This site is where they recently discovered an old log road constructed in 148 B.C.  After about 10 years of use, the road sunk into the bog, which preserved it.  The centre was built around a section of the road, and you are taken into a room where you can see it; the room is climate-controlled.  There is great information at the centre about how all this happened, and why bogs preserve organic material (like wooden planks used to construct roads).  It seems that in a bog, the earth is supersaturated with water, allowing insufficient oxygen to cause decomposition.  The place was surrounded by fields of heather in bloom.  It is an under-visited location; we had a tour all to ourselves, and left feeling pretty good about bogs in general (or at least Kathy did; Rick heroically supports Kathy's love of bogs).  We add Irish to Patagonian and Arctic bogs we have met and loved.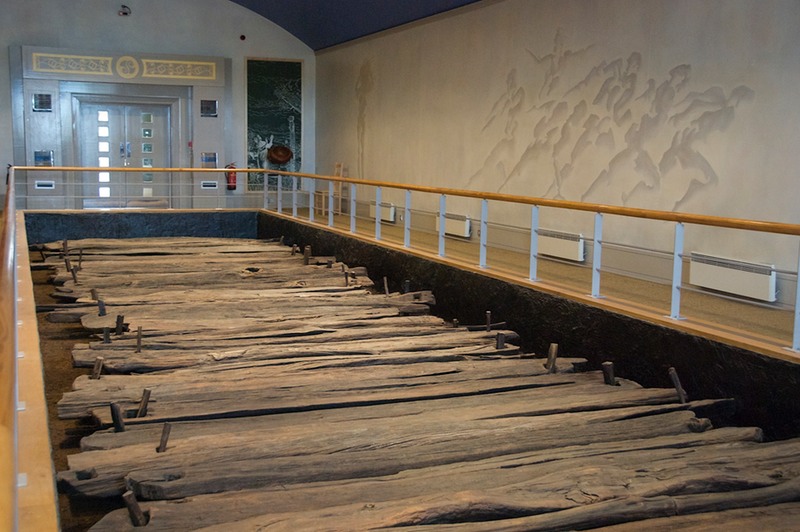 By the weekend, and the wedding in Tullamore, a cold-in-da-nodze had settled on the coach, and we found ourselves under the weather.  The festivities were fun regardless, and after a couple of days' moving slowly we were back in the saddle, if still somewhat snuffly, heading towards southeastern Ireland.  The malaise would stay with us for two weeks, unfortunately, taking a little of the wind out of our sails, and making some things seem too much like work!
Shortly after leaving Tullamore, Kathy dragged Rick to the nature center at the huge Bog of Allen, which covers/covered much of inland Ireland.  Individuals are still cutting turf, which is still used as fuel, all over the entire island.  After cutting, the turf is laid out to dry before being hauled away, either for personal use or to be sold to others.  But we passed huge tracts of bog being "mined" for the peat; enormous machinery was grinding and dredging the fine dust out of the fields.  This has become one of Ireland's great tragedies.  The vast interior bog is disappearing.  Enormous sections have been drained, the peat "farmed," and the sections are now being used either for agricultural purposes or for forestry.  By the way, the peat being mined is processed and used to power electrical generating plants.  This surprised us, as did the bags of coal for sale for home heating use in the more northerly reaches of the island.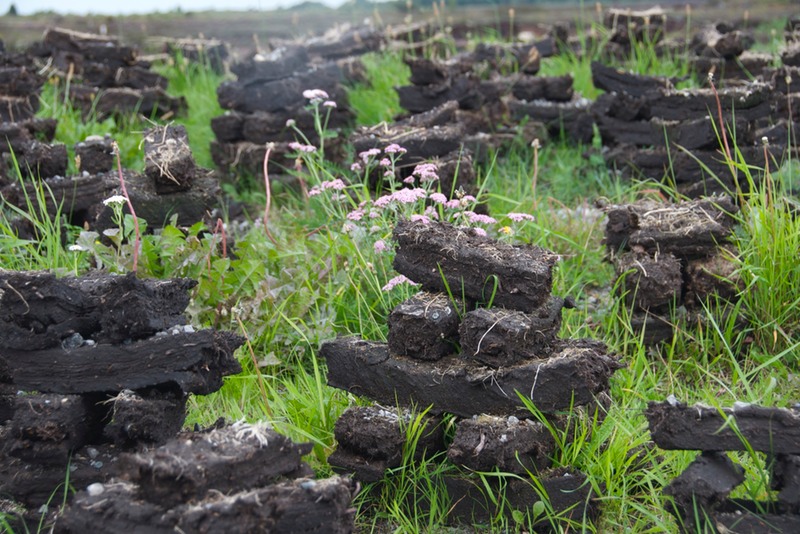 The government is trying to preserve some of the areas, and new national parks have been created as part of this effort.  Basically, it's an ecological nightmare.  Interestingly, there is a cooperative program underway in conjunction with the government of The Netherlands; that country didn't discover what they had destroyed until it was completely gone, they having begun to industrialize sooner than Ireland.  The Irish Peatland Conservation Council is very active is developing plans to mitigate some of the damage, and to restore some areas that have been used otherwise.
We saw bog all over Ireland, but it was in the Midlands that it was it being worked mechanically.  Everywhere we were, the land was soggy.  The bogs and the peat used to heat their homes is still a basic tenet of Irish life.
Starting our grand tour, we made a brief stop at The National Stud.  You can probably figure out for yourself what that was all about.  We wandered pretty green landscaped fields with horses in them and learned about Irish racing.  It would have been a better visit if we'd come in May, when all the foals were in the fields, staying close to mama, but it was fun.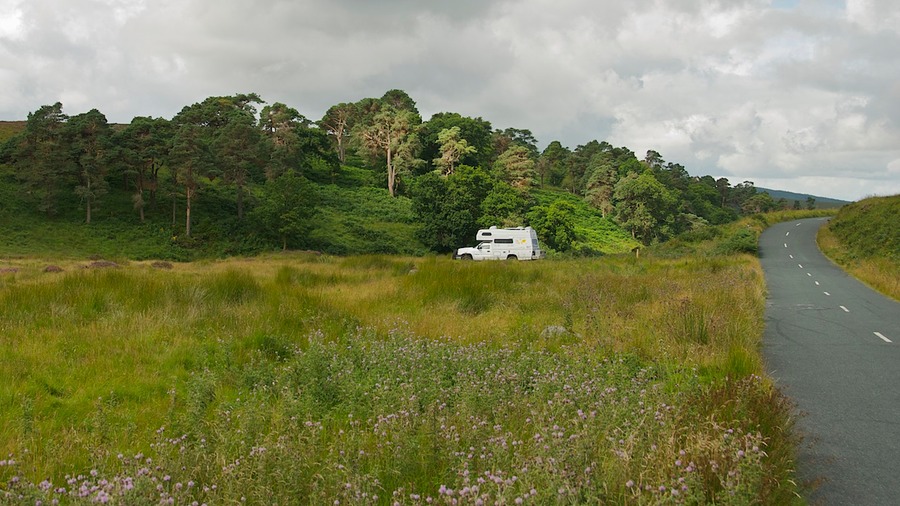 We were headed for the Wicklow Mountains, in the area southeast of Dublin.  Mountains, of course, is a relative term; in Ireland they are not that tall, but have a wonderful presence because they often are open, treeless moors.  On the wet side of the hills we saw foxgloves and ferns and the ever-present heather and gorse.  We enjoyed this area a lot; it was open and welcoming.  We spent two days in an area with a stream next to it and flowers to pick; storm cells were coming through regularly, followed by lovely sunshine.
Climbing through these areas, the roads were steep and winding; there would be a sign painted on the road: SLOW; then SLOWER; then VERY SLOW.  We got the message.  The rain continued, but it didn't keep us from puttering through yet another monastery, the Gandalough, which has another terrific OPW visitor's centre.  We wanted to stop at the 1798 Rebellion Museum in Enniscorthy, but it was closed for a week to provide holiday for the employees; bummer!  We are interested in Irish history, and this spot had been highly recommended.  We also stopped at the terrific ruins of Jerpoint Abbey, and managed to catch it fairly early in the morning before the arrival of the first bus.  It is a lovely site, the sun shining, things were looking up.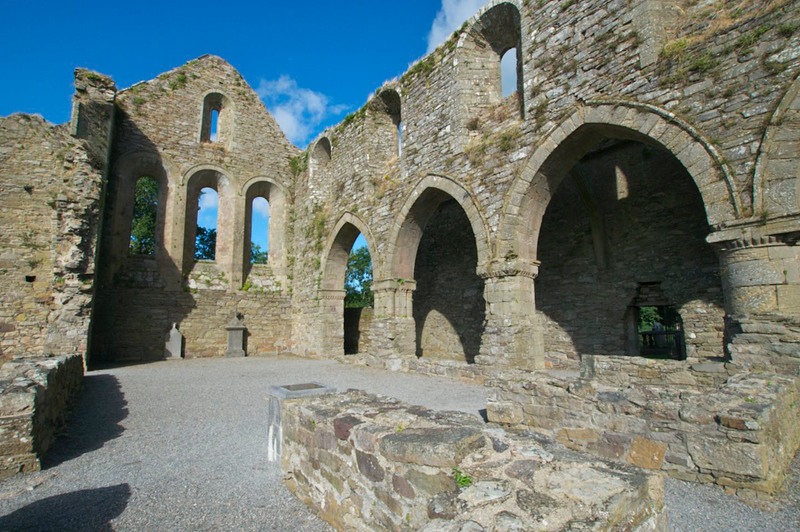 Thomastown and Inistioge were nearby, and having enjoyed the movie Circle of Friends (filmed in that area) we wanted to see these two "typical villages."  They were just as charming as we might have hoped, and it was fun to wander the quaintness.  
We were starting to discover that Emily (our GPS if you haven't been paying attention) was having some issues with Ireland.  Frankly, it appeared to us that she'd never been here.   She often would fail us in trying to get somewhere, and there were areas where she showed no roads at all.  It reminded us of those maps of the 1500's – she was pretty much okay as long as we were along the coast, but otherwise it was as if her map was completely blank.  After she sweetly informed us that the nearest grocery store was some 150 miles distant, we stopped relying on her so much and plunged ahead.  Throughout our time in Ireland, she simply was not as reliable as we had come to expect; perhaps she had caught our cold as well.
We moved our way around the south of the country, but frankly were not all that interested.  There were special things to see, but the landscape was a bit of a bore; still working on our colds, we just kept moving on.  One afternoon we were amused by a farmer who was holding up two lanes of traffic on a busy road as he moved his dairy cows from the field into the barn to be milked.  Some things are timeless!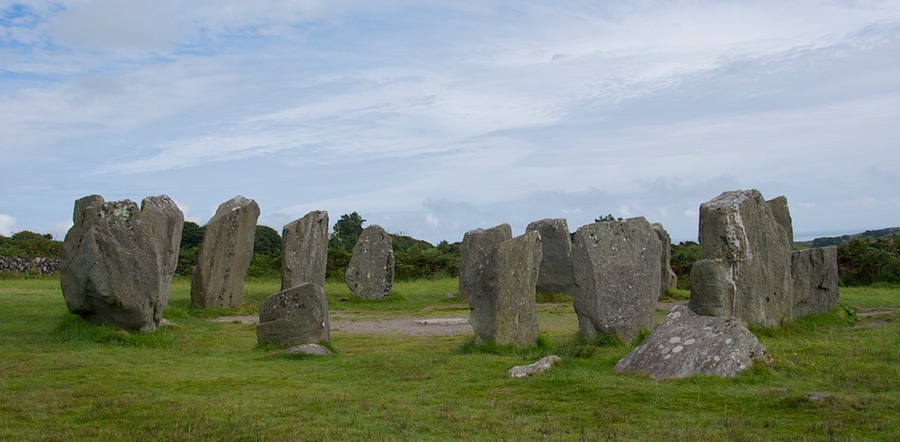 We were enjoying various Neolithic stone circles, burial tombs, and stone forts, all quite cool; and the wildflowers were becoming more and more numerous, including fuschias (reminding us of Chile) and some stunning orange lilies; and now we had reached the first of the famous peninsulas that plunge off the western coast of Ireland.  We took heart.
We explored the Beara Peninsula and enjoyed it; we took a tiny road over a pass across the middle: it was rough and lovely.  We pulled off onto a narrow track and settled ourselves in a field for lunch.  When a man approached we were concerned that we were somewhere we shouldn't be, but no.  He was indeed the farmer whose land we had temporarily appropriated, but he was delighted to chat with us, told us all about himself and said we could stay as long as we liked.  We also spent a night on a pier close to a tiny fishing village; it was a beautiful evening and the moon was full; we even had a bit of a sunset.  That was one terrific spot!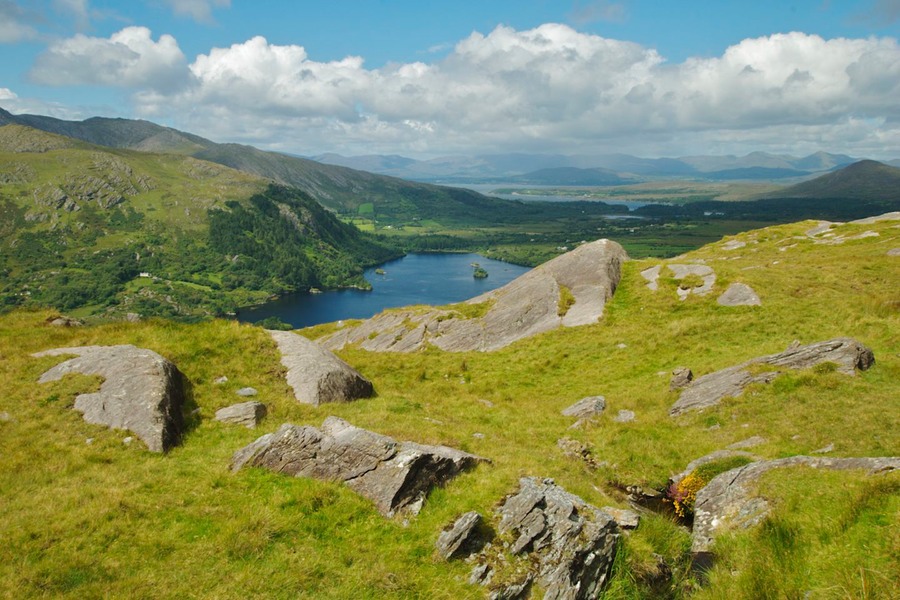 Have to tell you, however, that we do wish we had skipped the Ring of Kerry.  It wasn't the tour buses, it wasn't all the people, it simply wasn't very special.  We enjoyed the Beara area much more, and later found the Dingle Peninsula to be quite lovely.  Couldn't figure out why everyone spoke so highly of the Ring of Kerry.  Have you been there, and can you answer the question?
Now the Dingle Peninsula was a charmer!  We really liked poking along the little roads; we stopped for a visit at the Gallarus Oratory in Dingle, a cool burial site on private property.  It turned into quite an adventure.  We had asked and received permission to spend the night in their parking lot and were later joined by a French couple in their motorhome.  Then later in the evening the owner came out, quite apologetic, and said that he'd been having trouble with the lady next door, who owned a campground and was giving his guests a lot of grief – in the middle of the night.  
Séamus (that was his name, honest!) said he'd made arrangements with a friend who had a pub a few miles away; we were both welcome there and expected.  So both coaches trucked along a tiny road about 10:30 on a dim night, finally found the place, and settled in.  The next morning we stopped to talk to the publican and thank him; he and his wife were so very charming, offering us breakfast and chatting with us for a long time.  It was a great spot and we felt very well taken care of.  Wasn't that nice!  Oh, and the French couple, who live near Lyon, are expecting us for a visit later in the year.  Serendipity abounds.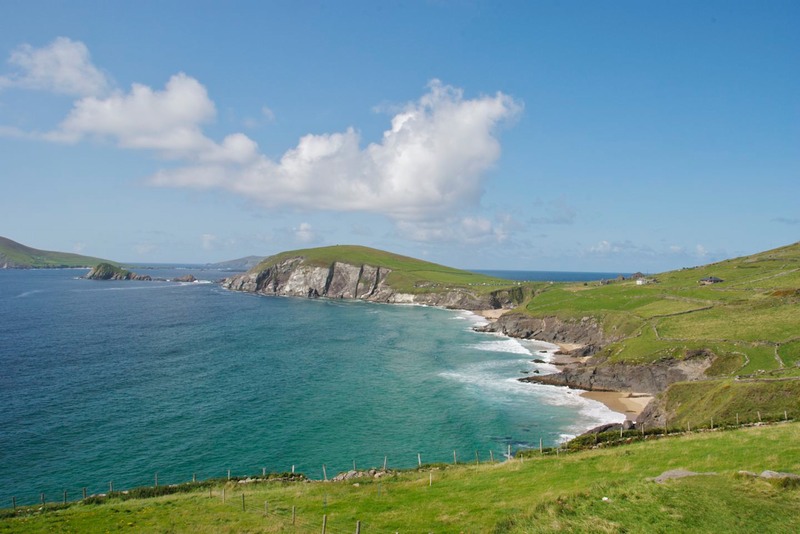 At the very end of the road on Dingle is the Blascaod Center, a fascinating place.  The Blasket Islands are directly off the coast here, and were inhabited until the early fifties.  It's possible to visit them, but short of that, the center will give you a lot of information.  It's in a beautiful building, with huge windows overlooking the islands.  The Blaskets are particularly fascinating because the Gaelic was spoken there, but not translated into English and written down until relatively recently.  The islands produced several extremely talented writers and storytellers, and their work is incredible.  The center features their stories, as well as having huge photographs of the area and information on the people of the islands.  It was a very special experience, visiting this place.
As we prepared to leave the peninsula, we wanted to take a very small road over a narrow pass; it would bisect the middle of the island and show us some new areas.  We got part way up, and came across a very large sign saying narrow bridge ahead – 1.6 meters wide.  Well, we're 2.2 meters wide.  So, we backed up, turned around in a skinny little spot, and retraced our steps off the peninsula.  So sad.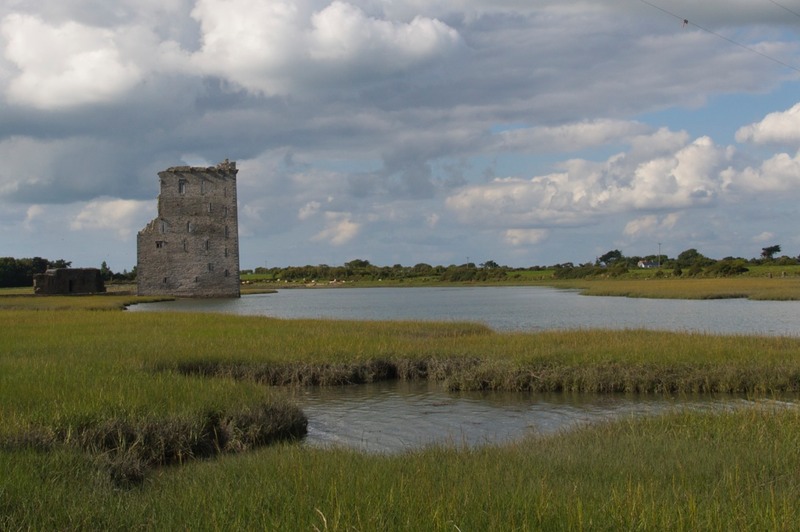 The Shannon River provided us with a delightful overnight stay.  It has a large estuary where it meets the ocean (dividing County Kerry from County Clare), and some splendid medieval person built the small Garrigafoyle Castle on an island there; it's in ruins, but the cows along the water's edge didn't care, there were birds everywhere (starlings, teaching their babies to fly), and we sat and watched the tide flow in and then ebb, all by ourselves.  Enchanting.  
Canals off the Shannon used to be used to transport goods and coal to Dublin.  Then they became defunct.  Recently, they have been dredged and are now being used for pleasure boats.  It was up river, when we went to the Clonnocnoise monastery complex on the edge of the Shannon, where we had seen the boats plying up and down.  What a way to go!
We decided it was time to pick up a little speed and head for Donegal and the northern coast.  So we headed further inland, grabbed a more major road, and entered County Clare.  We made a stop at the Quin Friary (yes, in Quin), which was a niftier ruin than most.  It was very complete, and had really cool cloisters; well, we liked it!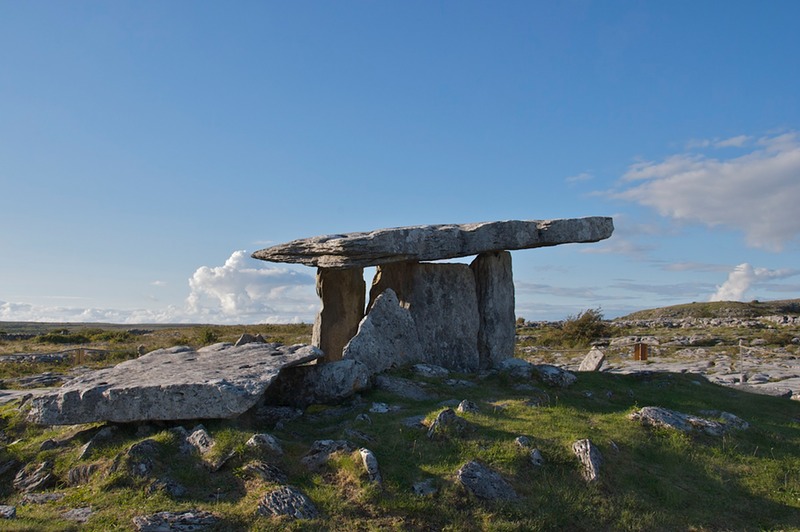 We spent that night on the burren, at a major, major Neolithic site, the Poulnabrone Burial Tomb.  This was turning into the ruins and runes tour!  We talked to a fellow selling crafts in the parking lot, Thomas; he was in his 40's and had been doing this for several summers; he was earning enough money to keep himself in art school, furthering his crafts.  Quite a nice fellow.  
Well, we thought we were going to hustle off to Donegal; but decided we couldn't pass up the Connemara ponies, so we spent a couple of days out in that area, patting heads and admiring their beauty.  This is a rugged, rocky area, mostly covered with sheep.  But it sticks out a long ways into the ocean: we came across a monument to Alcock and Brown, who completed the very first transatlantic flight, from St. John's, Newfoundland, to this spot, in 1919; also, there was a notation that Marconi had, from a building nearby (gone now), completed the first commercial wireless transmission across the Atlantic in 1907.  A busy area.  We were reminded of Newfoundland and Cape Breton, and the countryside there.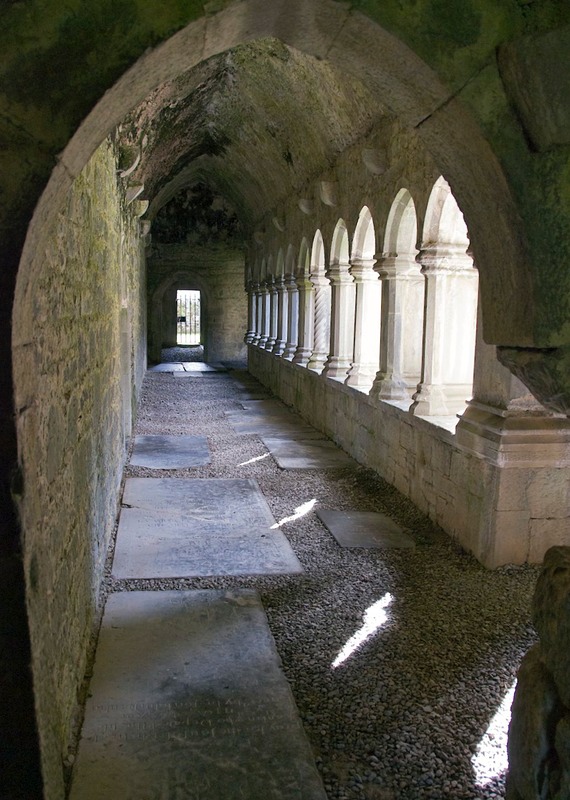 The lonely, stark landscape appealed to us; we took a tiny road over Doo Lough Pass and then down toward Louisburgh.  After we rejoined the highway, we came across  a monument to the Great Famine, in the form of a facsimile of a "coffin ship," the boats used to ship the starving people off to America (among several countries), where so many of them never even survived the voyage.  There's no need here to discuss the tragedy of The Great Famine, but this monument tells the horrible story quite graphically, with the skeletons of the dead floating around the ship.  I was quite moved.
We had hoped to spend the night along the Louisburgh waterfront, but found no spot, and ended up on a hillside peninsula further north, along Furnace Lough.  We were surrounded by sheep; they seemed a bit disgruntled at first; they came trotting up the road, turned into the small grassy pitch where we had settled, and then stopped dead.  We were parked on their grass.  They eventually took a circular path around us, to the grass beyond, which they mowed, and then continued on.  The next morning they came back, seemed surprised to find us still there, and this time mowed right around us.  We guessed they figured we were going to be there for awhile.  We took pictures, natch.
Still moving north, from one peninsula to the next.  We found ourselves at the 5,000-year-old site at Céide Fields, just west of Ballycastle; the largest stone age site in the world.  A large town had been built here, then abandoned as the bog took over and enveloped it.  The visitor's centre is amazing, full of information, and you can walk out on the bog and see where the stone walls of the houses are still there, where excavated.  It's chilling.  And it was here that we discovered the great Irish poet Laureate, Séamus Heaney.  One of his major poems is about this area, and portions of his work are displayed.  It was quite evocative, and furthered our education on bogs and their amazing powers.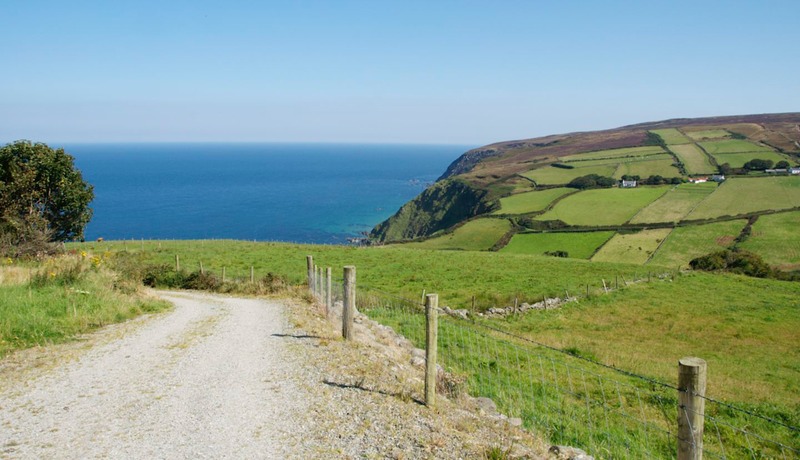 Finally reaching County Donegal, we found greener climes and prettier countryside, and tons of Neolithic sites.  Possibly our best time was out on the Inishowen Peninsula, where we followed the coast route, explored all the nooks and crannies we could find, and saw some of the loveliest scenery in Ireland.  We stopped at an ancient stone fort (Grianán Ailigh) that Ptolomy (in the 2nd century A.D.) thought was so important that he put it on his famous map of the world.  I think this means we were standing and looking at something he had seen!  Awesome!
It was decision time.  Our original thought had been to continue on around the coast, seeing Northern Ireland and then turning south, back into the Republic of Ireland and the area around Dublin.  But we found that we both felt that all things considered it was time to move on.  We wanted to go to Scotland.  
So…we made a ferry reservation for several days ahead, and organized a route that would take us along much of the northern coast, but also allow us to see some of the inland area, before catching our boat in Larne, north of Belfast.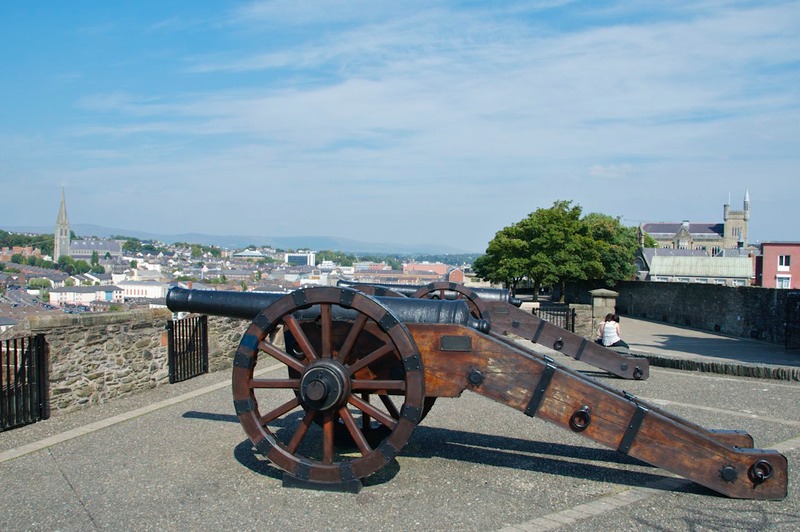 We began our tour in Derry.  This is the town of Bloody Sunday and many other facets of The Troubles.  We wanted to know a bit more.  We really, really enjoyed Derry, by the way.  It's a charming small city, very upbeat, with several interesting areas to visit.
And it has an intriguing history.  The oldest part of the city is a walled town on a hill, with the walls still intact and many of the historical sites within easy walking distance.  You can get on top of the wall, and see for miles around.  As you walk, there are panels discussing various historical battles and the cathedral, etc.  You are quite high up in the air.  In one spot I still saw barbed wire protecting a building, left over from Troubled times.  Then you get a ways around, and you are looking straight down at Bogside, and the Free Derry Museum, and the murals commemorating what went on.  Why is it called Bogside?  Derry was originally a walled castle town with the river curving around on two sides and a large marsh on a third; later, the marsh was drained.  Only the wealthier people (the English) were allowed to live within the walls while all others (the Irish) were settled in the marshy (boggy) area next to it.  This unfortunate situation was continued for four hundred years and led directly, at least in Derry, to the Troubles.  You can take it from there.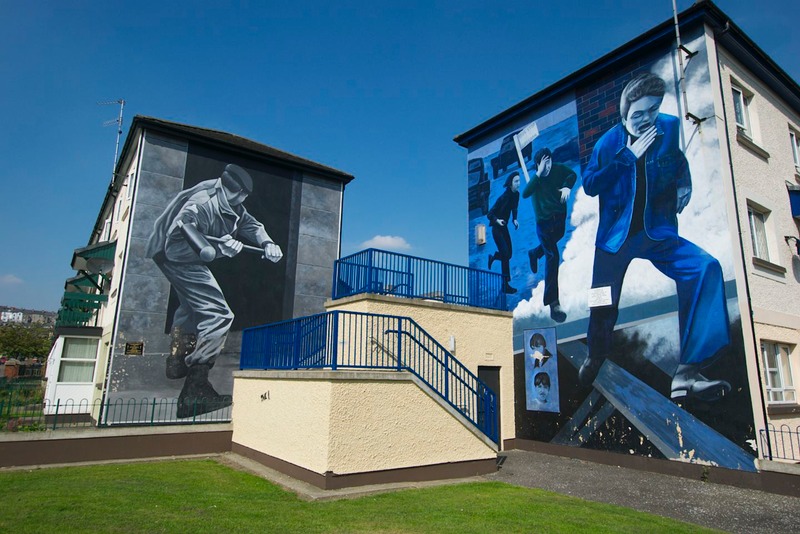 We visited the museum; it will take you right back to 1972; it's chilling to spend time there.  But you need to go.  The murals are quite striking; we took pictures of almost all of them.  It's an ugly story, and only one part of a nasty, nasty time that is still reflected in attitudes today.  But after a very complete afternoon, we felt we'd done enough, and wandered on down the coast.  Belfast would have made a good "bookend" to the time in Derry, but we decided Derry was enough.
This is a lovely, lovely area of Ireland, and we had a great time of it, dodging raindrops and enjoying sunshine when we could.  We wandered inland to climb up the glens into the boggy countryside above; we went through cute little towns with flowers everywhere (and Union Jacks flying); we spent a night on a peak near a communications tower that was rather unfriendly to Emily.  Its signals interfered with her ability to talk to her satellites and caused a case of the blank screen (think blank stare), with no coordinates available.  She was very confused the next morning, asking us where we'd been!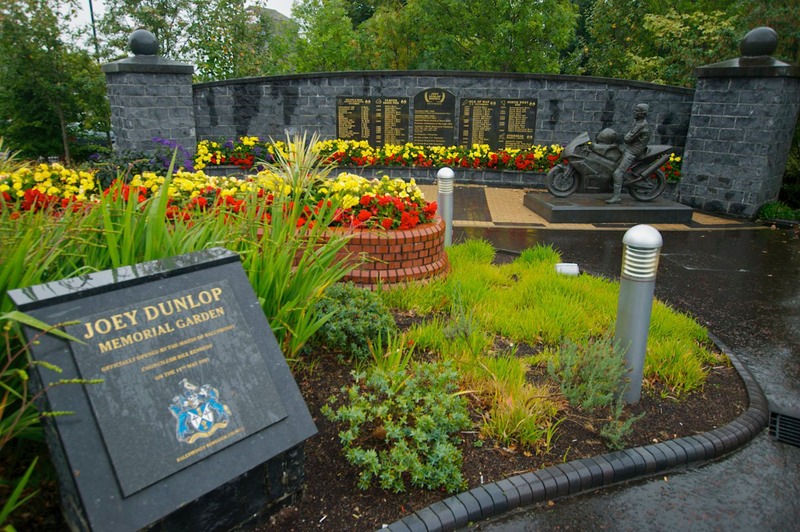 In Ballymoney, a small inland town, we stopped at the Joey Dunlop Memorial Garden.  This was a lovely spot erected by the town to memorialize a man who was not only a famous motorcycle racer of the eighties and nineties, but a true humanitarian as well, being very active and generous in his commitment to local charities.  The fact that this extensive site was built within a year of Joey's death while racing in 2000 spoke highly of his stature.  No lengthy quest for funding or to find a site; just boom, instant recognition.  Actually, we had some difficulty locating the garden only because we first followed signs to the Joey Dunlop Memorial recreation center on the other side of town.  It was a neat visit despite the heavy rain that made the picture taking experience a bit more of an adventure than we prefer.
In Ballycastle we found yet another monument to Marconi, who, it is reported, made his first successful radio transmission from here in 1898.  You take your heroes where you can find them.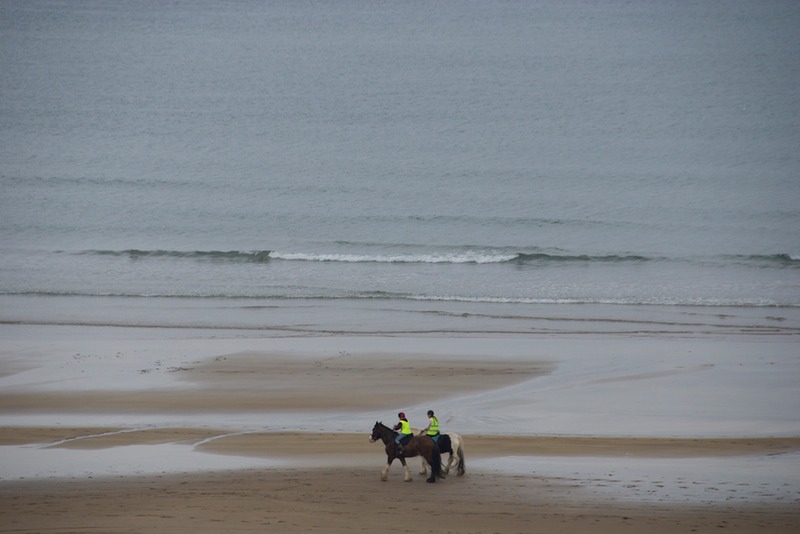 And suddenly we spent a lovely last night at the harbor in Glenarm and then, the next morning, made our way to the ferry terminal in Larne, where we embarked for Cairnryan, Scotland.  
Ireland may not have been all we could have hoped, but it was a good idea.  I think we would have been well served to have gone north from Dublin, and toured counter-clockwise; seeing the best of the countryside early on would have given us greater impetus.  I also think that seeing the area by motorhome is harder than renting a car and staying in hotels and B&Bs.  The roads are fairly lousy in the south, much better in Northern Ireland.  Ireland does not welcome us in their parks and other public spaces and uses height barriers to tell us so; and for us the August crowds kept us out of the pubs and away from many of the cities; if you are flying in on vacation you don't care, you just do it anyway.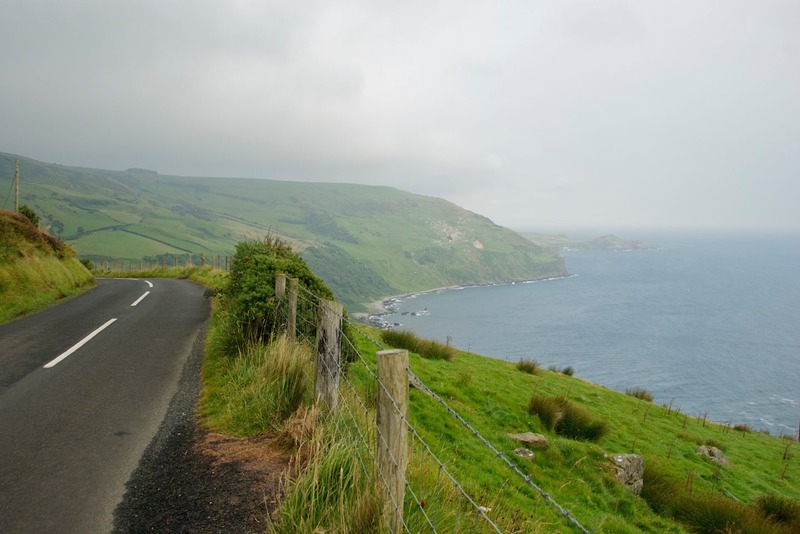 We've all grown up thinking about Ireland as a magical place.  In some respects it still is.  Druidism is alive and well here, and there are many ancient sites to visit. But modern Ireland is a very different place.  In about the last 15 years a much improved economy has brought a lot of new money here, and it is reflected in the bigger cars and bigger houses we saw everywhere.  But we were generally disappointed in the "style" of the housing – bigger is not necessarily better; sometimes it's just garish and pretentious; the term 'McMansions' continually came to mind.  So we found that, at least to us, Ireland seems to lack a sense of itself in the 21st century.  We found very little of what we would call traditional housing other than in the towns themselves, and even there new construction was everywhere.  We can't say for sure, not having visited earlier, but we think a person coming back to Ireland now after seeing it twenty years ago would be astonished and not altogether pleased with the change.
So, are we glad we came; yes, of course.  Perhaps we didn't find the Ireland we had anticipated, but we did manage to enjoy the Ireland we found.  For us though, when we close our eyes and picture the Ireland we had hoped to visit, it turns out that it was actually Wales we were seeing; a much more traditional, calm and lovely setting.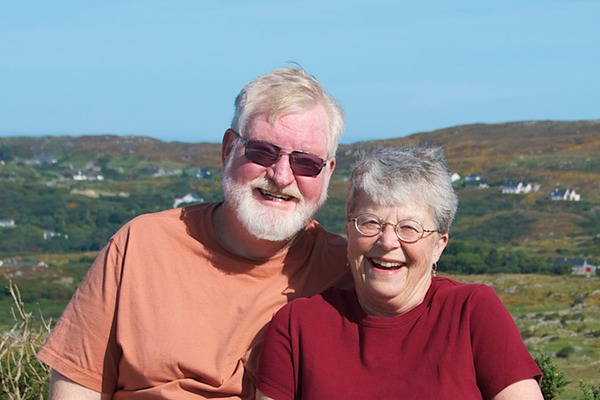 So, we are delighted to be off to new lands.  Keep your fingers crossed with us for the continuation of the mild summer weather we've been blessed with over the past three months and stay with us as we return to the mainland of Britain.  
Rick and Kathy and Emily, 
(hoping to reestablish her superior position on more familiar territory)
PS: Occasionally someone will comment that we don't include enough pictures of ourselves with our messages - yes, it's true - so here's one for you, Mom.
Click here to view more pictures from Ireland.