June to September 2009
Live from Kickapoo Korners
Mostly Wisconsin, but also twenty other states in two and a half months
As we adjust to life back in the US we say, "Hello from the Hinterland"!
Kickapoo Korners…Boscobel…Muscoda (MUS-ka-day)…Viroqua…these are a few of our favorite town names here in southwest Wisconsin where lovely small town America is alive and well. We've tweaked the old Chevrolet motto into "See the USA… in your Tiger Today" and have been having a wonderful time.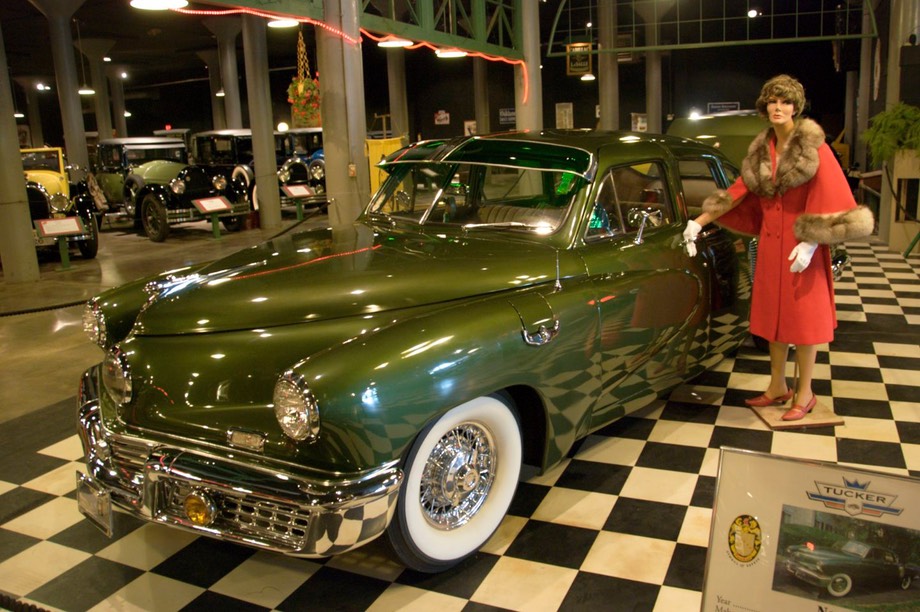 Since our last message to you, we first drove from Texas to South Dakota so we could renew our driver's licenses, then headed to Florida by way of the BMW national rally in Tennessee, several sets of friends, and the Wisconsin Auto Museum in Hartford.  Autos in Wisconsin you say?  Sure, the biggest would be Nash, later American Motors, but the short lived but fascinating Tucker was also built in the state.  It's a low key museum run by the locals, but lots of neat cars to see.  
We picked up La Tortuga in Jacksonville, Florida with neither damage nor difficulties following its five week voyage from Buenos Aires, and headed for South Carolina where we had various items taken care of at the factory in Columbia.  Then we took off once again for Texas, with the Foretravel (Fred) in the lead and the Tiger (with Kathy at the wheel) behind.  It was fun crossing through the southern states, listening to the radio.  Did you know that Travelers Insurance has been around since the Lincoln Administration?  Gospel music/baseball scores/talk shows galore while driving through the Louisiana murk.
Fred is now back in the barn in Nacogdoches, Texas, where it was waay too hot and humid for us to linger.  Wanting desperately to get out of the heat, but wanting to see some friends in Austin, we took a short swing that way.  It was worth it to give quick hugs in several directions, and we got to enjoy sitting outside at Threadgill's and listening to Jimmy Dell Gilmore twang away – but it was 84 degrees at midnight.  Outahere!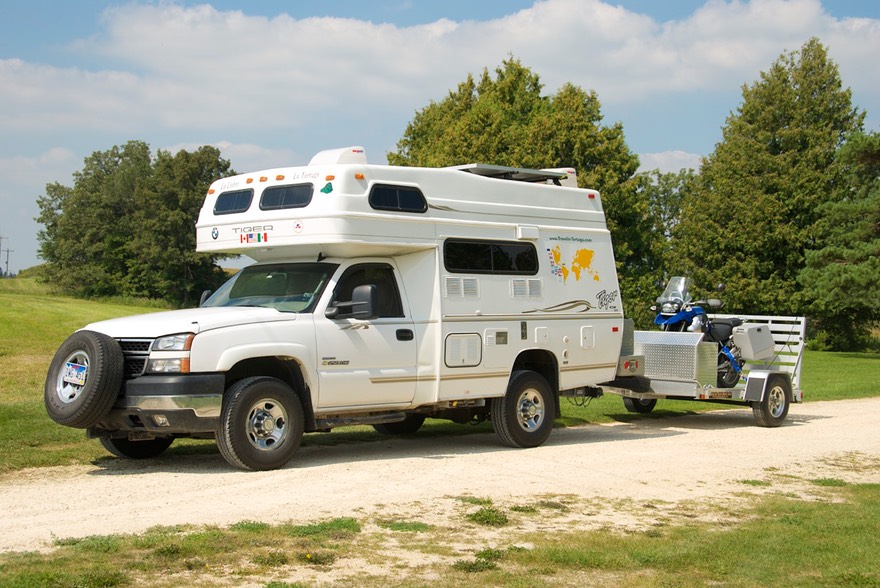 We had decided we could not continue without having a motorcycle (we'd sold the last one when we headed to South America), so, having made suitable arrangements we set off.
Due north seemed like a good idea, and so we made a bee-line up through Missouri (Andy's ice cream in Springfield helped us get through the heat), stopping to meet new friends Mike & René at Global Expedition Vehicles in Ozark.  Picked up the new flatbed trailer (needed to carry the bike behind the Tiger) in Des Moines, Iowa, and then off to De Pere, Wisconsin to Nick's BMW where we picked up La Liebre, the new bike (that goes on the flatbed trailer, of course).  Team Tortuga is now complete!
We've been in Wisconsin ever since.  It is a beautiful state, and has some of the best motorcycle riding in the country.  Hills and dales, corn ("…as high as an elephant's eye") and soybeans everywhere; rivers and lakes; lovely small towns; overall a terrific place to be in the good ole summertime.  And it's cool here, too.  They, along with the rest of the upper Midwest, have had a very easy summer, heat-wise, unlike much of the rest of the country.  We're camped along the Mississippi River, in a little corner of the world where Wisconsin, Iowa, and Illinois all come together with Minnesota not too far removed.  Lots of locals in the campground, dairy farmers and retired dairy farmers mostly.  Nice folks.  Makes you think of "salt of the earth" and " backbone of the country."  They make good neighbors and seem intrigued by us wanderers suddenly plopped down in their midst.  All this and breakfast at the Unique Café in Boscobel… life is good.  Another treat was a lovely visit from Sheila & Jimmy who were headed for their home in Chicago after just arriving in Texas a short time earlier.  We first met them on the ferry dock in Buenos Aires, had stayed in close touch and managed to cross paths once again.
Shortly we will start working our way west, through South Dakota and Wyoming to Idaho; then to see some of Washington and Oregon before working down the coast to California, where we will be at least until after Christmas.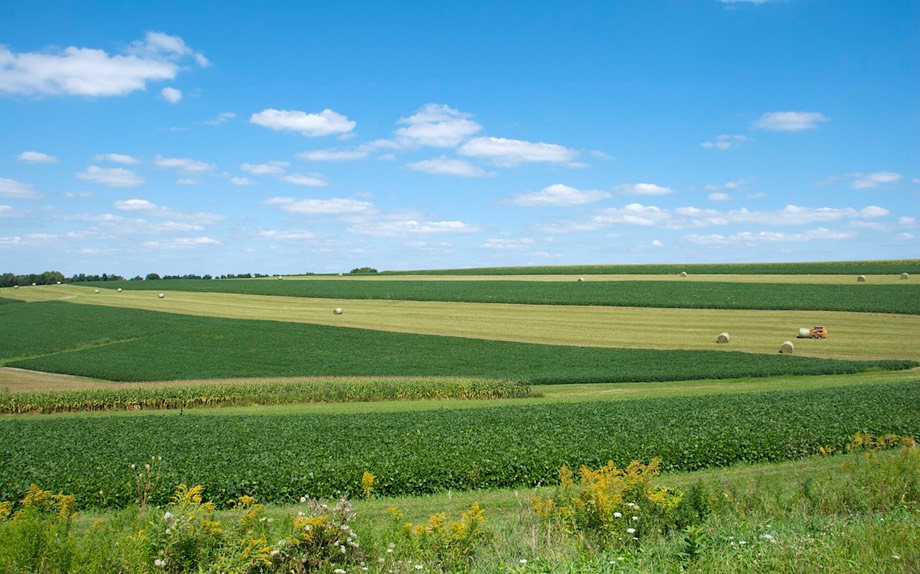 We're finding the good ole USA a pretty nice place to be.  Just discovered this quote from Marcel Proust: "The real voyage of discovery consists not in seeing new landscapes, but in having new eyes."  Being away for eighteen months has given us "new eyes" in seeing our own country.  We are rediscovering the pleasures of places we have seen many times; instead of exotic they are reassuringly familiar.  The pleasures of foreign travel cannot be overemphasized, and we are looking forward to heading overseas again next spring.  But the South in the drippy haze of summer is also exotic and its own lure; being in Austin at midnight and sitting outside watching a country band is mesmerizing; the Black Hills of South Dakota are always refreshing and beautiful; and soon we will head toward our home state of California and the friends and family that await us there.  
We hope you are all well and having a wonderful summer and early fall as well.  
Rick, Kathy, et L'Entourage
Oh, some statistics for those of you who are interested in such things.  The US is a big place and our schedule of things that needed doing resulted in our covering a good deal of ground.  In the two and a half months covered by this message we've been in twenty-one states and covered a combined 11,000 miles on the three vehicles; ouch!