Where the Tiger sleeps tonight:       
Overnight Stops and Other Useful Information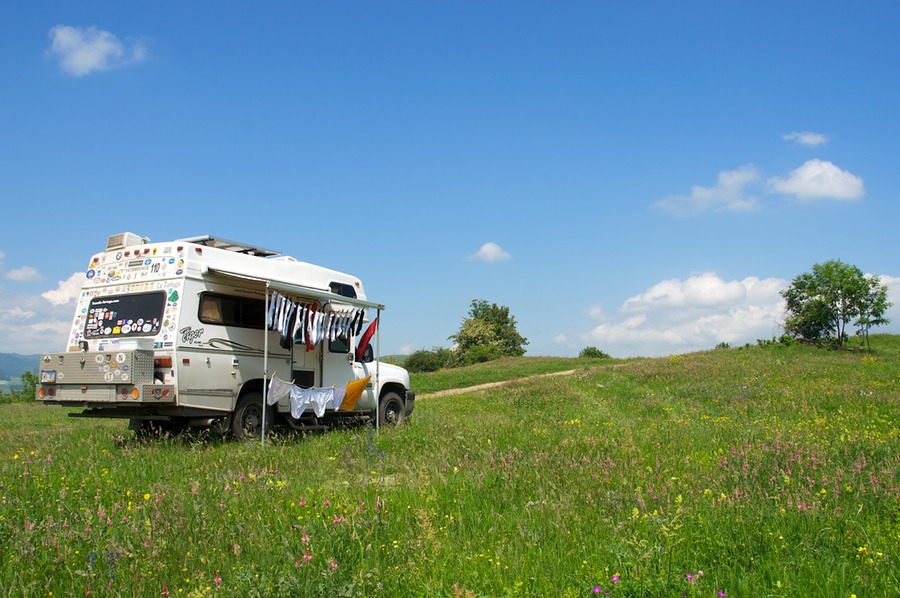 For several reasons, we prefer to spend as little time as possible in privately owned campgrounds.  On the other hand, many travelers would rather stay in campgrounds whenever they are available and think we're nuts for avoiding them.  That's all OK, thank goodness we aren't all out there going to the same places and doing the same things all the time.  The only important consideration is that you are happy doing whatever it is you choose to do. 
If we're in the US or Canada, we're happy to spend time in public campgrounds such as National Parks and Forests, State, Province or County parks, Corps of Engineers parks, etc. But we also spend a lot of time just out on our own, stopping pretty much wherever we find ourselves at the time, even stopping early in the day if we find a particularly nice location.
When we're off in another part of the world we try to learn how things are done there by talking to other travelers and researching their reports of where they've stayed.  In some countries or areas it may be safer to stay in actual campgrounds when they are available.  In many places, the publicly owned facilities we love so much in Canada and the US are not to be found in other countries, but like everything else, it varies.  
Something else that varies is the availability of information on camping locations.  In North America, we are accustomed to the ready availability of books, maps and other resources telling us everything there is to know about places we can camp, both public and private.  However, in other countries, this type of information is often not available.
In Central and South America, actual campgrounds of any type are few and far between, so being comfortable finding places on your own is essential.  There are almost no printed resources for Central or South America, but we can recommend 99 Days to Panama and Americas Overland as good starting places, though both of these date to 2007 or so.  
In Europe, both the availability of campgrounds and the need to stay in them changes from country to country, as does the availability of printed resources, but good information is pretty easy to find either online or at area visitor centers.  There is an extensive network in Western Europe of overnight stopping points called Aires, Stellplatzë, or Sostas.  These are generally run by local municipalities or organizations and provide approved locations for motorhomes to park for the night.  They often provide basic services as well.  These can easily be researched online and there are numerous guide books available to help you locate them.  We use the books available from Vicarious Books and like them very much.
The purpose of these pages is to share with you our own camping logs along with other information such as prices and availability for propane and fuel pertinent to each country we've visited.  Our logs for Central and South America are based on the time we spent there in 2008-2009.  Our logs for Europe cover our travels there during our six year stay in 2010-2015.  New in 2017-18 are logs for New Zealand and Australia.  In addition to links shown on each Camping Log page, you can visit our Links Page to connect to other travelers in order to learn from them and to connect to still more sources.
Wherever you choose to travel and however you choose to camp, we can only hope that you will enjoy your time on the road as much as we do ours.  Safe Travels.
"Perhaps travel cannot prevent bigotry, but by demonstrating that all peoples cry, laugh, eat, worry, and die, it can introduce the idea that if we try
to understand each other, we may even become friends." 
~ Maya Angelou