May 2014
Exploring the Middle Kingdom
 Wandering through France from Champagne to the Auvergne, 
we find that it's about much more than just the Wine & Cheese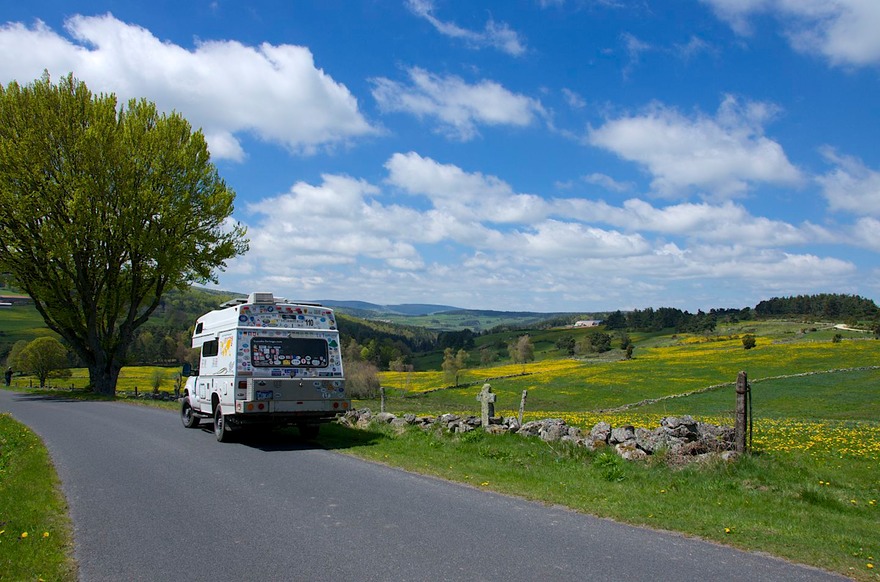 We left our pretty little spot on the Mosel River in Germany and headed west towards France.  The Germans having taught us it was the MO-zle River, we had to learn anew, once in France, that they say Mo-ZELLE, just like we do in the states.  Oh well, can't say we don't try.   We detoured for a pause in Luxembourg to fill up on diesel and propane (cheapest around) and to stop at the Cactus store.  What's a Cactus store, you ask.  Well, they don't sell the spiny succulents; it's a grocery chain found only in Luxembourg with a damn fine supply of some foods you can't find elsewhere, even if they're not cheap.  We had stopped in on earlier trips and had a short list of things to look for.
Wallowing in fuel and maple syrup, we meandered over the border into France on the 28th of April.  We've been here ever since, and will remain until we have to cross the Channel into England around the first of June.  Other than having a little more trouble with internet access here in France, all is well.  It's not easy to buy a USB dongle for the computers here, and while McD's wi-fi is readily available, the speed in France is often very poor.
But to the important things: the countryside is full of bright yellow fields of rape-seed in bloom, along with sheep, cattle, small old houses tucked back in the trees, barns with muddy yards, and plenty of plowed fields waiting for the ground to dry out enough to plant.  There are tiny old towns with war memorials in the square, fortified churches on the hilltops, and the smell of wild lilacs is in the air.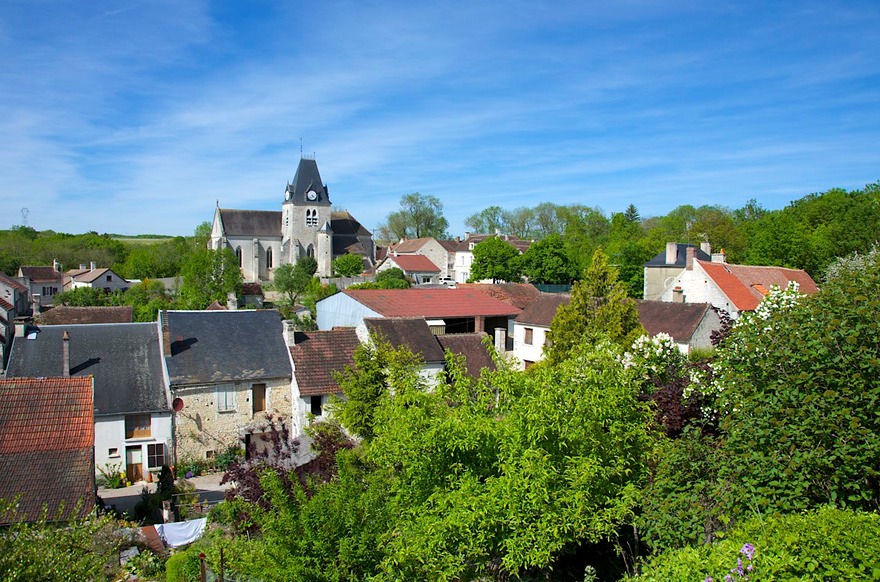 France, along with many of the countries in western Europe, has areas set aside for motorhomes in most towns.  You can stay the night, fill or empty tanks, and often get electricity if you like.  They make it very easy, and we've certainly taken advantage of our opportunities.  We have a book listing all these aires, and we've wandered from one to the next very comfortably.  Aire simply means area, and those set aside for us motorhome travelers are called Aires de service.  We prefer the name for your basic rest areas for all travelers; Aires de repos.  Doesn't that sound nice?
As always, we're just plain ole' having way too much fun.  In past years we've nibbled away at the edges of France, generally because we're on the way to someplace else.  This year we hope to see the rest, and right now we're concentrating on the great big fat middle part to the south of Paris.  It is incredibly beautiful; May has to be the perfect month to be here.  Looking back, we find that this is actually the third year we have spent much of the month of May in France so we must be doing something right.  We've run into a bit too much rainy and cold weather this year, but otherwise it has been just swell.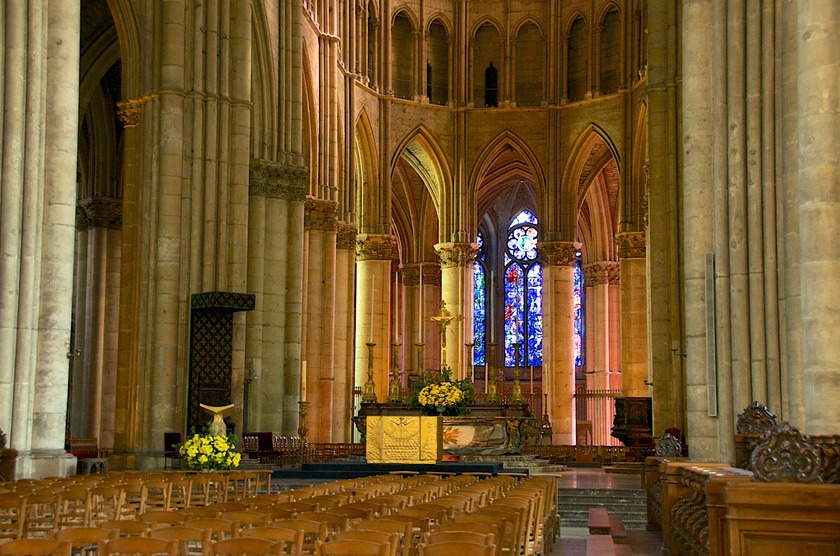 We've been moving through a north-south arc east of Paris, beginning in Reims (pronounced Rance… well sort of) and moving south and west through Champagne, Bourgogne (Burgundy), Chablis, the wonderful small region called Berry, and finally to the Auvergne, on the Central Massif of south-central France.  We've stayed almost entirely in the lush countryside, visiting small villages and poking around tiny little Romanesque abbeys, but there have also been big cities and enormous cathedrals as well.
Speaking of enormous cathedrals, Rick's mantra as we crossed the border was "Gotta get to Reims!"  We were coming in from the north, an area where we had spent a lot of time an earlier year, but we'd missed Reims.  So now was the moment. 
We pulled into the city, and with some difficulty found the local aire.  It's quite popular, but we found an open slot.  Great fun, it was on the grounds of a very nice, large youth hostel.  It was a kick to be mixing among the college kids (and much older folks as well) who were using the dorm rooms during their visit to the city.  Free wifi was available (cool), and we took full advantage between walks into the old city center located just across the river.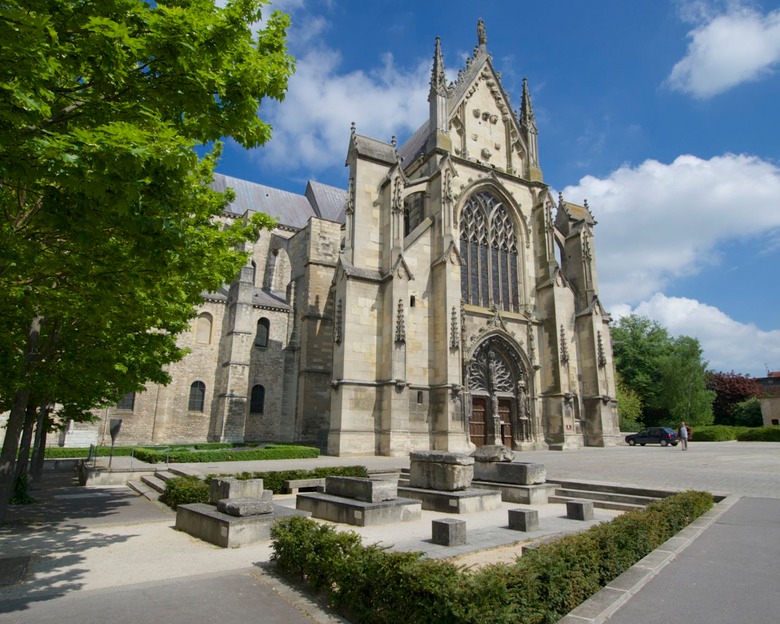 The cathedral in Reims is justifiably famous; it really is quite special and well worth the effort to get there.  We certainly enjoyed ourselves, taking lots of pictures, craning our necks to see up so high, and being generally quite impressed.  The size, the stained glass, the stone carving both inside and out and simply the vast open space of the building are very impressive and the history is maybe even more so; twenty-six Kings of France were crowned in this building. 
Somewhat to our surprise, we found that a second church, the Basilica St-Remi, within walking distance, was even more marvelous and this photo is of the Basilica.  The present basilica dates from around 1100, having replaced an earlier version on the site.  This Basilica is actually the oldest building in the city; predating the Cathedral by about 200 years.  Here in Reims, in 496 AD, St Remi baptized Clovis.  Yes, the real Clovis, the most celebrated of early Frankish Kings and the one who designated sleepy little Paris to be his capital.  How's that for history!
Also in Reims is an automobile museum that we visited, La Museé-Automobiles-Reims-Champagne, a regional collection of mostly French autos.  Not a great collection, but with some interesting cars nonetheless.  You can learn more about it and see the photos at our companion site, http://www.motor-museums.com.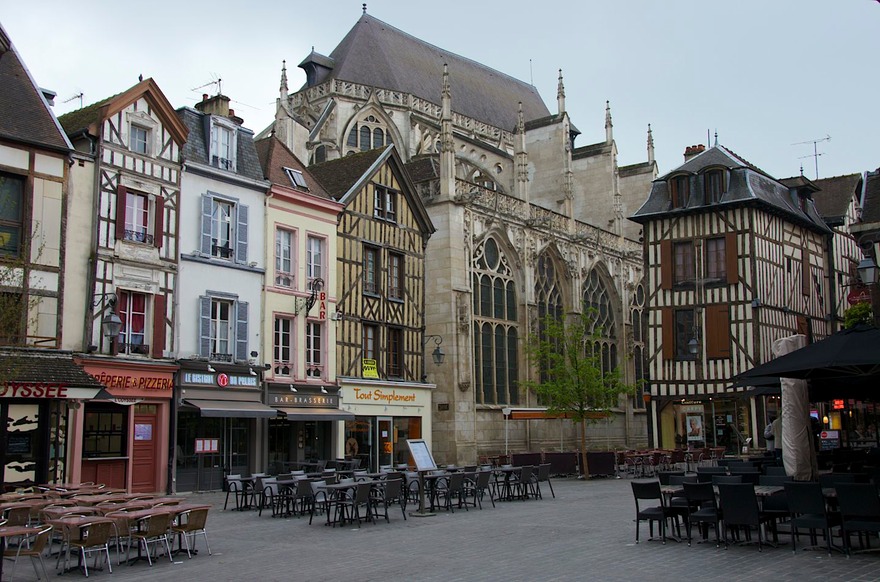 Tearing ourselves away from all this history, we moved further south through the rolling fields of the Champagne region, past Moët et Chandon and other famous names.  We were heading towards Troyes, the ancient capital of the region.  Troyes (pronounced Twah, just like the French number three) is chock-full of half-timbered houses, ancient churches, and lovely parks. We arrived right at lunch time and found a parking lot that didn't charge between 12-2 (another staple of French culture – they're all at lunch), so we took full advantage.  We slipped into a spot next to a very pretty park and went off to explore, hoping to beat the threatening rain.
Two hours later, entirely overwhelmed and gasping, we left, shaking our heads at all the goodies we'd just enjoyed.  If you like half-timbered houses, you really must make a stop here.  We'd thought we'd seen it all in Germany.  No way!  And there were plenty of churches too – 4 of them, each quite unique and special.  It proved to be a great town to wander in despite the dull, overcast weather that had a negative effect on our ability to take good photos.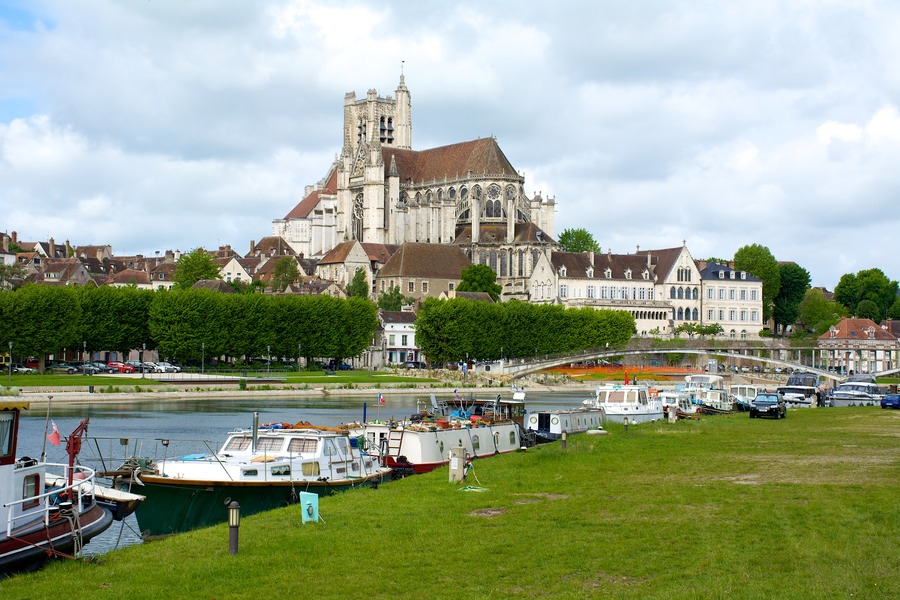 It was now time to head further east, to visit some acquaintances we'd made a few years ago.  We had stopped to chat with them in a small village in the mountains of Bulgaria in 2011, and we had all enjoyed ourselves so much we were eager to renew the acquaintance.  Philippe and Dominique live in a small town in the Ballons des Vosges mountain area, a lovely spot in the heart of the Alsatian wine country and not far from St Dié des Vosges.  Such a great time we had!  We were welcomed into their home, introduced to some of their extended family, taken around to see the mountains, and fed some incredible local dishes, including choucroute (particularly marvelous!).  Philippe is closing in on retirement and they are hoping for more long-distance travel soon, including North and South America.  We will keep encouraging them.
After a splendid (and sunny) weekend together, we moved west again, resuming our explorations of the less-traveled France we were coming to love.  We crossed through rolling hills and forests, heading towards Auxerre and the Yonne River valley.   Auxerre is a cathedral city and also a university town, very lively and interesting.  As with virtually every medieval center, it was next to a pretty river with boats tied along the shore.  Dodging raindrops, we walked along the riverbank and up to the basilica and its attendant museum, both of which were quite awesome.  The museum had an area where you could walk over clear flooring, with tombs underneath; quite a sight.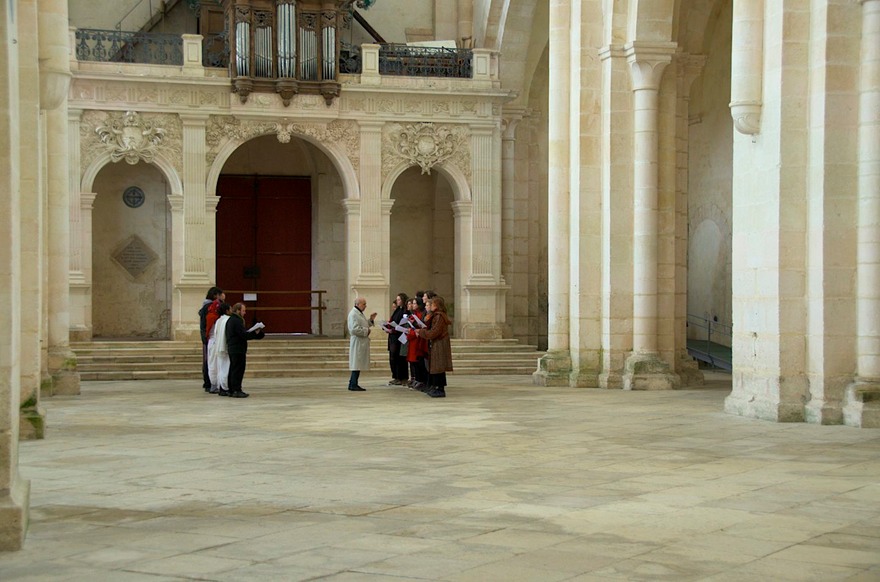 Near Auxerre is the 12th century Abbeye de Pontigny, a delightfully ancient and austere building.  While we were there a group (on pilgrimage we decided) walked through, chanting as they went.  It was quite beautiful and evocative.  Thomas à Becket had hidden in this very abbey while in exile from England in 1164.  And… it was at this abbey that Chablis wine was developed (the town of Chablis is nearby).
Still wandering among the vineyards, we passed through the small town of Semur-en-Auxois.  We were there on May 8, a national holiday in celebration of the end of the war in Europe (VE-Day to us).  There were flags up, parades of veterans in smart uniforms, and a huge field full of soccer games.  The truckers were all parked beside the roads, it being unlawful for them to be on the motorways today.  Quiet for all, but certainly putting them behind on their delivery schedules. 
At this point we found ourselves making comparisons between France and Germany, having spent considerable time in each recently; and we have continued the discussion regularly as we drive along.  We really enjoy both countries, and each has its positive points, but they are really different.  To our minds it really comes down to that amorphous thing called "national character" if such a general term can really mean anything. 
Germany seems just plain better organized.  Things are neater, tidier, even the old buildings look newer; in fact every home, store or business gives the impression of having been painted within the past two or three years.  The roads are immaculate and you just know the trains run on time.  These are all excellent things and impossible to fault, but can lead to a certain sameness.  On the somewhat negative side there seem to be more large towns and fewer villages.  Things seem more centralized.  There are more trucks on the road and it is harder to find a quiet small road to drive on.  The fields in the agricultural areas aren't any nicer than those in France, but in Germany there will be someone out mowing the grass along the roadside.
On the other side of the coin, France immediately feels more rural and is filled with charming small towns and villages scattered throughout the countryside and connected by a spiderweb of little roads and lanes that invite you to wander rather than to simply arrive.  The land use concept seems to be more in keeping with what we fell in love with in Belgium during our first month in Europe with the Tiger; small villages surrounded by productive farmland with very little sense of the villages growing larger and encroaching on the fields.  Each village has its church spire and buildings are allowed to look their age.  All the old buildings are made of stone and are generally left in a natural state; only the newer buildings are plastered and painted -- and even those usually look like they could use a little upkeep.  In France, it is simply OK for the villages to look their age.  Cracks and rough spots from old repairs are signs of character, not things requiring immediate attention.  Herein seems to lie the essential difference.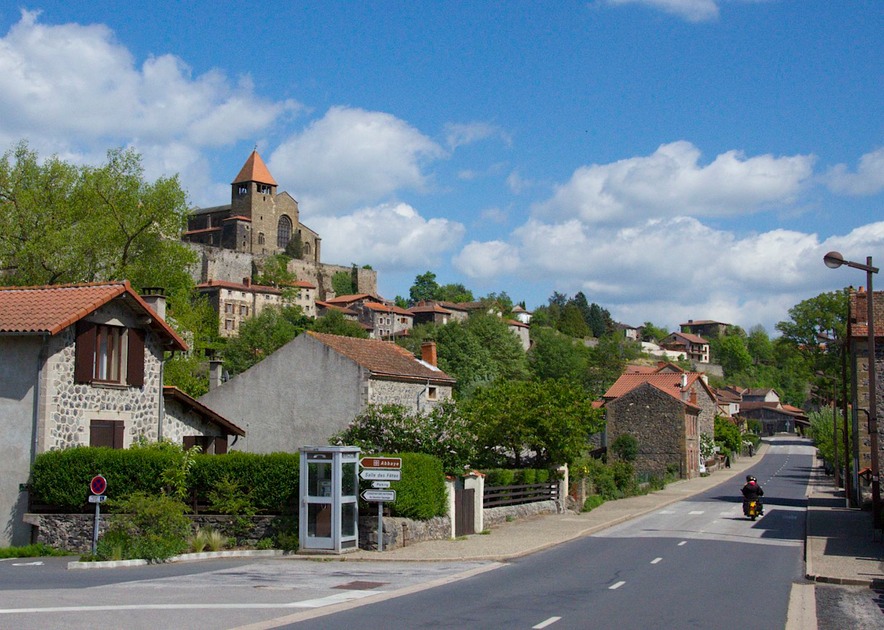 Historic German towns strive to look just the way they looked when they were new, and they are beautiful.  Old French towns on the other hand invite you to feel their age and imagine all that they have been through.  Two differing views of history, both valid, but providing an interesting contrast for the traveler.   
To us, both countries offer many and varied opportunities for enjoyment of their beauty and history.  Most importantly, their differences illustrate clearly that despite all the homogenizing influences facing Europe today, the countries and the peoples of the continent remain distinct from one another and show no signs of becoming all alike at any time in the near future.  Vive les differences!  
Being a recycling freak, over the years we've spent in Europe I've noticed large differences between countries with respect to recycling opportunities for the traveler.  Every country we've visited makes some effort, although in general the further east you get the less likely much is happening on this front.  In western Europe a lot of recycling happens.  Glass recycling is most common and beer and wine bottle receptacles are around every corner.  Other items like plastics or cardboard can be more difficult to dispose of, and often it's hard if you are not a local (curbside pickup is very common).  But in France, every town and village has prominently displayed half a dozen large containers carefully spelling out what goes where and which are the few things that must go in the trash bin nearby.  It's awesome.  They've got America beat all to hell on this one.  There!  I've said it and I'm glad and I'll get off my soapbox.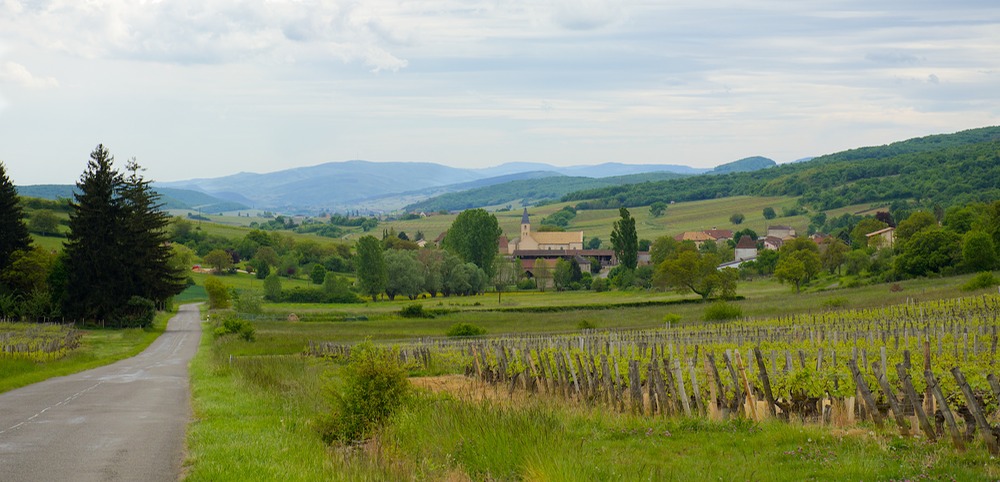 It's now a little later in the month and we are a bit further south, in the Morvan Hills.  The Scotch broom has joined the rape-seed in the fight for brightest colors.  Also, there are more and more wildflowers alongside the roads.  Such a show!  Last May we were being wowed by the display of wildflowers in Georgia and Armenia, but France doesn't give anything away on the flower front to anyone.  It's beautiful.
Staying in these small village aires has been really great; village life all around us, with the local boulangerie and charcuterie at hand, weekly village markets coming and going, the local dogs and cats checking us out, constant birdsong, the occasional rooster (striking a different note), and almost always the church bells; we always feel part of the community despite our short stay.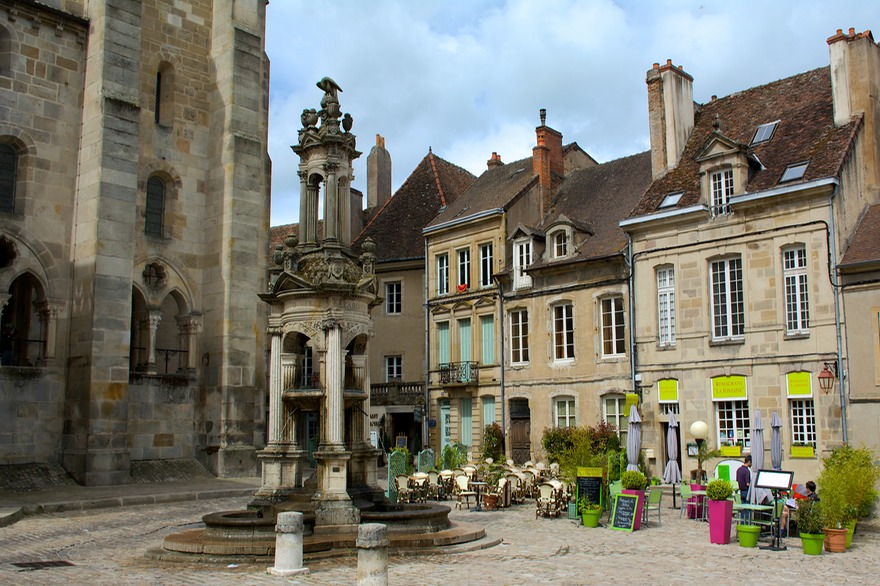 We slipped into Autun to check it out: ah, another lovely-fine-charming largely medieval small city with a great cathedral.  We've come to rely on them, and are never disappointed.  Tournus was next; an equally lovely abbey, but perhaps a little too clean!  It seems we like them a little scruffy – lived in I guess you'd say.  After all, if a building is over 800 years old it should look it at least a little bit.
Sidling a bit west, we crossed a small pass, went from the Mediterranean to the Atlantic watershed, and entered the "Berry" area between Bourgogne and the Loire valley.  This is a small area south of the flat plains below Paris and north of the mountains that are the beginning of the Massif Central.  It's quite lovely, but I'm afraid to tell you too much – you'll want to buy some property and move here, and we want to do what we can to keep its rural, quiet, just slightly frowsy countryside safe for our friends who live there.  So I'm going to be quite selfish and not give you the name of the hamlet wherein resides their ancient barn (grange, in French).
Daniel and Anne-Marie purchased this old barn a couple of years ago, and they've been making it ever more livable ever since.  It's a lot of work.  The very pretty stone facing is of local rock, which is too permeable for a residence.  Not that the cows cared, but if you eventually want to (perhaps) retire here, you must seal it better.  Plumbing?  What do you think?  But a nice open grassy area in back, with fruit trees.  And a newly added open loft upstairs.  And now a bit of a kitchen – although their overland vehicle, parked in the yard, still makes a better home when they come down from Paris to work.  It is this vehicle they, along with their three children, were traveling in when we first met, in Argentina in 2008.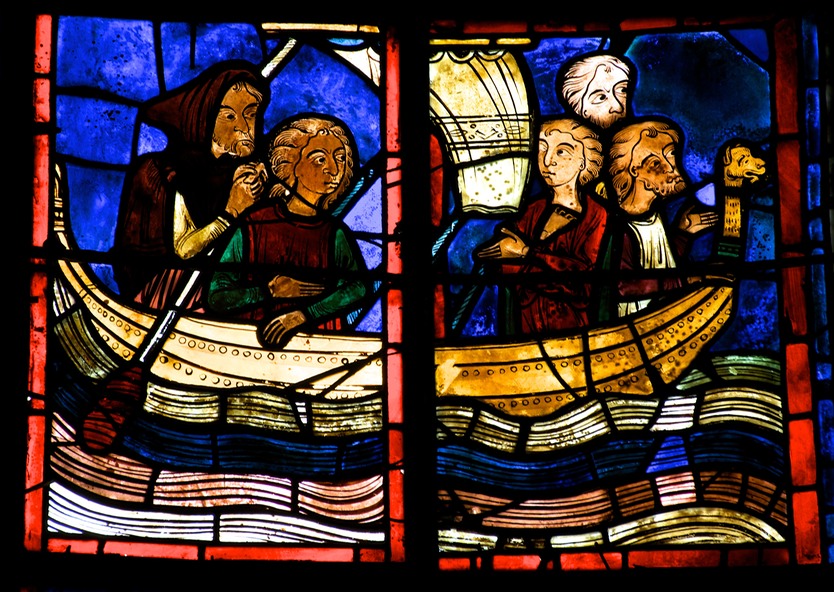 We'd seen our friends twice before in Europe, once at their home in the Paris area and a quick second visit when they took a train up to meet us for lunch in Lille – but that was 2 years ago.  We were delighted for another chance to visit further.  We spent a nice weekend together, meeting some of the local villagers, who were still learning how to best enjoy these folks who came down from Paris and who had strange (i.e., modern) ideas of conservation and eco-agriculture.  But they are fitting in, and the neighbors seem quite fond of them.  We certainly are.
On the Saturday afternoon, we all went to a gathering of (mostly) French families who are all overlanders.  There were 21 adults and 39 kids grouped in a campground on the edge of a lake.  It was a reunion of sorts, with everybody knowing at least some of the others.  Some of them even remembered us!  We'd met them in Argentina and Chile, in 2008/09.  It really was fun, and we had one amazing surprise – we ran into a woman whom we'd met in Mexico, outside Oaxaca, in 2007.  She spotted us across the campground and came to greet us.  She and her traveling companion had been major influences for us at the time we decided to buy the Tiger and start our own overland adventure.  We had a swell time getting caught up.  People who travel overland in their own vehicles are a terrific group.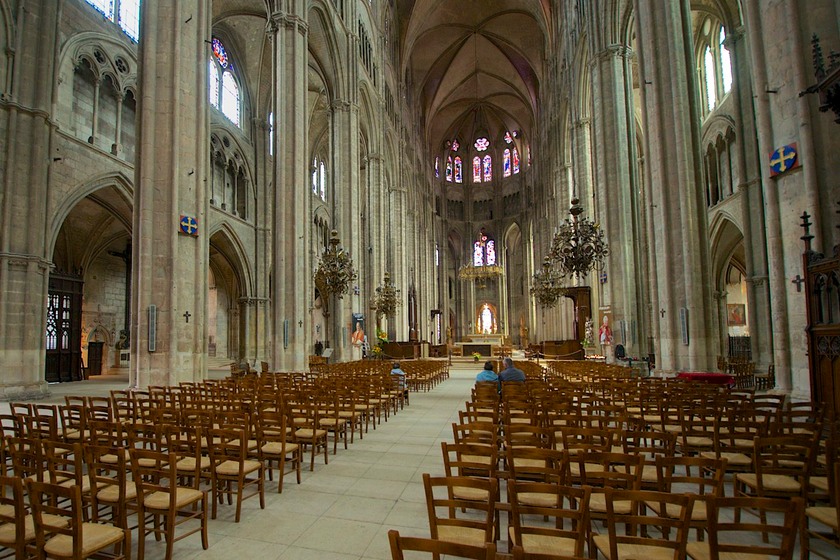 On Sunday our Parisian friends headed for home, and we started working our way a bit north to visit the city of Bourges.  Approaching, we could see the huge Gothic cathedral from miles away across the flat countryside.  And, after visiting, we are happy to say that the Bourges cathedral is every bit as incredible as the cathedral in Reims, and they are tied for Best of the Year for us (but we're only halfway through our time here, he says).  The cathedral in Bourge is awesome, with an enormous open interior and absolutely, unbelievably marvelous stained glass, much of which is original and was produced between 1215-1225.  Wow!  The colors and craftsmanship of this glass were astounding.  We had detoured to get there, and it was well worth the effort.  We would not want to have missed it.
Not worth it, however, was our quite frustrating visit to the nearby Aubusson Tapitisserie.  We'd hung around for a day, it being closed on Tuesdays, but when we arrived the next morning, we were in and out in half an hour and wondering why we'd come.  Very little to see, and much of the museum (touted as quite fine) had been given over to other activities.  There is a new museum under construction on site, reportedly triple the size, and the guide confirmed that much more would be on view once it was completed.  But we were totally bummed.  We'd really been looking forward to being there.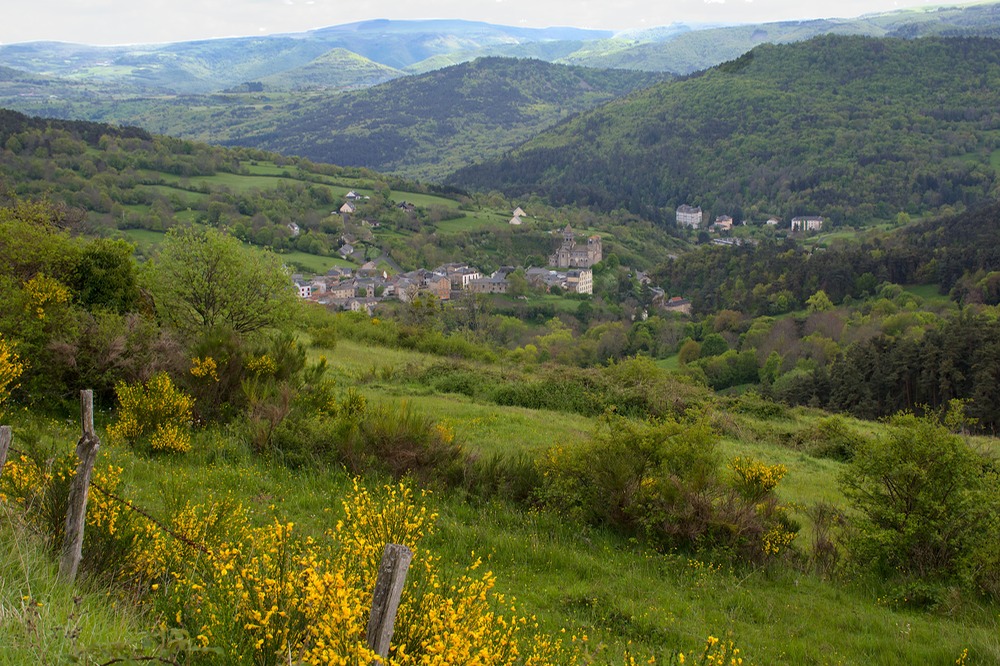 Well, to hell with them.  We'd go further into the Massif Central and head towards the Parc des Volcans.  To state it simply, the Massif Central is a large mountainous area in the south-central area of France.  It encompasses several different types of terrain, all of it rural, remote, and lightly populated.  We were especially interested in the Auvergne area, and were well rewarded for searching it out.  We love the haunting music from Les Chants d'Auvergne, by Cantaloube, and were excited to be able to put a face to music we had enjoyed for years.
We were anything but disappointed.  The Auvergne is high, open ground with some trees; lush meadows with cows happily munching away; tiny hamlets with few people; an area of old ways; few services; simply and utterly charming.  Wildflowers were everywhere, with poppies beginning to dominate.  Lots of standing water in fields yet to be planted.  For once we were blessed with several days of clear blue skies and lots of sunshine and it could not have come at a better time.
We were absolutely loving the little country roads that go seemingly everywhere.  The French system differentiates descending road size by A, B, C, D…. and at one point we were traveling on V2; see what I mean?  Emily (our GPS) was never lost, but couldn't keep up with the road closures and one-way signs we kept running into.  Many of these small roads were being worked on, causing much of the problem.  We didn't want to go to the village of Verneugheol, but every road we tried went through there, and Verneugheol was closed to traffic because the road was all torn up through town.  We never did see the place, but eventually found we were on the other side of this tiny hamlet that had caused us so much trouble.  Every time we came to another "deviation", Emily would find a new route for us and off we'd go.  It seemed as though we spent most of the afternoon 22 miles away from our intended, and stationary, destination.  We're trying to decide if our traveling style is keeping Emily young, or making her old before her time… she won't say, mostly because her vocabulary is limited to turn directions and "Recalculating."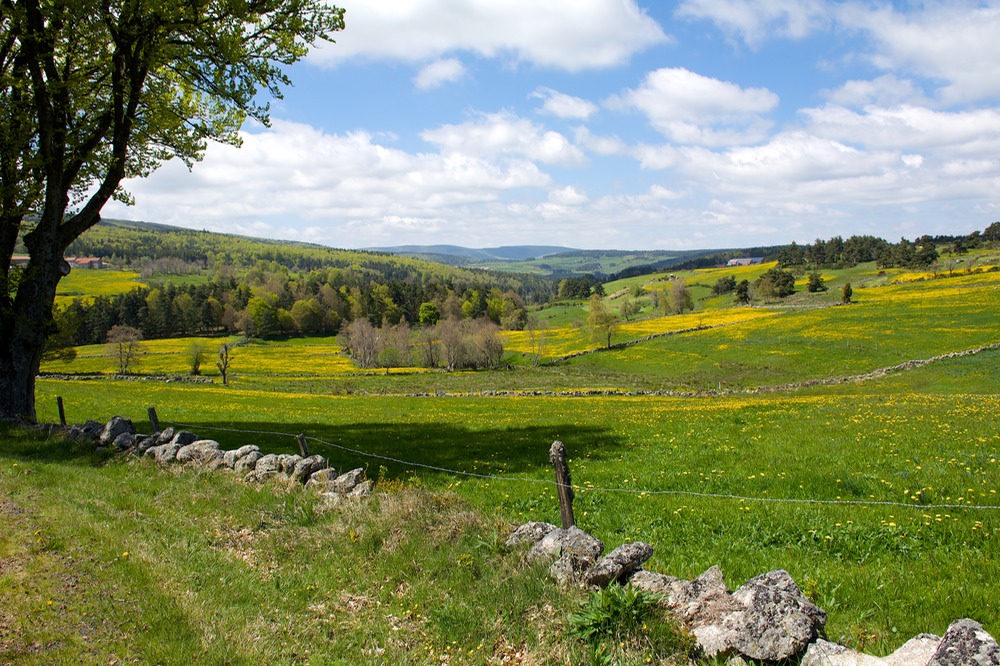 The Parc des Volcans d'Auvergne… I had assumed it would be barren hillsides.  After all, I'm from California.  I know Lassen NP, I know the volcanoes of Hawaii.  And I've been to Chile and Argentina, for crying out loud.  Volcanoes are high up there, full of rocks and such.  Well, not in France; presumably because their volcanoes are a lot older.  Grassy hillsides, nary an exposed boulder in sight, full of ridges looking over pastures, hawks looking over prey, and us enjoying the view. 
There was snow on the higher peaks in the distance, and most of the trees were still leafless, but all we were getting was rain, even at 2500 feet and 45 degrees at noon. We parked for lunch in a hamlet (4 houses maybe?) one day, and at one point a small herd of dairy cows walked through, quite purposefully, probably on their way to the barn for milking.  Nary a human being in sight.  These are the cows that produce the makings of the wonderful cheeses the area is known for.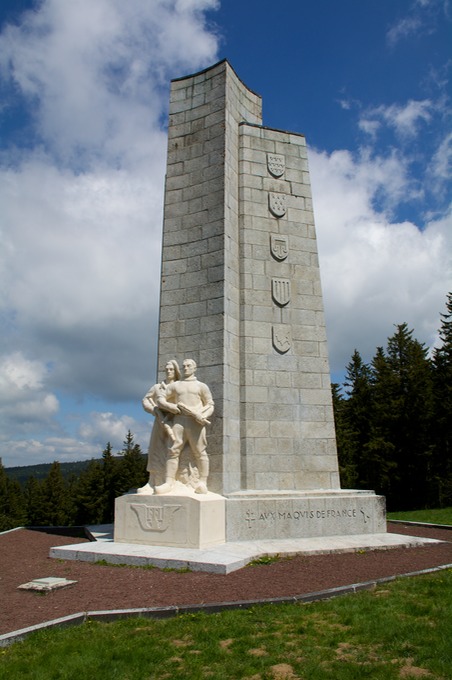 We had picked out a few towns to visit, all typical Auvergnate villages, with austere Romanesque churches, all at plenty of altitude.  It was cold, down almost to freezing at night, at around 3000 feet.  But we explored Orcival, the castle near Murol, St. Nectaire, and Besse – all interesting and worthwhile.  Cheese was everywhere, particularly in St. Nectaire. 
One noontime, near the Col d'Entremont (3968 feet; it was open, the next pass over was still closed), we were sitting near the road, munching our cheese and crackers, when a nice fellow stopped to chat.  He is running a small hotel nearby, but had noticed us because of the truck and wanted to know more about us.  We had a nice visit, and he left saying "We never see American tourists around here!"  He was delighted we'd come.  It's well worth a visit if you have a chance.
We tried to stop in the town of Murat, but it was just too difficult – the old medieval town has been swallowed by growth and we couldn't get anywhere near – so we let it go despite its potential.  We were so glad we'd taken advantage of earlier opportunities and that there are many more ahead. 
Actually, the main reason we were in Murat was to pick up a delightful small road running east from there to Le Puy-en-Velay, in the Margeride Mountains.  We had a great ride along this beautiful road, the D4 (at least in part – French roadways change numbers more often than you can imagine) through St. Flour, Pinols and Chanteuges (in case you're plotting a trip).  Along the way we took a side trip up to the top of Mt. Mouchet, the highest peak in the Margerides.  This is an area that had a very strong Resistance movement during WWII, and there are monuments and a museum up on the mountain.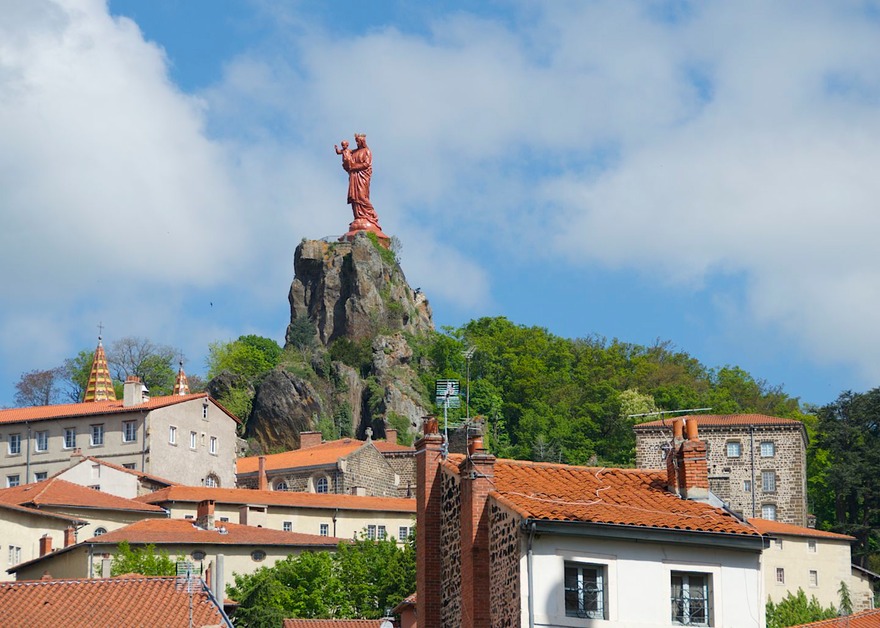 Le Puy-en-Velay (just Le Puy to its friends) is a medium-sized city and was again a bit much for us.  Still part of the volcanic area, it has lots of exposed rock, with high pointy areas in various parts of the city, each with a church-cathedral-monument on top, take your pick.  We didn't expect to stay long, and made do with a couple of photos.  Not our cup of tea.  However, it is the start of the pilgrimage trail that ends in Santiago de Compostela in western Spain.  In this town we saw many walkers, and every day since then, as we've driven some of this route, we've seen many more – singly and in groups, usually with backpacks but one elderly man accompanied by a burro.  We understand you can do the entire 1600-kilometer trip or choose a section of the pilgrimage.
Le Puy was where we would turn west again, at least for this spring.  As we started back, choosing a different route, we went over a pass at 4500 feet; we wondered how all these walkers were going to make it.  Lovely, wide-open spaces greeted us again, and we were quite pleased.  Vegetation was sparse, it was much drier, not so lush and green, and now we were seeing lots of rock walls dividing pastures and in the fields.  This is grazing land, not dairying country.  We were moving along, stopping to take pictures from time to time.  I was crafting my shot (hah!) when two middle-aged ladies nearby, who had been poking along behind us in their car, asked me if we'd been to all those places we had stickers for on the back of the truck.  I said yup, and they said "Ooh, la la!!"  Super-duper.  A day or so earlier, another French couple had applauded us as we drove slowly past leaving the church we'd all been visiting.  It's all fun!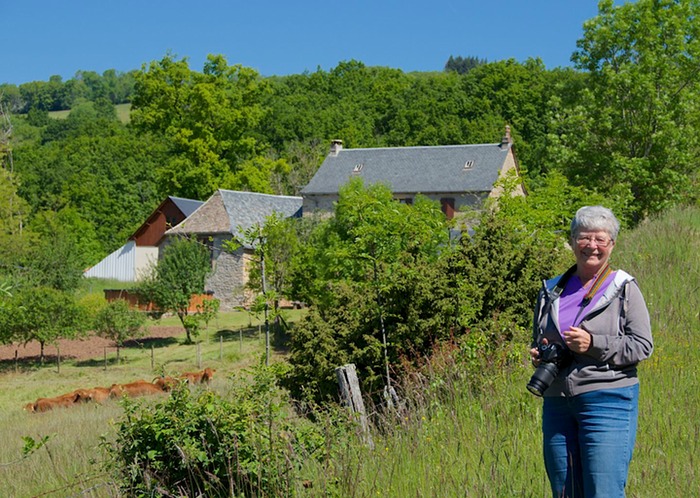 We traveled through this open area of high pastures, then suddenly started to drop, drop, drop, down off the high plateau.  We came down nearly 4,000 feet over the course of ten miles or so.  We'd left the Massif and returned to the river valleys – and it was finally warm – almost 60 degrees when we went to bed that night with dreams of the Limousin and Dordogne and Lot, the rivers of France next on our journey.  Central France has exceeded our expectations and afforded us super experiences; we are anxious to see what will be around the next corner.  Back at you soon – we've got a lot of this year yet to go!
Hugs from us all, Rick and Kathy, Emily and Michelle (our weather girl), and the Mighty, Unflappable El Tigre, who recently passed the 150,000 mile (240,000 kilometer) milestone, taking all of our course changes in stride.
To see more photos from France, click here.