May 2005
California Cruisin'
... Wildflowers and Waterfalls
Ahhh:  The difference between having to get some place and wanting to enjoy a place
We haven't been back in California for two years.  California hasn't changed a bit (well, maybe just a bit), but we have.  We've just had a wonderful visit to a beautiful state full of nice people.  We recommend it to you!
We both are native Californians, and had lived here for most of our lives.  Our families are here or nearby.  We have roots here, tangled roots, strong roots.  But for many years we've known California was no place we wanted to be for very long.  We came back from time to time, to visit, to take care of business, and rushed through as quickly as possible, just waiting to "pop out the other side," on into Nevada or Oregon.  But not this time.
This visit we decided to take our time; we were in California for 2 full months.  Knowing we were to be here for awhile, we made lists of places we wanted to enjoy.  For one thing, Kathy, a northern California girl, said "You always rush me through Los Angeles, and there are things I want to see."  And so we did.  We also decided we wanted to visit other spots we hadn't seen for years, or perhaps never.  So the list was rather long.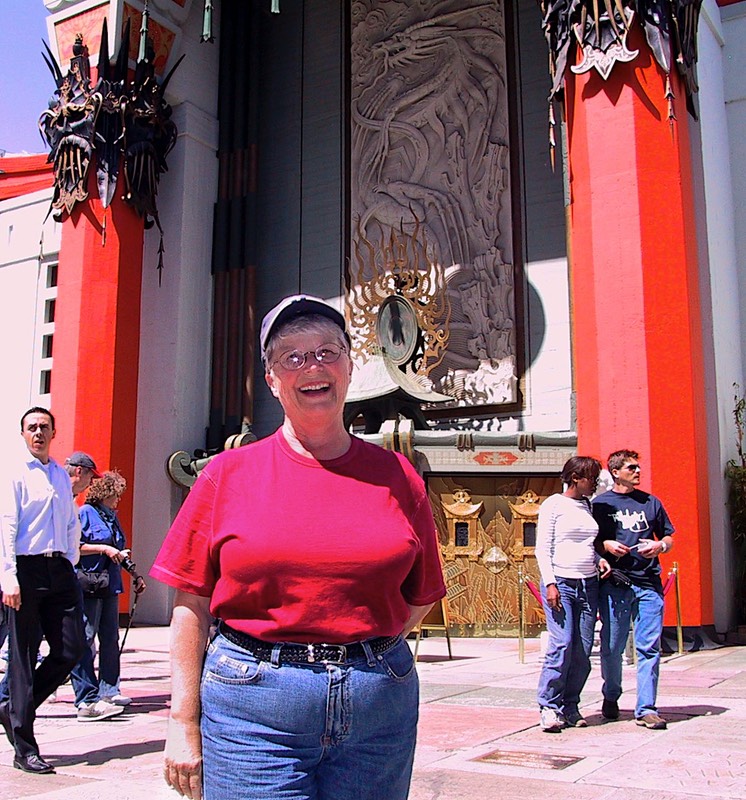 But first we had to get past the desert.  We arrived in California by way of Yuma, as we were headed to a rally in El Centro (El Centro! Imperial! Holtville! Mexicali! – all those great oases you've been missing).  The desert was at its best, since it was mid March and the wildflowers were out in force; also the wind wasn't blowing too much.  We spent some time boondocking out in the desert, saw some friends, had a great rally, and then started our jaunt up through the state.  
Past Palm Springs, tipping our hats to the wind generators, thumbing our nose at that huge and terrible outlet center in Cabazon, past Bob Hope Drive and more golf courses than you can count.  I smiled and waved at Banning, remembering trying once to buy a toothbrush there and finding it almost impossible.  But even here it was lovely and green.  The grasses are high, the wildflowers are bountiful, and even Banning seems presentable.
We chanced a trip up the mountain to Big Bear Lake.  Rick's sister has lived there for years, and it's a great ride up.  We had a lovely visit and met a new grandniece, sitting amongst the pine trees at 7000 feet (remember that number).  Pretty perfect, until the morning we got ready to start down the hill on the motorcycle.  The wind was up, the sky had clouded over, and we were told the road we wanted to take was closed because of new snow.  As we left the restaurant we were met with snowflakes.  Hmmmm, change of plans.  Don't know how familiar you are with Arrowhead and Big Bear.  The quick, direct way back into the LA area is right down the hill to Redlands (where our motorhome sat).  That was the closed road.  Snow was reportedly coming our way up that side of the mountain.  So, quick decision:  we'll go down the backside, out towards Victorville, and circle around to join I-10 just north of Palm Springs.  This is by far the fastest descent from the mountain and headed us away from the storm, but sent us off in the wrong direction.  So we got to wave at the wind generators again; they were going a mile a minute, with all the wind that was accompanying the snow storm.  Adventures abound.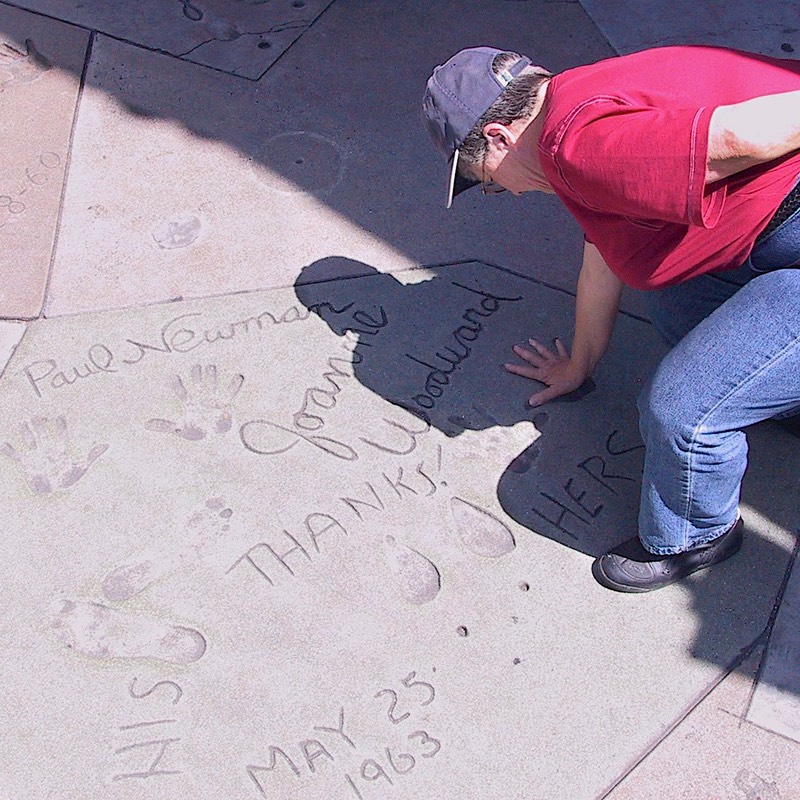 We then arrived in Monrovia, where Rick's daughter lives and is attending Cal Poly Pomona (more on that later).  From there we got busy on Kathy's list of "What to do in LA when you are so inclined."  Rick looked at the list and said, "Good grief, why do you want to do those things?"  but Kathy said he'd promised, and off we went.  Sometimes other family and/or friends joined us, sometimes we were abandoned, but we (read me here) had a ball.  It  became my ode to the Los Angeles that's there underneath all the freeways and the rushing around and the smog.   First on my list was Graumann's Chinese Theater (that's the one that really got to Rick).  But I knelt down and put my hands where Paul Newman's hands had been; and I traced Denzel Washington's signature in the cement.  It was a wonderful feeling.  Rick took pictures of me grinning my head off.  
We went to the Peterson Auto Museum on Wilshire Boulevard.  This is a good collection, but more significantly, it has a lot of information on how the development of the automobile changed our society: supermarkets were developed to provide room for cars to park off the street, with lots of things available in one place; highway signs appeared (weren't necessary to attract people until they started flashing by in their machines); stuff like that.  It was very interesting.  This part of downtown LA still has lots of grand old buildings, all shining in the pretty spring weather.  Churches, art deco spanish homes, car dealerships; it was lovely.  This is the difference between wandering around and having to get across town to fix dinner.  We had time to look at some great old pictures, including one taken in 1920 of the intersection of Wilshire and Fairfax where the museum now sits right in the middle of the "Miracle Mile"; nothing to see but two country roads crossing at a 90 degree angle and a bunch of oil wells scattered around.  How times have changed.
Pasadena yielded the Pacific Asia Museum, the best parts of which are the building itself and the lovely oriental courtyard in the center.  A huge old mock orange tree was in bloom, very aromatic.  They had a nice exhibit of Japanese swords which were interesting; the emphasis was on the craftsmanship that went into the steel blades, so there were no hilts on the swords, which disappointed both of us as these are typically very colorful; with them missing, the exhibit seemed a bit sterile.  We didn't go to any of the other museums in Pasadena, as I wanted to keep this trip to places I've never been, and my art history background had led me to the Norton Simon, etc. many times before.  And although very high on my list, we saved the Descanso Gardens and the Gamble House for June when we come back for said daughter's graduation from said Cal Poly Pomona.  
After a great reunion breakfast with my sister (and a 15-year-old niece I hadn't seen since she was a baby) on to a very satisfying visit with friends in Westlake Village ---- and more museums.  Rick and I made our first visit to the Getty, an unqualified success.  We could have stayed for days.  We took the architectural tour, which we highly recommend.  The Getty just seems like a collection of big boxes up there on the hill, until you understand the architect's vision and how well he executed it.  Do put it on your list.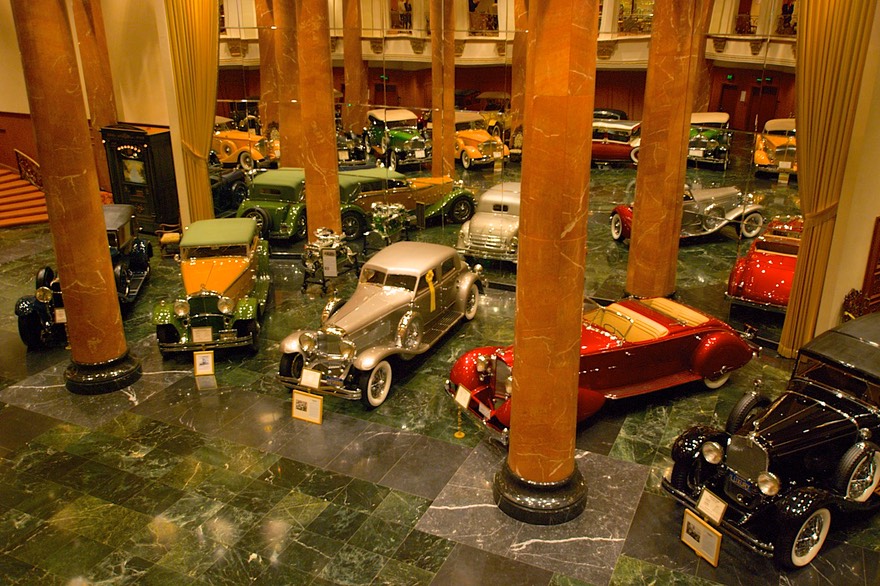 And then I pulled off my real coup.  I had been talking about wanting to see the Nethercutt Collection and Museum, in Sylmar.  "Sylmar, nobody goes to Sylmar; nothing there could be worth it."  Yah, but, and I got my way.  We took some friends along who were more willing than others, and IT WAS WONDERFUL.  This is hard to describe.  The money came from the Merle Norman cosmetics line.  Still coming, actually.  It's housed in two buildings, the first filled with antique cars, incredibly well restored.  The other, only open on guided tour, also holds cars, and more.  It's in a building made to represent a very high end car dealership of the 1920's.  Some of the best cars are here.  And then, up the swirling staircase, are the porcelan collections, other small things, and the "music boxes."  Now, when you think of music boxes, you remember the small one with the dancing girl on top, where your mother kept her treasures.  These are not your mother's music boxes!  They include huge, room-sized orchestrions.  These are German and Austrian made, make mighty sounds with bellows-operated horns, drums, accordians, even violins (!).  Fantastic.  The collection also includes the largest Wurlitzer theater pipe organ anywhere, several mechanical pianos, stuff like that.  We were overawed, and I got kudos for insisting.  Please make the time to go.  The museum and collection are free, but you have to call for reservations for the tour.  By the way, the cars are fantastic! A huge variety of classic and exotic cars beautifully restored and exquisitely maintained; all 150 of them are in running condition, licensed, and ready to hit the road on thirty minutes notice.  Amazing.  Attentive readers will recall that we visit lots of car museums; well, this is the best by far.  If you need more encouragement, the collection has won six best in show awards at the Pebble Beach Concours; no one else has won more than two.
Our trip up Highway 101 to San Luis Obispo was delightful.  The poppies and lupine were at their peak, the mustard and wild radish were just coming in, and we saw our first coastal fog in forever.  You probably have already noticed them, but we were absolutely delighted to see that the Mission bells along The King's Highway are back in place, after many years' absence.  The orange groves were in bloom as we went through Santa Barbara.  We passed by La Conchita, of mud slide fame; we know the pioneer spirit keeps these people here, but wonder if maybe this spirit should be tempered by a little common sense.  That hill collapses regularly.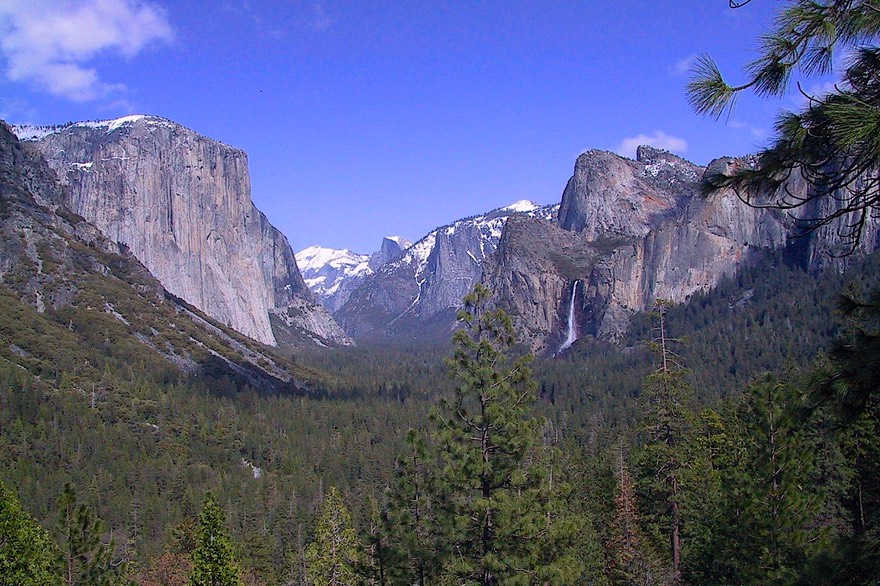 San Lus Obispo and environs are just as beautiful as ever.  We enjoyed seeing the area more as tourists than natives, and have no trouble seeing why it's such a popular visitor destination.  Downtown is looking fine, if torn up; we were pleased to see some of the projects actually underway that had been being talked about for so long.  SLO has some of the best, most unique parking garages we've ever seen.  No cookie cutters here!  I was pleased to see that the bathroom door at Hudson's Grill still hasn't been fixed, and that The Palm, Phoenix Books, and Albert's Florist still survive.  Sorry Mission Office Products didn't make it, but very glad to see that Jim's Campus Camera is moving next door into Mission's larger space.  We saw lots of friends (more than 20 visits!), had medical appointments, heard someone ordering a "tall soy latte", and decided to get out while we could.  Upscale was encroaching.
Wanting to see the Sierra foothills while they were green and gorgeous, we moved on towards Coarsegold and Yosemite, spending a terrific evening with friends in Fresno along the way.  Even the road along Highway 46 is pretty this time of year, and nice and cool.  Yosemite was a real treat; there is more water in the falls right now than we had seen in years.  Like when we were kids.  Unfortunately, the entire area near the Village is torn up, still torn up, probably forever torn up.  Cannot imagine what the foreign tourists think of us; you'd think we would have gotten the valley under control by now.  Government has been talking about it FOREVER.  That was a real disapointment to us; we had hoped that in the over 3 years since our last visit that some progress would have been made.  We finally decided that if a person wants to enjoy Yosemite, they must keep looking up, no up I said.  Higher.  Ignore all the crowds, and the torn up roads, and the meadows forbidden you by orange mesh fencing (is there anything uglier?).  And go down to Camp Curry; at least the crowds are smaller there.  The cliffs and falls will always be beautiful, but it's just not the wonderful old Yosemite we grew up with.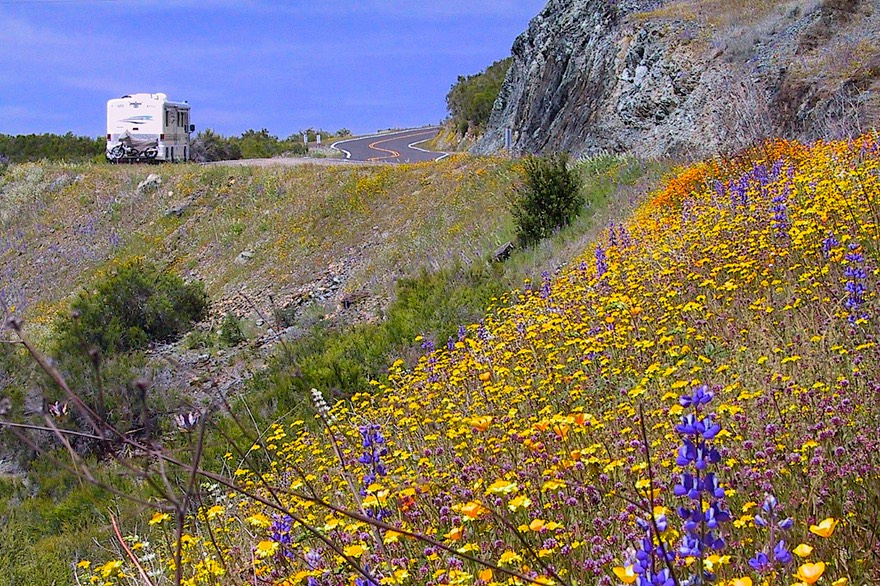 We traveled north on Highway 49 between Oakhurst and Angel's Camp.  Until you get to Jamestown/Sonora, the road is deserted, totally undeveloped, and incredibly beautiful.  The wildflowers were best here, the day was warm and lovely, and it was a treat.  We spent a very nice weekend visiting friends in Arnold, above Angel's Camp along Highway 4, poking around Murphy's one day, and having a good time catching up.  We were treated to the pleasures of a delightful 4-year old girl to whom caterpillars were special,   Our motorhome was parked by a small pond full of frogs chatting among themselves at night, a zillion stars, and one lonely goose who seemed to have missed the migration bus.
No tour of California is complete without traveling along I-5 for aways, which we reluctantly did, but it led us to the San Joaquin Delta, also very pretty now, and a place to leave the coach while we made a quick trip into the Bay Area to see friends (thank you to Ruth and Doug for providing both bed and board) and visit with Kathy's 93-old father, still full of good humor and beating them all at bingo.  Then on to Sacramento, where Kathy got to see the capitol for the first time since graduating from Davis a million years ago.  The capitol grounds were quite special; there is a peace garden with roses in bloom (tons of varieties), which was lovely.  But more significantly, the California Vietnam Veterans Memorial is quite dramatic and emotional.  Later, we had a grand (if quick) dinner with son, grandson, and fiance (we'll be back in October for their wedding), and back up into the Sierras.   We spent the weekend in a park above Nevada City, then up Highway 20 to join I-80, and over Donner Summit (new snow – 7239 feet) to Reno to see other son and wife, and then on to So. Lake Tahoe to catch up with friends who were just coming back from 2 months in New Zealand.  Whew!  Lots of fast travel.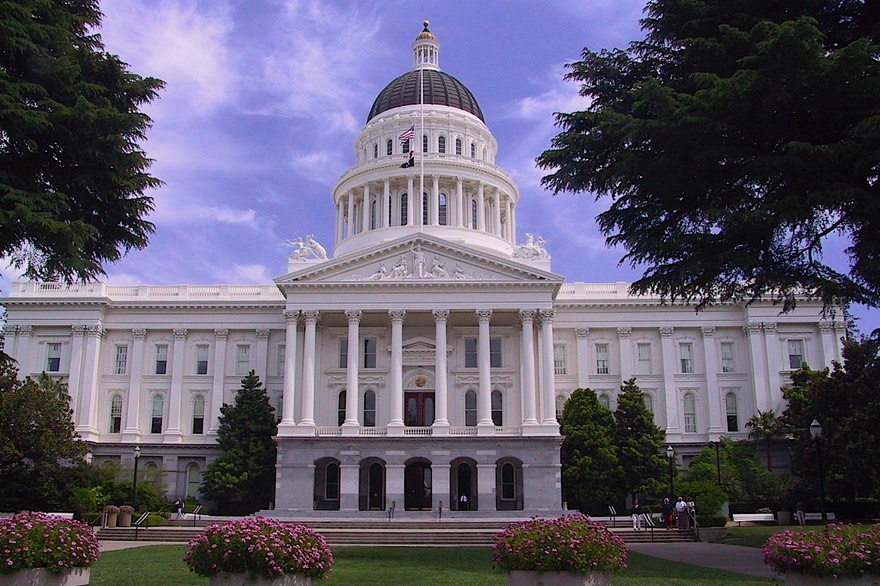 Our jumping across state lines to Reno was the only departure during our 2 months in California.  You know, Reno is kind of an odd place.  It sits in a valley the shape of a bowl, surrounded by mountains, and right now it is beautiful.  There is so much snow in the Sierras still; the peaks are covered.  However, the city sort of reminds me of the position Berlin was in for so many years after WWII.  So close to "civilization" (if you think of California that way) and yet so far.  You have to cross a border (and returning are subject to having your fruit taken away from you); not actually a Checkpoint Charlie, but close enough if you are hiding oranges.  Some refer to Reno as California East; I can see why.  Might as well be, with high prices, exploding shopping centers and housing developments, smog, etc.  But old Reno is charming, with lovely homes and huge trees lining the streets.  And have you been downtown lately?  They're undergoing (ongoing) a refurbishing, with the Truckee River as the focal point.  Plenty of new architecture, a large cinema and performing arts buildings, nice cafes, a happening place.  And the river is a world-class kayaking spot.  We sat and watched the pretty little boats cavorting and struggling to maneuver through the rapids.  A downtown worthy of a visit, if you're in the area.  Cannot comment on the gaming halls, not of interest to us; but excellent Basque food, if you're so inclined.
Our visit with friends in So. Lake Tahoe was great.  We met them at their plane returning from New Zealand (totally exhausted, of course) and took them home (our bus makes door-to-door deliveries).  Lake Tahoe is so beautiful this time of year, particularly after one of the wettest and snowiest winters on record.  The afore-mentioned peaks are covered in snow, it's all over the ground, it's cold, and there aren't a bunch of people.  Remember?  Like when you went up there as a kid?  We were newly enchanted with the area, after many years of simply staying away.  Our friends showed us some of their quiet favorite places, including Camp Richardson and the Tallac Historic Site, both out of Tahoe City.  This is OLD Tahoe.  Totally wonderful; we could see why they liked living in the area.  They just stay away from the casinos and the summer crowds.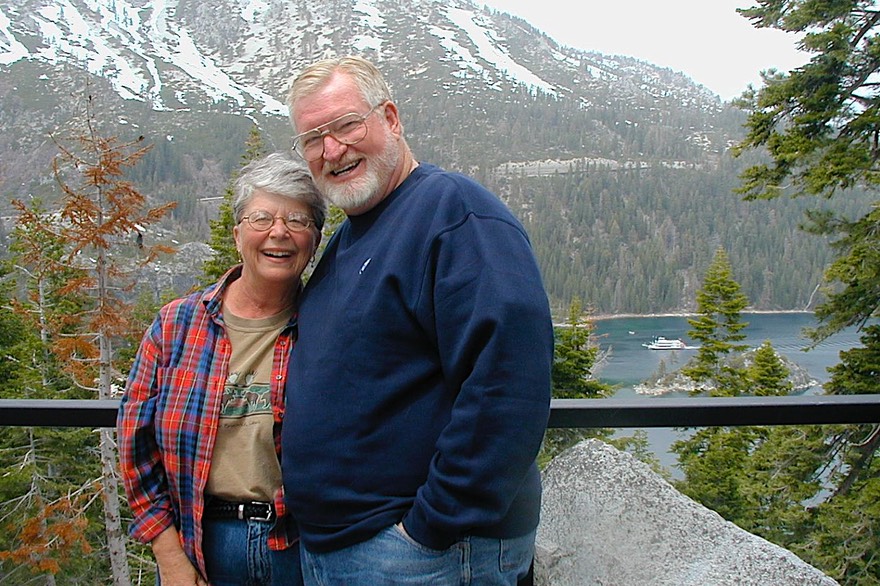 We reluctantly said good-by to this beautiful area, and headed further north to ….. more gorgeous country.  By now we were beginning to work our way towards Oregon, but knowing there were many lovely spots still to be seen in northern California.  Not long after you leave Reno, back in California up Highway 395, if you head west on Highway 70 you enter a magic land.  The mountains are majestic, the streams are running strong, there is plenty of snow on the peaks, and only some of the campgrounds are open.  It's still early in the season, we are finding.  We camped near Frenchman Lake for several days, among the pine trees, while the fishermen attacked the lake with a vengeance.  The season was just opening for fishing in the streams, attracting lots of sportsmen.  We got on the bike and rode the back country roads, all twisty and great.  
Later, moving on to Quincy, we rode the motorcycle along the Feather River toward Oroville, one of the great mountain rides of all time.  When we were looking for a different way to return to Quincy from our Feather River Canyon ride, we wandered along on smaller and smaller roads, climbing higher and higher into the mountains in from Paradise.  It was lovely, all woodsy and full of dogwood in bloom (dogwood!  It blooms in March in the South!).  Then oops, the road got narrower and narrower and finally turned to dirt…..  So back we went from whence we came, getting home shortly before dark both cold and tired.  But what a glorious day!  
In Quincy, we were staying in a pretty little campground next to the county fairgrounds, quiet and nice.  All the trees in Quincy are in bloom, and we picked lilacs to put in a jar in the coach.  Such an aroma.  Oh yeah, the park was wonderfully quiet except on Saturday night when the car racing at the fairgrounds started up at 7:00 pm!  But we still enjoyed ourselves and the racers packed it in by ten in deference to the neighbors.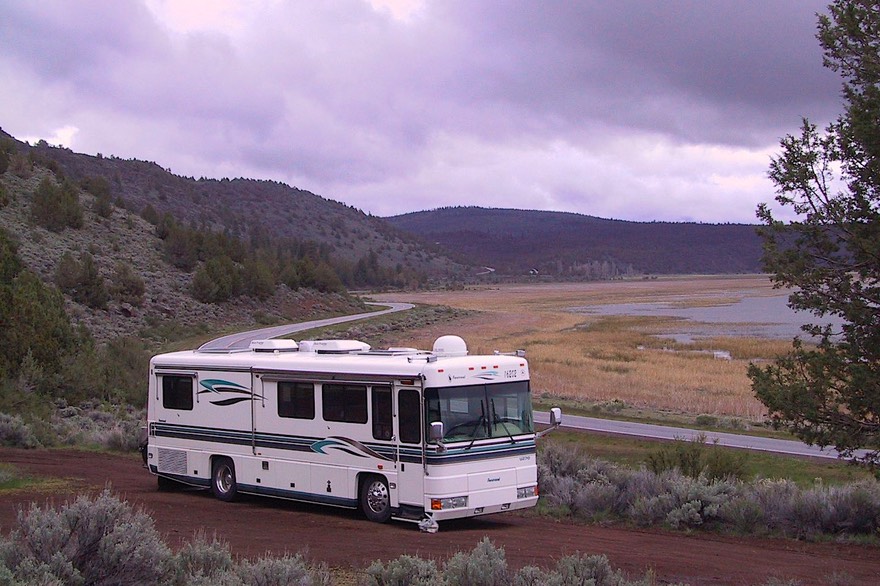 Now we were coming closer to the Oregon border.  I wanted to stop at never-seen Lassen National Park, but it was out of the question; with all the snow this year, the road won't be open for months yet.  So that will have to stay on my list for now.  But while in this very rural northern plateau area we thoroughly enjoyed Lake Almanor and Susanville, and camped for a night along Eagle Lake.  This, incidentally, is what we live for; driving alongside a lake or other pretty place, finding a spot tucked back from the road, and just stopping for the night.  Twas grand.  During the night it was rainy and windy, and then in the morning there was even some snow in the air.  This area (the Modoc Plateau for the map readers) is at about 5500 feet, very open country with kind of a scrub forest of sorts.  Kinda like eastern Wyoming.
Well, we couldn't visit Lassen, so we settled for the Lava Beds National Monument, and it was a worthwhile "settle."  Have you been there?  Do go.  Don't be put off by the lousy road once you enter the park (your tax dollars at war…..).  the visitor center is lovely, and the place is full of these really cool lava tubes you can do down into.  Guess we're beginning to get over our dislike of caves.  Although, to be perfectly honest, we didn't go all that far down the tube!  But they are fascinating.  Tubes are formed when the lava kind of oozes instead of violently erupting, then flows close to the surface.  The exterior of the lava cools before the interior, which continues to flow on out, leaving a tube.  Boy, what a lousy explanation!  But I think you can figure it out.  
We had a very nice visit with the tubes, then took the road going north out of the park and found ourselves in Oregon!  Our adventures north of the border will have to wait for another time, but we will just mention that Oregon is, as always, beautiful in the spring.
Our sojourn in California was ended and we were glad we had taken so much time.  Still haven't seen everything on our lists (in addition to Lassen, there's Death Valley and Joshua Tree, just for starters), but we thoroughly enjoyed ourselves.  We had been gone so long we felt like tourists and it added to our enjoyment.  
I think I'm trying to say this:  those of us who have lived in California for years tend to see the difficulties instead of the pleasures.  We get caught up in traffic problems, smog issues, expensive housing markets, and disappearing countryside.  But there's more to California than that, and we saw some of it this spring.  Remember, many of California's difficulties are caused by the fact that so many people want to live here.  It is a truly lovely state.  It's only too easy to get caught up in the difficulties; we hope you Californians will use our recent adventures as a stimulus to look at things differently where you live.  And California isn't alone; we know other states have all these problems.  This message applies to the rest of you as well.   
What's on your list of places you've always wanted to see?  Maybe you can make the time to get to some of them.  Pick your moment and hop in the car.  Have fun!
Rick and Kathy 
See more photos from the US in 2005