January/February 2010
Travelin' Through Who Dat? Nation
Arizona to Florida, Go Saints
… And Then it Started to Snow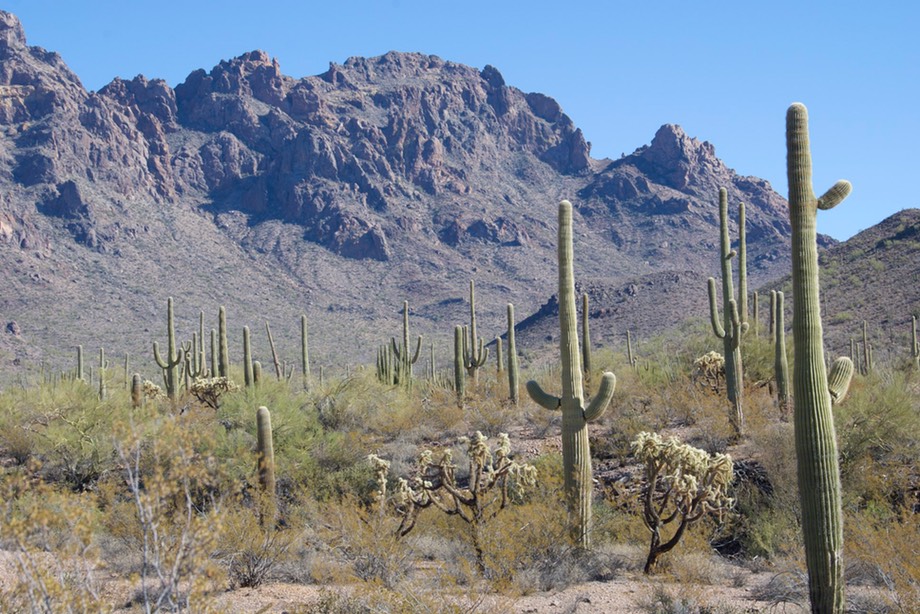 We left you in sunny Arizona, bored but staying warm-ish.  It's gotten colder and colder as the weeks have passed since then.  But I'm getting ahead of myself.
Arizona's not a bad place to be in the winter.  On a quiet morning in the neighborhood we saw a coyote, cruising along and looking for slow-moving rabbits.  We worked on projects, traveled around the state visiting various friends, and tried to organize our lives before we headed out of the country again.  (No easy task.)  A highlight was time we spent at Organ Pipe Cactus National Monument.  Friends from Oregon were spending the winter there, volunteering; we had a great chat and really enjoyed getting up close and (not too) personal with these interesting cacti.  And a real delight at Mom's house in Sun City was a neighbor with not one but two orange trees, who said to fill our bags anytime we wanted; she had tons.  We sure took her up on that!
But finally we were ready to move further east.  Off to Texas we went, to Nacogdoches where we have both good friends and a change of clothes.  We were pressing hard to get there, and one evening, traveling after dark, which we almost never do, we narrowly missed a javalena crossing the road just in front of us.  Deer we're used to looking for, but javalinas?  He was enormous, and could have done a lot of damage.  
We stopped in Austin for a night, visiting some of our favorite hangouts.  Afterwards we realized that choosing that route, rather than going through San Antonio, our original plan, caused us to miss seeing Fred Eaglesmith, who was appearing in one of the local nightspots.  Fred is special to us, a very good Canadian singer-songwriter whom we've been enjoying for years.  Ah well; another time.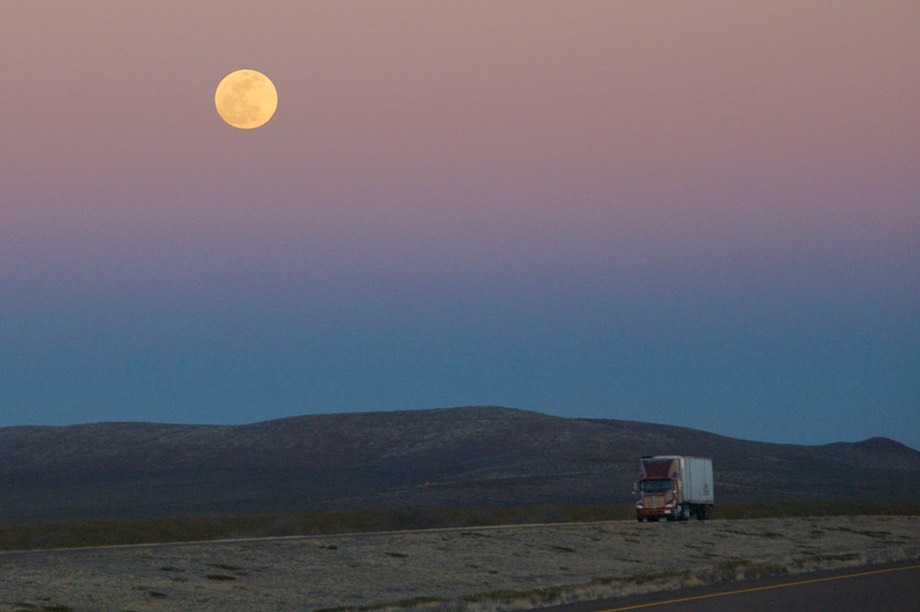 Nacogdoches has always been good to us, and we spent a week there.  Work got done on the truck, we changed out books and clothes, and even a little doctoring got handled.  We reminisced with friends about Charlie Wilson, east Texas congressman whom they had known well while he was in Washington.  And Rick swung by the VA clinic in Lufkin, not far away, now housed in new facilities named for Mr. Wilson.  (A few days after we left we got a message saying that Charlie had suddenly died.  He's a hero to many, particularly in east Texas, and will be sorely missed.  If you saw the movie Charlie Wilson's War, you know the man of whom we speak; if you haven't seen the movie – you really should.)
Finally ready to leave Texas, we wanted to go north into Oklahoma and Arkansas to visit with friends and family there.  But the weather simply got worse and worse – snow and ice in a nasty storm.  We sighed again, said "next year," and kept south as we moved east.  
By now we'd completed shipping arrangements – the Tiger will be leaving from Jacksonville, FL on March 15, headed for Zeebrugge, Belgium.  We have to drop the rig off at the port by the 10th at the latest; so we have tickets for March 11 to fly to – hold your hats – Paris!  The Tiger will arrive in Belgium about April 1; at the appropriate time we'll take the train and go collect the truck.  And by the way, if you've not heard already, after much soul-searching and discussion, we've decided to leave the motorcycle in the States for the time being.  It adds inordinately to the complexities of our travel; we decided to get our feet on the ground in Europe and then send it over later.  We're sad, but think we've made the right decision.
But onward, ever onward, towards the East Coast.  We passed through Nachitoches, LA, Nacogdoches' sister city (at least to me).  Both unpronounceable, but meaning about the same thing and founded about the same time.  It was too early (early February) to enjoy the south.  Cold and dreary.  Nothing in bloom.  But it was Super Bowl time.  We traveled across the entire state of Louisiana the day after the game, and the whole state was in an uproar.  Geaux Saints!  Who Dat?—Believe Dat!!!  Signs on cars and flags and hats and and... and…  It was fun.  Our route didn't take us through New Orleans, but it didn't matter: the whole state had gone wild in celebration of their football victory.
Moving east along I-10, we finally started to see a little bit of redbud in bloom, and a few strawberries at the roadside stand we like to stop at.  They had oodles of varieties of oranges and other citrus, too.  Things are looking up!  Oh, and a woman who'd made her own "Who Dat?" hat because there weren't any to be found that far away from New Orleans!
We were focused on getting into far southern Alabama, where we had a spot to settle into for a couple of weeks; we had some available and unclaimed time to enjoy.  There's a campground we like near Foley; hookups (for warmth) wi-fi (to get some needed work done), fellow travelers; and hopefully, far enough south to be warmer.  Well…no: not warm; not dry and not even cozy.  It hovered around freezing – no snow but lots of rain.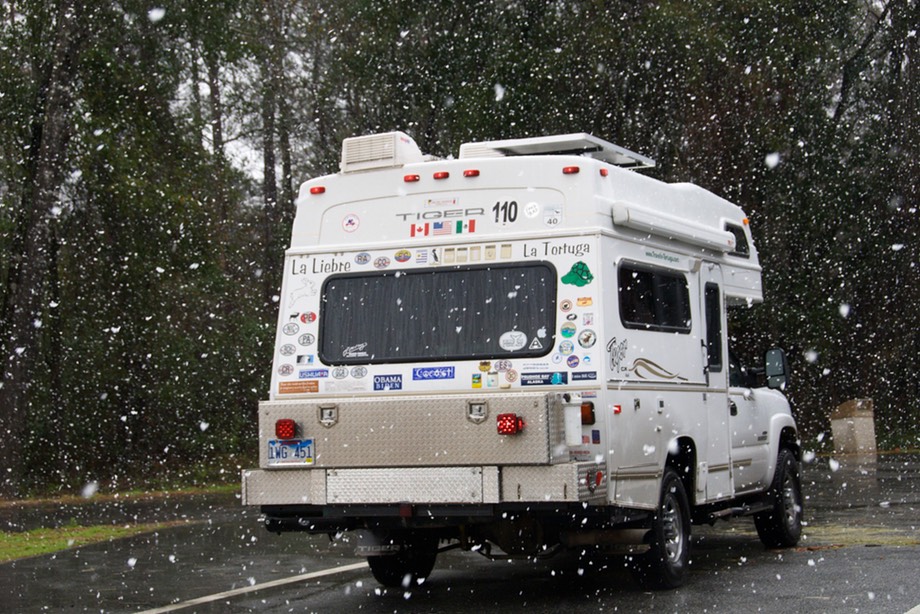 And then the bridge started to give way.  Rick's bridge in his mouth, that is.  Well, what to do?  Hmm, we have a dentist in Raleigh, NC we can get to in about 3 days, and we're going to Raleigh at some point anyway.  So, sigh, off we went, bidding a premature and unplanned goodbye to Alabama.  
And then it started to snow.  We watched the weather reports and kept as far south as possible.  But man, it was snowy wherever we looked that first day.  We hunkered down in Tallahassee, FL for the night, waiting for the storm to pass overhead, which it did.  The next couple of days were clear, although very cold and filled with snow piled up along the highway; didn't slow us down, though, and we made it up to Raleigh in good order.  The only really fun thing we saw along the road was a sign saying:  "Dunn NC – The Dump Truck Body Capitol of the World."  Now, who woulda thunk it?
Rick has now had an emergency appointment, where he has found that the problem isn't serious – they hope.  We will proceed with repairs in a week or so, and then hope to start heading toward Jacksonville, with a few stops in between.
We have a new GPS now, by the way.  Lots of cool info, and it will be quite useful in Europe, we are hoping.  One of the voice options was Australian English, which we  have chosen; we are naming her Yasha, in honor of our dear Australian friend whom we met in South America.  Just the right amount of bossiness and always sure of herself….  
When next we chat we hope to be abroad again at last.  We hope you are well, warm, and dry.  We continue to try to maintain that position for ourselves also.  Here's to an early spring!
Cheerio from Rick, Kathy, La Tortuga and Her Highness, Ms. Garmin