May 2006
No Post Office in Draffenville 
Texas, Louisiana, Mississippi, Alabama, Georgia, the Carolinas, Tennessee & Kentucky… whew!
But There's No Post Office in Draffenville, Ma'am
Do you remember Tom Hanks in A League of Their Own:  "There's no crying in baseball!"  Well, we've picked up mail in many a strange, small little spot, in tiny little towns all around, but not in Draffenville, Kentucky.  The pleasures of traveling waaay out in the country.  But more on that later.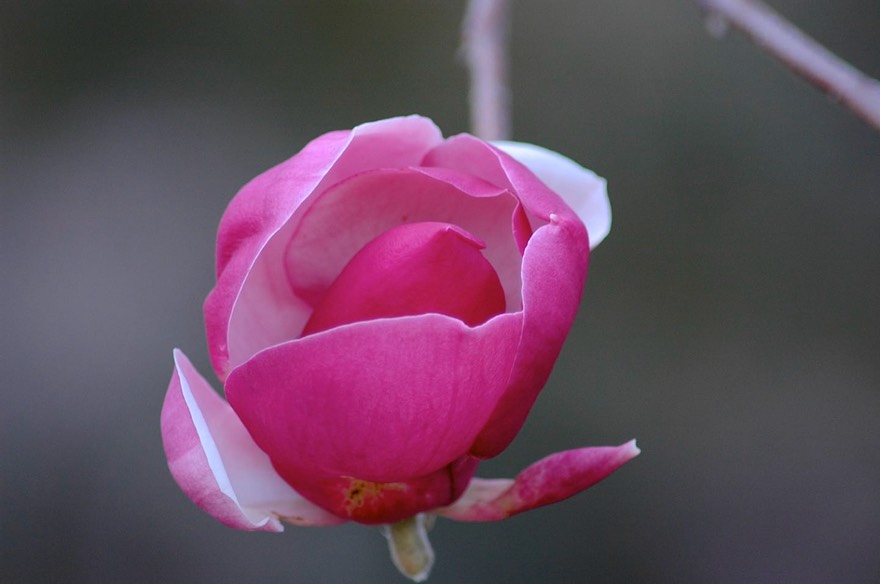 No grey colors in the South this time of year.  Daffodils and amaryllis and dogwood galore… and red bud and wisteria and weeping cherry and forsythia and Japanese cherry and… and... and… so many others we can't identify; and have you ever seen amaryllis growing in the ground instead of a flower pot sitting in a sunny window?  Now this is just the flowering trees and shrubs.  There's new green growth on everything as the leaves come out, and new pine cones.  It's spring, that's for sure!  We've been following it around for a couple of months now, and it's just plain super.  
We came out of Mexico just before the first of March.  Immediately we wished we hadn't left, of course, as we had had such a good time.  But there are pluses to being back in the States, and spring in the South certainly rates right up there with the best.  We emerged into Texas, stopping in San Antonio to do some shopping and deliver a package from Rick's guitar teacher to a guitar-making friend of his who lived there.  That was a real treat, as we made a new contact and learned more about just how special his guitar teacher is.  These threads that connect us to other, new people are a wonderful part of our nomadic lives.
We stopped in Nacogdoches to pick up the motorcycle and see our buddies Robert and Jeanne at Encore RV, before heading east through Louisiana.  Being concerned about our ability to camp and get services anywhere in Louisiana, but particularly along the Gulf, we aimed further north, for the area near Natchitoches and the Cane River.  This is ancient, ancient country:  Natchitoches is even older than Nacogdoches, the oldest town in Texas.  Now we were rubbing against old-time big-time.  Louisiana was greener and more humid than Texas, but the folks were just as – well -- folksy.  We stayed in a beautiful state park filled with trees; our concerns about the availability of services were unfounded; the park was fully staffed, well maintained, and quite delightful.  We were at Toledo Bend.  In talking with the park rangers, they had been inundated with refugees after Hurricane Katrina, and had seen some damage (about 200 trees had been lost), but were recovering nicely and raring to go for the new year.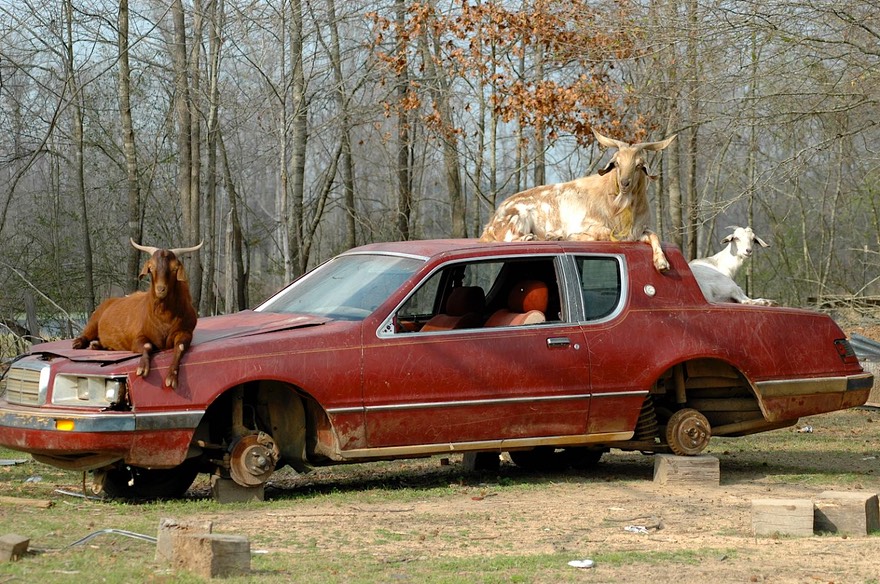 We took a nice ride to see the area; the Cane River basin is very historic, containing plantations and large, historic homes; Natchitoches is, of course, full of them.  This is very rustic countryside, and during our travels we came across the attached goats-on-car picture ("there's somethin' ya jes gotta like about the South….").  The roads were better than we had expected (we have endured several years' worth of really bad ones in this state); we'll have to stop bad-mouthing the area.  We passed through Jonesboro, the home of Jimmie Davis (say who????), and then on into Mississippi.
I had been looking forward to a visit to Jackson, where Eudora Welty's home is still maintained.  One of my favorite authors, her garden is famous, and has been restored to the way she and her mother kept it when it was at its finest.  I found it on the map… and made my plans to check it out… and then the wind began to blow, and blow harder, and even harder yet.  So we beat feet out of Jackson just before a tornado wind came through, leveling trees and doing major damage to several homes (but hopefully not to that beautiful garden).  Trucking on, we stopped early in the afternoon because the storm was catching up with us and we didn't want to be caught out on the road.  No damage, but we did take care not to park underneath any trees in our chosen campground.
Alabama is pretty in March and April, and we were ultimately to spend a fair amount of each month in that fair state.  Heading east through Selma, we talked about how small a town it actually is, for having made such a large name for itself during the civil rights movement.  Between Selma and Montgomery you travel down the same road as the marchers did, and cross that same bridge; now some 40-odd years later it doesn't look changed, and you can picture Martin Luther King and all those folks walking along.  
The Chattahoochee River forms the border between Alabama and Georgia.  What a great name.   We camped for a week or so in a park along the east side, just north of the small town of West Point.  While we were there, the townsfolk learned they had won the contract for Kia to build an automotive plant there.  They were so happy, and the area can really use the additional industry.  Headlines in the local paper the height of which has not been seen since V-J Day.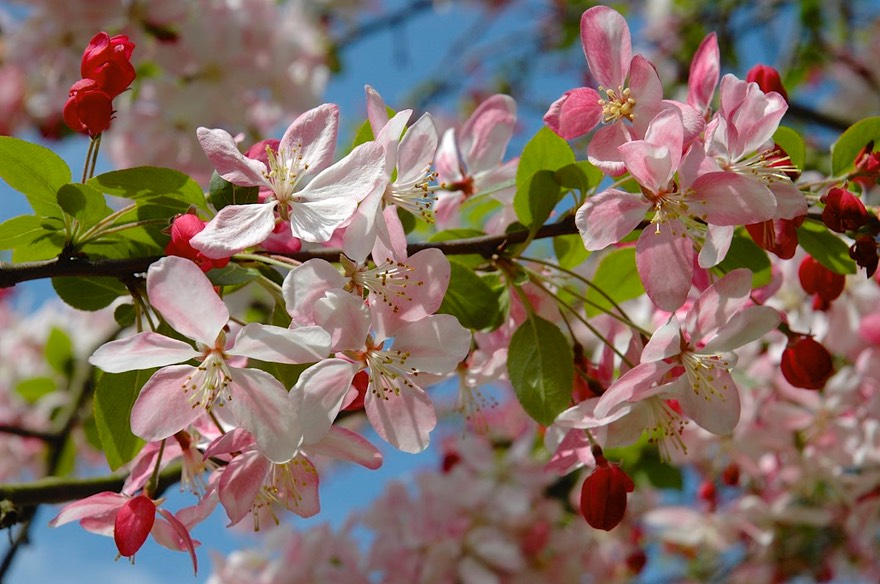 This area is home to FDR's Little White House and Warm Springs, which we visited.  It's a quiet, comfortable area, and would have made a splendid refuge for a beleaguered president.  The towns of Forsyth and Macon are also nearby, famous for their forsythia and cherry blossom festivals, respectively, that were happening RIGHT NOW.  We went looking for these lovely flowers; a truly disappointing search.  Forsyth didn't have any, just yellow ribbons tied to every tree and lamp post in town.  Macon had them, we suspected, but I guess they were tucked away in hard-to-find places.  Macon is a lovely city, however, and plenty of other trees were in bloom.  Our search led us through many graceful old small southern towns, and it was a very nice day.  Fortunately, we had seen cherry blossoms at the Georgia visitor's center; magnificent.
Our ultimate spring-in-the-South goal had been Charleston, where we were meeting with family.  But first we made a small detour.  We had decided to buy a second, smaller motorhome to use when we're in Mexico and other on-the-fringe kinds of places.  This was the end result of several long and involved discussions with ourselves.  Won't bore you.  We bought a 1998 21-foot Chinook, from a fellow outside Atlanta.  We first looked at it on our way to Charleston, and then called him a few days later and made arrangements to complete purchase and pick it up a few weeks later.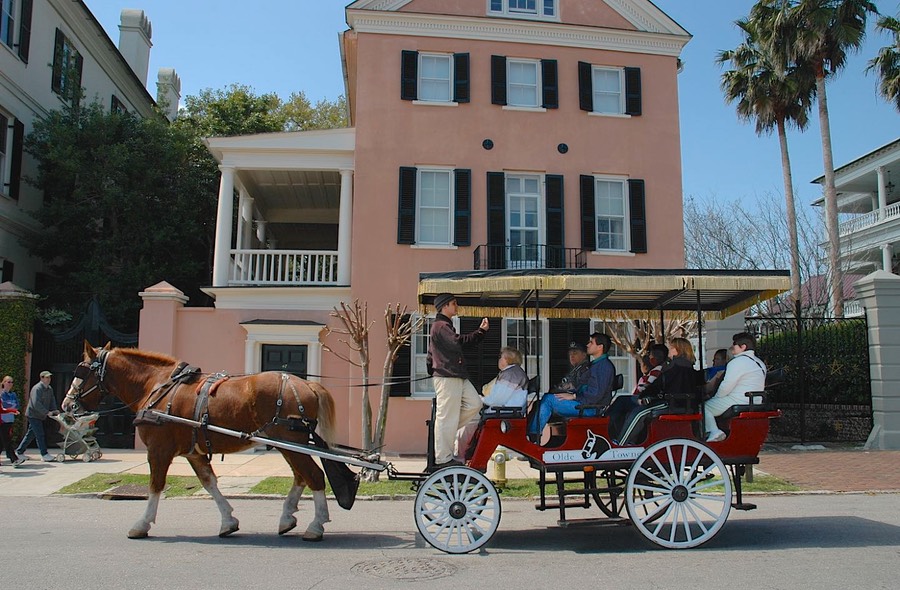 Then on to South Carolina.  We had a very good time in the Charleston area, seeing the old town in all its springtime glory.  The weather wasn't overly cooperative, but we didn't care.  We saw Ft. Sumter, plantations, gracious mansions with azaleas in full bloom, and made a splendid discovery – Charleston does CAKE.  Diets went out the window as we ate our way through the week.  Probably the cultural highlight (no Scott, not the place with the ghosts) was a visit to the Gibbes Art Museum.  This is a pretty ordinary museum for the most part, but they were showing a traveling exhibit that knocked our socks off – the watercolor prints of one Margaret Mee, an English artist and explorer who traveled up the Amazon during the early part of the 20th century and brought back incredible botanical drawings.  We enjoyed the exhibit very much.  Don't miss it if it shows up in your area.  It's co-sponsored by Kew Gardens.
From Charleston we traveled north to Raleigh, NC where we had a great visit with good friends, as well as doing some medical stuff (boring!).  Raleigh is a favorite city of ours, and we had hoped to do some sight-seeing, but somehow other things kept intruding.  We did sojourn to Durham to see a very good science museum that had an incredible butterfly house.  Well worth the trip.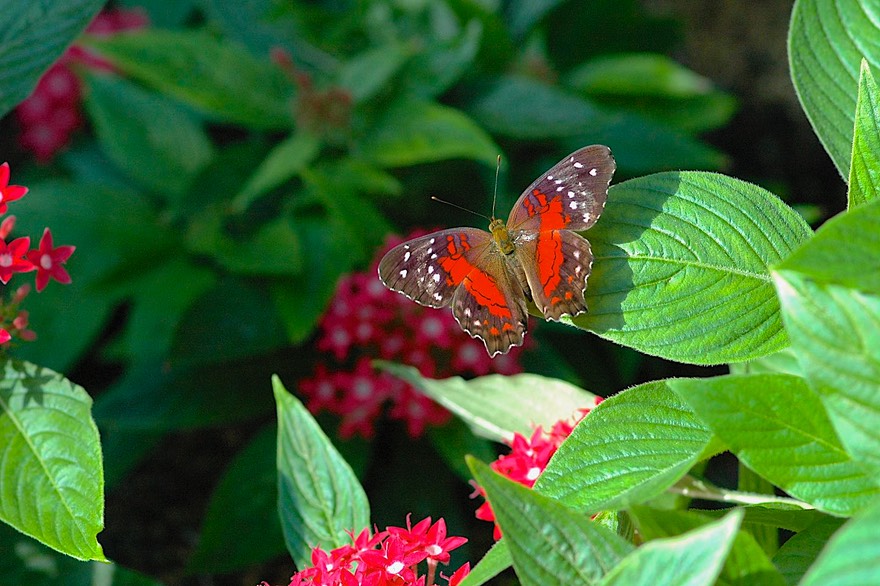 One intrusion was the sale of El Heep (the Jeep, if you've forgotten; do pay attention!).  We just don't like towing a car behind us.  No way, no how.  And we had just bought the Chinook.  After a certain amount of fooling around, we found a buyer for the Heep that was right on our way back to Atlanta (see above), so were able to rid ourselves of the one before adding the other.  Whew!  The Last Journey of the Heep was beautiful; the entire South is in its glory now.
Picking up the Chinook, a new regime was in play (temporarily).  Rick drove the Foretravel, and I got to drive the Chinook.  It's a cool little beast.  Drives like a car, but has its own bathroom….  By the time we got squared away, it was late afternoon.  We skirted around the edge of Atlanta, not wanting to try to stay together as we threaded through the notorious "spaghetti freeway" at rush hour.  So we wandered quiet country roads, past beautiful homes on acreage, with everything in bloom and showing well in the soft end-of-day sunlight.  We passed by a Tank & Tummy gas station/convenience store as we prepared to settle in for the night; very comforting.
We were headed back to Alabama.  It took parts of two days, and was a great trip.  I felt newly independent and competent, and could play WHATEVER RADIO STATION I WANTED TO.  Yeah!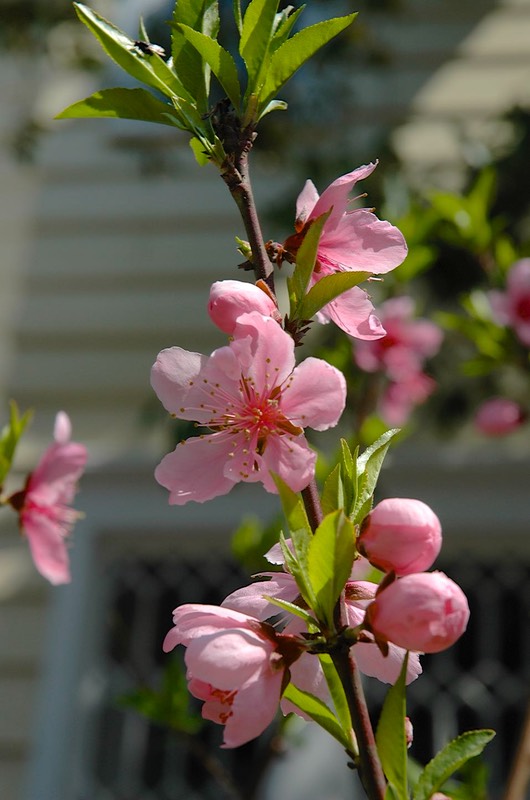 Why back to Alabama, you ask, smart cookie that you are.  Because as members of the Escapee organization (we've talked about them before), we can leave a vehicle in storage in their campgrounds at a very reasonable price.  We wanted to spend a couple of weeks doing small modifications to the Chinook, seeing what would (or wouldn't) fit, and preparing it to just sit for several months.  And then leave it.  Which we did.  The Chinook is parked at The Plantation, outside Summerdale in southern Alabama, just up from the Gulf Coast.  We plan to come back for it in October.  
Well, it wasn't all work and no play while we were in Summerdale, although almost.  But we knew our California friends Bill and Sandy and (the Amazing) Amanda Raver were coming through our area at some point.  We have a history with the Ravers – sometimes we get to cross paths with them when they are traveling and sometimes we just know we've passed each other on the road like ships in the night.  This time we got lucky.  Both sets of cell phones worked, we all picked up our messages in a timely manner, and after a whirlwind ride, aka speedrun on the bike, (400 miles round trip) we caught up with them for lunch in Montgomery.  We had a great visit.  They were in the midst of a gargantuan 6600-miles-in-three-weeks-plus cross-country marathon which took them from Cambria, California to Stone Mountain, Georgia (sorry, Sandy, couldn't resist) -- and back.  Whew!  We were delighted to see them and we all enjoyed some truly Southern food.  Then off they went and we returned to our chores.
It's important that you know that Hoss Mack was running for County Sheriff.  
In the deep South, the strawberries were ripe, the magnolias and honeysuckle were perfuming the air, and it was getting hotter than hell.  Several days of 90-plus heat with 90 percent humidity convinced us it was time to skedaddle.  It was an early heat wave, of course, and wouldn't last, but we had plans anyway.  We were going to the motorcycle races outside Birmingham.  We managed to finish our chores a little ahead of schedule, tucked the Chinook away, and moved on up the hill.  Birmingham is most of the way "up" Alabama, in rolling hills covered with zillions of trees; a lovely city with a lovely state park, where we took up residence.  Just in time for tornado warnings and a horn telling us what to do if we saw a black funnel shape.  Oops.
But that was just one night; then the rains came and it cooled down.  Of course the race track was a soggy mess, but who said bike races were about creature comfort?  It was a lovely setting, probably the prettiest race track in the United States, and we had a lot of fun.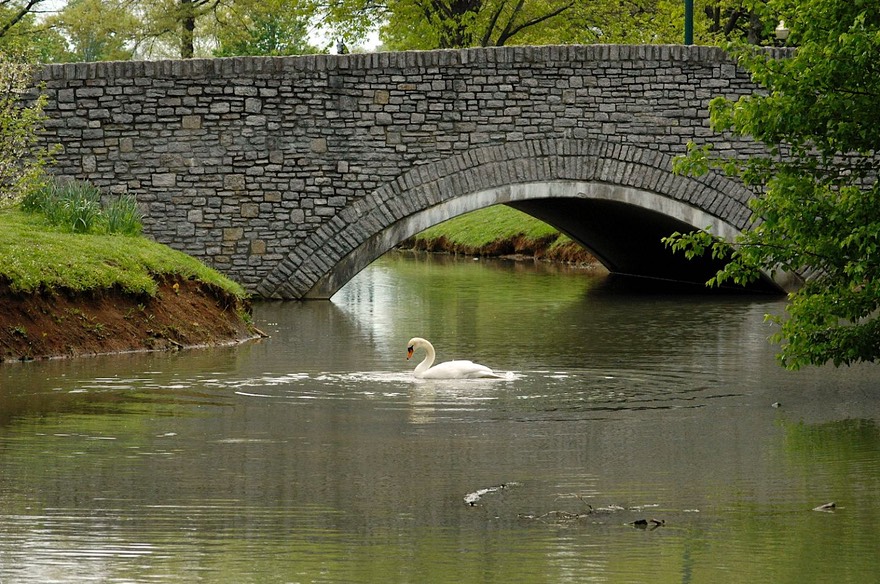 Birmingham's a surprisingly attractive town, and while we were there we also visited the Birmingham Civil Rights Institute, an awesome place.  Bar none, Birmingham had been without a doubt the most segregated large city in the United States.  It has a shameful past.  And this museum makes no bones about it.  It's no accident that the museum is directly across the street from the 16th Street Baptist Church, where the little girls were bombed.  The whole South was nasty, Alabama was arguably the nastiest, and Birmingham sat at the top of the whole stinky heap.  The history of the civil rights movement is told very well and there's plenty to chew on as you wander slowly through the exhibits.  We recommend it highly to all.
In Birmingham we also found some of the best ice box lemon and chocolate cream pie we've ever had.  Things were beginning to get out of hand.  And worst of all, we were heading to spend some time in Louisville (it's Lul-vull, it seems, with the emphasis on the first syllable), seeing good friends who are good cooks and wandering around a city famous for its good food.  Sigh, tough work this traveling.
Birmingham to Louisville is pretty much a straight shot, although we were determined to keep to the back roads, so much nicer and quieter.  Leaving Birmingham, northern Alabama becomes quite rural.  We crossed the Tennessee River (what's it doing in Alabama?) and passed through Huntsville and the Redstone Arsenal where Rick had been stationed for several months before shipping out to Viet Nam.  He kept muttering about some sweet young thing he had spent warm spring evenings with…….ah, youth!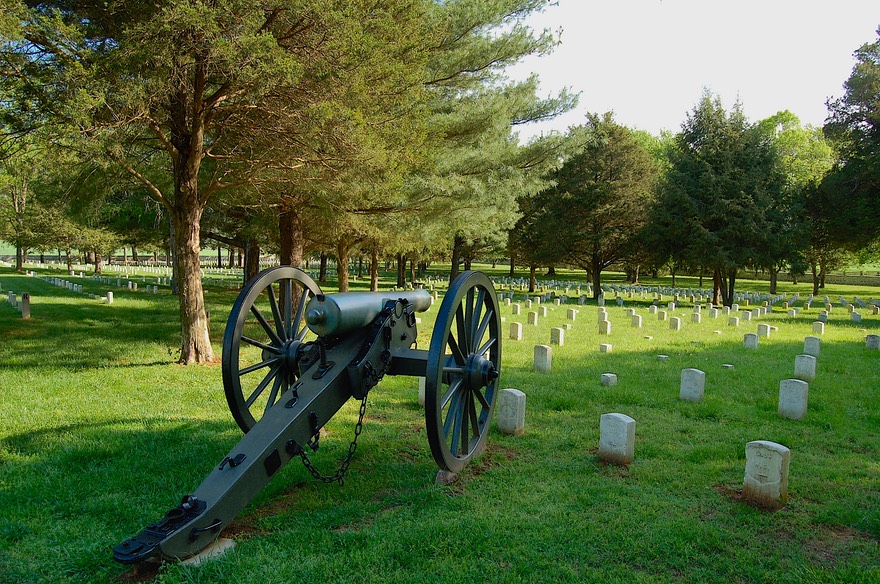 Popping over the border into Tennessee, we found ourselves back in Ridges and Hollows country, which we love.  We think Tennessee is a pretty cool state.  Not as "gentrified" as many, it retains a more country feel.  And oh, so pretty.  We started seeing our old friends Crye-Leika Realtors (think "Cry like a river…") and Fifth Third Bank, two totally ridiculous names. If we do say so ourselves.  Dogwood and red bud abound again, and bucolic countrysides with cattle and horses grazing in the fields.
We stopped east of the Nashville area, at Murfreesboro, where the Stones River Battlefield is.  We had been there once before, but a new visitor's center was then under construction, and we now wanted to see the finished product.  Unfortunately a bit disappointing, but there is a cemetery here where all the casualties of the battle are buried, and it was lovely in the last of the day's sunshine.  
Although we like Nashville, we pushed on to Louisville, and as we crossed into Kentucky, we very quickly started to see lush pastures filled with pretty horses (but still some tobacco in the fields), and a sense we were approaching the big time.  We arrived in Louisville about 10 days before The Race, and already the whole city was astir.  The parade route stands were up and waiting, we'd just missed the huge fireworks display and the papers were filled with activity announcements.  It had been suggested we would have a happier visit if we came and went before Derby Week began, which we did.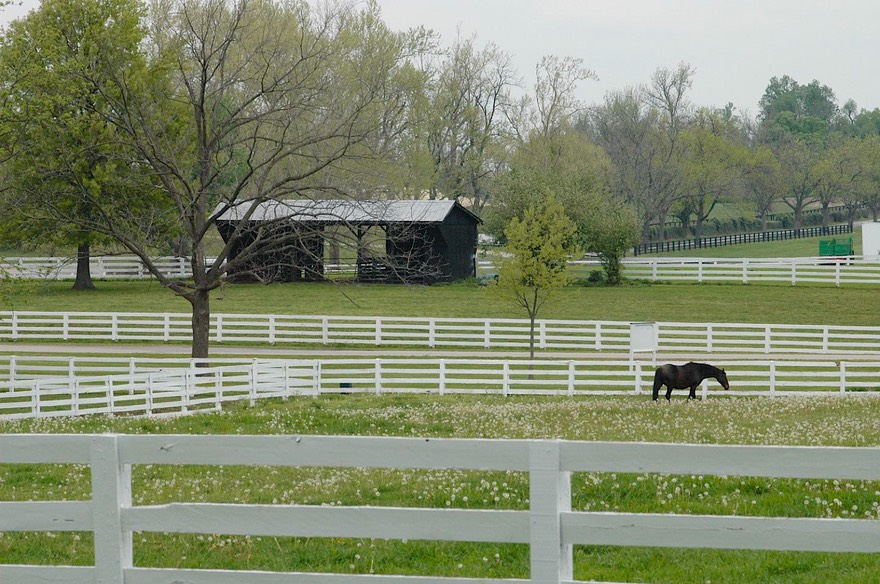 Tim Trulock is running for Constable.  And zillions of folks are running for Judge – must be a cushy job.
Louisville is a cool place.  Great food, of course.  But a lovely city, with very interesting things to see.  We never got to Churchill Downs (another visit), but we did go to the Louisville Slugger Museum and Factory (yup, they are still making the bats right here on this site, just like they have for a million years); it was really neat, and had a lot of information to share, too.  
We also spent a long time at the Frazier Historical Arms Museum.  Now there's a fascinating, unique place!   It combines two enormous collections.  The first is British, from the Royal Armouries.  It starts with the earliest British history and works its way up into the 20th century.  The collection is full of swords and armour and stuff; but it's very modern in attitude, combining live, costumed interpreters, huge replicas of very-real-looking people on horses fighting with each other, video presentations, and the like. The other half is American in focus, and is the personal collection of a local successful individual, and includes very interesting artifacts.  Together, it makes a dynamic and engrossing museum that deserves a whole day.  We gave it what we could.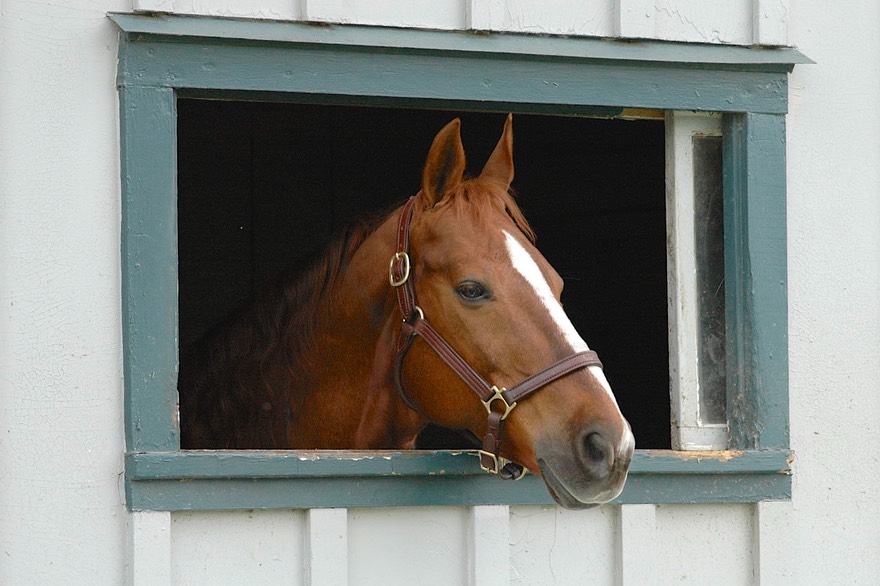 And… we had a day at the Kentucky Horse Farm, outside Lexington.  Bluegrass Country is special, it cannot be denied.  The ride from Louisville to Lexington is beautiful, and Lexington is itself a lovely place. The town was not our goal for this vsit, however, as we wanted to see the Kentucky Horse Farm.  And it lived up to its reputation.  You must go.  Horses in green pastures, of course, but much more.  We saw retired race horses; we saw baby foals; we saw presentations talking about unusual breeds of horses, with the horses in the arena right in front of us, available for patting and nose rubbing.  And the most complete museum about horses you could ever imagine.  And we never even got to a second museum on the grounds.  Man O War is buried there; so is Secretariat.  We met and patted Cigar and Assured Success and John Henry.  Too cool.
We've now left Louisville, but are still in Kentucky.  We are camped in The Land Between the Lakes (who thinks up these names).  We traveled west from Louisville into this very popular resort area south of Paducah (where?).  You remember Paducah, don't you?  The last time we came through here it was election time, too, and someone had just shot and killed the sheriff, probably the guy running against him (watch out, Hoss).  Oh, yeah, now you remember, don't you!  Well, probably less exciting but safer this time through.  Hoppy Hicks (his mom calls him Jerome) is running for Commissioner again, and somebody named Stroud wants to be recycled, but that's about it.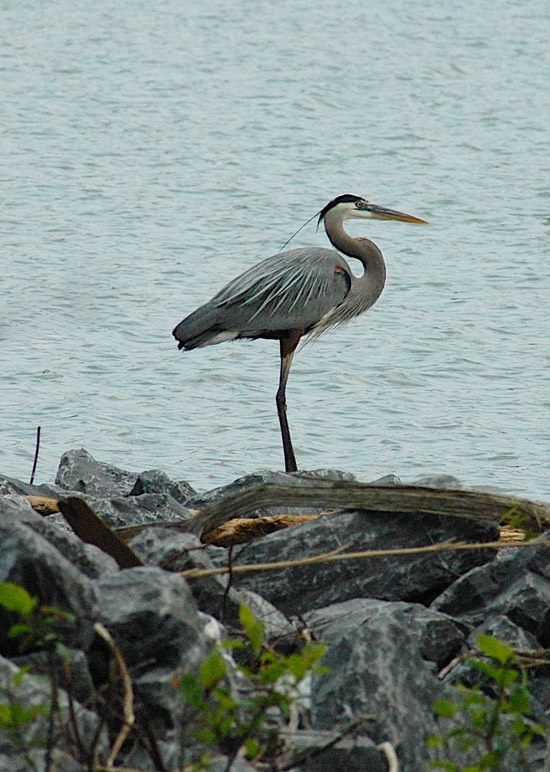 Actually, this area resulted from TVA projects:  the Cumberland and Tennessee Rivers run parallel to each other here, south to north, and they've both been dammed, and made into lakes.  The government kicked out all the people living in the area between, and made the land into a national recreation area.  It's lovely, and relatively peaceful now, early in May.  Lot's of wildlife.  We're in a very nice campground (Army Corps of Engineers, naturally) along the water.  Full of geese being erratically followed around by huge clutches of fuzzy goslings.  Very entertaining.  
I'm alone for a few days.  Rick has been corralled by another huge clutch – this time it's lawyers – who are deposing him in Los Angeles pursuant to a lawsuit that's been filed by one of the homeowner associations we used to manage.  Seems they'd rather fly him to L.A. then have 6-8 of them fly to Paducah (where?) to depose him here.  Can't imagine why.  One said if we'd only travel to Florida he'd be happy to fly out and see us there.  But no go.
And soon as Rick comes back we're starting north for the summer.  We made some Canadian friends this last winter who live in rural Ontario Province, in a little village called Gowganda.  They are on our route, which we expect will take us through Springfield to rub elbows with Abe, then (we hope) to Wrigley Field to catch a Cubs game, followed by a visit to friends who live outside Chicago.  Our summer plans include music festivals, motorcycle rallies, time in New England as well as Canada, visits to other friends both in the states and north of the border, and who knows what else.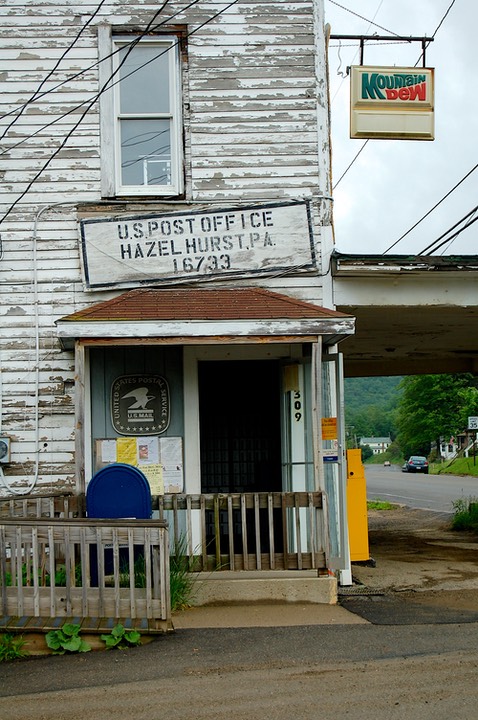 So we've meandered the South for a couple of months, enjoying the never-ending variety of color and lovely fragrances.  We've regained a few of the pounds we took off over the winter, but remain committed to better health through healthier eating.  And we're sure as hell having a ball.
Oh, and Draffenville, KY, you ask?  It's a symptom of living "off the grid," at least in regard to life as the rest of you know it.  Common knowledge:  every town has a post office; if it has a zip code, there has to be a place to pick up mail.  Right?  Wrong, really wrong.  "Oh, ma'am, Draffenville is just a community; we share a zip code with Benton (6 miles away); we all get our mail there.  You have something coming to Draffenville?  No, ma'am, there's no post office.  It can't come here.  Yes, of course we have a zip code.  But we share it, ma'am, we and Benton have the same zip.  So you'll have to go there.  You know how to get to Benton, ma'am?  Turn right, and turn right again, and get on the Parkway.  Go 5 miles and take the Benton exit.  Then, ma'am, you have to go under the freeway and get on the road going east.  Then it's about half a mile down on the right.  Can't miss it.  Ya'll have a great day, ma'am."
We didn't understand of course.  I mean really, if Hazelhurst, PA rates its own post office… well, you get the idea, and of course the package never showed up anyway.  
The mail gods must be angry with us.           
To hell with it!  ON TO GOWGANDA!
Rick & Kathy Howe
See more photos from the US in 2006