January-February 2018
West of Eden
A Traveler's Primer on Avoiding the Crowds and Heat of an Aussie Summer 
"A Plan?"   "Who needs a Plan?"   "We need a Plan?"   "But we don't like Plans!"...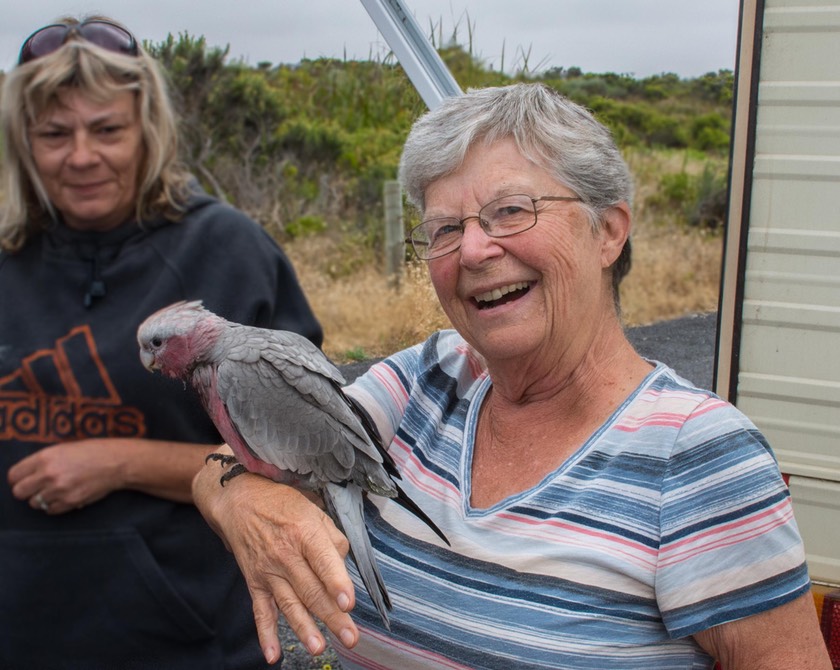 Aha!  You've found us.  In mid discussion it seems. We were just talking about how to use our remaining time wisely, including our already booked six-week trip to Tasmania in February and March.  We begin this message at Christmas time, barely half way through our time in Australia, but even then it seemed that the Endless Summer of our year-long visit was passing quickly and our departure date was already becoming all too real.  We apologize to all for a longer than usual delay between messages, but we've been busy since we left Western Australia.  As to any signs of an emerging plan, well, you'll need to read on.
When last we spoke, we'd just crossed the Nullarbor Plain and made it to Port Augusta, SA, on the edge of Gulf St Vincent.  That was more tiring than we'd expected, and we hung around the town for a couple of days, between laundry and shopping, picking up mail, and getting some new maps from the RAA office.  We mostly stopped in there to say hi to the nice lady we'd met there before — she remembered us and we had a nice chat — but we did find some maps we couldn't live without.  We then plunged ahead, aiming for a visit to Adelaide.
It was Christmas week, and there were more folks on the highways and stopping over in the rest areas than usual in these parts.  We wanted to be in Adelaide on the 24th, but had time to detour through the lovely Clare Valley, with its beautiful vineyards (lots of Rieslings).  This is a very prosperous area, with water from the massive Murray River making those vineyards pretty and green, as well as keeping the wheat belt thriving and providing most of the water that supports Adelaide; the water comes all the way from New South Wales.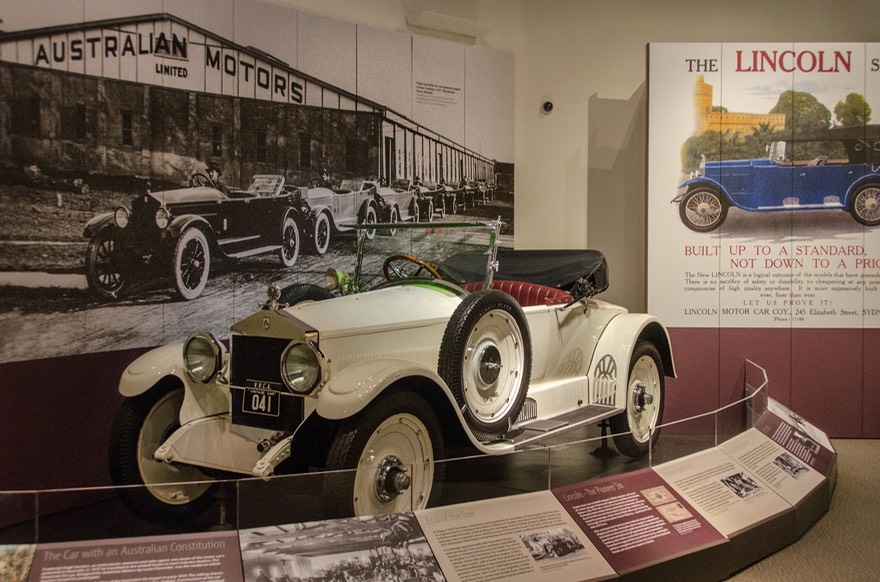 We were heading for Birdwood, to visit the National Motor Museum there.  The museum had lots of interesting exhibits, mostly with a local touch.  It was fun, and we made new friends there, whom we'll see again in a few days.  Everybody agreed it was much too hot, but whaddaya gonna do?  I kept wondering why a town would be named Birdwood; never actually found out, but did see a sign saying the town used to be called Blumberg; hmmm.
Since we'd left the Perth area, we'd been tracing the southern edge of Australia, with ocean mostly in view; but leaving Port Augusta, we moved further inland.  Except for the Clare Valley, we'd entered the great wheat belt of the country.  There were vast sweeps of hay and grain, interspersed with tracts that had already been harvested.  Some small clumps of cattle also made an appearance, clinging to the shade of the occasional tree, along with sheep who looked desperately ready to be sheared.  That night it was well over 100 ℉ until about 8:15 pm, when the temperature started dropping.  Happily, it got below 60 ℉ by the middle of the night.  The next day it heated up again; wacky weather, but we sure welcomed the cooler temps overnight.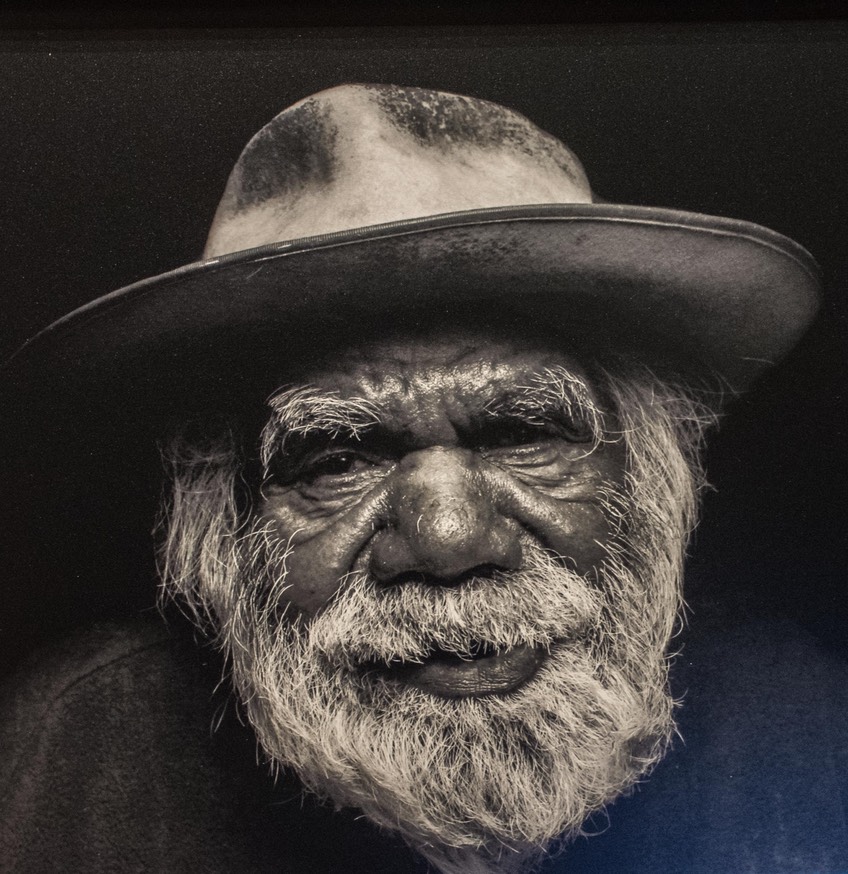 The next night would be Christmas Eve and we had worked out a plan to visit some museums in Adelaide that day.  Strategically it should be quiet in the capital, the museums we wanted to see would be open, and parking might be possible.  Have to tell you it worked out perfectly.  We spent several hours wandering our two targets: the Art Gallery of SA and the South Australian Museum; they were both brilliant.  Wore ourselves out but had a super, super time.  There were excellent Aboriginal exhibits in both museums, and we saw lots of cool stuff.  One special exhibit featured work by several modern artists; it both displayed some of their work and featured them in really great,very dramatic photos.  What better way to get to know these artists!
The natural history section was very large (including a life-sized, huge eastern gray kangaroo).  You wanted to see it?  They had it.  The museums are located on the edge of the University of Adelaide and being a Sunday and Christmas Eve as well, parking was simple.  Friends who tried to visit a week or so later had to give up on the whole idea when they could find no place to park. 
At the end of the afternoon, we beat feet out of town, and headed for an overnight camping spot we'd targeted that wasn't so far away we'd never make it, but still out of the big city environment.  the Frank Potts Nature Reserve on the edge of Langhorne Creek was small but grassy and there were large trees to cut the sun's effect.  We stayed three days while we enjoyed some quiet holiday time of our own, before starting to drive further south toward the bottom corner of South Australia.
We made a great stop in Coorong National Park, right along the coast.  We were glad to see it was cooler down here, so much so that once again we hung around for a couple of days.  Seems to be happening regularly; we are definitely slowing down our pace a bit.  We got to meet some locals who were camped next to us, and discovered that one couple had a baby galah that they had rescued when it fell out of a tree.  The bird was about 3 months old, quite tame, and always hungry.  It was lots of fun to get closer to one of these birds we'd been enjoying so much.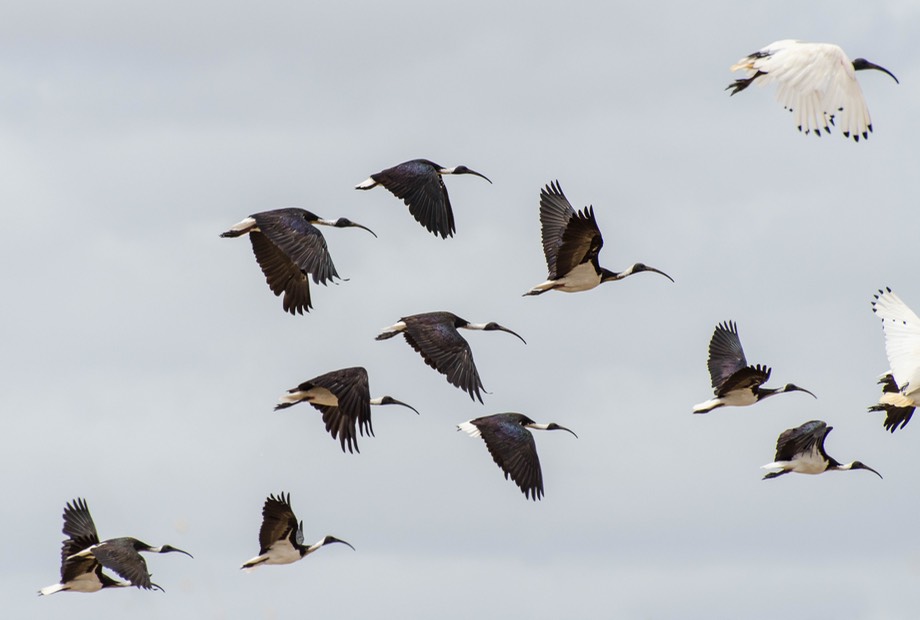 Our stay there also yielded a real surprise — a knock on the door and American voices saying "Is that you, Rick and Kathy?"  Fellow Escapees and world travelers Betsy and John Crawford had stopped here for the night, spotted the Tiger, and came to say hello.  We had a great chat, shared some travel ideas, and waved them on the next morning.  They were in a rental van and on a quick schedule, so needed to keep moving.  What a treat to see them!
When we moved on we were headed to Bool Lagoon, a nature area we'd spotted on the map further south and a bit away from the coast.  We drove through fields of wheat mixed with sheep.  Heavy rain during the night settled down into mist as we kept moving, enjoying the cool air.  The Lagoon was a bit underwhelming, bird-wise, but there was a very nice boardwalk out into the wetlands, and the mangrove area was very interesting.  We were a little late in the season for the best of the over-wintering birds.  
But what was lovely was a great visit we had with the folks we'd met earlier at the Birdtown museum.  Len and Gail were super and lovely hosts.  We shared stories, ate ourselves silly, and got a lot of good tips on what to see in Tasmania, where they used to live.  Lots of fun.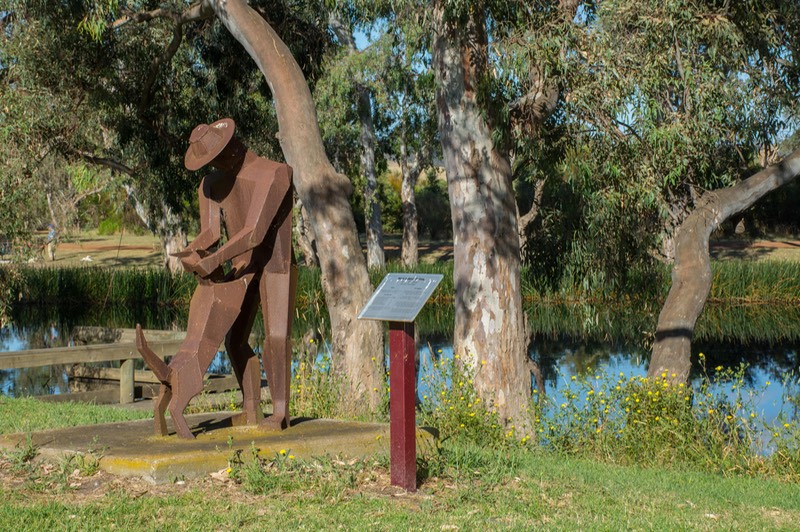 We passed through the town of Mt Gambier, taking a gander at Blue Lake, formed from a volcanic crater and right in town.  A pretty spot and the city's water supply as well, but after a stop at the overlook we kept moving along.  A bit further east we crossed back into the state of Victoria, where we'd first begun our time in Australia last June.  We moved our clocks ahead yet another half hour as we entered the eastern time zone, and headed inland along the Glenelg Highway, through more pretty farmland and large forests.
We stopped at Casterton over New Years, intending to stay a night but instead hanging out in this small and pleasant town for another couple of days.  We were parked alongside a loop of the Glenelg River on the edge of the village; you could walk in for groceries in about 5 minutes, the area was famous for the development of the Kelpie work dog (several statues), and the many trees were filled with birds to enjoy.  The locals stopped by to chat and were happy to have us with them; we even had horses in the adjoining field.  What's not to like?  This is another of Australia's RV Friendly Towns and a very nice spot it is. 
Reluctantly, we had to leave this little paradise as we had plans to meet up with two sets of friends over the next week and to do so we'd need to get all the way over on the southeast coast; to a town called Eden in New South Wales.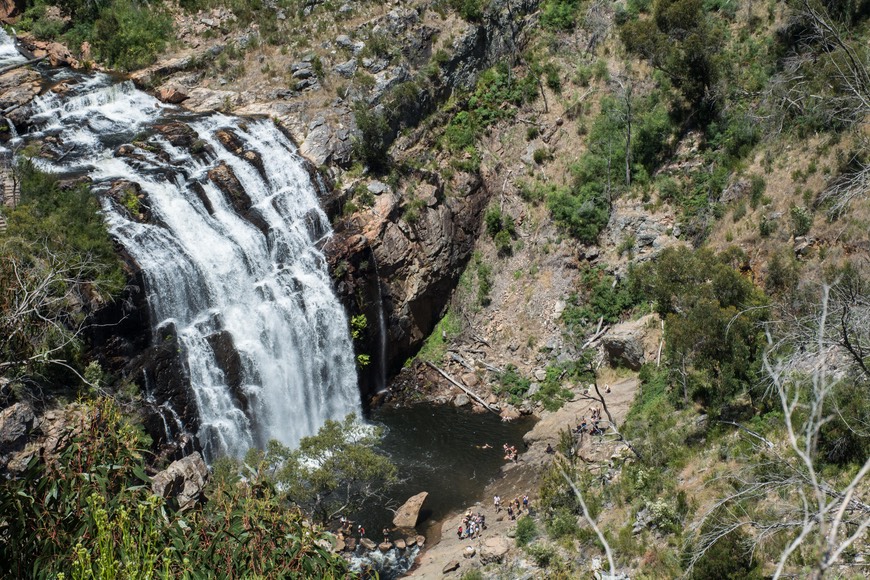 First we had a stop planned in the Grampians NP to meet up with Wilfried and Christine, a German couple we'd first met in Litchfield NP, not far from Darwin, a few months back.  They were finishing up their time in Australia, but were going to be back in the Grampians for a few days and we all wanted a chance for a quick return meet.  We had a very nice overnight visit, staying in a free campground in the park; it was fun sharing experiences and encouraging them to mark up our map to show us lovely spots not to miss as we moved further east.  We said our goodbyes the next day; we hope to meet again in Germany sometime over the next several years.  They are good people and fun to be with.  
We spent two more days in the park.  There are pretty waterfalls to hike to, interesting roads and viewpoints to enjoy, remote areas to travel to, and, best of all for Kathy, the pseudo-anthropologist in the group, several extremely important Aboriginal rock sites to clamber up to.  But for starters, there is an excellent Aboriginal cultural centre at the entrance to the park.  It's full of information on local history,  has good films and artifacts, frankly discusses the problems encountered when the white man wanted the Aboriginal land, etc.  It deals well with these difficult topics, and is one of the better centers that we've come across; we spent a fair amount of time there.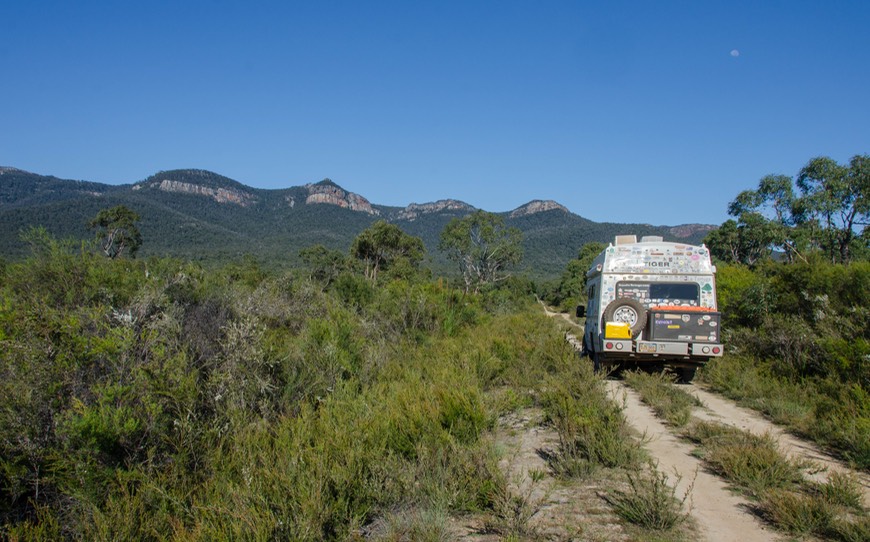 We spent the next night in the forest in an open area near a billabong.  We'd seen a wallaby earlier, so it looked promising.  It was hot, in the low 90's, with no breeze whatsoever.  Supposed to be worse tomorrow.  We were fagged out, having hiked to two sets of falls today, plus Kathy taking the wrong (thus longer — mutter, mutter) trail while climbing up to a rock site, and yes, it was hot.  Whew!!  
The next day we took a rough track (the Syphon Rd Goat Track, honest) up to the top of a ridge, where they were getting some high winds in the heat (up to 107 degrees).  We'd been warned that conditions might be such that parts of the park could be closed due to the fire danger, so we knew that officials were monitoring things closely.  We got great views from the top and were able to see for miles.  Kathy was delighted as she got to the best rock art site she saw in the park, the Gulgurn Manja Shelter, filled with the imprints of red-painted hands, many of them done by children.  It was very exciting to see these ancient Aboriginal remains.  
Fascinatingly, there is another site in the Grampians, also with handprints, but these were totally different.  Instead of the hands being dipped in ochre-colored "paint", the unadorned hands were placed on the rock face, and ground up, moistened ochre dye was blown (by mouth) directly onto the wall, leaving the handprint outlined by dye.    This is difficult to describe, but it was really exciting to compare the two kinds of images.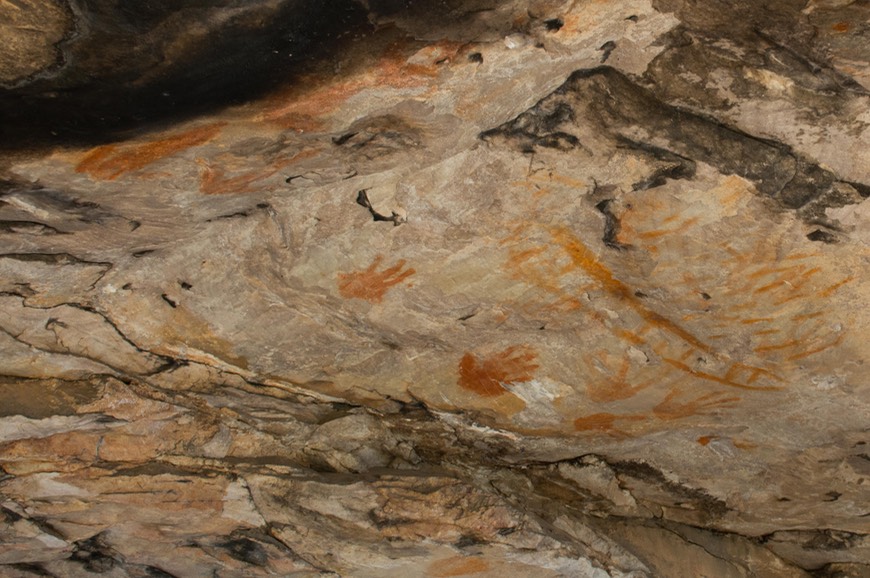 Kathy says: I'm asked why I enjoy the Aboriginal sites so much.  There are several reasons; first, they are most often up in the higher regions of an area, so there are great views over the countryside and you feel special just sitting there.  Second, the shelters (rock overhangings, usually) are lovely themselves, with the rocks comprised of many layers of different colors — ochres, pale yellows, whites, and often blackened from fires).  But most important, the art is culturally interesting, emblematic of the area's people and sharing what was most important to those who used to inhabit the area.  Each experience is unique.
The Grampians had been well recommended to us as a great visit, and we sure weren't disappointed.  It would be super to come back in cooler weather.  Maybe later in the fall.  As we left, we swung further east through Stawell ("Stall" to the locals) where we found another great cultural treasure, Chris 'n Di's Pies & Pastries; crossed the 37th Parallel going north; and stopped to do laundry ("Mining clothes and dirty coveralls to be washed in machines #11 and 12 only").  Then, after making a quick run through Bendigo to revisit one of our favorite water/dump sites, we circled east of Wangaratta to the Ovens River for an overnight next to the water, where the crickets kept us perky and entertained.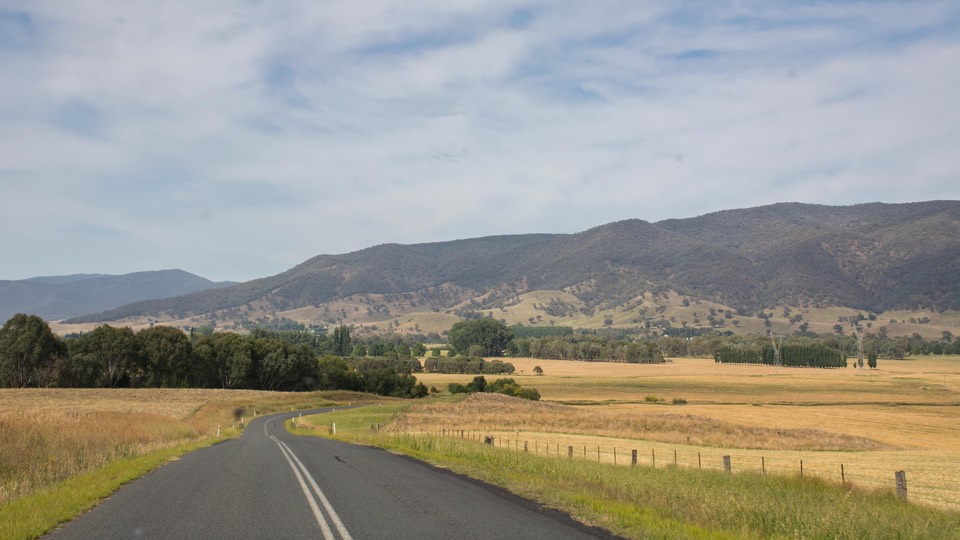 OK, take note, here's where we return to the subject of The Plan.  We were heading east into the mountains hoping for cooler weather.  It's Summer here in January and also time for the long school vacations.  As anyone learns when traveling in Australia, between mid-December and the end of January is vacation time and Australian families are on the road, and it is HOT!  (You may have heard that it got to 47˚C - that's 116˚F - in Sydney at the Australian Tennis Open.)  So in addition to heading to Grandma's house for Christmas, all these families want to go to the beach in hopes of cooler weather.  Well we wanted cooler weather too, but had no desire to fight the crowds along the coast — what to do?  What we usually do of course:  head to the mountains, in this case the Victorian Alps.  Our plan for the ensuing month, in addition to hooking up with our traveling friends, was to spend time wandering the paved and unpaved roads of the Great Dividing Range, Australia's highest country, looking for cool weather and great spots to camp.  If you have to have a plan, this seemed like a good one.
Time for a bit of explanation, particularly for those of you who think of Switzerland when "Alps" comes up.  Or the Rocky Mountains, for that matter.  In Australia, "high country" seems to mean something over 750 meters perhaps; maybe around 2500 feet???  So we need to be real about all this.  But, and that's a very significant "but" — it really is a whole lot cooler when you get up just that far.  Sufficient for our purposes, plenty cool enough at night, and a plan with excellent results.  Good on us!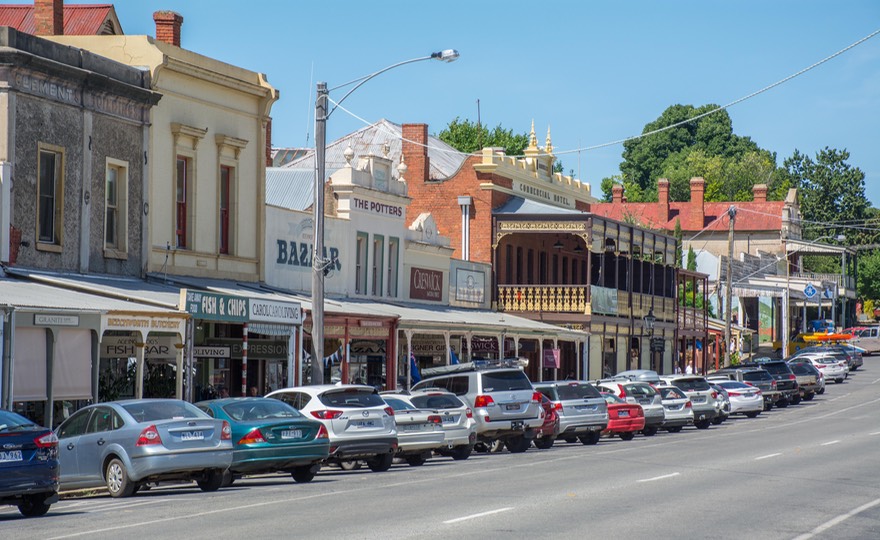 Up we went to begin our trek, through the pretty resort town of Beechworth, home to a famous bakery, and on into the alps.  We stopped the night at Towong, once again being parked next to the Murray River, as we encountered it along its journey west toward Adelaide.  The Murray is perhaps Australia's longest river at 2500 kilometers (a bit over 1500 miles) , and forms much of the border between NSW and Victoria.  We had now entered the famous Snowy River Country and the scenery and weather were getting better all the time.
We were on our way to one final get together with the self- described CGs — Diana and Bengt, our Crazy German friends — who were also ending their long vacation and getting ready to head home from Sydney in a few weeks.  They'd been spending time in NSW, and had proposed we meet up at the town of Eden in Ben Boyd National Park, right on the NSW/VIC border — where it plunges into the South Pacific Ocean.  
As we had a couple of days to spare before our gathering date, we decided to explore a bit of Kosciuszko National Park — that's 'Cozy-OOS-ko' apparently — one of the largest and highest parks in "the Snowies" and all of Australia.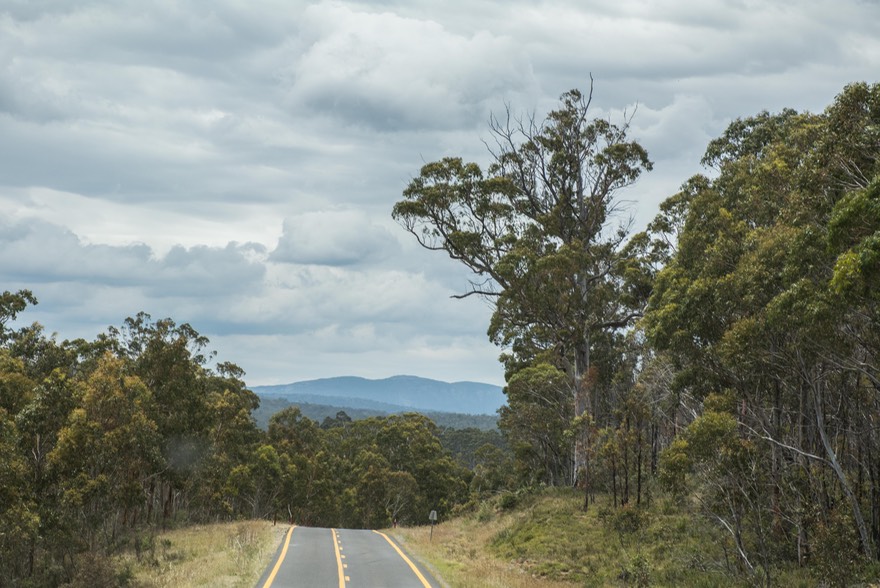 We wandered around this pretty park, enjoying passes at over 1600 meters (5,200 feet) and a very welcome 65 degrees, seeing lots of little alpine flowers, crossing dams and the top of the Great Dividing Range (the GDR to the Aussies, who love to abbreviate all things officially named), all on the interestingly named Swampy Plains Creek Road.  Checked out the small town of Adaminaby, with its Big Trout statue — this is fly fishing country — and later on, spent the night in a glade at 1085 meters parked among trees and ferns.  It was lovely, cool and quiet; just what we'd ordered up.  
After crossing the range, going east, we started dropping down in elevation, crossing a plateau by way of a large valley that had been cleared of trees and was now pastureland.  Moving every lower in elevation, soon we were back in forest, and then arrived at a steep descent into coastal fog among the forest trees and ferns.  Suddenly we were back at sea level.
Our reunion with the CGs was fun; we spent a couple of days exploring the coast in Ben Boyd.  It was quite lovely; we hiked a path along the cliffs, chalking up a zillion amazing wallaby and kangaroo sitings, being introduced to echidnas and more monitor lizards, and enjoying some very nice beach settings.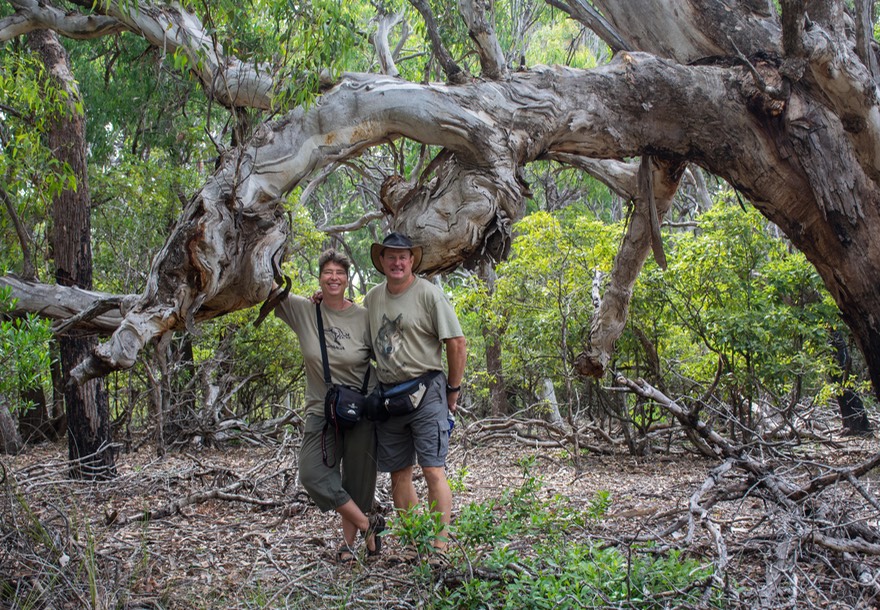 The southeast corner of NSW is a really nice place to explore.  The town of Eden sits in the middle, and we can attest to the good work being done at Eden Fish & Chips.  Also, there is a particularly brilliant tourist information centre in the town.  We parted once more with hopes of a trip to Germany soon (lots of new folks to visit!).  
We've made so many good friends from Europe in our travels because they are such good travelers themselves.  Germans, Dutch, French, Brits, Italians… for whatever reason, they are just out there, whether young couples or groups of kids who meet up along the road while traveling individually, or adult couples taking a sabbatical year or just a month's vacation, or retired couples such as ourselves; they love to travel.  Anyway, in addition to the good friends we have met on the road in prior years whom we have already visited at home, if we're fortunate enough to get back to Europe after our experience this year in Australia we'll have lots more visits to make.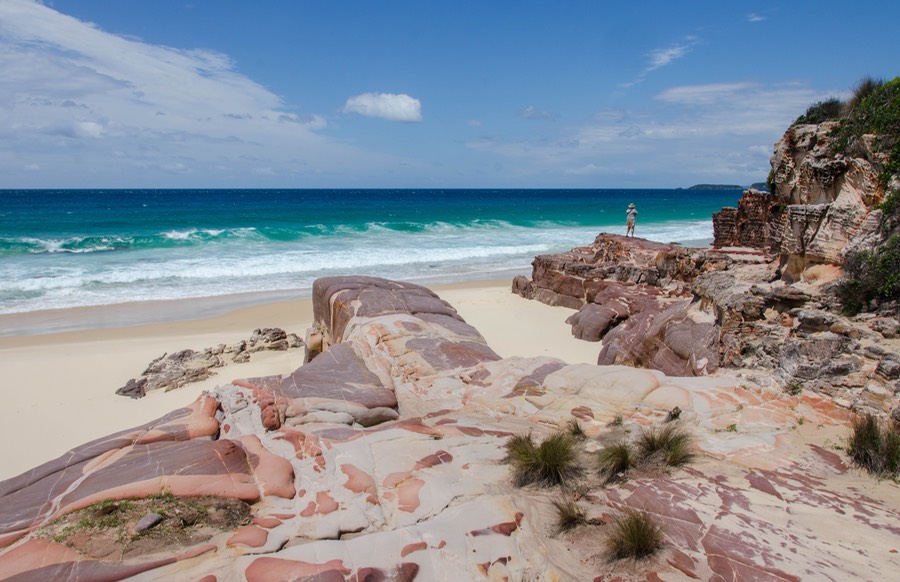 Leaving Eden, we began gently wandering westward again.  We spent several days poking around in the many sections of the South East Forests NP, starting out in the Tantamangalo section.  This park appears to be a collection of forest bits that are deemed worthy of preservation, but not of having a single park all to themselves.  So they've been grouped under the name of South East Forests.  It is huge, varied, remote and with lot of small free camping spots; we had a great time.  Oh, and nice and cool in a misty, coastal forest way.  No elevation to speak of as yet, just a nice moist climate.  
Ultimately, we found ourselves driving back across the Great Dividing Range through a lovely open valley along the Snowy River, with small ranch stations on open ground; we even saw some burros.  We were headed back to Kosciuszko NP, this time along a road that had a toll attached.  Not wanting to leave you, like, totally uninformed, here's the deal on taking this road — we could have crossed for free if we promised not to stop at all and kept our timing to under 1-1/2 hours (although all the very large signs along the route said it takes 2 hours to drive straight through), or $17 for a 24-hour permit, which we were quite happy to pay.  It was lovely, and our timing allowed us to spend a night in the park at a free camping spot.  We crossed the top of this pass at 1056 meters, and stayed the night nearby.  Oddly enough, there didn't seem to be anyone at the other end to check whether we'd paid or not.  How do they know?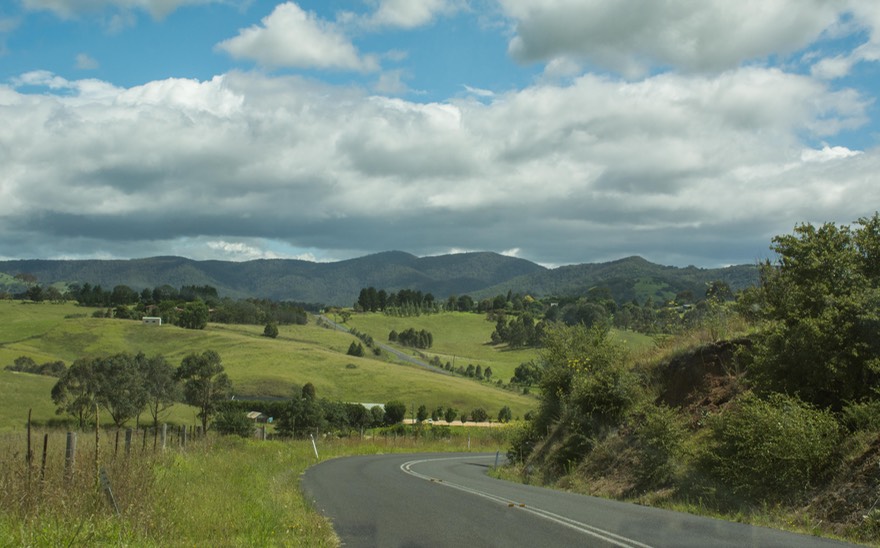 We dropped out of the park and right back into Victoria, where we visited the town of Corryong, "Home of the Snowy River Country"; a nice small town with a very pleasant visitor center.  After re-provisioning, we started into the mountains south of there, onto a super-tiny gravel track that took us out into the middle of nowhere, found us a beautiful nighttime location beside a traveler's hut (complete with resident wallabies), and then took us back to a larger track that ended in pavement near Omeo.  Just the sort of road we had in mind.
During this time we'd stopped for lunch alongside a stream where I got to watch spiders sitting in the middle of their webs, waiting for something interesting to arrive; went over a pass at 1250 meters; and moved aside a log that had fallen into the road so we could continue.  You know the expression "If a tree falls in the forest…"?  Yes, you bet!  Whether you were there to hear it or not, it will be sitting there waiting for you to move it when you drive around the bend.  It was a great couple of days' adventures in the Snowy Mountains.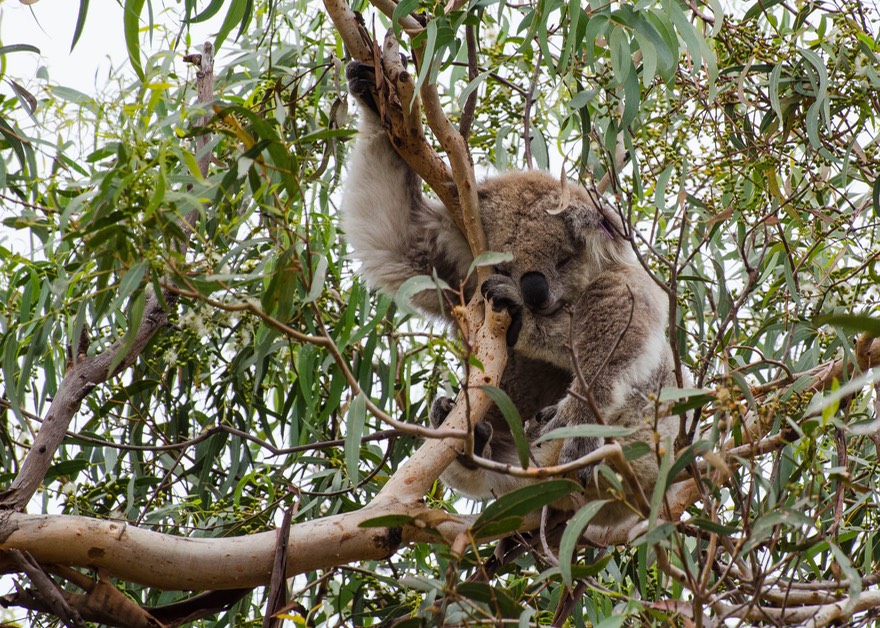 We rejoined civilization for a few days to stop in and see our friends Liz and Gary who had taken such good care of us when we first arrived in Australia.  They are great.  The grocery stores had amazing amounts of food; the traffic was considerable; we were able to buy bushings and bolts and other odd bits for La Tortuga; we took an excursion out to Raymond Island to see some koalas, which performed on schedule; and we got to enjoy the pleasures of the local kids' first day back at school.  We even happened upon a great local Pizza spot, (Gary, it's Town and Country Pizza & Pasta in Eastwood), on Thursday night, which turned out to be two-for-one night; how about that — and then beat feet out of town and back into the wilderness.
We drove east and north back into the woods, this time into Errinundra National Park, which is preserving an old-growth coastal rainforest.  It was fantastic, driving along in the forest among the old trees on a tiny road with huge ferns, huge-er trees, and big yellow flowers.  It was surprising seeing coastal rainforest here, and well worth the effort to come find this small park.  Kathy has now announced that it's her favorite park in the whole country!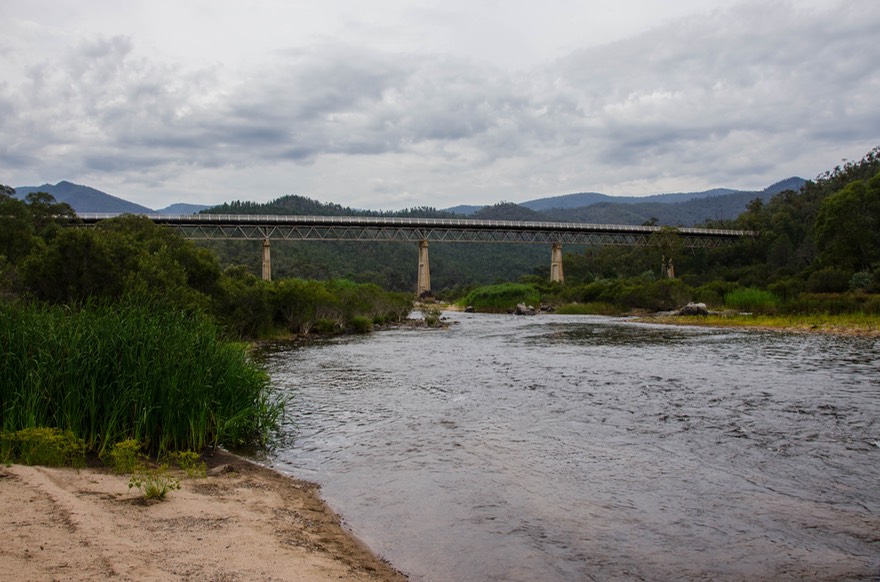 Errinundra is just east of Snowy River NP so we got to see some more of that lovely area next.  We directed ourselves to the well known McKillops Bridge over the Snowy River, staying the night at a spot in the forest.  This is nice country, and the bridge is famous because of its length and the force of the Snowy during the spring melt.  Bridges had never lasted long in that spot, but this final one, constructed in the 30s, is still hanging in.  The story is actually pretty amazing.  The previous bridge, built just before this one, had a very short life; just a few days before it was to be officially opened it was washed away by a flood tide a full ten feet higher than the previous record level.  Fortunately, most of the newly built concrete supports survived; they were modified to raise the new bridge fifteen feet higher than before and the bridge is still there.  We crossed it rather gently, in respect for both its age and wooden construction, then proceeded on out of the park.  
Shortly, we reached a fork in the road; we were tempted by the thought of going off on the side road to visit Suggan Buggan, but instead settled for taking a picture of the sign pointing the way.  For a long time, Rick had thought the name was Suggan Duggan, as the print on our map was quite tiny.  Luckily for all, we ultimately were able to confirm that no one would name a town something silly like that.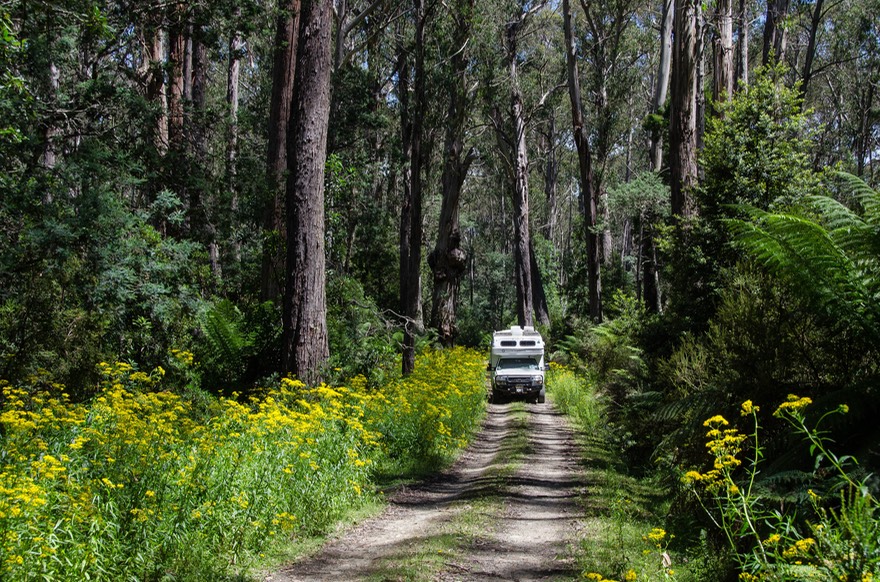 We turned west onto Limestone Road and into the Alpine NP, driving through a lot of the Snowy River country and up through the Bowen Mountains, headed back toward Benambra/Omeo, where we would complete a big loop through the Victorian Alps.  Along the way we crossed over a saddle at 1469 meters, and over the Wombargo Range which was filled with lovely eucalypts, many shedding their bark.  We ended that day at Native Dog Flat camping area, still on Limestone Rd, at one of the all-round nicest bush camp areas in all of the mountains; we were easily seduced, and stayed a few days.  
After a shopping stop in the huge (just kidding) burg of Omeo, it was back into the mountains a bit further west.  We were now on the Great Alpine Road going up and over Mt Hotham and the Hotham Heights ski area.  The pass is 1841 meters at the summit (just under 6,000 feet) and the highest pass we've found in Australia; this road, incidentally, goes by way of Dinner Plain (which is regularly referred to as Dinner Plate).  It goes through high mountains, has great views, and if important, it's totally paved.  Dropping about halfway down on the west side, we stayed in a small camping area near wide-spot-in-the-road Smoko (just because you need to know such a place exists).  Not great, and too low in elevation to be cool.  But during the night it rained, rained hard, and everything was cool again.  There are lovely towns along this road, especially Harrietville and Bright, with shade trees and grassy lawns; in mountain settings but at about 1500 meters; reminded us of the California foothills.  The road follows the Ovens River down onto the flat plains.
Coming into the regional center of Wangeratta, apparently 'Wang' to locals, we passed a sign we simply cannot deprive you of.  Moo Poo ($2).  We're pretty sure we know what is being offered, and perhaps even why someone might be interested, but how much the two bucks was worth, well we just can't help you on that.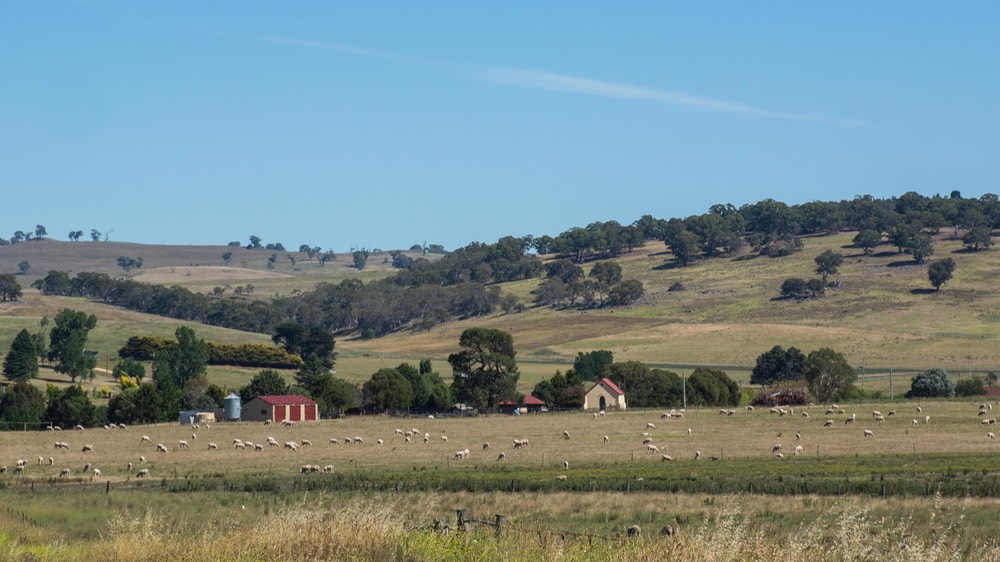 After our visit to the Moo Poo capital, we took a break from our mountain wanders to go spend some time with our buddy Mike Green, who'd established a camp along the edges of Lake Eildon.  We hadn't seen him for a bit, and got caught up on his and our latest adventures, sitting in front of a nice campfire in the evenings — and enjoying the good internet connection for a change.  Ridiculously, we were all aware of the "supermoon" we were going to get a great chance to see, but managed to forget to look for it at the right time, so missed out on all the fun.  We can report, however, that the moon was full, close to earth, hanging there on a clear night that would have otherwise been filled with stars — and it was stunningly lovely, and even just a tinge orange, as it hung in the skies over Australia.  
Finally parting with Mike for the last time in Australia (we keep saying goodby to people!), we beat feet back into the forests, heading this time to the Mt Buller area, recommended by several parties.  We're now into February, and have started keeping track of the time before we head back into Melbourne to catch the ferry to Tassie on the 18th.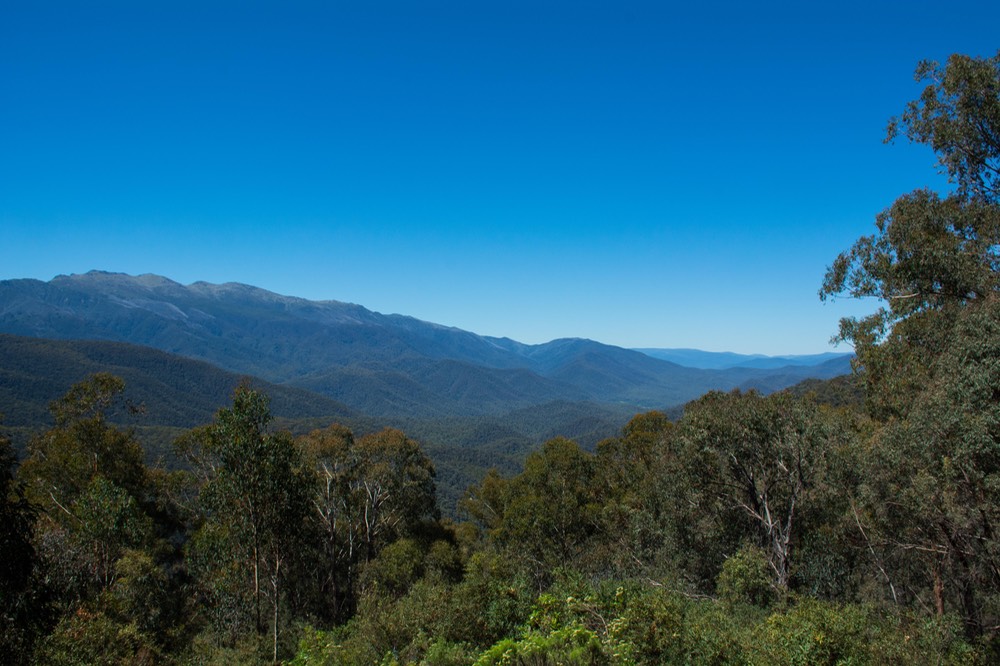 Mt Buller is rather special.  There's a ski resort at the top, which even had a grocery store.  Poor planning had left us bereft of a few items, so Kathy was able to take care of that, but that was just a side benefit.  It's a nice area.  It's not as barren as some, and there are lots of hiking and mountain biking tracks in the area.  There are several rugged driving tracks as well; we spent a few days out on one, and enjoyed it a lot except that some of the water crossings gave us a slight case of the willies.  When we had traversed the last one on our route, we stopped beside the stream we'd just bounced & jounced through, and caught our breath for a couple of days.  It was a lovely spot, an open grassy area at 768 meters (roughly 2500 feet), the weather was cool and sunny, just perfect.  
If you are familiar with these mountains, we have been taking many of the north-south crossing roads, with east-west connectors between, seeing a great deal of the Victorian Alps region.  Some of the roads are paved, some all-vehicle gravel, some quite difficult 4WD tracks.  We're having a fine time but we confess our GPS is not so pleased; Emily keeps getting lost among the trees but she always finds us again once the sky opens up a bit.  
We do have to say, however, that as soon as you enter Victoria, you know you're here — the amount and subject matter of the road signage will knock you over.  Whoever has the contract for these things is really making a bundle.  Most of Australia relies on you having some common sense; not here.  You're approaching a tiny little one-lane bridge, and are hit with a sign saying ONE LANE, DO NOT OVERTAKE.  Well, duh!  You are at an intersection with a clearly placed T-junction sign; directly behind it is a sign saying DO NOT OVERTAKE; and these signs are everywhere.  Need we say more?  TMS = Too Many Signs — That's Victoria!!!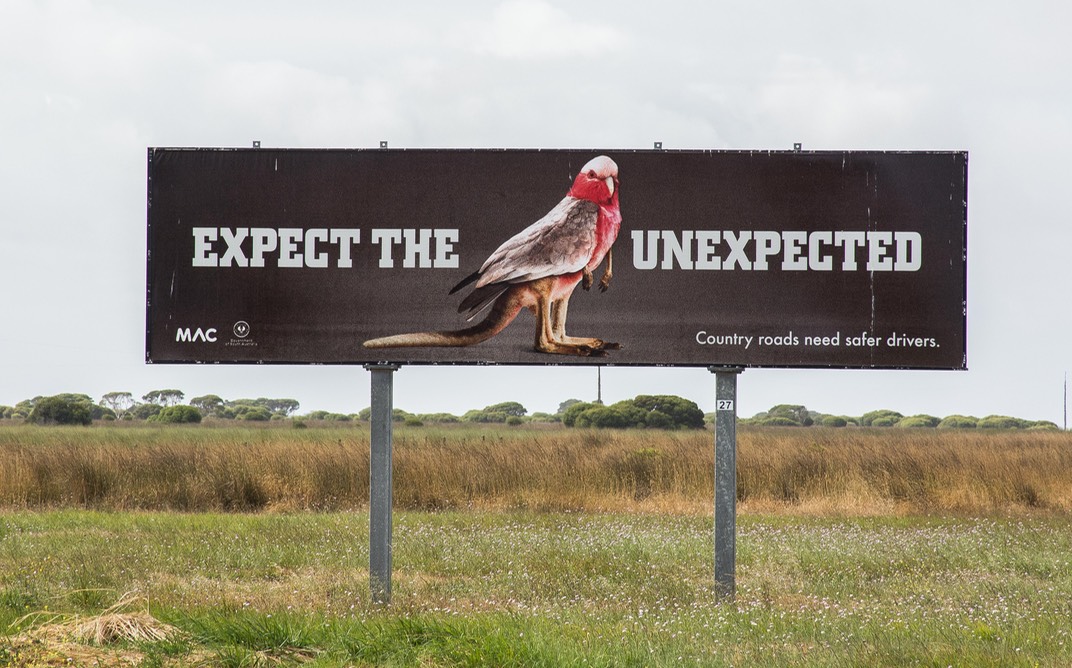 We are now gathering ourselves to get on the ferry over to Tasmania, spending our Valentine's Day sitting by a stream while we get this message prepared and out for your reading pleasure.  But we do have one last adventure to share with you, yet another tale of wandering encounters and random meetings; another proof that it is never the destination that matters, but the journey.  You may want to refer to this photo as you read.
Yesterday began with a visit to a repair shop in the town of Myrtleford — Dondio's.  We'd lost another bolt from the sway bar mount, something of a recurring theme on rough Aussie roads it seems, and needed a little assistance to get it put back together.  Didn't take long, and we had a nice chat with both the mechanic doing the job and the owner of the garage; David and Darren were their names.  In conversation, David had mentioned his Italian/German heritage but we hadn't thought anything of it at the time.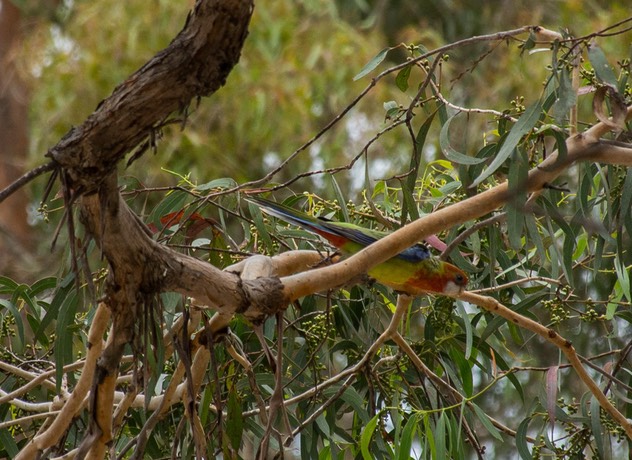 Off we went up the road to the next town, Bright, for supplies and groceries before heading further up into the mountains.  Bright is a lovely foothills town we'd passed through a couple of weeks earlier and liked.  It sits just above the junction with the unpaved road we were looking forward to taking and also at this junction sits the fruit stand where we bought cherries and blueberries from a lovely lady from Greece on our last time through.
This time our visit to Bright was interrupted by something unplanned, no surprise there; happens all the time.  We wouldn't even mention this really except that it led us to a series of experiences that we never would have had but for this one unplanned event and thus it calls us back to our 'wandering' story from a couple of months ago.  Walking across the parking lot at the grocery store Rick took a tumble and thunked his hard head on the pavement.  The story starts here.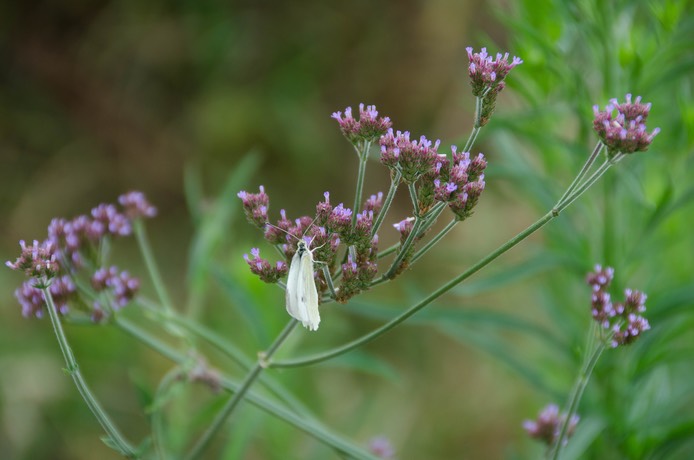 First on the scene were a pair of travelers from Germany.  One was a paramedic and he immediately took charge.  Rick was fully conscious and knew that he was bleeding.  Soon a couple of people from the store came out as well and whether they brought out the supplies or the paramedic carried his own we don't know, but soon Rick was bandaged and sitting up, answering questions about the day and date, etc.  Kathy was still in the store unaware of what was going on, but all those involved agreed that Rick had a pretty good cut above his eye and needed to go to the hospital for stitches.  Everyone was concerned and kind and caring and everything you would hope that total strangers could possibly be.  An ambulance was called and Rick was whisked away.  Kathy had been found by now and the lady from the store offered to drive her along and even to pick us up later if needed.  Of course we could remain parked in the store's parking lot overnight if that would be helpful.  The ambulance guys were great too; yes it's Tuesday, yes I know I fell, I'm fine except for my head… and yes, I know that tomorrow is Valentine's Day.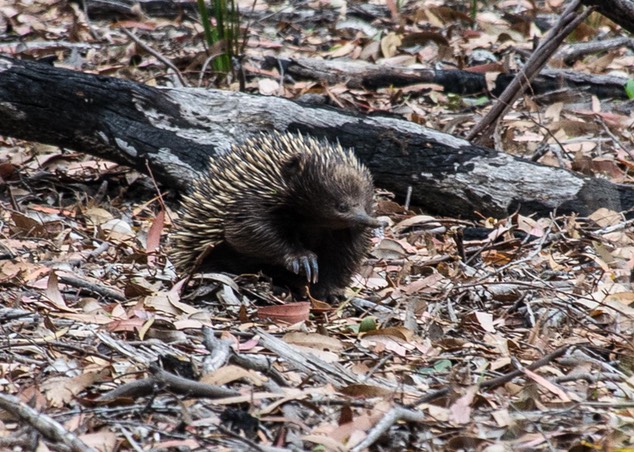 Once at the ER, Marcella (that's "Machella' to us non-Italians) took over and things really got interesting.  Treatment was good and professional in every respect and after a time Vivian, a young Asian-Australian doctor with a bubbling personality, rode up on her bicycle and came in to do the stitching, but that isn't really the story.
The story is this.  Marcella said this must be American week or something as we were the second US couple she'd had in her care in the last two days.  She said the other fellow was from Texas and was due back in for a follow up anytime.  Well, soon a nice couple came in and we knew immediately they weren't really from Texas; they may live there now, but once we talked for a bit it turned out that they had actually lived for twelve years in the San Luis Obispo area; the same place we had lived in California.  
Remember David & Darren from the repair shop?  In chatting with Marcella about our travels and other things she mentioned that she lived in Myrtleford, she'd been to Italy and she and her family had hosted two different exchange students from there.  When we asked 'why Italy', she mentioned the extensive Italian community in Myrtleford.  Well, you can see where this is headed.  One comment led to another and sure enough Marcella's maiden name is Dondio, and her father had started the garage many years before; Darren and David are both her cousins.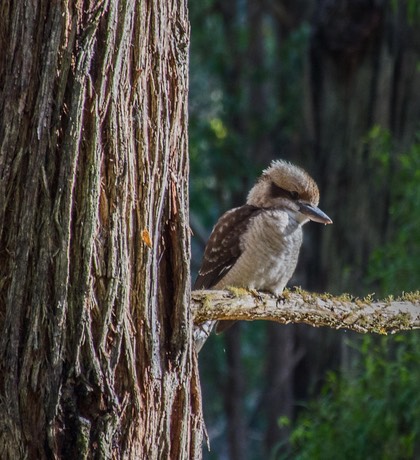 We thought it was cool, here we were in Bright, Victoria, population 2165, and — Mark, a German paramedic on holiday happens to be there to provide initial care; another couple from San Luis Obispo is also in the ER; Marcella is related to both the guys at the shop we'd visited earlier; and even Dr. Vivian comes into the story.  She was born in Hong Kong, where Rick spent his R&R during his tour in Viet Nam, so they share stories about what he remembers from fifty years before, long before her birth.  Is this a Small World or what?  And aren't we glad it is.
Oh, almost forgot.  Rick's fine and looking forward to showing off what he calls his dueling scar.  And the Greek lady says the cherry season is now over, but she has a good supply of figs.
Rick, Kathy, La Tortuga and our own cast of thousands; characters all.
Click here to go to the Photo Gallery for West of Eden