When our Tiger needs to Hibernate for the Winter
Vehicle Storage Ideas in Europe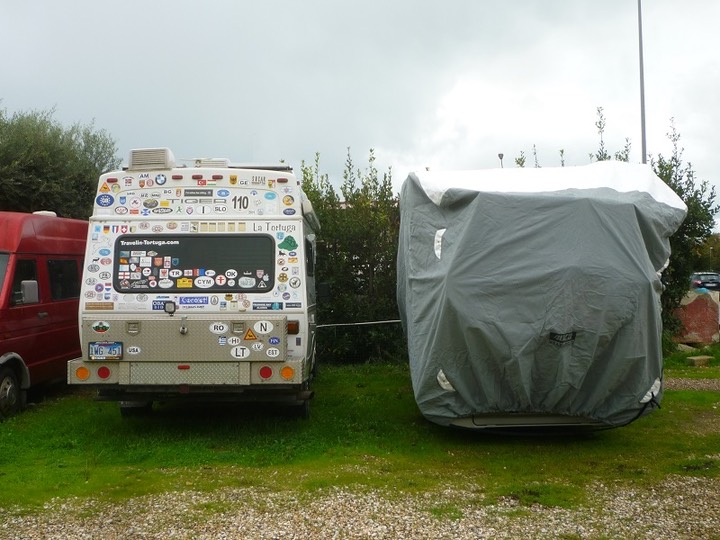 We've been traveling in Europe with our American motorhome for parts of the past six years.  Each year we've been in Europe for between eight and nine months, returning to the U.S. for a few months over the winter.  Regardless of how much you are enjoying yourself, and how long you want to stay, the time comes for most of us when we want and/or need to take a break from our European travels, and return to our home base for awhile.  During this time you need to find a spot to leave your vehicle.
When our first year of travel was drawing to a close, we left the Tiger in a campground north of Lisbon, Portugal; the second year we left it at a repair facility in England where we were having some work done; in 2012 we used a municipal campground in Alexandropolous, Greece and in 2013, following a suggestion from another traveler, we left it in long term storage at the Rome airport.  In 2014 we left the Tiger in what has become the most popular vehicle storage area in Europe, Amsterdam.  We know a number of other travelers who have also needed to find storage for their vehicle from time to time and have included information from them here along with our own. 
Some considerations when planning a place to leave your motorhome are how you will get transport from the storage location to the airport.  Increased costs in this area can easily erase projected savings from lower storage fees in addition to adding stress to your travel arrangements.  You also need to determine whether or not you will need to book a hotel near the airport the night before your flight due to travel time from the storage location.  Whether you choose inside or outside storage is another variable.  Covered storage will generally be more expensive, and carries with it the need to do something about either charging your batteries while the vehicle is in storage or disconnecting them.  With outside storage, you can rely on your solar panels to maintain batteries for you.
You will find that it is not possible to leave your vehicle in some countries because when you enter the country with a vehicle it is stamped in your passport that you did so.  This is meant to prevent you from leaving the country without the vehicle.  It is possible to work around this issue in an emergency by leaving the vehicle in a customs impound yard but this is apt to be more difficult, time consuming and costly than finding normal storage.  To our knowledge, this problem will not occur in any EU country, but is a factor in Non EU countries such as Romania, Bulgaria or Turkey.
With help from other travelers, along with some research and planning, you will find that finding a spot to leave your motorhome in Europe while you are away is not difficult.
Here's a summary of storage information we have collected. This information has been gathered over the last few years, so all cost quotations are approximate. Contact the storage site directly for current availability and pricing.
England:
"Near Heathrow, west of London, Wokingham Caravan/Tree Tops in Wokingham.  (N51.37255 W0.83639).  This is an outdoor storage lot with LOTS of trees.  The rigs that were stored there when we arrived were absolutely filthy with dirt, mildew and tree droppings.  On the plus side, from Wokingham central, you can take a bus straight east to Heathrow.  Cost is about £47 a month, £564 a year.  Contact info: Linda Mitchell: 0118 973 2047.  info@wokinghamcaravanservices.co.uk"
"Havelock, (N52.26087 W0.47758).  That's north of Bedford, and it is in the middle of nowhere, about the same distance as Wokingham but north of Heathrow.  Cheap storage, fenced lot on a farm, NO trees.  But you need your own transport.  £230 for 12months storage.  Graham and Sue Wilkerson.  Cheaper, but getting to the airport is more of a hassle, and tends to mitigate the savings.  www.havelockstorage.co.uk, swilks5@btinternet.com"
"Another storage in the area near Wokingham was Greenacres, £150 for 6 months, but at the time they were full.  Phone contact: 01993775708 or 07867558594."
France:
"Near Marseille, Parka-bateaux.  (43.410727  5.215198)  They had limited English but there is a 24-hr guard living on the premises. It was somewhat difficult to find again; the first time we just happened upon it.  Phone: 06 46 47 35 11,  galeazzi.marcmarie@gmail.com"
Greece:
"Evoikok Sea Center.  Marina near Athens, location is on the bus line to the Athens airport, and they will allow you to stay in your rig the night before you leave it off. They charged us 50 euros a month. The Marinos family, very nice; son Dennis speaks pretty good English. They let us stay on site a couple days while we were packing and unpacking, coming and going. Toilets and showers on site, and low-amperage electricity if you need it. Beautiful view of the bay. Catching the bus to and from Athens is a little tricky, but do-able. Dennis can explain.  www.evoikoseacenter.gr/en, evoikok@otenet.gr"
In Alexandroupolis, in north eastern Greece, the municipal campground is an excellent place.  We paid under $2/day for about three and a half months.  Security is good and access is easy.  Staff was very helpful even though English was limited.  We needed a jump when we returned and they were all set up for that.  Campground is very nice with full facilities for staying for packing and unpacking before and after flights.  Location is excellent for coming out of Turkey to leave the vehicle and then return to Turkey the following year, which is what we did and this would also be true for Bulgaria. Both borders are about thirty miles from Alex.  Otherwise, location is out of the way and connecting flights through Athens are problematic as there is surprisingly only one a day and they did not connect with our flights to and from London, requiring and overnight stay each way in Athens.  Still, a nice storage location.  www.ditea.gr
Italy:
Near Rome, long term storage at the airport is a good deal and avoids transport hassles to/from your flights as free shuttle is included.  We stayed at King Parking and paid €60/month.  This is the same as we would have paid at a campground in Rome that was used by friends, but we saved the €40 each way fee for transportation to and from the airport and the cost of an airport hotel the night before our flight.  We were allowed to stay in the motorhome both the night before our flight out and the night we returned and they even took us to and from a restaurant the night before so we could get dinner.  Staff was terrific and friendly, site is fenced and manned 24 hours/day.  We were very comfortable with the security and had no problems at all.  Update 2017: Other travelers looked into King Parking and reported that costs were now €60/month for a car, but €150/month for a motorhome.  Do note that just a few miles away at the Auchon store in the Central Commerciale is where our vehicle break in occurred the morning after our return.  We vouch for the storage arrangements, but do not shop anywhere nearby.  www.parkvia.com/en
Portugal:
Vila Franca de Xira (N38 57.934  W008 59.245), located about half hour north of Lisbon; train into city on a regular basis. Simple but nice municipal campground;  gated and guarded, recreation center also on site.  Showers and hand-washing facilities available;   We stayed here for several days and stored the Tiger here for 2-1/2 months at a fee of around 3€/day.  Took a taxi from here to the airport to fly out.
Spain:
"Near Barcelona, Caravan Inn (42.15828°N 3.04786°E) is a Dutch run enterprise. It is very organized and secure. The only drawback is location. It is away from the mainstream and would require some transportation arrangements to get to and from. Storage runs about 40 Euros/month. Annual and semi-annual contracts are even less. www.caravaninn.net/gb/"
"Also near Barcelona, the Caravan Center (42.26529°N 3.00258°E) nearer Figuares is a better location in terms of transport to the airport as the direct train from Barcelona arrives just a few Km's from the storage site. They also charge around 40 Euros/month with lower contract rates. www.caravan-center-espana.com/ (use Google translate)"
The Netherlands:
"There is lots of storage near Amsterdam, which has the largest flower auction in the world.  Over the years, green houses were built to grow flowers to feed this market.  Foreign competition eventually made growing flowers uneconomical and many greenhouses were converted to storage, including RV storage.  Here is some information on two of them.  Subsequently we discovered that along one stretch of road there are at least five places to store RV's.  Some have concrete floors and some have gravel.  We only checked out two of them.  The first was very nice with concrete floors, very good security and costs 93€ per meter in length per year.  The second one had gravel floors, the security was satisfactory, and cost was 83.5€ per meter.  We chose the latter one because it was less expensive, offered storage so our solar panels could continue to maintain our house batteries, and the owners went out of their way to be helpful to us, including letting us park there the night before our flight out.  This storage also offered us the opportunity to fill with water when we returned.  Finally, the owners live on the premises where the RV is stored which made it easier to contact them.  Each place would also take us to the Amsterdam airport or pick us up upon return for 35€ and 25€ respectively.  I was expected to pay in cash as credit cards were not accepted. Both places are pre-arranged for drop off and pick up.  Each would occasionally charge your batteries if requested."  
"All the storage places are close to the airport, within about three miles of a campground, of a fuel station with RV self washing facilities, and of an excellent place to have oil changes and maintenance/repair work completed. I did meet someone with a six meter RV who pays 55€ per meter per year in Utrecht, but a train ride is required to reach Amsterdam."
"The place we chose is:  Caravan-stalling De Wit, Legmeerdijk 220, 1187 NK Amstelveen.  Phone: 20-6452680.  GPS around N 52° 16' 16.1"   E 004° 48' 18.9"  Email: wit2204@wxs.nl.  www.caravanstallingdewit.nl
"Perhaps a less expensive location in Amsterdam was used by someone for 3 years.  Mark, the manager (perhaps owner) speaks good English.  Can fill up early so contact in advance.  Place is a 15 minute cab ride from the airport and 6 minutes from a campground.  Another traveler has also commented that he has also used the same outfit for several years." www.sheltercaravanstalling.nl/
The search phrase to use when looking for motorhome storage in The Netherlands is 'Caravan Stalling'.  There are numerous opportunities near Schiopol, the airport in Amsterdam.  Another location that has been used by someone we know is http://www.caravanstallingzeevaarder.nl/pages/index.asp
end