May 2012
Yes, Of Course They're Better in Denmark
Denmark and a little bit of Sweden
For such a teeny, tiny country, Denmark sure packs a wallop.  We figured we'd pass through here in just a few days; many people do.  Others bypass Denmark completely, taking a ferry directly from Hamburg to Norway or Sweden.  We are so very glad we didn't.  We spent an entire week here, and could have spent longer.  And it wasn't just because of those splendid pastries.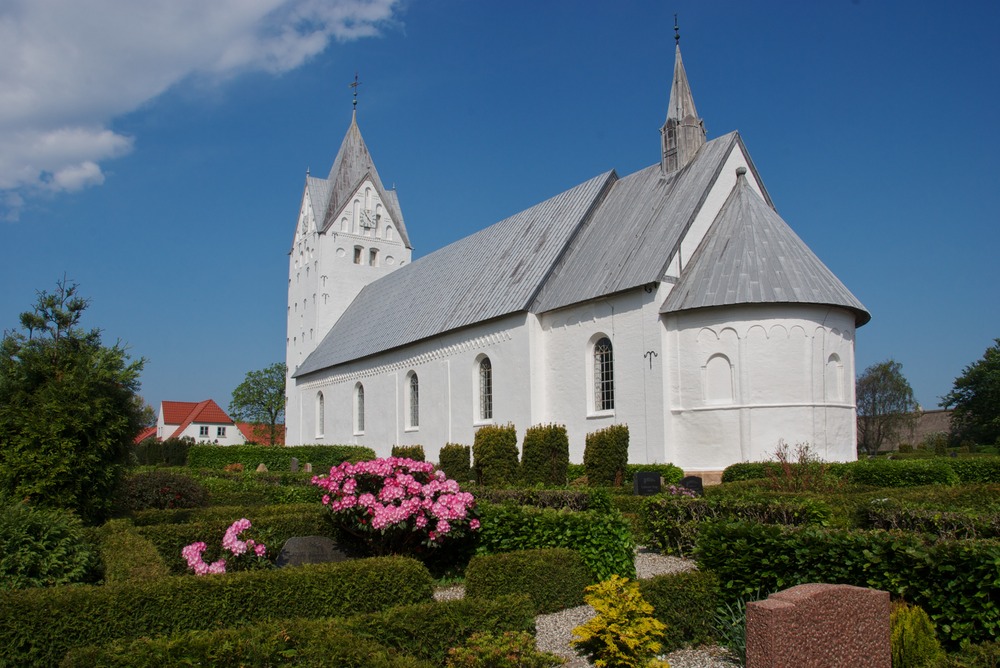 We crossed the border on May 23, in glorious sunshine and ready for new adventures.  Denmark is comprised of two large islands (Funen and Zealand) and one fat peninsula (Jutland) which is connected to Germany but lots of folks consider a third island; there are a bunch of small islands as well.  Copenhagen (København in Danish) sits on the eastern edge of Zealand, and it's where most of the action is.
We were very glad to start in Jutland, which is quite rural and looks very similar to agricultural western Oregon.  This turned out to be our favorite section of Denmark.  There were lots of small towns with lovely white churches and meticulously maintained graveyards.  We stopped in Ribe, the oldest town in the country, which was quite charming.  It was the last day of school at the gymnasium, and all the students were dressed in funny costumes.  One charmer, dressed like a duck, was happy to answer our question as to what was happening and to have us take her picture.  
It's hard to get very far from water in Denmark, and Ribe was no exception; there were canals and boats, and with the warm weather there were folks out everywhere.  Kids on field trips vied with the swans for space along the waterfronts.  Ribe has a famous church and central square, but alas all was torn up when we were there; they were re-doing the entire area with new paving stones.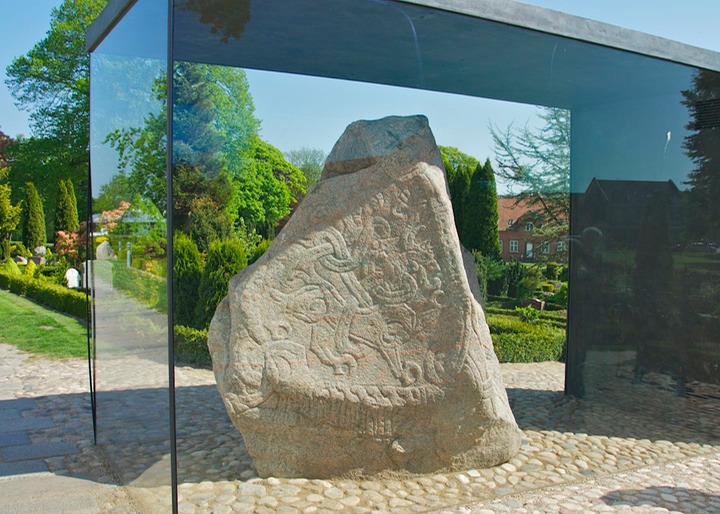 This area is near the sea, and the soil was sandy and drier than we'd seen further south; the fields were being irrigated – asparagus and new potatoes among other delectable items on offer.  We wended our way through the fields and forests on lovely country roads.  One thing we immediately discovered was that Denmark is definitely not flat – much of the country is rolling hills.
So – Viking stuff?  Yup.  Denmark claims the Vikings as their own.  We had thought they originated from Sweden or Norway, but it appears their ancient seat was in an area under Danish control at the time, whatever the current borders might say.  So there.  And there's cool stuff to see and learn about.  
Our first stop was in Jelling.  There is an ancient church there, along with two large burial mounds and excellent examples of runic stones, as well as ship rocks (more on that later).  There is also a really nice museum which talks about the items found here and in other parts of Scandinavia.  The museum is a branch of the National Museums in Copenhagen, and was very well done.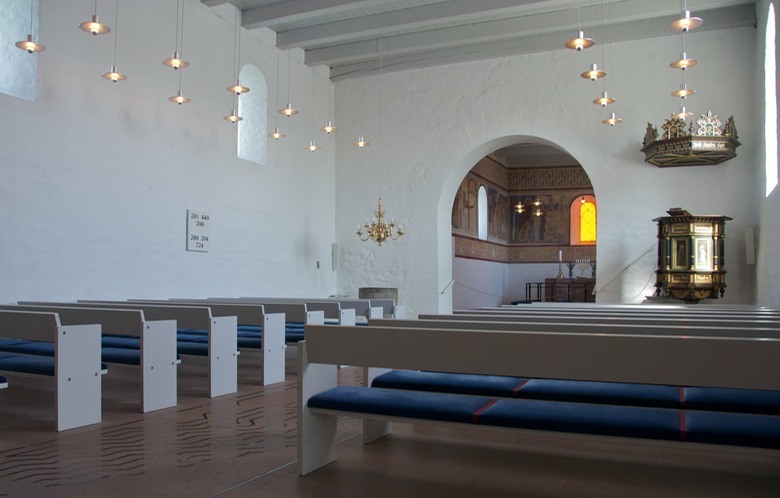 The church on the site was open, and we were overwhelmed by the simple beauty of its interior.  Viking motifs were present, along with ship models and lovely "Danish" architecture and trappings.  The ship models were a surprise, but we were to see these models hanging from the ceilings in many churches in Scandinavia; they represent the voyage through life.  This entire visit was a real treat.  
We spent the night outside Vejle, on the shores of its fjord; life is pretty darn good.  Just before leaving the next morning, we were talking to a fellow who spoke no English, but a little German.  Our interest was in his Norton motorcycle.  He tried to explain (we thought) that he was headed for an English bike show that weekend, in the town of Skandenborg.  We decided we would stop by; as this was a few days off, in the meantime we would head further north, to Aalborg.  
We skirted around Billund (home of Legoland) and kept on moving north.  It just got prettier and prettier, with mixed pine forests, dairying, and lots of pleasure horses in pastures of new grass.  And now the hillsides were covered with broom.   The weather continued clear and warm; for the first time in many a moon, we were told we'd brought the good weather with us!  We hoped it would last all summer.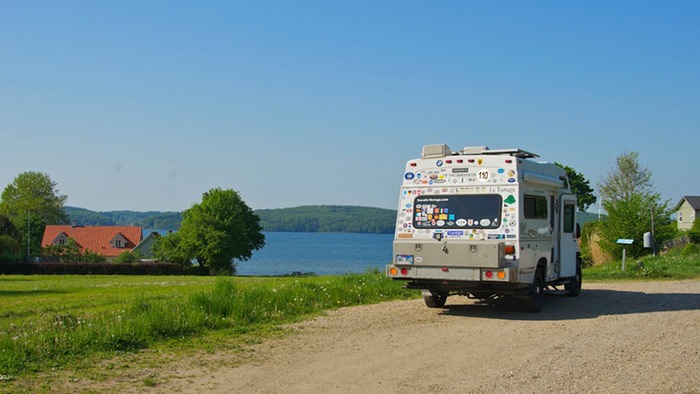 In Aalborg, we were planning some time in the old part of town and got lucky: we found a great parking area nearby, with room for us and payment information that kindly passersby helped us to translate.  Suddenly, after years of being able to figure out what all the signs meant in various countries, we were totally clueless.  Scandinavian languages are, like, nothing we've seen before.  A little like Dutch, a tiny bit like German, but not enough like anything we know to help us out.  We are increasingly relying on the kindness of strangers.  Fortunately, almost everyone speaks at least some English.  At least so far.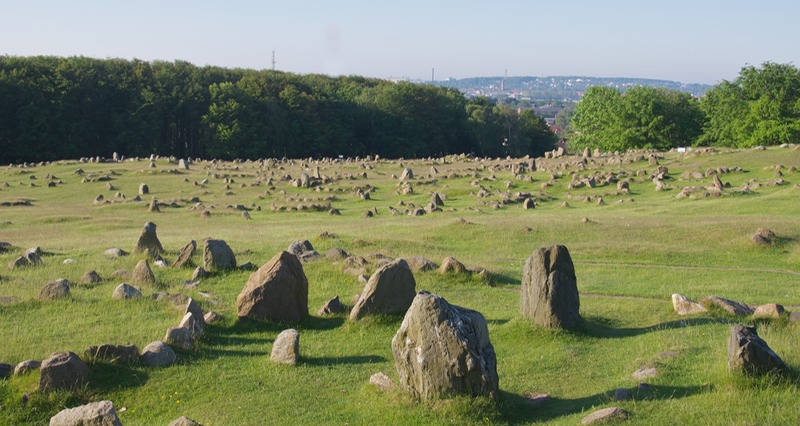 Our larger reason for trucking north to Aalborg was to visit the Lindholm Høje.  So what's a "høje" you ask?  Well, it's just a hill; but this is an important one.  It is the location of an enormous Viking and Iron Age burial site.  There are rocks and stone ship circles and burial mounds and-and-and-and; even more important than the site at Jelling.  I went berserk.  There's also an excellent museum, with tons of artifacts, pictures of the early excavations – all the digging by hand -- and lots of cool info.  We spent the night in the parking lot, and I got to wander the hillside both in the evening and early morning.  It was great.  During the evening we were also entertained by someone practicing the bagpipes; we found out the next day that preparations were underway for a Highland games event over the weekend.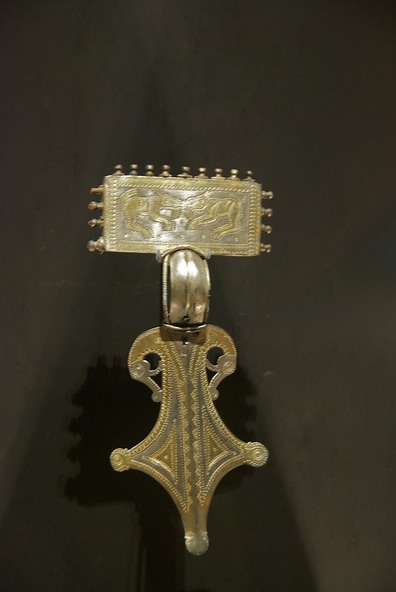 By the way, a "stone ship circle" was a burial monument erected during the Viking age, in the 900s.  Not round, instead it is in the shape of a simple ship, made from erect stones.  At the prow and stern are larger rocks.  They vary in length and overall size; at this site there are many of them, along with other burial monuments.   
Saying good-by to the "rocks" we trucked back southward, towards Skanderborg, a very nice resort area with a pretty waterfront.  We asked around, and checked out all the possibilities, but never found the bike show -- although someone said they thought there was a 'ride' scheduled for the next day; guess we had misunderstood the nice gentleman.  Ah, well; we'd visited a nice spot we'd otherwise have passed on.  Never a down side.  
It was a holiday weekend of one sort or another, and there were lots of "doings" all over Denmark, including serious "cycle clumps" out trekking.  We've decided that every weekend is a holiday for somebody; it's been true this entire spring.  Doesn't anybody work a full week any more?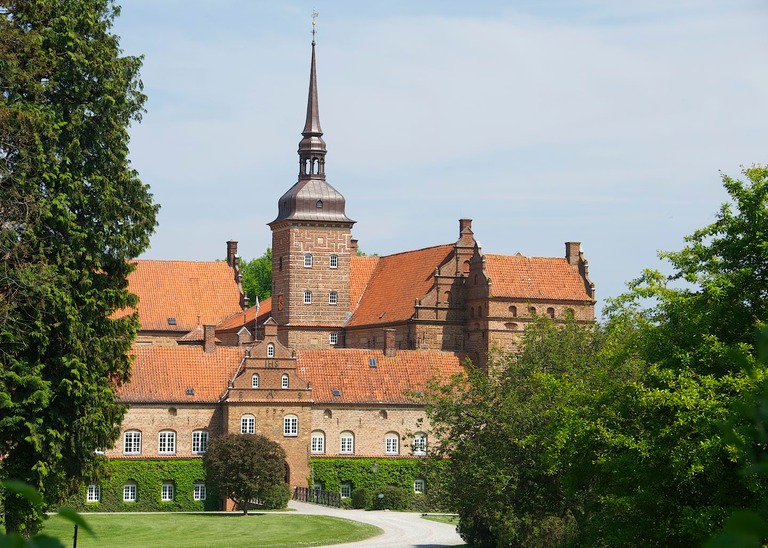 Saying so long to Jutland, we crossed the bridge to Funen and immediately said "this looks like Prince Edward Island."  Truly.  Grassy fields, rural and bucolic, hedges of lilac and wild roses in bloom.  Lovely.  We mostly just crossed the island, despite a strong recommendation that we head for the small island of Æro, which is supposed to be very nice.  We just felt like we wanted to keep going.  
So on we went, to Zealand, and as we moved east across the island, found ourselves crossing into a different Denmark.  Still lovely, still green and quiet in many areas (we were still hearing cuckoo birds), but the closer you got to Copenhagen the more you re-entered the 21st century.  
But first, the hamlets of Skibby and Over Draby beckoned.  (Aren't these great names!)  Both proud possessors of tiny medieval churches with marvelous frescoes, we were anxious to visit.  Unfortunately, they were both all locked up; it seems you have to visit on a Sunday.  But we enjoyed walking the gardens anyway.  In Denmark, the graveyards are surrounded by hedges which enclose the headstones and lovely garden plots.  They are very pleasant and restful.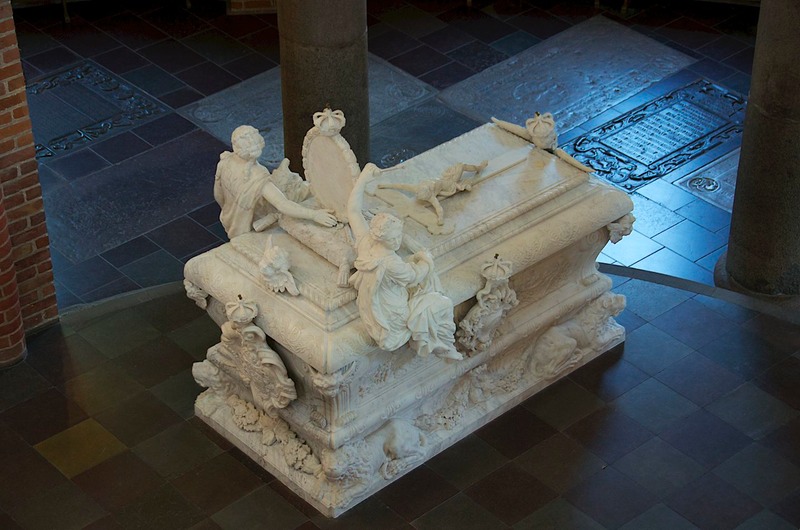 Roskilde was our first major destination in the area, and it certainly did not disappoint.  Home of both one of the most important churches in Denmark and a large ship museum, we were anxious to visit.  The huge cathedral (domkirke) was incredible.  We spent a long time there.  Roskilde was the ancient capital of Denmark, and this was where the kings and queens were buried for hundreds of years – you can see their tombs everywhere.  The church was begun in 1170 (that old enough for you?).  The original structure was completed over a period of about 100 years, but has repeatedly been enlarged and changed – successive monarchs wanting to leave their own mark -- making the cathedral an embodiment of architectural design over the last eight hundred years.  Plans are under consideration even now for the tomb of the current Queen, Margarethe II.
There is also a well known Viking ship museum along the waterfront.  We poked around and looked at all the boats in the water, but couldn't get interested in the museum itself.  Probably a mistake, but it seemed very kid-oriented and "hands-on" – not our usual style and also quite expensive.  We decided to wait for the Oslo Viking Ship Museum instead.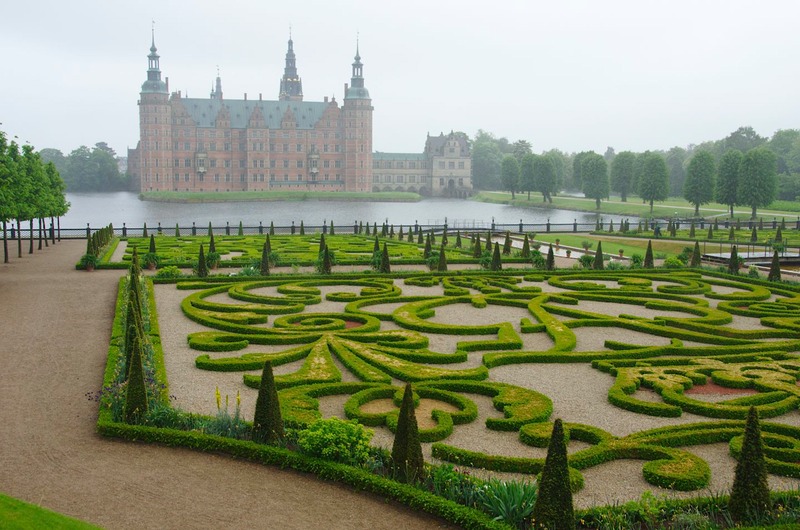 We moved further up the interior of Zealand, to Hillerød and the marvelous Fredericksborg Slot.  A slot is a castle.  Wow!  We spent the night in the castle parking lot, waking up to driving rain followed by drippy mists.  We tend not to visit the interiors of castles, but love to wander the gardens and snap away at the exteriors of the buildings.  Which we did, regardless of the weather.  It was absolutely splendid.  Very atmospheric (and wet!), very formal and lovely.  We had a really good time, and didn't even ruin our cameras in the rain.  This is one helluva castle, by the way.  Precisely what you would hope for – turrets and towers and Gothic spires, and formal gardens and hundreds of rooms and….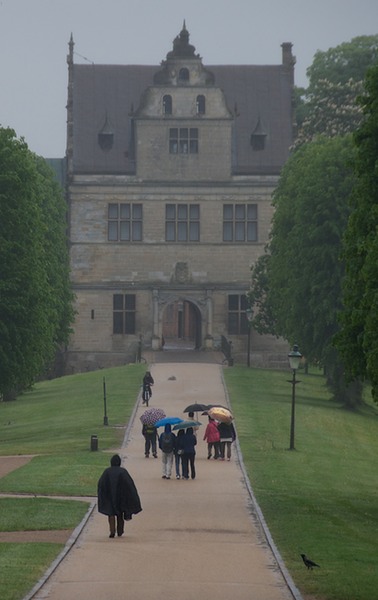 And then on to Helsingør and the Kronborg Slot, of Hamlet and Elsinore fame.  And you know what?  We didn't even stop the car.  If you come here, go to Hillerød.  Helsingør is all covered up with scaffolding and there are barriers up so you cannot get anywhere near the castle.  It's also located right on a busy waterfront; no atmosphere here.
So we decided to keep moving on and head for Copenhagen.  In this eastern corridor of the island we had noticed traffic picking up and more signage about regulations of one sort or another.  As we got close to the capital, it was as if we'd joined the freeway system of any major city.  Not a problem, but certainly not the rural Denmark we'd been enjoying so much.  
We got into the city and settled down for the night on the street right outside the Carlsberg Brewery, in a suburb of the city.  It was busy during the evening, as the night was lovely and lots of folks in the neighborhood were out walking, riding or heading off to one activity or another.  We enjoyed people-watching; the evenings are getting longer now and the sun is setting about 9:30 or even later.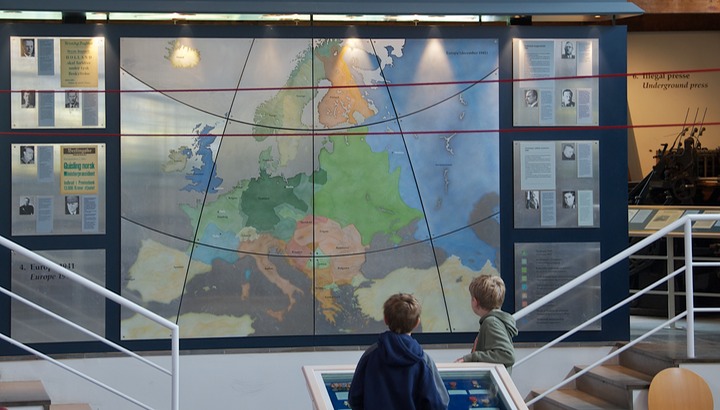 The next day we went into town.  We could have taken public transportation, but had some errands to run, so drove in.  We were able to park in front of one of the museums we wanted to visit, so fed the parking meter there, as it was well located for our day's activities.  Parking in Copenhagen is very expensive, but it suited our plans.  
Old Copenhagen is all torn up.  Shouldn't be any surprise, every European capital city we've been in is a mess.  We think it's the press of trying to keep current, trying to accommodate everyone's needs, trying to make room for more and more people.   But we had museums to visit, so we plunged ahead.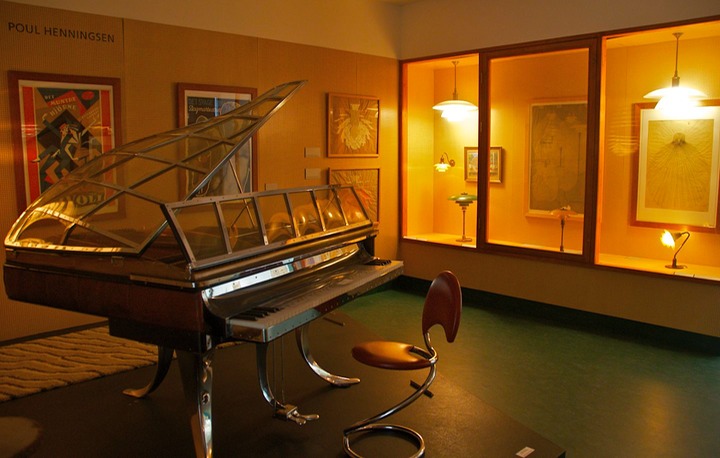 First we found our way to the Danish Resistance Museum.  It's really good; full of detailed information and displays and maps of how the war went, it covers the period extremely well.  The Danish resistance was very strong.  Denmark was officially neutral, but quickly occupied by the Germans, who promised to respect their neutrality.  As a result, early on all parties seemed somewhat content.  But by 1943 the tide was beginning to turn and the resistance movement became more and more active – and quite effective.  This, unfortunately, led to horrific reprisals.  It was an awful time.  The museum makes that perfectly clear.
Taking another slice of life, we also spent considerable time at the Danish Museum of Decorative Art, which holds some incredibly lovely objects.  It was a refreshing change from the horrors of World War II.  There were beautiful vases and furniture and glass objects from all over the world, over many centuries.  There was also a section reflecting the modern Danish style, which we truly enjoy.  It was a nice experience.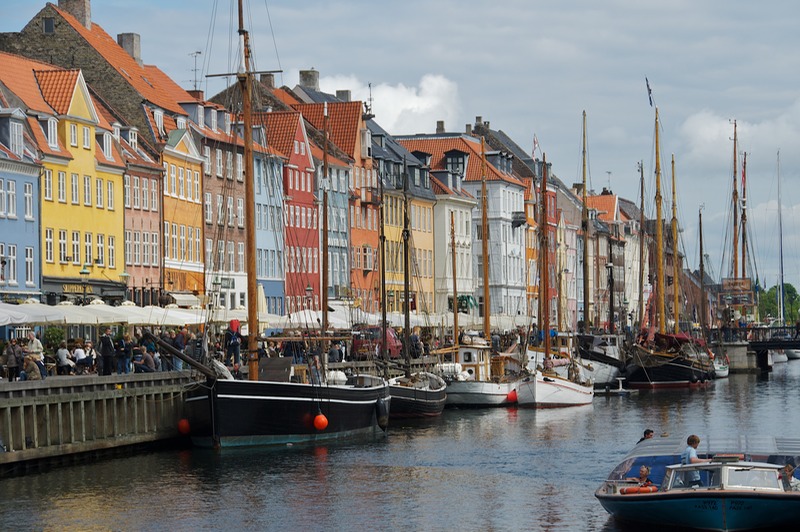 We wandered the old town area as best we could, sticking our heads in the door where we saw buildings of interest.  But streets were blocked off, jackhammers were actively destroying the peace and quiet, and it was difficult to enjoy ourselves in the chaos.  Eventually we moved on, spending the night at a wetlands area on the outskirts of the city.  The shore birds were a delight, and we saw more swans in one place than we'd ever seen in our entire lives, counting thirty of them at one time.  There were kids out having kayak lessons, people riding their bikes (it seems to us as if everyone in Denmark rides their bike, everywhere) and we were delighted with our home for the night.  
The next day we went for a long walk in the wetlands before packing up and getting ready to head to Sweden.  Denmark had been a great place to visit, and we enjoyed the country very much.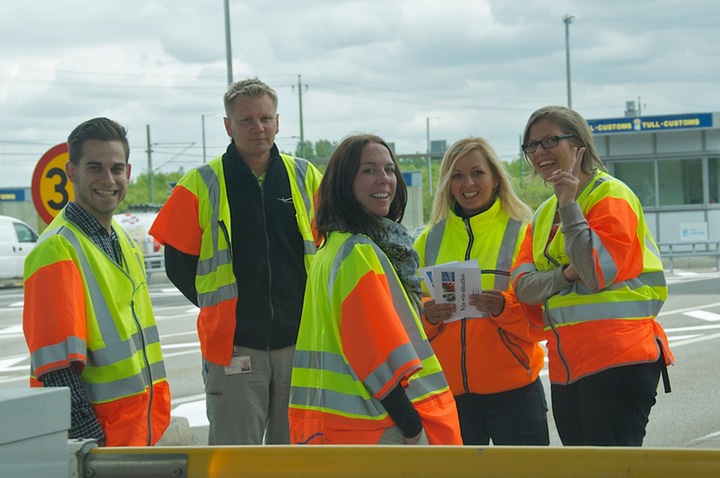 And so we drove over the only toll road in Sweden – the Øresunds Link – the bridge that connects Sweden with Copenhagen.  There's a lot of discussion and worrying about how much this will cost.  Cars are a certain fee (and that's high enough).  Motorhomes, etc. up to 6 meters in length are a higher fee; beyond that the costs skyrocket.  We had planned for the worst; we are only 6 meters, but a tad more when you include the boxes on the back and the tire in front.  So we had gathered enough Danish money to pay the highest fee we could figure on.  But when we arrived, they carefully measured us, charged us the car fee, and said Welcome to Sweden.  It was terrific, except of course that we now had a whole bunch of surplus Danish money.  But we drove into Malmö, the first city after the border, and the tourist office directed us to the Money Changer People.  All was well.  
For now, we're only spending a very short time in Sweden.  We are still working out our plans for later in the summer, after we leave Norway, and we hope they will include a second, longer visit here.  There is so much to see, including Stockholm, that it would be a shame not to return.  We'll just have to see how it all works out, but for now we think we'd better keep heading north – the Arctic Circle is still a fur piece off.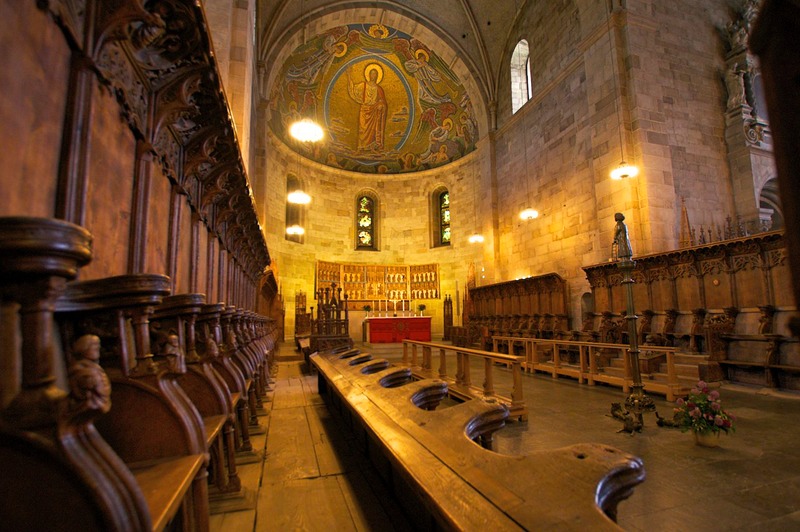 But while we were here we did manage to see a few things.  We started out by visiting Lund, a lovely and great university town with a dynamite cathedral.  We got lucky and were able to find a parking spot near the church, where we spent an inordinate amount of time – we couldn't pull ourselves away.  It was huge and awesome and marvelous.  A cool thing: the Medical School graduation was to be held in the cathedral later that day, and a trio was practicing the pieces they were going to play.  The kids were great, and happy, and we enjoyed the excitement.  A bad thing: the cathedral closed to the public about 3 hours before the ceremony, and kicked all of us out, apologizing profusely.  But we managed.
Lund has its own group of runic stones – 6 of them – just north of the cathedral.  Right there, in the middle of the city.  How nifty is that?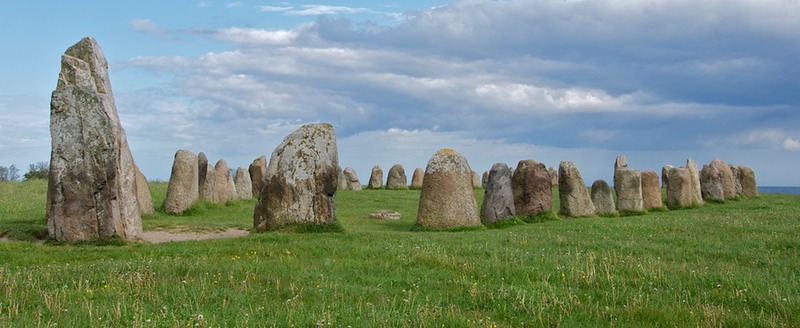 We also trucked along the southern Sweden coastline to Kåseberga, the site of Ales Stenar (Ale's Stones), one of the largest ship stone formations in Scandinavia.  It was a short bit of a hike, but well worth it.  The stones are on a bluff overlooking the ocean, and it was quite a sight.  The cows and I had a very good time.  
We spent the night nearby, entertaining the local Swedish army guys.  It seems they had a practice range and maneuvers place right close to where we parked up for the night.  No activities were taking place that night (although they looked like they were setting up for a game of Capture the Flag), and we weren't worried, but it was a bit interesting.  They mostly seemed bemused.  The last time something similar happened, we were in northern England and woke up to a red flag signifying a live fire exercise!  We do get around!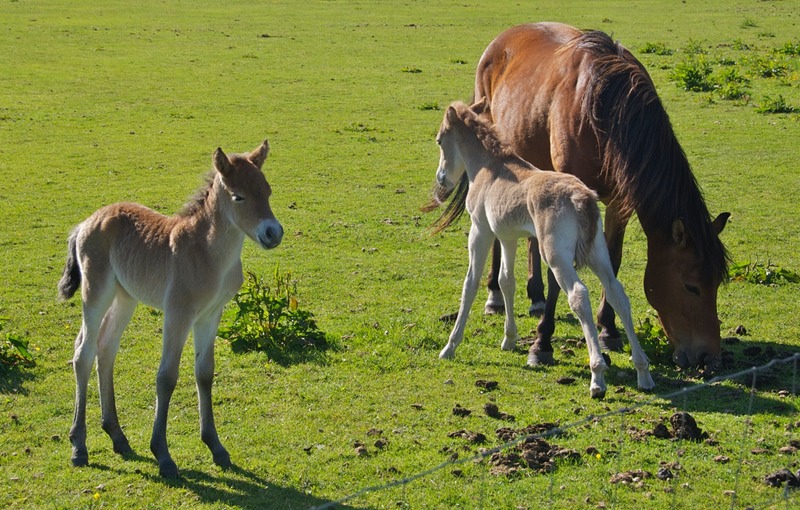 The countryside was lovely and, once again, looking a lot like Oregon.  We saw more wood stacked up beside houses than in Denmark, and more U.S. cars (otherwise they all seemed to be Volvos).  The houses were more likely to be wooden than brick, and quite rustic here in the south.  The wildflowers were prolific, particularly a variety of lupine we'd only seen once before – in Ushuaia, Argentina, near Tierra del Fuego.
We spent our last night in Sweden parked beside the old locks in Trollhättan, along the Göta Canal.  It's a very active shipping channel; newer (probably larger) locks have long since replaced the centuries-old ones.  It was fun watching the traffic cruising by.  
The next day we made one last – quite marvelous – stop, at the petroglyphs at Tanun, also visiting the museum in the hamlet of Vitlycke.  The rocks had so many carvings on them it was impossible to keep track of them all.  I climbed over hill and dale, in the rain, having a wonderful time.  The museum was full of good information on petroglyphs from all over the world.  It was simply terrific.  Rick has his automotive museums, I have my ancient folks.  We're both very happy.
So on we go, into Norway, heading for Oslo. We're taking zillions of pictures and enjoying every one of them.  We're losing weight because we cannot afford to eat out – every thing they say about how expensive it is up here is absolutely correct. As they say in some country we visited recently, Pflücke den Tag!, which means Seize the Day.  This is a motto we can really get behind! Life is very, very good and all is well.  More soon.  
Rick and Kathy