September/October 2017
Red Dirt and the Zen of Outback Travel
Boabs, Billabongs, Birds, Beasts & Bumpy Bits
As we write this, we are now sliding down the west coast of Australia, enjoying the Indian Ocean.  For all of you folks who are west-centric individuals (mostly that means you grew up with a world map that had Europe and the Americas in the middle), the Indian Ocean is that big blue pond that provides the beaches on this side of Australia.  If you get the map out you'll have no trouble finding us.  Actually, we'll provide the map for you.
Since you have the map out now, we'll describe how we got here.  After arriving in Melbourne in the Southeast, we'd gone to Alice Springs in the center of the country, then proceeded all the way over to the northeasternmost area to see some of Cape York and environs.  Then we began moving west along the Savannah Way, a collection of roads across the top of the country, and the last time we wrote we were in Katherine, south of Darwin, in the Northern Territory.  So… for the continuation of that journey, carry on.  
The top end of Australia was getting pretty warm by now.  Darwin had also been a bit humid, and we were happy to get south as far as Katherine, where it wasn't.  
Heading west out of Katherine, we continued towards the border with Western Australia (WA to all who know her).  It wasn't far, and included a couple of quite nice Northern Territory national parks.  We'd started seeing boab trees along the road, and soon they became legion.  Boab trees are quite similar to the African baobab tree, which you might remember from childhood stories.  Ugly?  You bet, amazingly so.  They remind me of the scary trees of the forest from kids' movies (maybe The Wizard of Oz?).  Big fat silvery trunks and tons of scrawny limbs near the top; not enough leaves to brag about for much of the year, and nothing to recommend them other than their sheer oddity.  But all over the place up here.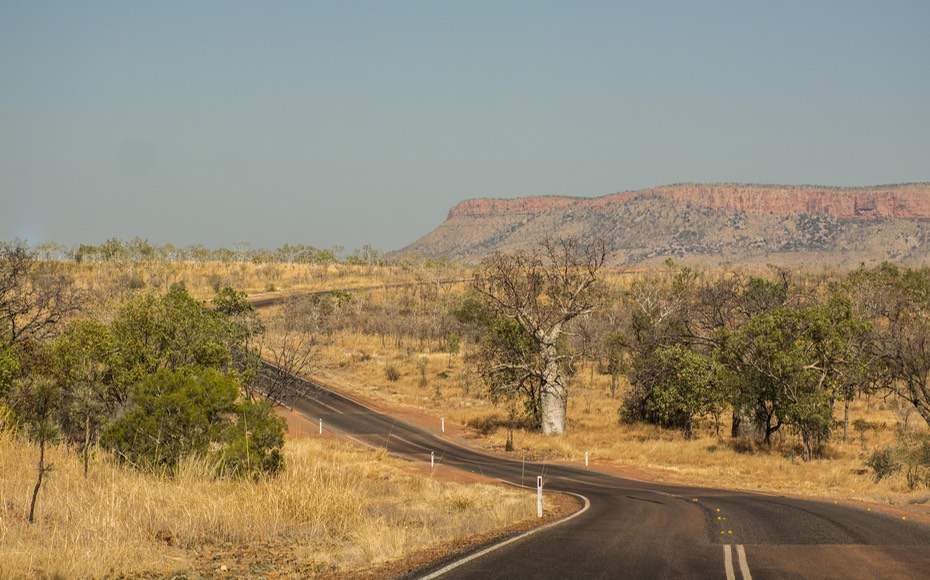 There are boabs in Judbarra NP, which encompasses the lovely Victoria River escarpment.  We were reminded of Utah, only with more foliage.  You pass the Victoria River Roadhouse as part of the route and there was a sign up saying it was under new management.  The sign was surprisingly weathered-looking despite its sentiment, and the "new management" part had been covered with an additional piece of wood painted to say "new wife."  We hope all is going well.  
We did a short detour to stop at something called the Gregory Tree, an ancient boab with carved initials dating back to July 2nd, 1856, which was when the explorer and his party passed through the area.  Today we'd call it graffiti, but kind of neat when it's 160 years old.  The interesting thing is that the tree doesn't seem to have grown much in the interim. The link above will take you to Wikipedia where you can learn that these trees can live up to 2,000 years and have trunks up to fifteen meters (nearly 50') across.
Not too much further along as we moved west was the Keep River National Park, a really super place where we spent a couple of days.  This is a small park just east of the WA border.  It's a quiet spot, with good hikes and scenery.  Yes, boab trees — but even better, it turns out that Keep River is sort of a miniature, lesser version of Purnululu NP, which we weren't sure we were going to be able to get to in any case.  We wandered around enjoying the interesting geological formations and new foliage on the trees.  It was hot, so we took our hikes early to beat the heat, then rested/relaxed in the shade.  Really nice.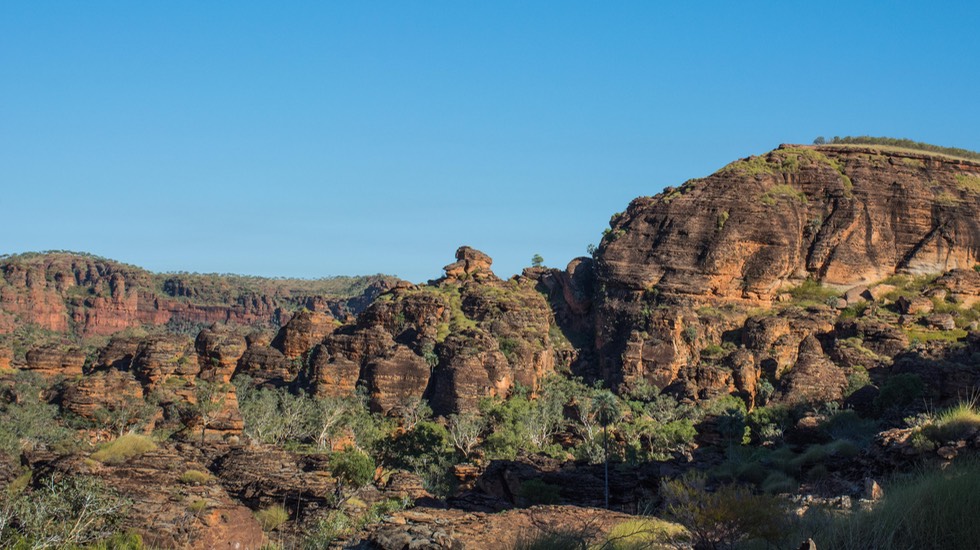 While there, we took the time to get organized for crossing the border into WA, a quarantine state where much of our fresh produce could disappear.  You've heard from us before on this subject.  WA is stricter than most, so we madly ate all the apples and oranges, had a huge salad for dinner, and had honey on everything; well, not the salad maybe.  At the border they checked us out carefully, and I lost my remaining honey and fresh garlic and onions (because of their roots and tops), along with the remaining lettuce (because it wasn't in a sealed package so I could prove it hadn't picked up bugs or something).  No drama, mate; just business as usual.  They could not have been nicer.  We waved good-by and went on our way, changing our clocks to be 1-1/2 hours earlier; it was almost like jet lag for the next few days as we struggled to adapt.  We were lucky it wasn't yet October first, when central and eastern Australia go on Daylight Savings Time but WA does not.  If we'd crossed after that the sudden change would have been 2-1/2 hours — egads!
Entering Western Australia brought us into the Kimberley region, and completed a huge loop that took us back into the Australian desert — spinifex plants, desert pigeons, and lots of red dirt.  It was great to be "home."  Suddenly we were in Kununurra (try learning how to spell that one), pronounced as if each "u" is an "a" and the "rr" at the end turns into a growl.  A nice little town.  We puttered around a bit, getting our WA national parks pass, doing some shopping, and making some new friends.  Aldo and Vera are out romping around the world on their honeymoon and having a helluva lot of fun.  He's Italian, she's Ukrainian and they're from the London area; welcome to the modern world.  They were a hoot, and we hope to track them down again some day.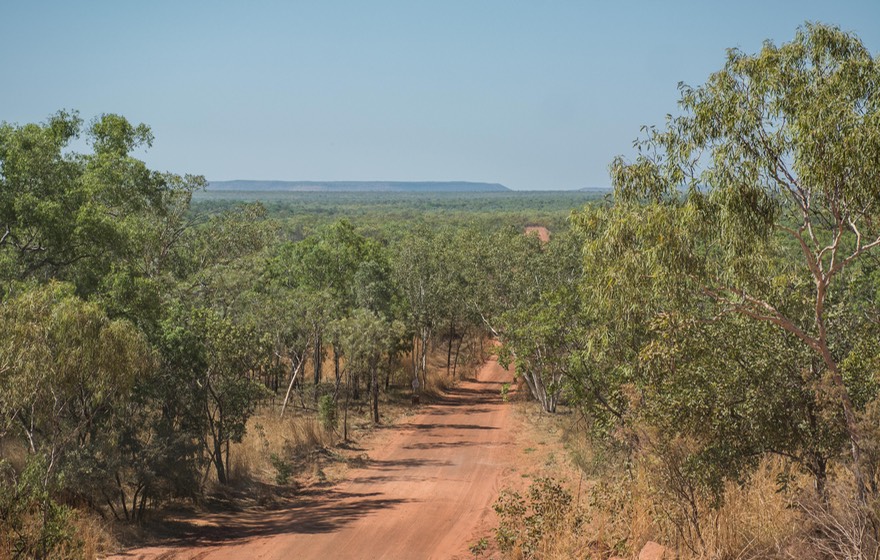 While in Kununurra we discussed what to do about Purnululu National Park.  It's a huge, fascinating area and on everybody's list of what not to miss.  Problem?  It is about a 3-day around trip to get there, see the park, and get back to Kununurra — all in the wrong direction.  We'd been discussing the possibilities for days.  But when push came to shove, we decided against the detour.  One reason was that it was 109 degrees in the shade as we sat there talking. 
We woke early the next morning for two reasons — sunrise is about 5:00 now (65 degrees at dawn, 88 degrees five minutes later), and we were about to begin our drive across the Gibb River Road, one of our big destinations for here in Australia.
The Kimberley region and the Gibb River Road that runs through it are important areas of Western Australia, described as some of the last of Australia's wilderness.  We can see why that is and wish we had been able to take more time wandering through.  Unfortunately, it was well into September when we finally reached the area and it was Just Too Hot For Us.  The cooler months up here are June and July but they are naturally also the most crowded, and the road gets really busy at that time.  So we made our calculations and decided to take the same risk we always take: avoid the crowds by visiting in the shoulder season.  Perfectly logical, but instead of getting the 'cold shoulder', this time we came out feeling like Baked Alaska - flambé.
We've learned a lot about Australia since we've been here and one thing that stands out for us is the conflict between the somewhat romantic vision of the outback as being similar to the American Old West, and the modern reality of much increased traffic from ever expanding numbers of tourists and the movement of goods by the massive road trains.  As with most such conflicts between different eras there are plusses and minuses on either side; but the bottom line in this discussion ends up mostly in the debit column, at least from our perspective.  We're no experts — we've only been here for four months, while the situation in the outback has been changing dramatically for at least the past sixty years; but we can observe and report on what we find.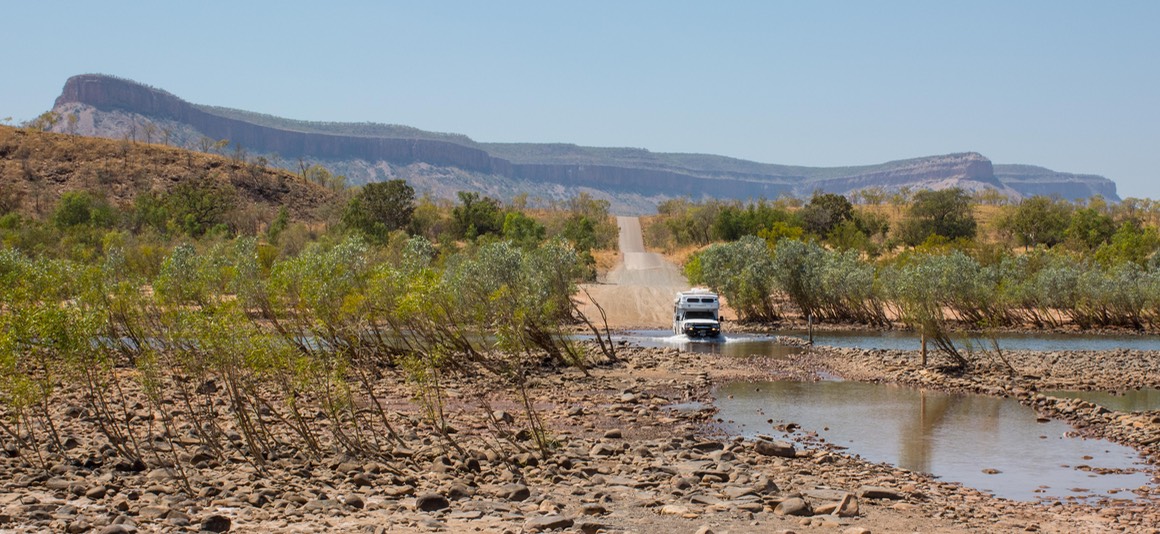 The image of wandering the open, uninhabited spaces of central Australia alone with your thoughts and the stars is becoming more difficult to realize each year as modern life encroaches.  The old desert tracks that conjure up that image are gradually evolving, first into the wide dirt roads that we see so much of now and that are so often rutted and corrugated by the heavy traffic they carry; and then later into major highways as new sections of pavement are added each year to combat the wear and tear on both the roads and the vehicles traveling them.  What were once the journeys of outback legend will some day soon be nothing but another long paved road made tolerable by air conditioning and cruise control.  Right now we find ourselves in a somewhat uncomfortable middle ground between the two, but already The Oodnadatta Track, Great Central Road and Gibb River Road are simply not the interesting challenges they once were.
This is nothing new and we are neither the first nor the last travelers to comment on it.  Two sources we can suggest if you'd like to think about this some more are an article by Ron & Viv Moon who are long time Australian travelers whom we met in the US in 2015. The piece talks about, among other things, the changes they have seen on the GRR over forty years of travel.  The second is Tracks, a book by Robyn Davidson, that tells the story of a trip across central and western Australia which she took alone with her dog and three camels in 1979.  It's a wonderful story and discusses how even then old Australia was fast disappearing.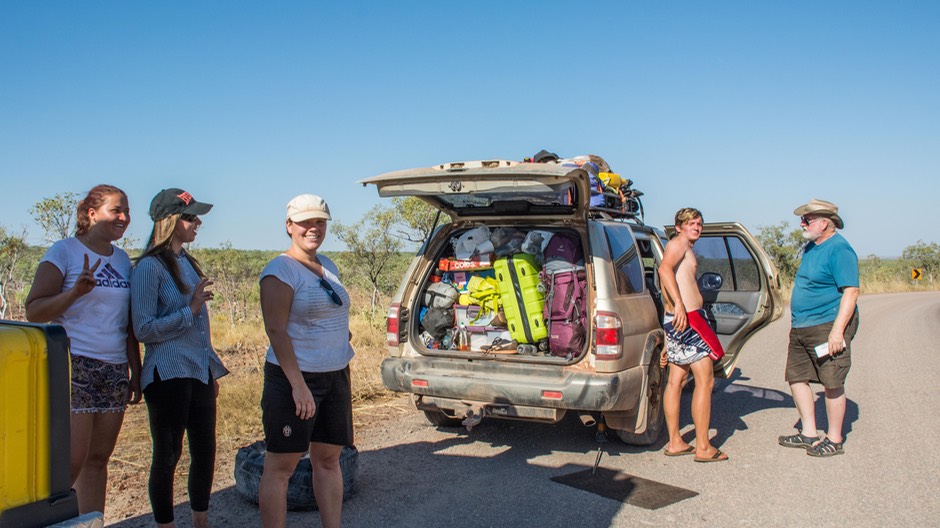 Moving on, travel in hot weather has its own rhythm, and this was no exception.  We were pretty much up with the dawn and on the road no later than 8:00.  Then we often pushed on past our usual 4:00 stopping point — it's A/C in the truck cab, but not in the "house", so not much point in stopping early when it's hot.  
The GRR brought its own drama, due to the state of the road, but we also had a chance to help out a mixed group of four German/Dutch twenty-somethings traveling in an older SUV that one or two of the girls had bought for their trip.  They were standing there with two bad tires - at the same time - and were hoping to flag someone down who could help.  We were really pleased to be able to lend a hand.  They were actually doing pretty well, but were certainly learning a couple of lessons the hard way.  First off, while the car did have two spare wheels and tires, they hadn't checked and it turned out that only one of the wheels would fit the car.  Second, even with the two spares, they should have also been carrying a tire repair kit and a good compressor, and they didn't have these items (yes, dad).  
Erich, the young man, was doing a fine job with what he had.  One of their bad tires was completely blown out; no fixing that one, so he was already putting the good spare on there.  Then, after he removed the soft tire, Rick was able to remove the nail, plug the hole and air it up with our repair kit and compressor.  We were really happy to be able to help them out and they were especially lucky we came along when we did because during the hour or so we were stopped with them no other traffic came along in either direction.  It's like that out here sometimes.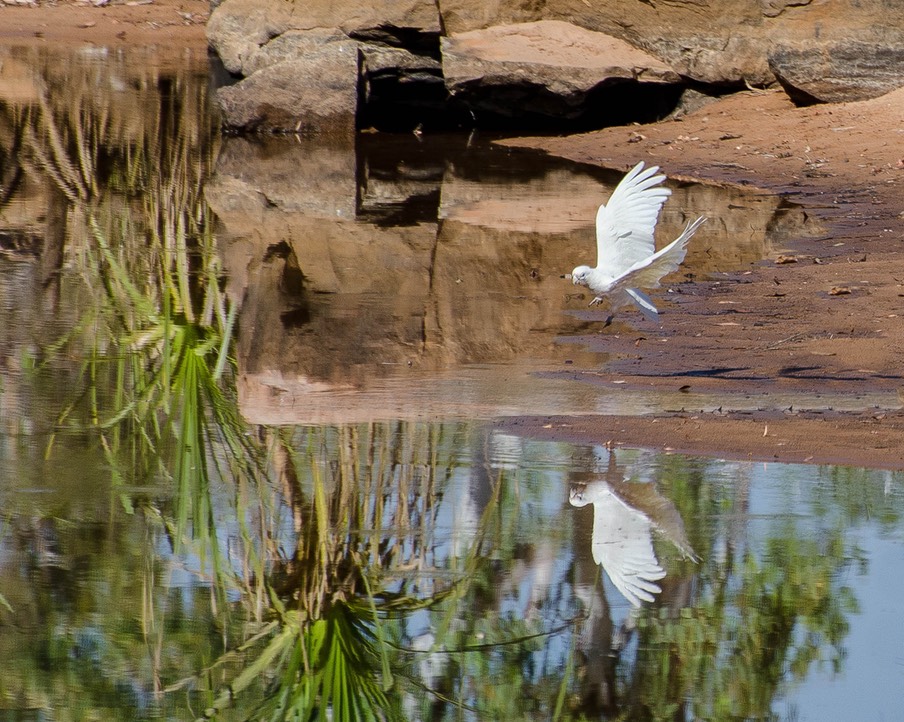 We finally got them back on the road, with a final word on a place we'd stopped back in the direction they were going.  Earlier in the afternoon, we'd pulled into a station up a dirt road which had camping and other facilities.  We were looking for ice cream.  None on hand, but wow!  At the Ellenbrae Homestead they had tea and scones — with jam and cream.  So we, of course, partook; it was a heavenly little place, with lots of trees and grass and birds and a real sense of an oasis about it.  And, there had been a sign saying Tyres Repaired.  We were happy to share this info with our new friends. 
We spent that night out on the Gibb at a waterhole along the river.  It was such a great locale that we stayed two whole days.  The waterhole was a major gathering spot for waterbirds passing through, as well as the local birds living in the myriad trees surrounding the area.  It was lovely, quiet except for the birds (mostly shrieking cockatoos), and the only downside was the heat.  A little tough on that front, but we moved around to gather what shade and breeze there was and we sure enjoyed the birds. 
During the course of being there, and running all the fans all the time because of the heat and lack of a decent breeze, we had our portable fan plug-in break.  Bummer, something to be looked into.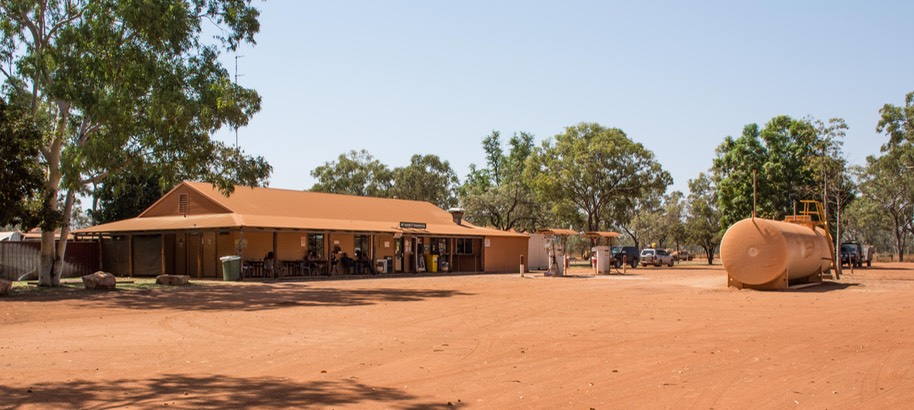 Early the next day we took a detour out to Jigngarrin, aka the Barnett River gorge, where I took a bit of a hike while Rick looked at fixing the fan.  The gorge had a lovely stream running through it, leading to many pretty photos, along with some quite cool boabs and more photos.  Rick said the fan needed outside help.  
Our next stop was at the Barnett River Roadhouse, for supplies and a possible new plug.  No help on the plug front, but they told us there was a tyre-fixer guy only a bit of a ways further along, and he was good with lots of things.  So we called ahead, using the phone at the roadhouse, and when we pulled in at the Over the Range Tyre and Mechanical shop, lo and behold, he had located a suitable plug; he fixed the puppy and sent us off as happy campers.  A really nice fellow, and a terrific name for a business.  He'd been living on The Gibb and helping folks for fourteen years.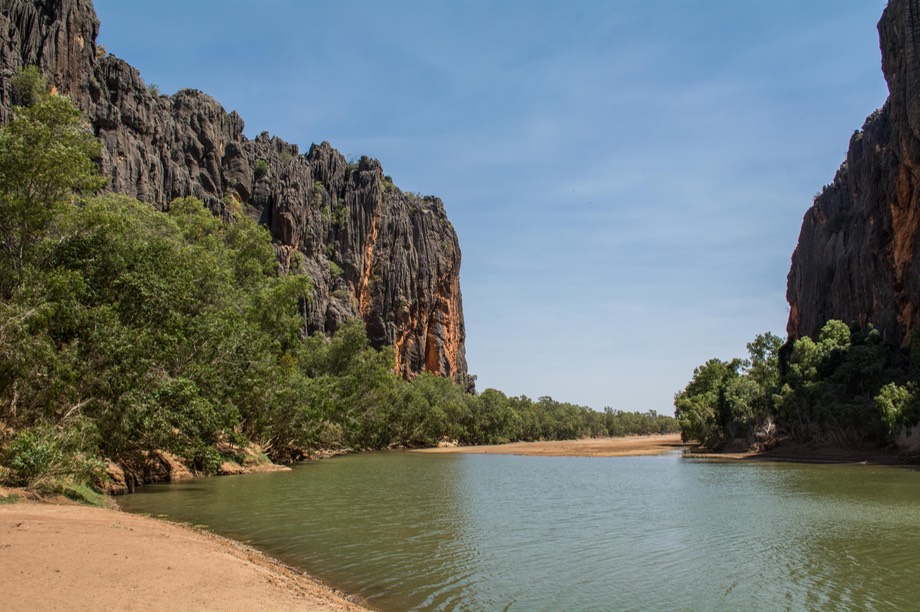 Puttering along, we sometimes stopped at gorges to take a look, sometimes kept going.  One spot we didn't want to miss was Windjanna Gorge NP.  We had intended to camp, but it was gruelingly hot, so we made do with a walk into the gorge.  It ended up at a beautiful, open spot that had a nice large watercourse — filled with crocodiles; they were only small freshies, but still.  I ended up getting much closer to them than I had ever intended, and beat a fast retreat, but also ended up with some sort of nifty pictures.  A little later in my wanders, I came across an info board with warnings about the crocodiles and a picture of someone's foot after an attack; it was rather gruesome. 
Coming back out of the gorge, I saw Rick sitting and chatting with a German couple, Diana and Bengt, great folks, and good new friends.  They were repeating a long journey around Australia they had done seven years before and had lots of good info to share with us.  We've managed to spend time with them since, at a pretty spot along the west coast, but not without a fair amount of wiggling in order to be in the same place at the same time.  More on them later!
Still, we'd achieved one of the goals of our time here, to drive the entire length of the GRR — Kununurra to Derby.  We had crossed the Top End, and were nearing the Indian Ocean.  We arrived in Derby short of fuel and groceries, and both happy and sad.  It would be good to be back on pavement for a bit, but we really like off-road travel.  We like the sense of being out on our own, away from the places most folks go, and seeing the "real Australia."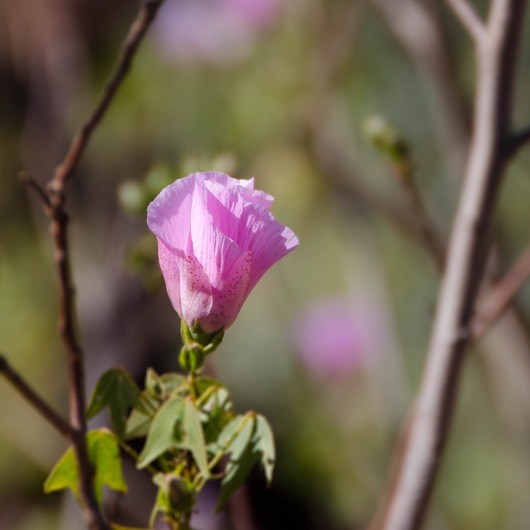 We didn't stay long in Derby; it was late on a Sunday afternoon (town was dead) and we were hoping to find a cooler place for the night.  So we got some much needed fuel and headed on toward Broome, a more major location and actually on the coast.  We noticed that the boab trees were still with us, and so were the termite mounds.  The boabs were starting to leaf out a bit, and ones further along had fruit and seed pods.  Locals told us that this was a sign of the buildup to The Wet — the tropical wet season.  During the 'buildup', the heat and humidity both increase substantially, so as hot as we felt, locals continually told us, "Oh, it'll get a LOT hotter than this before the wet comes".  In Broome, we said a final good-by to the Savannah Way, which we'd followed all the way from Normanton, back in Queensland.  We also officially turned the corner and began moving south, so we could at least think about being able to start leaving a lot of heat and increasing humidity behind us at last.
Broome was indeed a bit larger than Derby, but in some ways that just meant more fast food places.  These towns don't have a whole lot happening; they are way stations on a long trip.  We found a spot out on the cliffs north of town where we stayed the night.  It was nice there and comfortable overnight so we stayed.  By mid-day it was 107 degrees; then suddenly, about 2:00, the wind shifted to an off-shore breeze and it started to cool off  — like it had been the night before and just in the nick of time for us.  Love that wind change!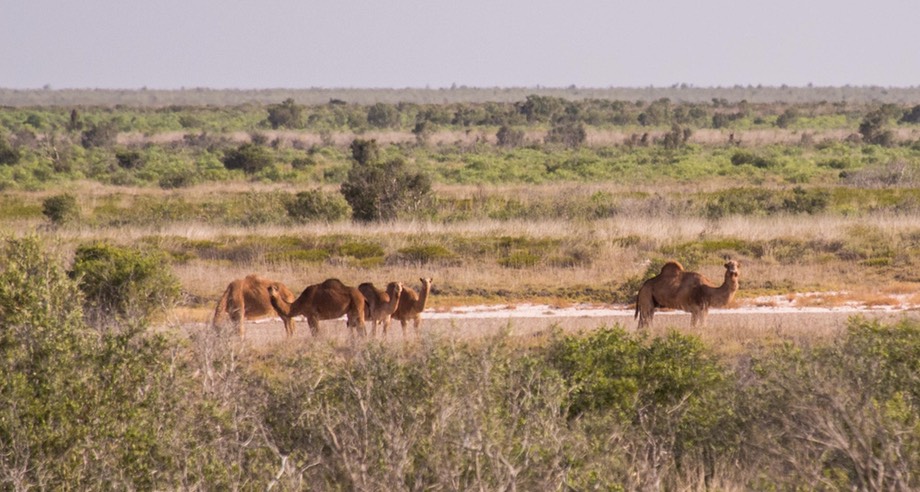 We moved on early the next day.  We knew we hadn't done right by either Derby or Broome.  Despite their size they both had things to see but by now we were driven by the idea of getting below the Tropic of Capricorn; we knew it would start to be cooler below that latitude.  So we kept moving south.  The next day was the Equinox — fall in some quarters, spring down here.  And suddenly we saw a small group of camels.  Wow — it came just as we had been reading about driving the Great Central Road:  "When you see your first wild camels plodding through the red sand…"  Cool.
Psychologically we suddenly felt better about a lot of things. Oh, and the Indian Ocean was now being called the Timor Sea.  Who knew?
Along the coast we reached Port Hedland, a huge shipping port.  Trucks seemed to be arriving there every few minutes, dropping off the treasures that had been carted hither from the mines in the Tom Price area.  There is also a large salt dredging operation in Port Hedland, so lots going on.  A sign beside the road indicated that the Current Cyclone Status was All Clear, so we felt comfortable wandering on.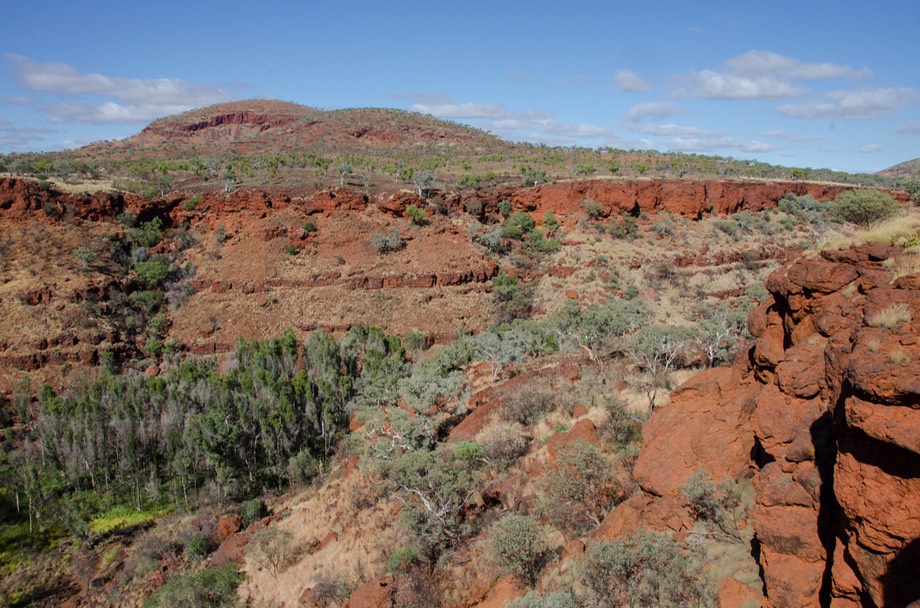 From Port Hedland we decided to head inland and south, down the Great Northern Highway into the Pilbara mining region; there are some well recommended national parks in the area.  Turned out to be a good choice; we liked the Pilbara a bunch and had a lovely time.  We were a bit concerned about heading inland, having finally found some cooling from the ocean breezes, but the forecast was for a cool week in the Pilbara and we learned as we went that we would be climbing up to around 800 meters (2,500 feet) of elevation so it turned into a terrific week on the weather front as well.
We started with a few days at Karijini NP, which was awesome.  We began at the visitor's centre, which was unique and just great.  We've complained about these centers as being full of stuff to buy, hype from one end to the other, and having little of value to share with people coming in.  Not here.  It was low key (the lighting was even subdued); had several excellent displays on the critters around, the Aboriginal perspective, and on early settlers; knowledgeable people willing to offer opinions and options that actually were helpful; and the building itself was an architectural goodie.  Rick said he felt the scientific geologic info/local legend mesh was very well done.  We happily puttered around for a bit.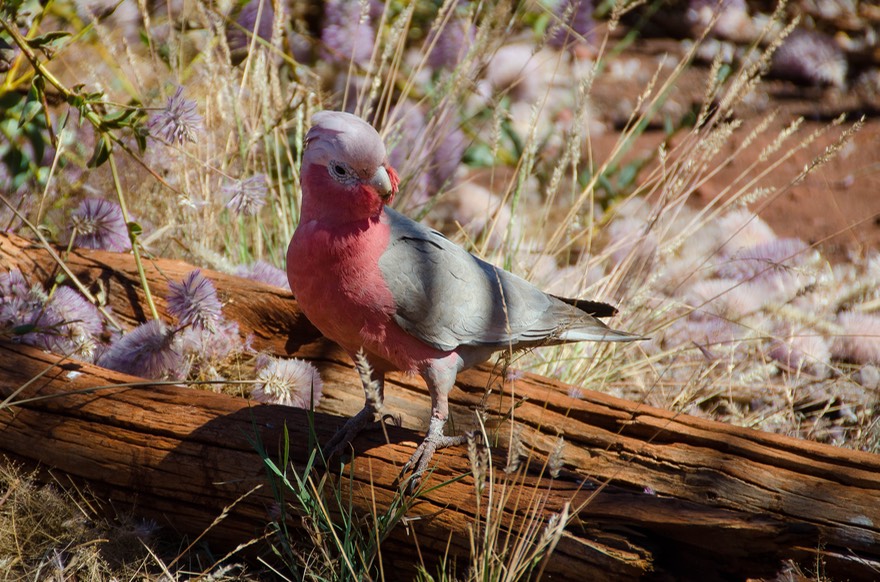 The campground was lovely, and in full bloom; Karijini is known for its wildflowers.  And the birds were just about everywhere.  Pink and grey Galahs were wandering around eating the mulla mulla flowers; they were so focused on their meal it was easy to get close for some great photos.   There were several walks and drives into the gorges to enjoy the escarpments and to go swimming (or just wading) in the pools.  Such a pretty place.  The morning we were getting ready to leave we ran into Diana and Bengt and after a short visit we started working on a plan to catch up with each other further down the road.  
Our way out of the park took us down a rough road to one last gorge, and it proved to be the undoing of that hood mount that's been giving us trouble.  So we skipped the gorge for the moment, and took the road to Tom Price; such a great name for a town.  It's a mining town, has lots of resources (as we continued our World-Wide Welders Tour), and is named for an American mining engineer who came through some time in the past and commented that it looked like a good place to do some exploratory probes.  He was right.  They named the town after him.  Truck hood was returned to its rightful position after repair to a different bit of mounting hardware, so we went back into the park and visited what we'd missed earlier.  It was a good visit.   
Our intention was to head out toward the coast again, but after talking to some folks, we came up with a new idea.  In addition to the road trains we'd been seeing on the highways, hauling stuff to the port for onward shipping, we knew there were actual trains doing the same thing.  They had private rail lines and the trains were quite long.  We had seen them near Tom Price.  We learned there was a dirt service road owned by the mining company that ran alongside the tracks, and that it was possible for individuals to use that road if they got a permit.  Aha!  Sounds interesting.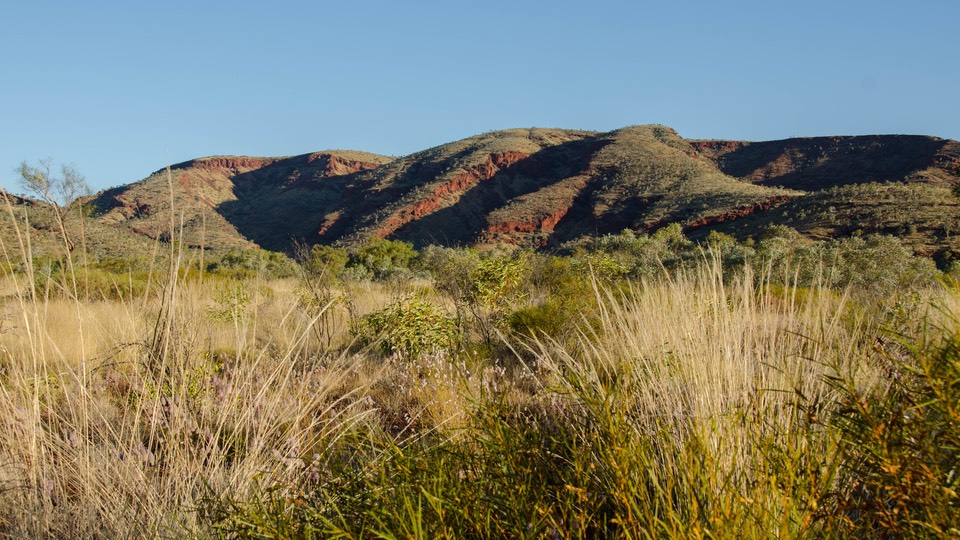 We found that we could get the permit at the visitor's center.  It required us to sign a form, and to watch a video giving information, warnings, and suggestions.  The video was the best part of the deal, according to Rick, really well done, informative and with great aerial photography of the scenery to boot.  They have you wear headphones so the sound of the video won't disturb others, and the nice staff people told us afterward they were amused by our giggling from time to time as we watched.  What we chuckled at the most was when the narrator started talking about huge road trains coming along from the other direction.  He said, "No worries, mate; just tuck away to the side of the road, pop a brew, and wait until the road is clear again."  Can you imagine an American official giving you the same advice?  Guess most folks don't think that's as funny as we did.
So off we went.  And it was fun.  The roadbed was generally excellent, and we were all alone on the road except for workers dashing by to get to wherever they were going.  The signage was not overly informative, so we didn't actually know where we were most of the time.  As a consequence, we just gave ourselves up to the enjoyment of the road.  Very freeing.  
Dusty?  Yes.  Interesting things to see in passing?  Yes.  Did we have truck trouble?  Yes again.  Take it away, Rick…
Well heck, it's not like we have all that much trouble, and if you've never been on Australian Outback roads you just don't know what they're like.  This business of taking a plain old American pick-em-up truck all over the world sometimes just isn't as simple as we'd like to make out.  But, you know, we also get a certain amount of satisfaction from being able to deal with things when they arise.  This time, we heard a funny noise and pulled over to have a look.  From our collection of foreign films, I've learned to say "S_ _ T!!!" in about four languages so far and I ran through them all this time for sure.  
Right there in front of me, laying in the road like a tired dog, was our black water holding tank; you bet, the one that connects to our toilet.  It was still attached by its plumbing connections — good job Tiger — but not by its two metal holding straps.  Well, once the muttering was past, the flies and I got to work and about two hours later we were able to resume our journey with working plumbing and a solid, if temporary, strap arrangement holding things together.  Wash hands, change clothes, get in, drive away.  Several folks stopped by to see if we needed help; they were just great, and if we'd needed them, they would have been a godsend.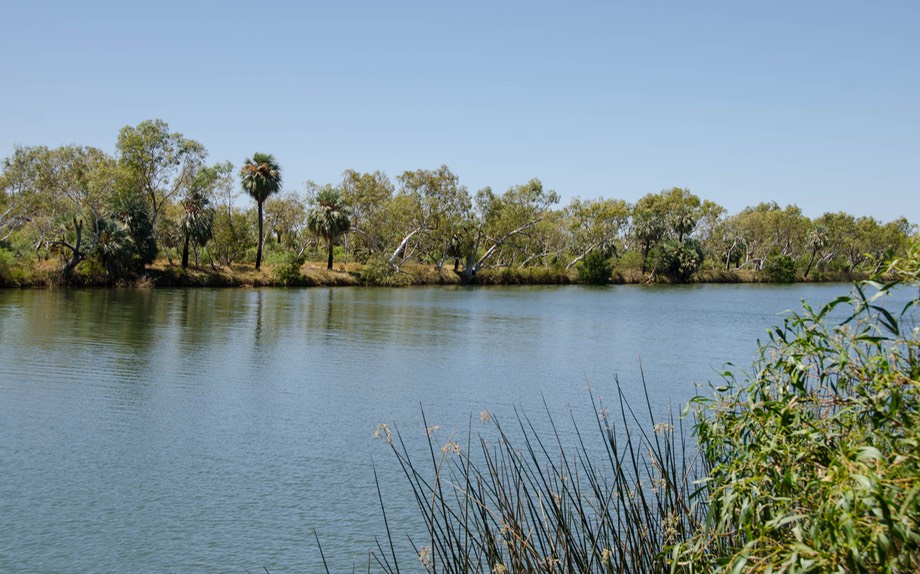 We wanted to take this rail access road because it gave us the chance to spend a bit of time at Millstream-Chichester NP, which may well be one of the hits of the season.  A lovely, quiet, little-visited park, there are small gorges of course, but they aren't cut deep into the earth.  Instead it's pretty much just the Fortescue River bed, with nice access spots for a swim, and something called the Python Pool a ways off, which has a great waterfall and a big swim pool.  The locals were out in great abundance, enjoying the water.  We did too.
It got pretty hot in the daytime, but was cool at night.  I got up really early in the morning and wandered around, enjoying the flowers.  Suddenly I scared up a pair of Euros (not loose change, but a kind of kangaroo).  They took off aways, but I slowly followed and they settled back down in a glade.  I must have spent half an hour moving closer and taking more pictures and then shifting a bit.  They stayed put.  Finally we all got bored and went our separate ways.  They were quite charming.
Another (very) small tale involves Rick becoming beguiled by a road sign saying RAP 89.2.  "Sounds like the call letters for a radio station", says he, doing his best to imitate the imagined announcer.  A little further along we came to more RAP signs with decreasing numbers and we figured out that RAP perhaps had something to do with Rail Access Point and the numbers were kilometer markings from the railhead up ahead somewhere.  Our momentous life on the road.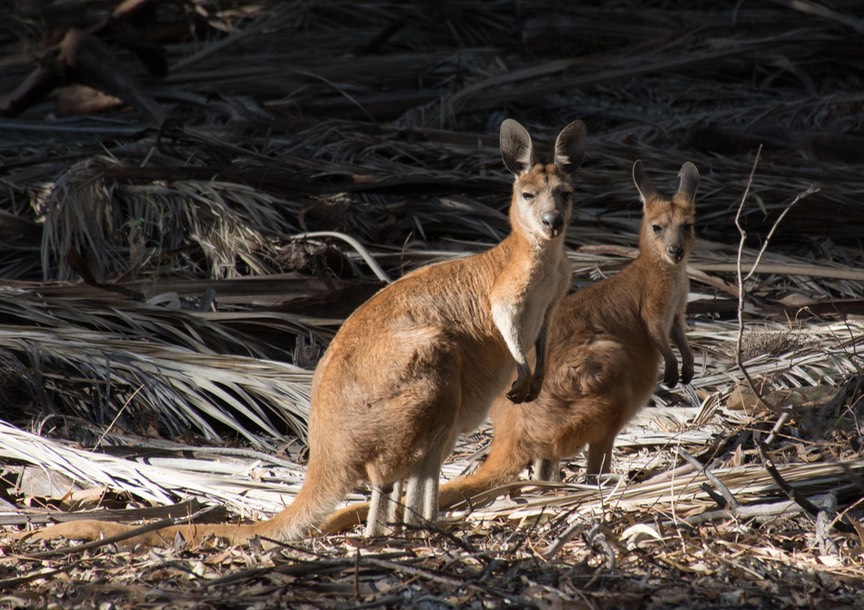 From Millstream-Chichester, we went further north on the rail access road all the way to the coast at Karratha, where we said good-by; it had been great.  With the recent truck problems, and nearing increased civilization, we thought it could be our last real off-pavement travel for some time. 
And now it was the first of October.  Time keeps passing by.  Traveling south on the Northwest Coastal Highway (Highway One), it's mostly low hills, gas and mining operations, and spinifex (the clumpy desert grass).  Not unpleasant, but not very dramatic.  We did cross our old friend the Fortescue River, which we'd really enjoyed back at Millstream-Chichester NP.  
We scooted on down the coast and out into the Cape Range NP area, where we wanted to go snorkeling.  You start by heading out the peninsula to Exmouth, the biggest (only) burg in the area.  Its claim to fame is that emus can be found wandering the streets of the town.  Didn't while we were around, but there were lots of warning signs, and we did see them nearby.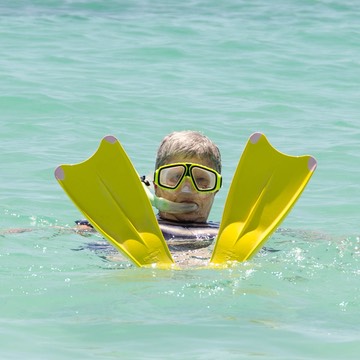 When we got to Cape Range, we knew we'd be here for a few days; there's a lot to see and do and we had a really good time.  We poked around and enjoyed the birds and the turtles that were mating out there in the water.  We visited the Ningaloo Marine Park, where we rented snorkeling gear.  Some of us snorkeled, while others took pictures of the some of us as they snorkeled.  
We thought about leaving the area via a sandy track that had a tidal water crossing.  Then we asked for more info, were shown the pictures of the people and their stuck-in-the-deep-sand, water-filled 4WDs, and decided not to do that.  We loved this place and could have spent longer.  But, by now we had a date to meet our German friends a bit further south at the Quobba blowhole in a few days.  So we said good-by to the turtles, the emus, the local kangaroos, the un-stuck-in sand, hopped back in the truck, and moseyed on down the highway.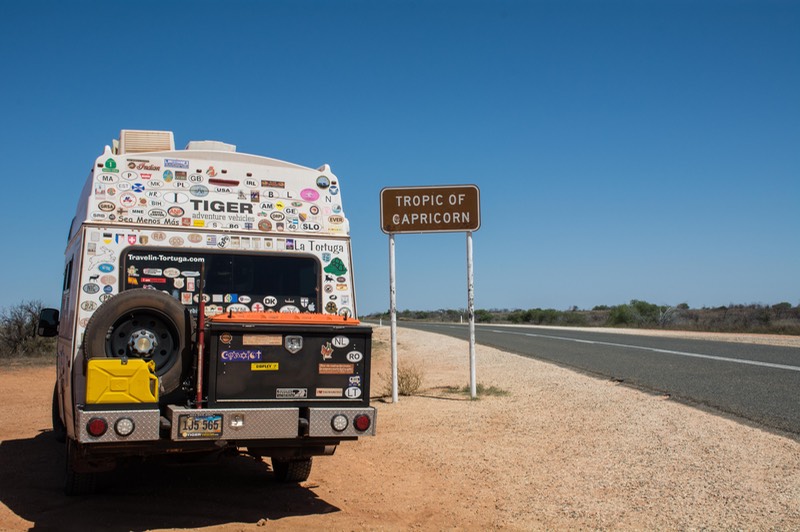 We crossed back to the south side of the Tropic of Capricorn, at S23.44038.  We were ending our time in The Tropics — The Top End — The Far North.  We now know we want to head back north again next April or May if possible.  We'd love to see the end of the Wet, as we think it's a major aspect of Australia.  We want to go back to some places we'd loved during the Dry.  Would they be flooded?  Could we even get there?  We hope to get the chance to find out.  
But right now?  On to Quobba!  See ya soon, mates.  
Rick and Kathy and a suddenly perky La Tortuga, 
"Turtles?   Mating?   Where???"
Click to see many more photos from Red Dirt