July/August 2010
Croeso i Cymru…
Wales
Or, as you learn when you cross the border... Welcome to Wales!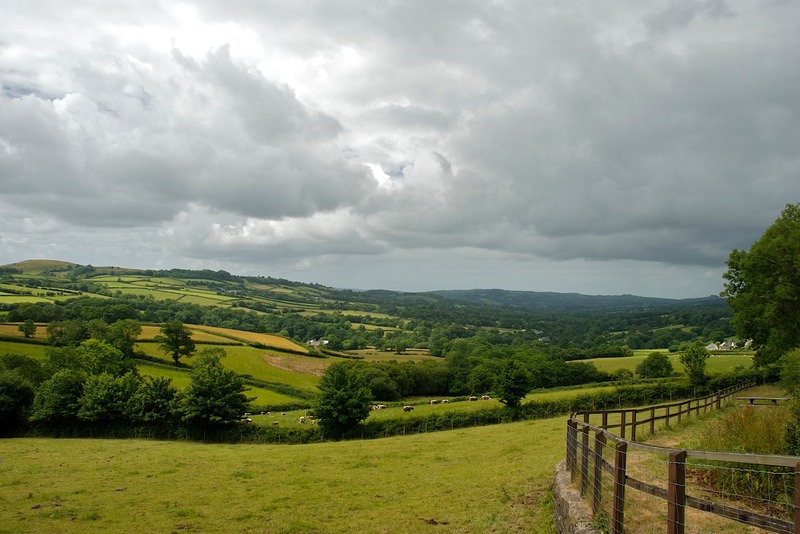 When we first talked about spending time in Wales, I had a preconception of what we would see.  Wales was all about coal and slate mining; poor, downtrodden ill-fed families who were covered in black dust and coughed a lot; subservient to and run by brutal English landlords; rugged, unwelcoming coastlines littered with castle ruins.  
Some of all of this is true, or at least was once.  But Wales is a beautiful, green country with a strong national identity; a normal, self-sufficient economy (or as much so as any country is in these times); a rich cultural heritage, it's own language, and many well preserved monuments from the past; a really interesting and lovely place to visit.
By the time you receive this (which we are sending from Ireland), we will have been in Wales twice.  But still, we've only scratched the surface and intend to return, both to visit areas we've not yet seen and to go back to special places.  We started out (towards the end of June) with 10 days crisscrossing southern and middle Wales.  And then, as we headed toward our ferry crossing to Dublin, we spent another week in Wales, this time visiting the northern part of the country.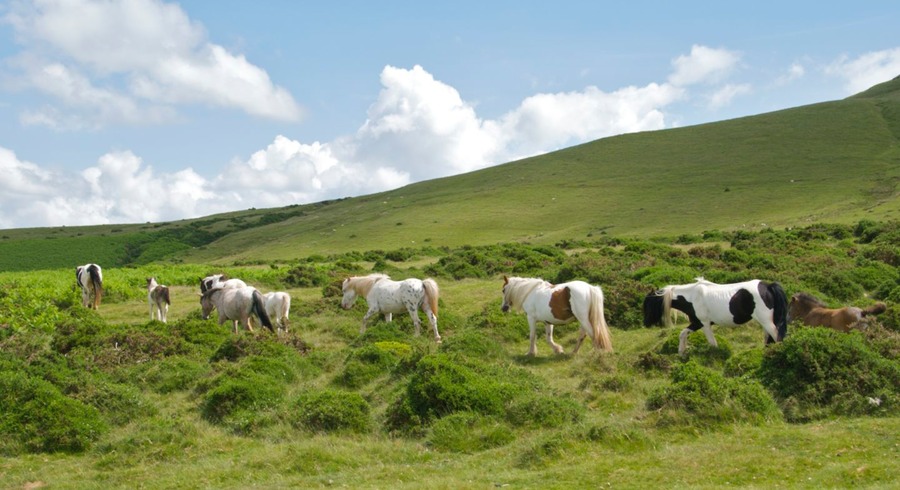 Wales and England share a long common border, and these days it's easy to pop back and forth.  We chose to enter the country through Brecon Beacons National Park, which makes up a large section of that border.  We crossed a tiny little bridge (toll: 80p) and found ourselves in the intriguing town of Hay-on-Wye (what a great name for a town), and almost immediately started climbing into the Black Mountains, treeless moors that housed a large herd of mostly-wild ponies.  It was a lovely start.  We didn't stop in Hay-on-Wye this time around, knowing we would come back again; the town is famous for its used bookstores; later in the summer we would have stock to trade.
Dropping down into the Vale of Ewyas to head south toward Abergavenny, we found ourselves on the narrowest road we'd seen yet.  Quite accustomed to small, this was tiny – and was lined with tree trunks.  A bit harrowing, I'd say!  The tree trunks were massive; I felt like Alice in the rabbit hole as we crept along brushing both side mirrors in the greenery.  
We'd chosen this road in part because it followed a stream, and we were expecting lovely views.  Hah!  No views, and even if there had been any, no time to take eyes off the road.  But one wandering eye did take in lots of ferns and foxgloves, very common in wet areas.  Eventually, whew, we emerged into a more normal environment and were able to take a look around.  And it was, indeed, very nice.  We had arrived at Llanthony Priory, with its famous ruins, said to be as nice as Tintern Abbey and in a quieter setting.  It was delightful to get out and poke around; there were horses waiting for some attention, and tea available as well.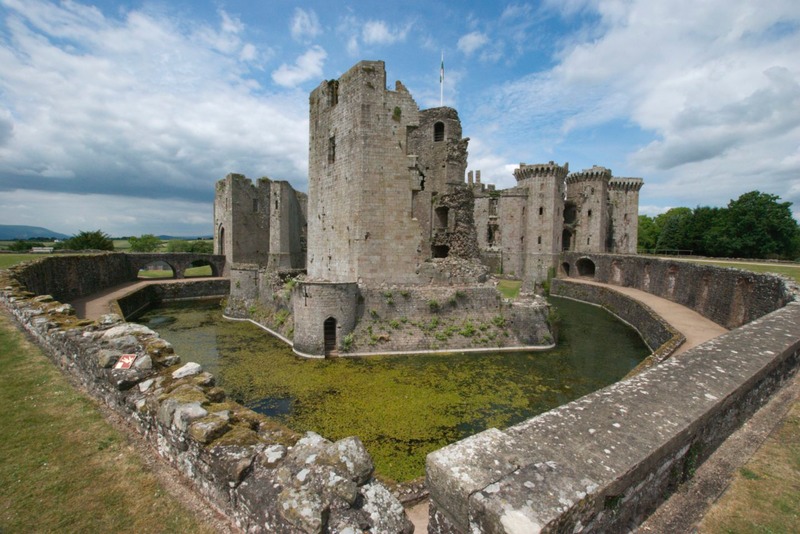 Refreshed, and quite pleased with our first Welsh adventures, we spent the next several days moving west across southern Wales.  We chose to skip Cardiff, the capital, this time, and headed for the seaport of Swansea instead.  In between we saw White Castle and also Raglan, and poked around the charming town of Crickhowell where they have a terrific tourist office and I left loaded down.  I finally have decided to pursue the "catch and release" program of tourist information.  It's so hard to refuse the pamphlets they thrust at you, and most of it is quite informative, but ultimately you have to paw through it and consign much to the recycling bin.  
We wended our way over the hills and down into the little, narrow but lovely valleys, muttering about the narrow roads, this time with walls and row houses on both sides.  We reached Swansea, which we had set as our goal because of the new National Waterfront Museum there, highly recommended by our guide book.  Unfortunately, for us it was something of a disappointment, and we moved on after a brief visit.  
The countryside continued to amaze and delight us, however.  Every turn in the road, up over the hills and down into the valleys, was lovely, with sheep and horses and crops and not only foxgloves but now, surprisingly, lots of fireweed to look at.  The weather continued to be bright and sunny, belying Wales' reputation of wet weather all summer long.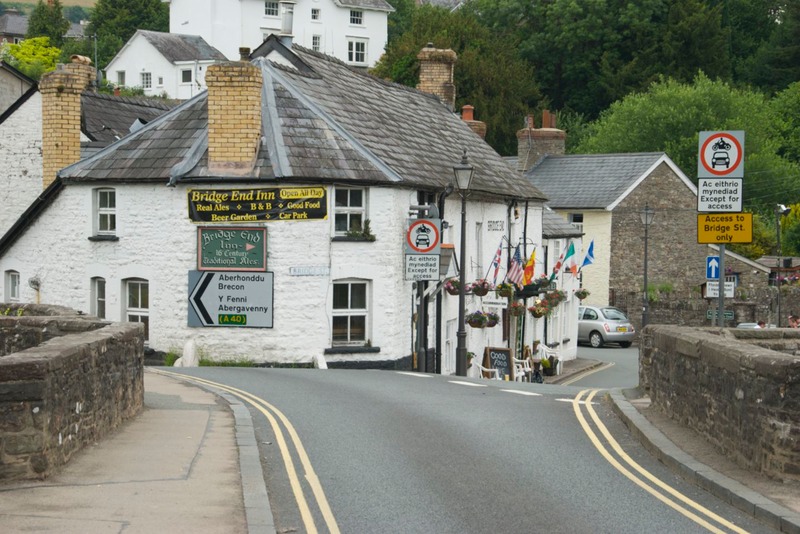 We stopped at ruins both large and small, often spending the night in their car parks.  We found Wales to be quite friendly to motor homes. In fact, in parts of the country towns have specifically posted their parking lots as permitting overnight stays.  We have climbed hills to see castle remains, sometimes pushing the sheep aside to make a path (and cleaning up our shoes afterwards).  There have been roman ruins, pre-historic monoliths marking burial mounds, abbeys galore, and too many graveyards to count.
We keep thinking about West Virginia and the mining there.  The color of the building stones in the towns was that same dark gray, and the houses tended to be more subdued in their decorations than in other areas.  We weren't especially interested in visiting the mining museums, or the pits that ran tours, so didn't go there.  But you couldn't miss the slate roofs, the old equipment and building ruins, the evidence of former activity.  We also thought about all those Welsh folks who had gone to Patagonia for the sheep, and how much at home they must have felt there.
We saw our first Welsh ponies.  They are darling.  And more sheep, more cows, more rabbits.  And met wonderful Welsh people.  They are friendly, happy to meet you, eager to know your story, quick to wave from their cars as they move aside for us on their little roads.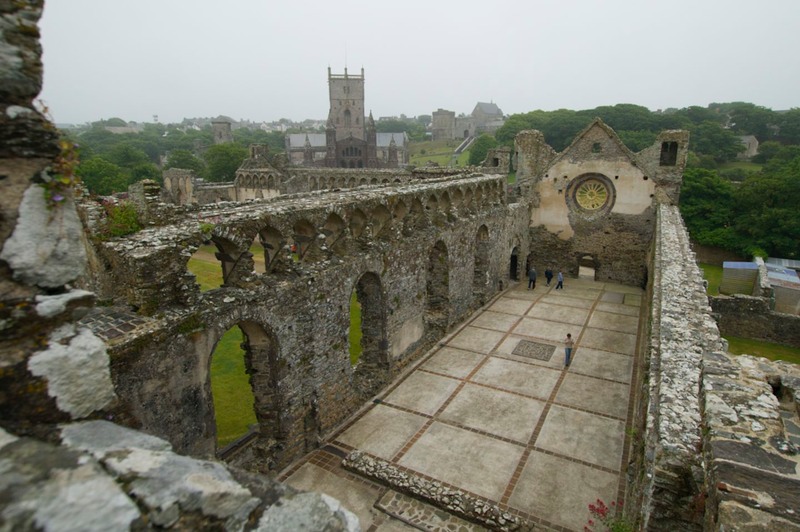 Reaching the southwest tip of Wales, a fine rugged coastline, we wandered the small town of St Davids, which has this terrific Bishop's Palace, constructed during the times when bishops really wanted the locals to understand how much more important the church was than they were.  It's a large property, in ruins but quite well preserved, and with excellent information available.  Should take a moment here to tell you that throughout Britain we have encountered well designed, informative plaques talking about the structures we are visiting, regardless of what country we are in.  They are very helpful, and we are lucky enough to have the time to spend in learning about what we are seeing.  And we have really learned a lot.
A bit further on we visited the old town of Newport and actually had a sunny day to enjoy the area.  There's not much here, but it's a pretty spot and gives access to some neat things nearby.  We wondered along the coast a bit, having lunch at a spot overlooking a craggy cove; then went up in the hills a short ways to the 4,000 year old burial site of Pentre Ifan with an enormous capstone still in place.  It was a beautiful spot that we, naturally, had to share with some busily munching sheep.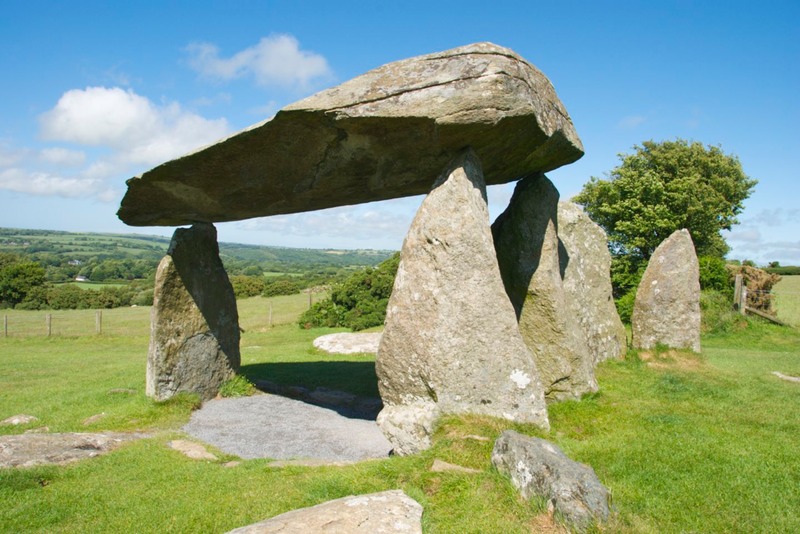 Late one afternoon we visited the ruins of Abbey St Dogmaels (who was this saint?) and stayed in the car park overnight.  It was a Sunday.  Early the next morning (well, not all that early) we heard equipment starting up.  Looked out and we were surrounded by earthmovers, big trucks, and orange cones.  Oops!  Well, we chatted up the guys for a couple of moments; they were most happy to move stuff aside so we could get out, were fascinated by our adventures and where we were from ("I have an auntie in L.A. that I visit all the time"), waved us on our way, and went back to their street project.  Another happy encounter.
The Welsh countryside is so beautiful; I know I'm repeating myself.  But we kept shaking our heads in amazement.  Rick has now decided that when we give up traveling he wants to sell everything we have, buy a Morgan and set up housekeeping somewhere in Wales.  The latest!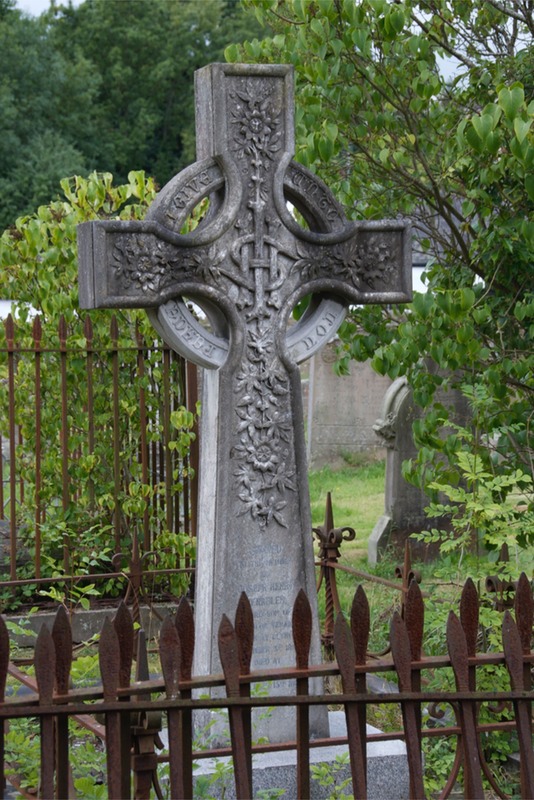 Our zigzag across the country now had us starting to move east again.  We had chosen a small road (an ancient cattle-drovers' path, according to the guidebook)     that wound its way over the Abergwesyn Pass.  It's quite rugged, going through large forested areas and at times having a marked grade of 25%; the forestry commission maintains the area and has several side roads up into the trees where logging is being actively carried on.  We spent the night on a bluff overlooking the valley way below.  It was a quiet night, listening to the birds and enjoying the solitude.  Reminded us of South America.  This is "high country" in Wales, desolate and lovely.  
Wales undulates in width; very soon we found ourselves up against the English border again.  We weren't ready to leave, even knowing we were coming back.  We stopped in Knighton, on the Welsh side (although their train station as actually in England) to check out the Offa's Dyke Visitor Center there.  Knighton backs right up against a piece of the dyke, no surprise as the dyke was meant as the barrier between much of England and Wales.  
Huh – Offa who?  Don't know the story?  No surprise, we didn't either.  Seems Offa of Mercia was ruler of central England in the late 8th century.  Interestingly, he was a buddy of Charlemagne.  He threw up this earthen dyke at the western boundary of his lands to keep the baddies out.  The modern boundary between the two countries pretty much follows this line.  You can still access the dyke in various places, and there is a walking path along much of it.  The dyke went "from sea to sea" – from near Cardiff all the way north to the Irish Sea.  It became a symbol of the antipathy between the two countries, and, of course ultimately didn't do the job.  Stone walls do not a country protect; think about the Maginot Line.  Or Hadrian's Wall, for that matter.   In the end of course, it wasn't the English needing protection from the "wild" Welshmen, but the other way around.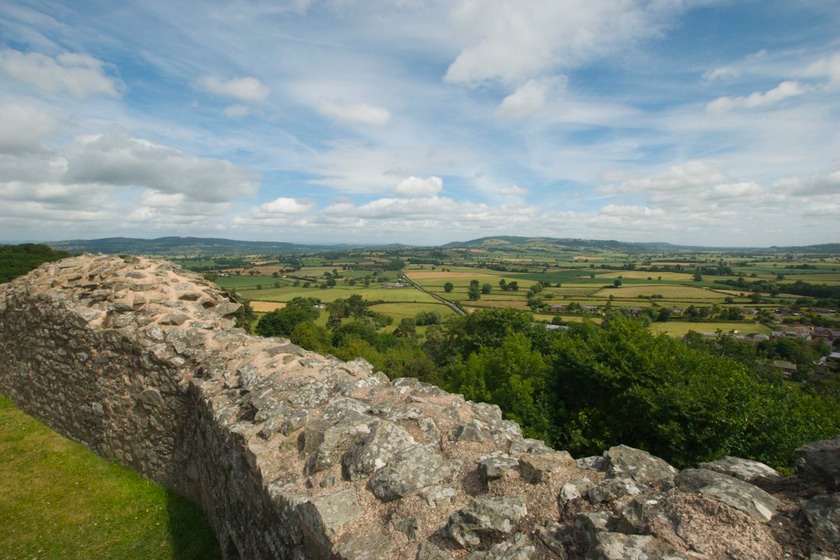 With our last remaining time in Wales for now, we wandered up the border area into the tiny towns of Montgomery and Berriew, pretty villages with charming houses surrounded by lovely gardens and yet another hill to climb up to a ruined castle.  While we were wandering the ruins in Montgomery, we chatted with a very small, quite ancient English lady, who fascinated us.  She was home visiting family, which she does each year during the hottest season where she lives – in the Republic of Guinea, in western Africa.  She is a missionary there; we talked about the beautiful roses which surrounded us, and she told me that she does indeed have roses in Guinea; they are a different kind – very hardy and with long, long roots.  She was charming.  
As we stood there chatting, Rick and I enjoyed the castle's great view over the border back into England and the Shropshire Hills, our next destination.  The next day we crossed back over the border again, and spent another three weeks enjoying England and sampling all the lemon curd we could find.
*   *   *   *   *   *   *   *   *   *   *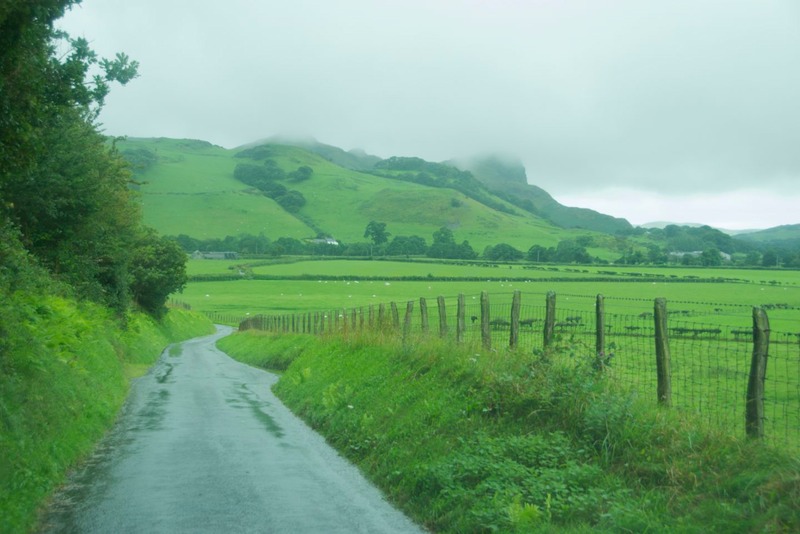 But then Ireland called and we crossed back into Wales, heading once again for Hay-on-Wye, this time with a stack of books in one hand and a list in the other.  We seem to be spending the summer reading a lot of mysteries, and having recently discovered P.D. James, were determined to locate as many as possible of her Adam Dalgleish series.  We found all but one, and a few other jewels to boot.  We had a great time wandering this quite charming village (with 30 bookstores, mind you), spent the night in their pleasant car park, and took off the next day, after checking out the local fresh produce market.  Very quickly we stopped in a town close by, which had yet another intriguing bookshop (and a cool church cemetery with several Celtic crosses); then, finally, we struck out westward through the middle of the country.
Sadly, during our time back in England we'd lost the lovely weather we had earlier enjoyed.  Since mid-July it has been wetter and cooler regardless of where we have visited, and everywhere folks are muttering "Well, back to normal, I guess; so much for summer!"  It's disappointing, but hardly surprising.  On one particularly soggy day, we had a lovely drive in the country out to a ruined abbey.  When we arrived we found that the abbey could not even be seen from the small parking area, but involved a bit of a walk.  Now, we don't walk nearly enough, but this alone would not have stopped us; it was at that moment that the skies opened and the rain began to get serious.  Well, we decided to remain snug in our vehicle but the conditions did not deter the young dad and two kids who were out of their car, soaking wet despite their rain jackets, armed with great big grins and off to see the ruins.  We wished them well through the window and left them to it.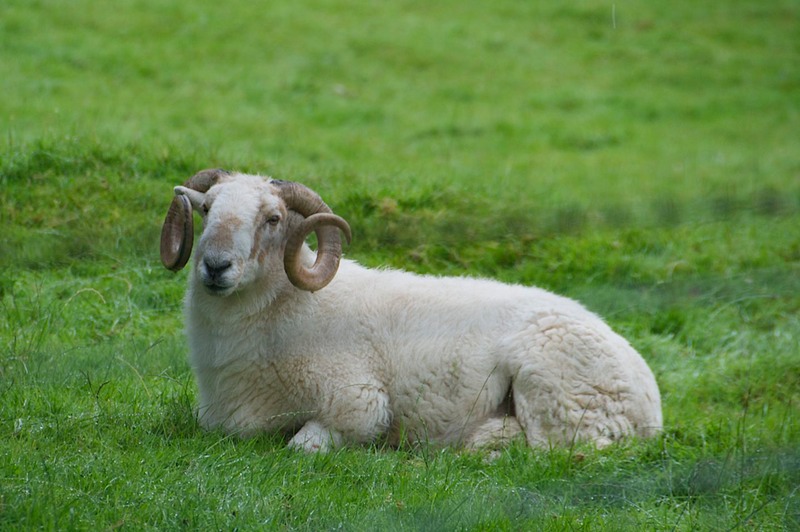 But westward toward the coast we went.  Little roads, itty-bitty stone bridges, and green-green hills, all surrounding the cleanest, most beautiful sheep we've ever seen.  Our destination was the area around Aberystwyth; we wanted to take the train from there to Devil's Bridge, through a particularly scenic area.  But the crowds were abundant, it was too cold to take an open train, and so we continued on up the coast.  This is nice coastline, with dunes and open beaches; being August, there were plenty of folks about, but a quiet nature reserve at the end of a road was a nice alternative for our nightly stop.  
We continued north, up over one bluff and down the other side, with more 25% grades to enchant us.  It was a misty morning along the coast, the road was tiny, and there was a ruined castle up ahead; pretty perfect.  We enjoyed the rain, with soggy sheep chomping away on the hillsides.  We said to each other, "Why would you live in England if you could live in Wales?"  (One possible answer: the Welsh do have a rather strange relationship with consonants).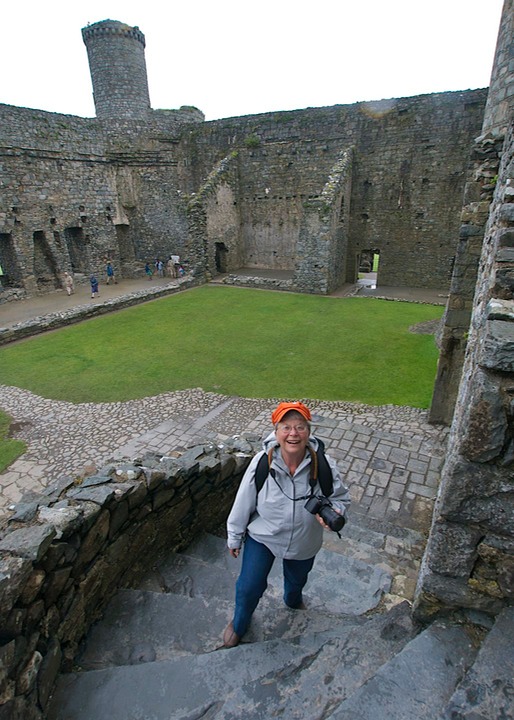 By now we were far enough north to have entered the area encompassed by the ring of castles erected by the English king Edward I in the late 1200's in his war against the Welsh.  Harlech, Caernarfon, Beaumaris, and Conwy were all within reach.  
We didn't get to all of them, but really enjoyed visits to the castles at Harlech and Conwy.  Both are in excellent condition, and the powers that be let you crawl around to your heart's content.  You get to climb tiny, slippery, steep stairs that would be outlawed as "dangerous" in other countries (and the views from the turrets are worth the climb).  The informative panels are strategically placed to give you good information at the right moment.  There were lots of folks about enjoying the holidays, and the museum gift shops had plenty of "swords" for little boys (and girls) to take home as souvenirs.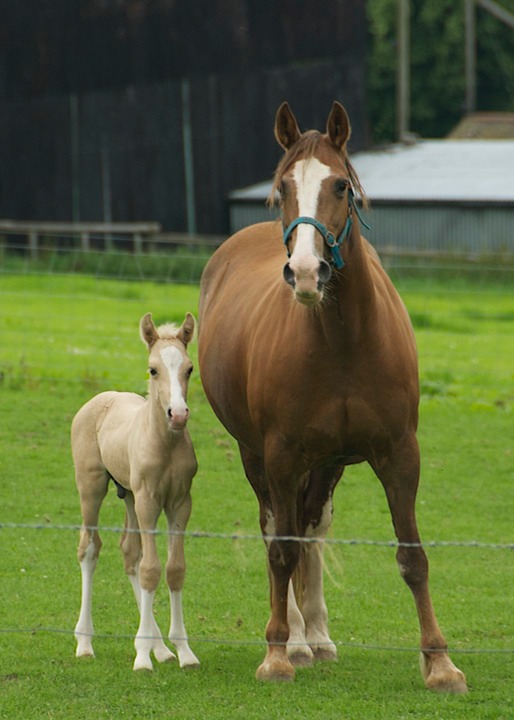 Harlech was located right along the ocean, on a bluff.  We had presumed it was so situated as defense against attack from the sea, but found out the larger purpose was so they could resupply the castle more easily, and that the castles were fortified against the locals, not foreign invaders.  Nonetheless, the views from on high were lovely up and down the shore, particularly when you set your sights high enough to avoid the caravan parks and housing developments spoiling the otherwise pristine shoreline.
The rain finally drove us back to the truck and we moved on.  Our path took us inland toward the lovely Valle Crucis abbey near Llangollen.  Unfortunately it was a Sunday, and Llangollen was stuffed full of holidayers, in part because there was a large motorcycle show going on.  We'd wondered why we were seeing so many bikes on the road.  We squashed our way over the only (tiny) bridge that spans the river that divides the two parts of town, and kept moving.  We tried to stop at the abbey, but couldn't even find a way to get off the road and into the crowded parking lot.  We will come back here another time.  Rick did pull into a bus stop long enough for Kathy to get out and run back a quarter-mile to get a picture of the abbey ruins from the road.  It's stunning and we can hardly wait to get a second chance at a visit.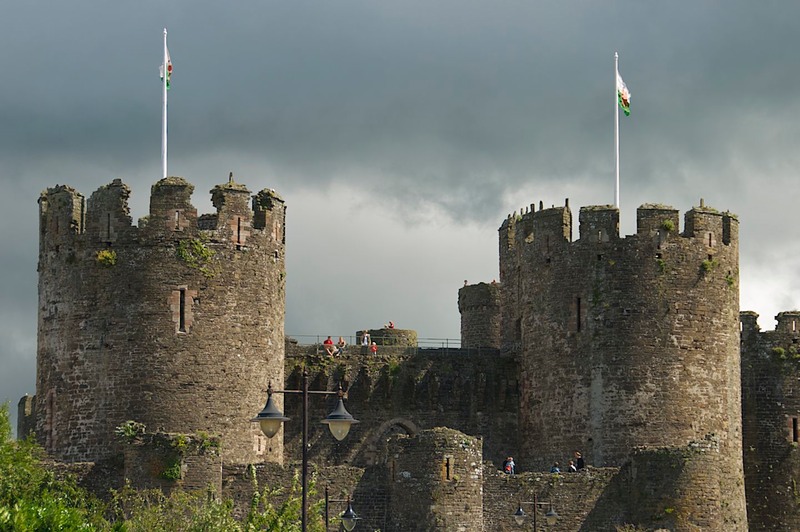 In the middle of all this we took a couple of days off, parked on top of a hillside in a farmer's pasture.  Dairy cattle were our companions, and one morning the mists even parted for us to (sort of) get a view of the mountains between us and Mt. Snowdon; the big guy was too shy.  The day we left, we drifted through a little town that was having a border collie show (it was Sunday) and stopped to take in the scene.  The puppies were adorable!  Then through the village of Ruthin, a quiet charmer; we spent a delightful night near there, parked next to a field which contained a mare and her young foal.  We spent lots of time just watching them.
Visiting the huge castle grounds at Conwy was a real treat.  The castle is the most complete one we've yet seen and the largest as well.  Medieval Conwy was a walled town and, amazingly, the walls are still standing.  After you climb to the top of one of the towers you can look out over the entire area and see the walls; it really gives you an idea of what the medieval town would have been like.  Conwy sits on a bay, and there were lots of boats out on the water; a really lovely setting and a town that serves up some really good fish & chips to boot.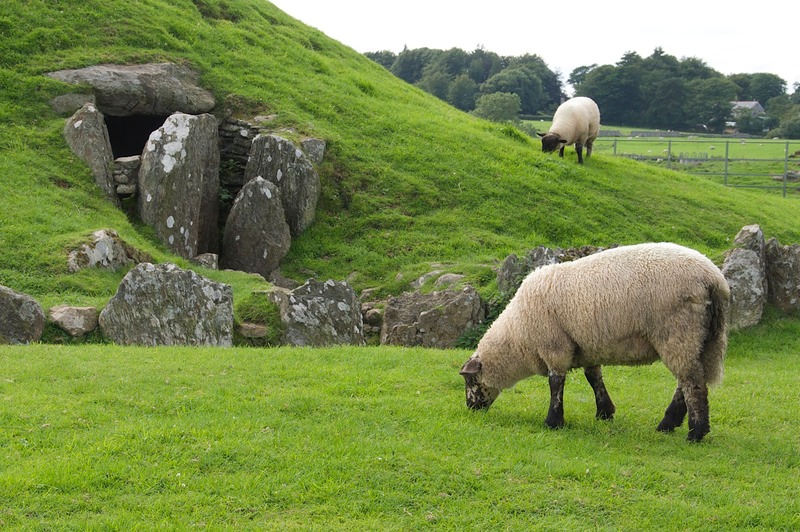 The day before we sailed for Ireland, we visited the Siambr Gladdu Bryn Celli Ddu --ignore your spell checker, it's Welsh after all – a burial chamber on Anglesey island near Menai Bridge.  This location is supposed to be the most important Neolithic site in Wales.  Five thousand years ago there was a henge here; the ditch and some stones survive.  Then, 1000 years later, a burial mound was built over and surrounded the prior site.  You can enter the existing section of the mound, and it is a profound experience.  Today, of course, you share the experience with the sheep belonging to the owner of the land.  It works.
The siren call of Eire beckoned and we headed for the ferry at Holyhead.  We left wishing we'd been able to spend more time in Wales, but delighted with the adventures we'd had.  It's a great country and well worth more time on a future visit.
At any rate it was time to be off to Ireland and more adventures.  Back to the Euro and kilometers and another language sharing the road signs.  We expect to be in Ireland for much of the rest of this rapidly disappearing summer.  From there – not sure; we'll keep in touch!
Rick and Kathy and the kids
Click here to view more pictures from Wales.