2018 - Australia to Africa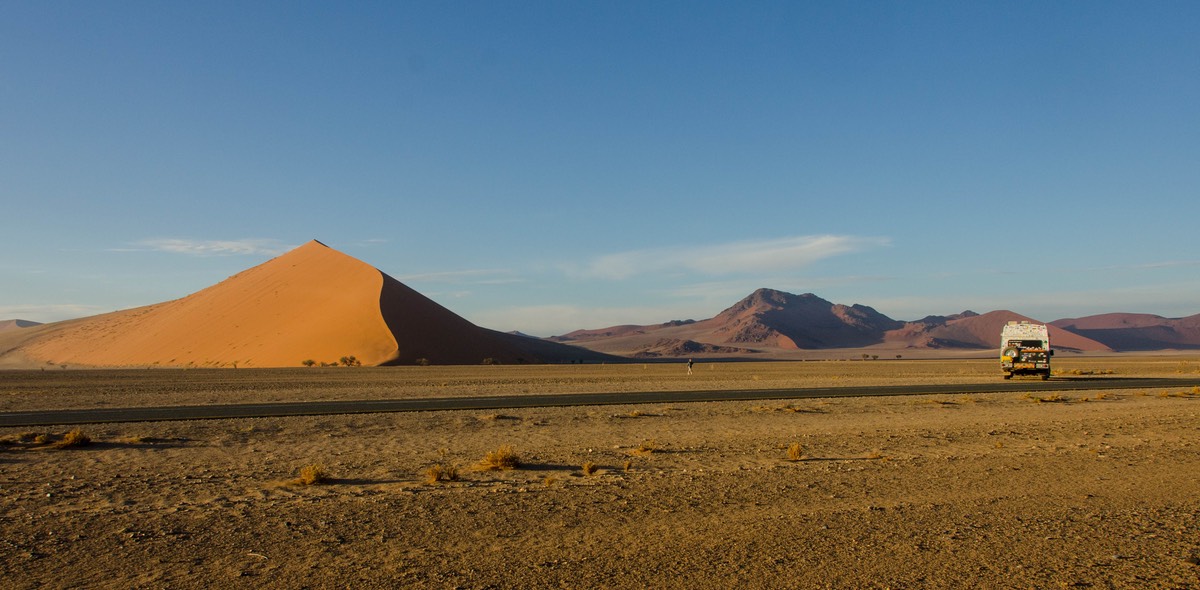 As you can see, we now find ourselves enjoying Namibia, home of the Namib Desert and the famed sand dunes of Sossusvlei.  It's also home to lots of other attractions like Fish River Canyon, the Skeleton Coast, Etosha Game Park and best of all, lots of really friendly people.  We anticipate remaining in Namibia through the end of the year.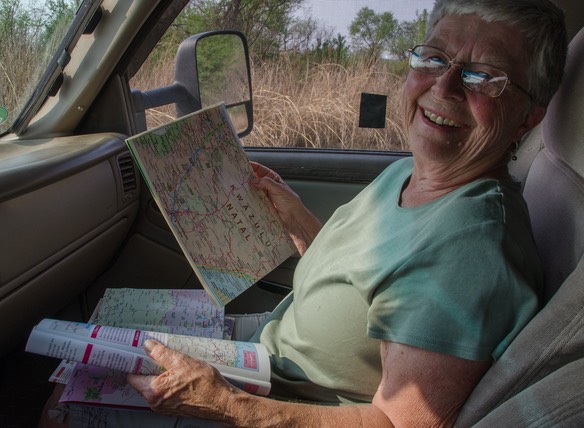 How do we find the great places we get to??  Well, one reason is Kathy, herself, sitting in the navigator's seat of the Star Ship Tortuga doing all the research she does.  Rick is much more 'seat of the pants' oriented when it comes to planning and deciding, but he admits that he can only get away with that because of the time Kathy puts in with her books, maps and online resources.  Our newest posting, So Now What Do We Do?, will tell you what she's found for us recently.
To catch you up, after completing our year in Australia in June, we shipped our vehicle to South Africa.  Somewhat winded after a 32 hour, three flight journey, we landed in Durban on July 21st and now, three months later, we have to leave because visas have expired and we're off to Namibia.  We've had a great time in South Africa and seen some wonderful country.  We've visited a bunch of National Parks and Game Reserves and have had no difficulty finding great opportunities for animal viewing.  We've posted around 500 animal photos to go with our stories from Africa and we hope you'll enjoy them all.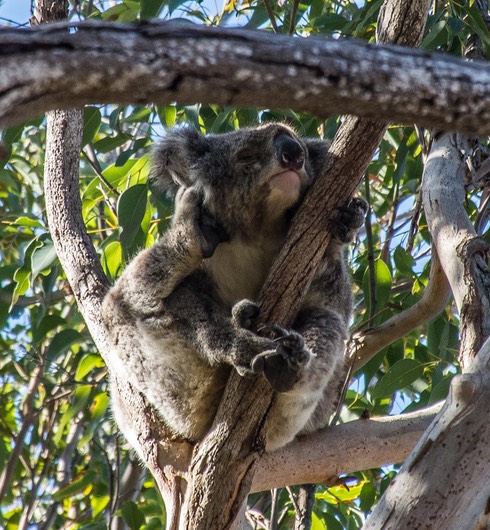 From June 2017 to June 2018 we had a great time wandering all over Australia, spending lots of time in the Outback and especially enjoying Western Australia.  We posted nine stories from OZ along with a tenth as a summary and you can find all of them on our Australia Page.  We also hope you'll find time to visit the Photo Gallery from OZ on our photo page.  
While our Tiger was on his way to Oz, we enjoyed every minute of our ten week visit to New Zealand.  We spent their Autumn with the Kiwis, enjoying amazing fall colors all the way through our visit and were very happy to be touring NZ in the shoulder season.  We posted four messages from our time in New Zealand along with a bunch of beautiful photos on our Photo Site.   For anyone interested, we've also written up our experience in renting a van for our New Zealand tour.
In 2016, with our Tiger back in the US after a two year tour of Latin America and six years of travel in Europe, we completed a comprehensive program of maintenance and refurbishment of La Tortuga's living quarters and running gear.  At over 180,000 miles (290,000 km), our 2007 Chevy Tiger had continued to serve us extremely well, but as we looked ahead to what we hoped to be another four or five years of overseas travel, we felt some preparation was called for.  You can read about the refurbishment of the living quarters and systems of our Tiger by going to 2016 Tiger Refit 1, and a full report on the mechanical work can be found in 2016 Tiger Refit 2.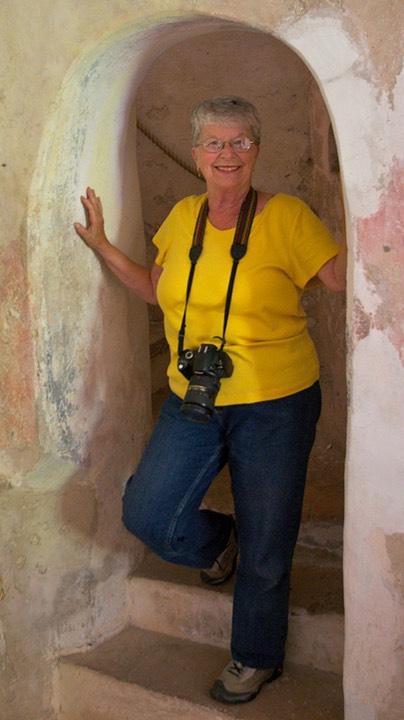 To access any of our stories from the road, just go to the top of any page of this site and use the drop down menus.  For Europe you can also go to our alphabetized Country Index under the Europe heading.
If you are primarily interested in pictures, you can go straight to our Photo Home Page or use the Photo Albums Menu at the top of any page.  Two different routes to the same destination. 
In 2010, our Tiger arrived in Belgium on April 1 and we began our European tour with a month in that beautiful country.  Each year from then through 2015 we spent around eight months in Europe.  For an informational wrap-up on the ins and outs of traveling in Europe in a motorhome, go to our Europe by Motorhome page and read all about budgetary and other considerations involved in our journeys.  We have six full seasons of expense information for you to peruse.  Despite varying fuel costs and exchange rates we continued to be able to travel throughout Europe within the budget we set when we began.  
In 2009 we completed our first international trip, to Central and South America, in fine style.  We had a wonderful experience and will enjoy reliving the memories of places seen, people met and lessons learned for a long, long time.  We feel very fortunate to have been able to accomplish most of the goals we set for ourselves on that journey.  From Colombia in the north to Patagonia in the south, South America opened itself up for us in a wonderful way, and the countries of Central America were amazing in their color and diversity.  You can go to our South America or Central America pages to enjoy our stories and photos from these wonderful places.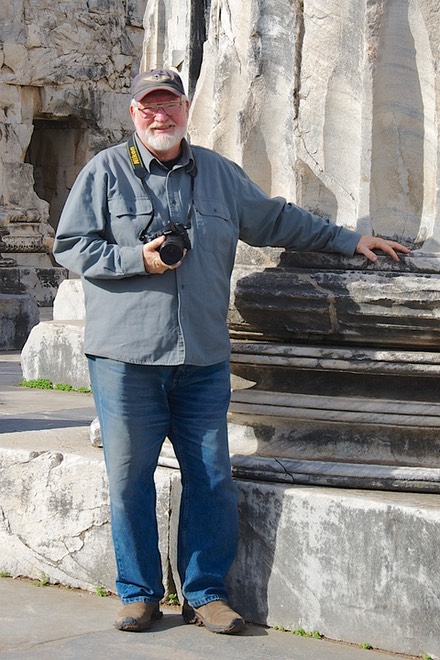 Our first six years of full timing (2001 to 2007) were spent in North America.  To check on our early stories from those years and our ongoing travels in North America, visit our US & Canada and Mexico pages. 
 As you have time, we hope you'll explore the rest of our site, including the Our Vehicle pages, which continue to expand with added technical information as we gain experience.  Our Information section also continues to grow with articles on Shipping,  Safety & Security and Storing your Vehicle.  You can also find connecting links to other travelers' sites you might enjoy on our Links Page. 
You can access our photos in many ways: from any narrative page, from the Photo Album Menu, or directly from each of the main regional home pages; Europe, South America, Central America, Mexico, United States & Canada or Australasia.  For photos of our vehicle, go either to the Our Vehicle page, or directly to Tiger Photos in the Photo Album Menu.
Finally, for fellow travelers, we've posted detailed Camping Logs for Central America, South America, Europe, New Zealand, Australia and now Africa.  You can visit these pages to see where we've stayed and to get detailed information on fuel costs, exchange rates, propane availability and other things for each country we've visited.
We hope you enjoy our travels, and your own as well! 

Dayat Aaoua, Morocco
"Your road is everything that a road ought to be… and yet you will not stay in it half a mile, for the reason that little, seductive, mysterious roads are always branching out from it on either hand, and as these curve sharply also and hide what is beyond, you cannot resist the temptation to desert your own chosen road and explore them."
~ Mark Twain
"Once again we are reminded that our travels are made up of encounters, not only with things that can be read about and planned beforehand, but with those serendipitous kinds of things that just happen for no good reason.  One thing leads to another, to another, to another, and there is nothing that says the first experience has to have been planned - or even be a positive thing in and of itself.  The very wandering nature of our travel leads us to the meetings and encounters and experiences that together form the fabric of our memories"
~ Rick Howe
Website created by: Rick Howe,      Text and photos by: Rick & Kathy Howe
Note: This is a purely non-commercial website and we accept no sponsorship or advertising. 
Any products or services mentioned or recommended in this website have been entered purely at our own instigation and not for any commercial reward.
Borrowed with permission from tuckstruck.net